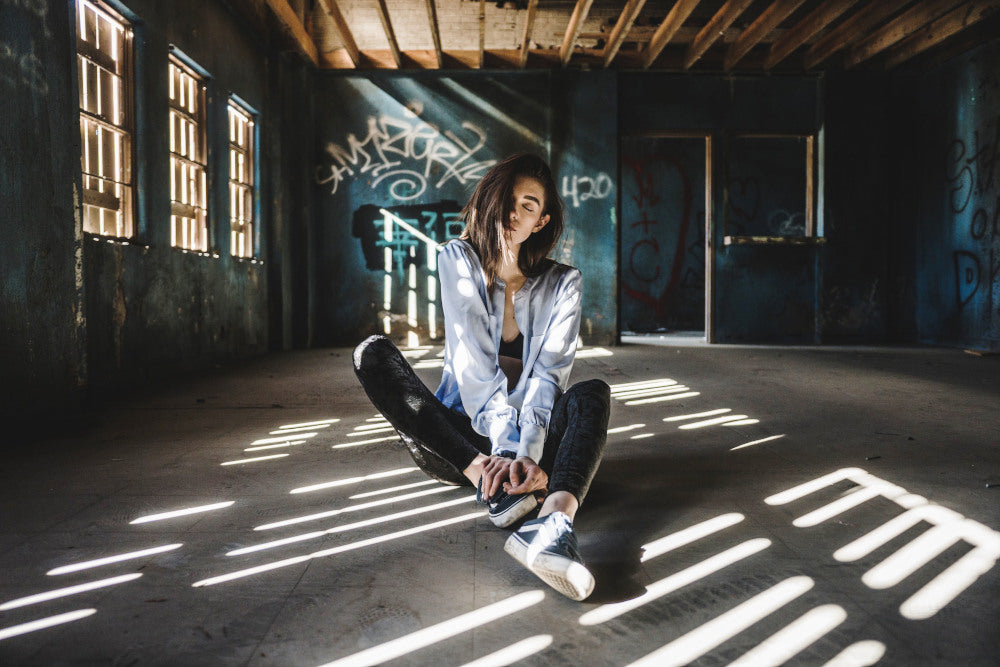 The Ultimate 2023 Guide to Pairing Outfits with Black Vans
In the world of footwear, few sneakers have made as enduring a mark on style as the iconic black Vans. Loved by skaters, fashion enthusiasts, and casual wearers alike, these timeless kicks have earned their place as a staple in every shoe collection.

Do not be afraid to experiment and combine some contrasting pieces because you will be surprised by how versatile black Vans can be and how cool they look with every outfit.

In this style guide, we'll dive into the art of pairing and accessorizing to help you unlock the endless potential of your black Vans and elevate your style to new heights. So, step into the world of fashion and discover how to make the most of your black Vans with the perfect ensemble.
Panaprium is proud to be 100% independent, free of any influence, and not sponsored. We carefully handpick products from brands we trust. Thank you so much for buying something through our link, as we may earn a commission that supports us.
1. Distressed Denim Skirt And A Crop Top
Black vans pair effortlessly with a distressed denim skirt and a white crop top, exuding an effortlessly cool and edgy vibe. The contrast between the sleek black sneakers and the rugged, worn-in denim skirt creates a striking balance of urban chic.
Check out our selection of the best denim skirts for women here.
The white crop top adds a touch of freshness and simplicity, enhancing the overall look's casual yet stylish appeal.
This combination effortlessly captures the essence of modern street style, making it a go-to choice for those who want to rock a trendy and laid-back aesthetic.
2. Black Skinny Jeans And A Basic Tee
A basic white t-shirt and black skinny jeans create a timeless and casually attractive look that is complemented perfectly with black Vans. This eye-catching combination creates a modern, relaxed, and chic urban-inspired style.

The outfit's understated style draws attention to Vans' timeless design, which makes it stand out as a chic and comfy shoe option.
If you are interested in eco-friendly and organic hemp shirts, tees, and tops, discover our best selection here.
3. Cami Top And Shorts
Black Vans are a fantastic choice to complete a summery look featuring shorts and a camisole top. Their versatile black hue provides a beautiful balance to the light and airy vibe of shorts while also adding a street-style touch.
Craft this playful outfit by wearing denim shorts. Buy stylish and eco-friendly denim shorts here.
The camisole top adds a feminine and delicate touch, creating a cute ensemble that effortlessly transitions from casual daytime outings to evening gatherings.
This combination effortlessly captures a blend of comfort and style, making black Vans the perfect footwear to elevate any warm-weather outfit with a hint of cool sophistication.
4. Gingham Pants And A Pop-Up Color
Black Vans effortlessly enhance the cool factor of gingham chino pants, creating a stylish and modern look. The combination showcases a sense of fashion-forward confidence, making black Vans the ideal footwear to elevate the overall aesthetic of gingham chino pants, whether for a casual day out or a more polished occasion.
Here is our selection of the best affordable chinos and khakis for women and men made in the USA under high social and environmental standards.

Add a pop-up color to this outfit by wearing an open shirt in a bright and bold color. Wearing a pop-up color gives you the possibility to express your personal style and creates a visually striking and dynamic look.
5. Leggings, Bra Top, And A Chambray Shirt
Black Vans look great when paired with leggings, a bra top, and an unbuttoned chambray shirt. The sporty silhouette of the sneakers complements the form-fitting leggings and trendy bra top, creating a contemporary, confident look that exudes comfort and style.
Craft this cute, sporty look with our affordable and organic bamboo leggings, sustainably and ethically made under high standards.
The addition of the unbuttoned chambray shirt adds a touch of relaxed charm, striking a perfect balance between athleisure and casual elegance. This combination redefines casual-cool style while also ensuring you stand out with a fashion-forward sense of ease.
6. Culotte Jeans
Create a casual and carefree look by wearing a combination of culotte jeans, a basic grey jumper, and black Vans. This outfit is perfect for the cooler temperatures of the mid-season when you are still resisting to heavier jackets.

The wide-legged short silhouette of the culotte jeans complements the simplicity of black sneakers and leaves a place for some cool patterned socks to show off.


If culotte jeans are not your thing and you prefer wearing regular jeans, you can surely pair them with black Vans. All kinds of jeans look great with black Vans.
Find your best fit in our Fair Trade jeans selection.
7. Floral Midi Dress
Black Vans bring an unexpected twist to the femininity of a floral midi dress, resulting in a gorgeous and unique pairing. This stunning mix is suitable for any body type and allows you to choose between endless styles of floral patterns, as the black Vans perfectly match all of them!
This out-of-the-ordinary pairing beautifully displays your individual style with a hint of rebellious charm, making it a successful option for any occasion.

Wear your favorite floral midi dress and get inspired by the many clothing options that you can wear over it.
8. Faux Leather Jacket And Jeans
A leather jacket and black Vans combine to create an unbeatable, edgy, and rock-style ensemble. To craft this unique outfit, choose an animal-free, ethical, and eco-friendly option, like faux leather.

The combination of the Vans' urban atmosphere and the jacket's iconic rock appeal creates a dynamic synergy that connects with the spirit of rock and roll, resulting in an indisputably badass and effortlessly stylish appearance.
9. Joggers And Classic Tube Socks
The time we were trying to hide our socks under the pants has passed. Showing off your socks, especially with unique or colorful designs, is a fashion trend. It is a way to add a fun and personalized touch to your outfit.
Choose socks that stand out and pair them with black Vans and joggers. The elastic cuff at the bottom of the joggers provides the right length and makes sure that your socks catch the eye.
10. Pleated Skirt
Create a stylish and sporty look by pairing a tennis pleated skirt with black Vans. This combination strikes a balance between casual comfort and a hint of athleticism, making it a trendy and versatile choice for various occasions.

Find beautiful and eco-friendly affordable skirts here.
11. Denim Jacket And A Hoodie
Add a denim jacket to your outfit if you need an extra layer. Denim jackets are versatile and a staple for streetwear. A classic blue denim jacket perfectly complements the black Vans style and gives you an urban-inspired, relaxed vibe.

Pair the denim jacket with a hoodie to get extra warmth during the cooler months. This combination is popular among those who appreciate a laid-back, sporty aesthetic with a hint of edginess.
Here are the best sustainable and affordable hoodies you need to craft this cool outfit.
12. Denim Overalls
Denim overalls are often linked to "skatewear" or "skate style." Skateboarders often embrace a distinctive style to express their individuality and association with the skateboarding subculture. Denim overalls have become an iconic element of this style, representing the laid-back, rebellious spirit of skateboarding.
Here is our selection of the best affordable and sustainable dungarees and overalls made under high social and environmental standards.
As Vans have a deep-rooted history in skateboarding, pairing them with denim overalls creates an iconic and original look that will boost your confidence and make you feel great.
13. Bike Shorts
Bike shorts have become a versatile and popular clothing item in recent years. Some women wear bike shorts as a fashion statement. They are versatile pieces that you can dress up or down, making them suitable for various fashion-forward outfits.
Choose between endless colors and designs in our article for the 20 Best Affordable And Sustainable Bike Shorts.

For a trendy and comfy everyday look, pair them with oversized T-shirts, sweatshirts, crop tops, and for footwear – with black Vans.
14. Cargo Pants
Cargo pants are an inseparable part of the skate fashion aesthetic. Skateboard enthusiasts wear them to express their affiliation with skateboarding culture and lifestyle.
Check out our selection below for the best affordable and sustainable cargo pants made under high standards.

Style cargo pants with graphic tees, hoodies, or other skate-inspired clothing to create a distinctive look. And, of course, the best match for the footwear is the classic and unsettling black Vans!
15. Slip Dress And Black Vans
You would probably never think of a combination like this. But believe me, it works! And it looks super cool. Wearing a slip-on dress with black Vans is an unusual but winning combination because it effortlessly blends elements of elegance and urban coolness, creating a unique and striking look.
Show off character and wear this alluring outfit. Buy a beautiful and ethical slip dress here.

Give the slip dress an everyday vibe with the help of oversized sunglasses, a pendant necklace, and black Vans.
Was this article helpful to you? Please tell us what you liked or didn't like in the comments below.
About the Author: Iana Jekova