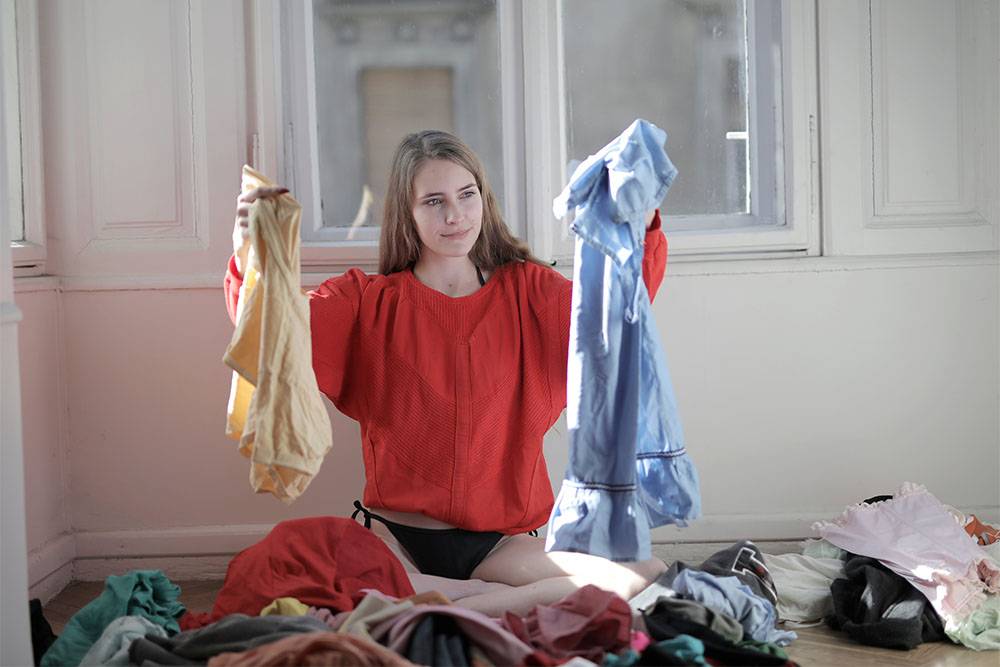 Easy Quiz To Know If You Have Too Many Clothes

You can easily know if you have too many clothes by answering a few simple questions. Having a minimal and original wardrobe is a great way to feel liberated and make room for what matters the most to you.

You don't need to keep an excessive amount of clothes in your closet. Reducing your wardrobe not only helps the environment but also saves you time, space, and money.

Ultimately, you'll have an easier time getting dressed in the morning and make every item you own a winner, keeping only the best pieces that you truly love and wear all the time.

To help you spend less money on clothes, improve your fashion style, and save the planet, take this super helpful quiz to easily know if you have too many clothes.

Simply score a point whenever you answer "yes" to any of the below questions. Then, scroll down to the end to find out what the result means and what you can do about it.


Panaprium is proud to be 100% independent, free of any influence, and not sponsored. We carefully handpick products from brands we trust. Thank you so much for buying something through our link, as we may earn a commission that supports us.

1. Do all my clothes fit me perfectly?


There is no need to keep clothes that don't fit you perfectly. If they are one size too big or too small, get rid of them. Loose-fitting clothes don't look chic. And clothes that are too small are just uncomfortable.




2. Do I wear every piece I own at least once a season?
The garments you keep should only be the ones you like and wear regularly. If you have no use for them anymore, your lifestyle probably changed and it might be time to let them go.

3. Do I have less than three multiples of each style I own?


You don't need every color of the same clothing piece. It's understandable to have multiples if you particularly love one style. Simply keep only the best ones. You can't wear them all as often anyway.


4. Do I know my fashion style?
You don't need clothes that don't fit your clothing style and aren't you anymore. Make sure to get rid of the pieces that no longer do it for you. And it's easier to do so if you already know your fashion style.




5. Do I donate clothes at least once a year?


It's a good idea to go through your clothes and donate some of them, whenever you feel like you have too many clothes and want to declutter, or you are moving out to a new place.




6. Do I very rarely feel like I have nothing to wear?
So many people buy trendy clothes regularly only to realize they don't fit with the rest of their wardrobe. Don't keep pieces that go out of style quickly. Instead, invest in timeless, classic pieces that last.




7. Are all my clothes in good standing?


Don't keep overused, faded, or worn-out clothes. If a garment is falling apart and you don't have any set plans to repair it soon, get rid of it. Only purchase high-quality clothing and throw away pieces that are pilling out, stained, missing a button, threadbare, or have ripped seems.




8. Do I wear every pair of shoes I own regularly?
No fashion item you own should make you feel uncomfortable. Shoes that you don't wear because you don't need them or they are difficult to walk in occupy unnecessary space in your wardrobe.




9. Did I at least wear once every garment in my closet?


If you've never worn some of the clothes in your wardrobe, it's a bad sign. Make space for new and better items if you've made a purchasing mistake in the past.




10. Would I buy every piece again if I didn't already own it?
You should like and wear every fashion item you own. If you feel like you wouldn't buy it again, you probably don't need or want it anymore. If you can't think of at least one occasion that you'll wear each garment, get rid of it.




11. Can I quickly think of something to wear with every item I own?


Every clothing piece you have should fit with the rest of your wardrobe. If you can't put together an outfit you like right away, it's a bad sign. If an item is never in your rotation of clothes, get rid of it.




12. Do I plan my outfits before shopping for new clothes?
You should invest in clothing that fits your unique style, that you will enjoy wearing over and over again. To do so, make a good plan and list what you need to complete your outfits before buying new clothes. Then, build a conscious wardrobe by looking for pieces that match your needs.




13. Do I buy or sell pre-loved clothes at least once a year?


There are many advantages of shopping for used clothes. You can easily increase your clothing budget by buying or selling pre-loved garments. Using resale shops or online marketplaces is a great way to find unique pieces that nobody else is wearing, and give your old items a second life.




14. Does my closet have free space left?
If your closet isn't filled with clothes yet, it's a good sign. You probably are more organized than the average person. If you lack space, extra storage space might be the way to go. Try to add shelves, bars, baskets, boxes, use corners, organizers, clothing racks, special hangers, and stack your shoes.
Quiz result
You scored a point every time you answered "yes" to the above questions.

You scored over 10 points:
Congratulations! You have the perfect amount of clothes for you. You are living a sustainable lifestyle and doing your best to be responsible with your fashion purchases.

You probably don't need to change much of what you are doing currently. You already know how to shop according to your needs, how to dress well according to your style and lifestyle.

If you want to take things to a whole new level, consider reading my ultimate guide to minimalist fashion. You'll discover how to put simplicity first, focusing on simple fashion aesthetics that are good for the eye and the planet.

You scored between 6 and 10 points:
You own a proper amount of clothes but could make a few adjustments to further reduce your closet. Try to make space in your closet before buying new clothes.

Think twice about how you'll wear a garment whenever you go shopping. And try to dress realistically without being too complicated with your outfits to have an easier to get dressed in the morning.

Go through your clothes to get a better picture of what clothing pieces you truly need and what you could get rid of. You probably don't need more clothes, you need less to dress intentionally and make every piece you own a winner.


You scored 5 points or less:
You know you have too many clothes. If you search the back of your closet, you'll surely find garments you didn't even know you owned. Buying new clothes too often costs you an unnecessary amount of money and pollutes the environment.

So try to follow a slower approach to fashion. Shop for new clothes only when you need to and invest in high-quality, classic clothing that lasts a long time. You'll have more time, space, money, and less stress overall if you focus on the essentials for your wardrobe.

Follow my guide on how much clothing is too much. You'll get a clear picture of how many clothes you should own. It will help you improve the way you dress and make room for the things you enjoy the most.

And when you feel ready to start decluttering, read through the types of clothes to get rid of. Start making room in your closet and throw away the items you don't need anymore.


Was this article helpful to you? Please tell us what you liked or didn't like in the comments below.