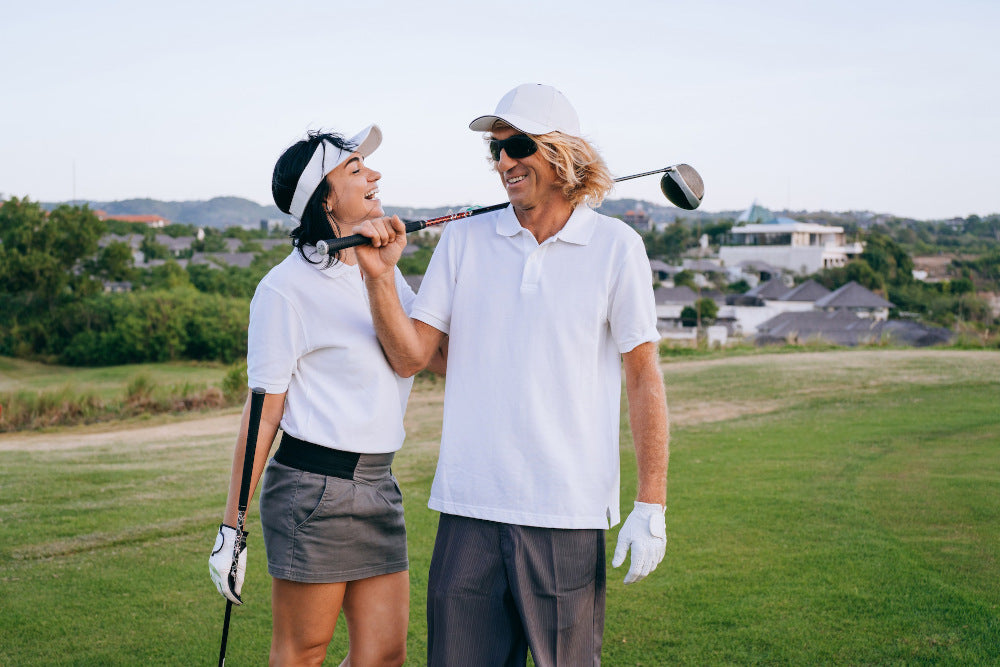 15+ Looks You Will Love To Wear To A PGA Tournament
PGA tournaments feature some of the world's best golfers competing at the highest level and offer a unique and enjoyable atmosphere. These tournaments are held at prestigious and scenic golf courses, offering stunning backdrops and beautiful surroundings that enhance the overall experience.

Attending a PGA tournament involves being outdoors for hours, so comfort is essential. Wear lightweight, breathable clothing suitable for outdoor conditions, especially if the event takes place during the summer. Layers are a good idea, as those events can take up to 5 hours, and temperatures can change throughout the day.

Whether you're a devoted golfer or simply there to savor the experience, we have you covered on the essentials of PGA tournament attire.
Panaprium is proud to be 100% independent, free of any influence, and not sponsored. We carefully handpick products from brands we trust. Thank you so much for buying something through our link, as we may earn a commission that supports us.
1. Golf Skirt (Skort)
Performance skirts or skorts are one of the fundamental garments for women in golf. They are made from breathable, stretchy, moisture-wicking materials and are very comfortable for long hours of standing and walking.

Skorts are designed to provide the appearance of a skirt while offering the functionality and comfort of shorts. They are a practical choice for outdoor activities because they allow freedom of movement while still adhering to traditional dress codes and offering a more feminine look.

Find beautiful skirts to attend the PGA tournament in our article of the Best Affordable And Sustainable Mini Skirts.
2. Golf Shorts
Golf shorts for women are classy and comfortable. Available in various styles and lengths, they are usually never too short and tight. Choose tailored shorts that fit you well. Ideally, they should be in the middle of the thigh or just above the knee.
Pair them with a basic tee or a polo shirt for a beautiful, golf-inspired, polished look.
Golf shorts for men typically have a classic and timeless look, making them suitable for many golf courses with dress code requirements. They are often available in a range of colors to match different golf outfits.

Choose more formal-looking shorts and pair them with a polo or button-up shirt in a complementary color.
3. Summer Dress
 
If attending a PGA tournament during the summer, you can wear a short-sleeved classic dress. Choose a dress with an understated and minimalistic design, with clean lines and simple details.
Summer dress with pockets will also be very convenient because it allows you to carry essentials like your phone, sunscreen, or a small water bottle.
4. Knee-high Socks
Craft a trendy golf-inspired look with knee-high socks. Knee-high socks evoke a sense of sophistication when paired with a preppy or golf-inspired ensemble.
Additionally, they are practical because while attending the PGA tour, you will be standing and walking in the rough, where the risk of insect invaders is high. Knee socks will provide additional coverage and protection against unpleasant bites.
Here is our selection of the best affordable and organic sock brands.
5. Button-Up And Linen Shirts
If you long for a smart-casual look, short or long-sleeve button-ups are perfectly appropriate for attending a PGA golf tournament. Opt for a well-fitted, high-quality button-up shirt. Crisp, classic colors like white, light blue, or soft pastels work well for a smart-casual look.
Find sustainable and ethical button-up shirts made under high social and environmental standards here.

If the PGA tournament is held during the summer, choose a short-sleeved button-up or a linen shirt. Pair your button-up shirt with well-fitted chinos and minimalist sneakers.
6. Polo Shirt
The use of polo shirts in golf attire has a tradition dating back to the early 20th century. Golfers like Bobby Jones and Arnold Palmer popularized the look, and it has since become synonymous with the sport.

Craft a classic golf-inspired look and wear a polo shirt with your skirt, shorts, or chino pants. Women can wear sleeveless polo shirts during the summer, while men should stick to short or long-sleeved polos.
7. Create Layers With A Sweater
PGA golf tournaments are outdoor activities that can last up to 5 hours a day. The competition may start early in the morning when the temperatures are still low and complete in the afternoon.

Wearing layers can help you adapt to temperature fluctuations and make your day pleasant and comfortable. Wear a sweater over a shirt or a polo shirt and under a jacket or coat if necessary. Layering pieces allow you to adjust your attire as the weather changes.
8. Layering A Vest
Another cool option to create layers is to wear a vest. Vests add charm and texture to an outfit. Once considered an essential menswear garment, vests are especially popular in golf aesthetics.

Choose a sweater-style vest that matches the smart-casual dress code of the event. Play with details, colors, and textures, and pair it over a dress, shirt, or polo.
9. Lightweight Jacket
A lightweight jacket can be very handy for gold tournaments during the middle seasons. It provides extra warmth and is often made from windproof and waterproof materials.

Check out our selection of the best affordable and sustainable waterproof jackets made under high social and environmental standards. Choose a classic windbreaker, a softshell jacket, a packable, or a fleece jacket.
10. Wide-Leg Pants
This combination of fluid wide-leg pants with a classic button-up shirt and puffed cropped vest is chic and modern. It has just the right balance between a casual and elegant look.

Go for wide-leg pants made from natural materials like cotton or linen. Check out our selection of the best sustainable wide-leg pants here.

Complete the look with comfortable sneakers.
11. Sporty Look With Leggings
Create a cute, sporty look and feel comfortable during the PGA tournament with leggings. Opt for high-quality leggings that are not see-through and made from comfortable, breathable fabric.

You can pair the leggings with practically everything, but if you want to adhere to the athletic vibe, pair them with a polo shirt and a lightweight jacket. Consider solid colors like black, gray, or navy, as they are versatile and easy to match with other clothing.
12. Basic Turtleneck
Turtlenecks are not typically a fundamental part of the traditional golf aesthetic. However, as golf attire has evolved, turtlenecks have become a favorite piece for many golfers and attendees.

Because turtlenecks have basic and clean lines, they look beautiful in combination with suit pants, chinos, jeans, skirts, and golf shorts. Craft a stylish outfit with these organic cotton turtlenecks. 
13. Golf Joggers
Joggers are similar to sweatpants but specifically designed for use in athletic activities. They offer the same level of comfort as classic sweatpants but have a more polished appearance.
Joggers used to be considered unprofessional on the golf course, but as the sport of golf gained popularity around the world, they became fashionable apparel.
Find comfortable, cheap, eco-friendly Italian-made joggers to craft a stylish and comfortable outfit to attend the PGA tournament.

14. White Jeans
Let it say it clear - jeans do not belong to the world of golf sport. In spite of the fact that wearing jeans will not get you booted from the PGA competition, amateur and professional golfers do not regard them as professional attire.
With that said, if you still want to find a more acceptable way to wear jeans to the golf tournament, let them be white. Compared to regular blue jeans, white jeans might give off a cleaner, slightly more formal appearance. 
Choose a pair that fits you well and is not ripped or distressed. Dress up with a nice button-up or a polo shirt in a complementary color, and complete the look with sneakers.
15. Accessories
Wear a baseball cap or wide-brim hat if the season is hot, or take an umbrella. Many golf spectators use umbrellas to protect themselves both from the sun and rain.

Remember to use sunscreen and anti-bug spray. Protect your eyes with sunglasses.
What To Avoid
Avoid clothing with offensive graphics or messages. If the tournament has a specific dress code, make sure to adhere to it and check the official PGA website in this regard.

Just remember that the cardinal rule is to wear something that has a collar. You are not allowed to wear tube tops, halters, or anything that reveals cleavage. No to tank tops, spaghetti straps, ripped jeans, glittery clothes, heels and flip-flops.

Avoid noisy, chunky jewelry, and always keep your phone silent during the tournament.
Was this article helpful to you? Please tell us what you liked or didn't like in the comments below.
About the Author: Iana Jekova