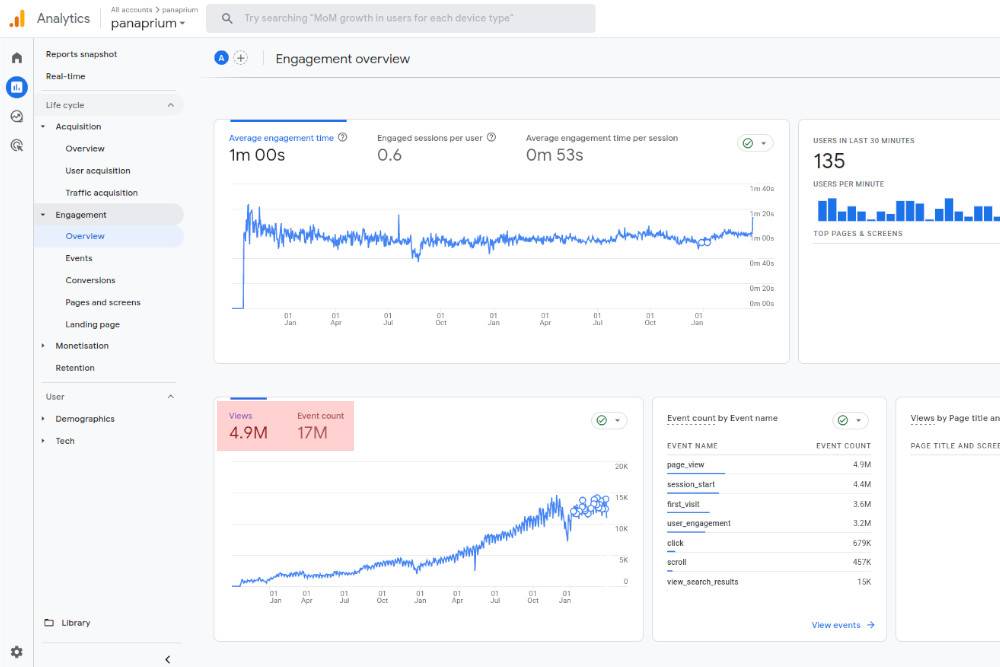 How I Increased Traffic On My Blog To 5 Million Views
The best way to boost the number of users visiting your website is to focus on increasing organic search traffic. Ranking high in the search results will help you drive thousands of highly-engaged viewers to your web pages for free.

Hello! My name is Alex. And I am the founder and owner of Panaprium, a highly successful blog that annually speaks to 5 million people across the globe through websites, newsletters, and social media channels.

Panaprium.com now generates thousands of dollars per month and makes over 6 figures every year consistently through the highly valuable traffic coming to its article and blog posts.

Let me share with you exactly how I drive tons of traffic to my blog for free and the best tactics and effective methods I've used to run a very profitable business since 2017.
Panaprium is proud to be 100% independent, free of any influence, and not sponsored. We carefully handpick products from brands we trust. Thank you so much for buying something through our link, as we may earn a commission that supports us.


1. Choose the right topic


The first step to increasing traffic to a website or a blog is to choose the right topic. You must be passionate about it and there should be enough people interested in it.

Since blogging takes a lot of time, hard work, and dedication, follow your heart, gut, and passion when choosing a topic for your web pages, articles, and blog posts.

Pick a subject that you are highly passionate about. It's the most crucial element to having any success and driving tons of traffic with your website or blog.

If you choose a topic for your content that doesn't interest you much, you are less likely to put in the necessary effort and do the hard work to make it a big success.

I chose sustainable fashion for my blog because It's a topic that resonates with me. I want to do everything I can to make the fashion industry more ethical and eco-responsible.

Keep in mind that you also must choose a topic that is big enough so that you can drive traffic. There should be people interested in this subject and willing to spend time on your website or blog.

But if you truly are passionate about it, chances are other people are as well. So you shouldn't have any trouble finding other people to help or entertain with your content.




2. Create quality content


Creating high-quality content on your website or blog is of utmost importance. You want to attract quality readers and website visitors who will spend time on your web pages, articles, or blog posts.

As you already know, content is king. And most of your efforts should focus on producing high-quality content tailored to your target audience if you want to increase traffic for free.

If you do this consistently, you will rank high on Google and drive tons of traffic to your website or blog. People want to consume high-quality content that offers a lot of value.

So start now and create the best content on the whole Internet about topics that you are passionate about but for your readers. Grow your audience and drive organic traffic through content.

Your blogging success and how much traffic you generate totally depend on your content strategy. Plan your content accordingly. And make sure you think about your target audience first.

Of course, you should also do better than your competitors in your industry. It's necessary to outdo the competition like any other business needs to if it wants to survive in the market.


3. Build a reputation


The next step to increasing traffic to a blog or website is to build a reputation in your chosen industry. You want to become a well-known expert and the person people refer to for all things.

You must develop your prominence through high-quality content that resonates with your readers and make them come back for more. You want to become a valuable resource for your audience.

Don't forget that your success completely depends on your ability to make people consume your content. You must have a strong reputation to drive lots of traffic.

One of the best ways to make web users come to your website or blog and spend time on it is to rank higher in Google search results. And to do that, you must build up your standing.

You must increase how much value you provide over time and become trusted in the eyes of other people in your industry and search engines.

Provide value to your readers, increase your knowledge in your industry, and create high-quality content consistently. And over time, you will build a reputation organically.


4. Design a beautiful website


You won't get a lot of traffic to your blog or website unless you are confident in its design. People want to visit beautiful, engaging, easy-to-navigate websites or blogs.

If you want to increase traffic for free, users that land on your web pages, articles, or blog posts must find your web property attractive and want to spend time on it.

It's totally necessary to create the most gorgeous and user-friendly website or blog that you can to drive lots of traffic to it. Make it enjoyable to visit and navigate to have any success.

How visitors use your blog or website and how long they stay on it will determine important metrics that will increase your traffic. It's crucial to put a lot of thought into the design.
 



5. Work on a schedule


You must be consistent with your content strategy and work on a schedule to increase traffic to your blog or website. Ensure your produce and publish new content on the regular at fixed times.

One of the best ways to boost website or blog traffic is to make prior visitors come back to it for more. And it's much easier to do so if they know exactly when to expect new content from you.

Make sure to plan your content in advance and create a content calendar that will make creating and publishing new articles, blog posts, and web pages straightforward.

Have a fixed schedule for your website or blog and stick to it rigorously. Stay consistent to ensure your audience knows when you usually publish new content. And then people will naturally come back.


6. Optimize for SEO


You must become familiar with Search Engine Optimization (SEO) if you want to increase traffic. Creating high-quality content also means optimizing it for organic search.

Organic search is one of the best ways to drive traffic to a blog or website and make money. Period. You must improve your content through an SEO title, URL, and description, and use relevant keywords.

SEO is a skill you must learn and master over time to make your blog or website successful. It's necessary to present your web pages, articles, and blog posts in an easily accessible way for organic search.

Think about how search engines work and try to please them and your readers when creating new content for your website or blog. Make sure your content is optimized for SEO and it will do well.

I've created a complete blogging course on SEO that I invite you to go through if you want to learn more about SEO and apply it to your blog to make it that much more successful.


7. Send a newsletter


Another great way to increase traffic to your blog or website is to send a daily, weekly, or monthly newsletter to email subscribers. People that sign up for your newsletter want to hear from you.

Make sure you know your target audience really well and what they expect from you. And then deliver valuable, informative, engaging, helpful, and entertaining content via an email newsletter.

A newsletter won't likely be where most of your blog or website traffic will come from. But it can make for a sizeable portion of its traffic and help maintain a conversation with your audience.

Don't underestimate the power of an email newsletter that you send regularly. Ensure you collect the email addresses of people that are interested in your content.


8. Promote on social media


Social media is gaining importance in the Internet landscape by the day. You will fall behind if you decide to ignore it completely. Don't focus all your attention on social media but don't forget about it either.

Promoting your content through social channels is a sure way to increase traffic to your website or blog. Create an account on all popular social media platforms where your target audience hangs out.

Then, create engaging content for each specific platform and make to tailor it in the best format to increase its organic reach. People want to see you on social media if you make the effort.

Post on your social channels regularly on a fixed schedule and as often as you can to keep your audience engaged and grow your following. Don't forget about using tags and trends to your advantage.


9. Reach out to your industry


Industry outreach is a popular and effective strategy to increase traffic to your blog or website. Reach out to other peers in your industry to collaborate or promote your content.

The objective of industry outreach is to gain referrals by building relationships with other people. Referral traffic is a valuable component of any web traffic-building strategy.

Outreach is a fantastic way to increase your authority and make more people aware of what you do. Get other people to talk about you and link back to your blog or website.

You can do collaborations or interviews, go on podcasts, make videos, answers questions, write guest posts, or send press releases. There are many valuable ways to reach out in your industry and increase traffic.


10. Optimize for mobile


You must optimize your blog or website and its content for mobile devices if you want to drive tons of traffic for free. Think of mobile-first whenever your change the design or create new content.

Desktop, tablet, and mobile devices are the primary ways people use to visit blogs and websites. And most of the traffic reaching your blog or website will likely come from mobile devices.

You cannot ignore the mobile format anymore on the Internet. Most people use their smartphones to access web properties and social media, read emails, and watch videos.

Make sure your blog or website and its content are optimized for mobile devices first. And check its mobile usability regularly. Otherwise, you risk losing valuable web traffic.


Key takeaways and lessons learned.
I've amassed tons of experience while running my blog called Panaprium since 2017 and growing its traffic from scratch. And I want to share it all with you today.

Some of the things you absolutely must do if you'd like to increase the number of people that visits your website include:
Follow your passion if you can monetize it.
Invest a lot of time and hard work.
Stay focused and disciplined.
Keep learning and improving your skills.
Build your website like a real business.
Write quality content consistently.
Focus on one set of topics in the beginning.
Prioritize organic search traffic.
Become a reference in your niche.
Check out the blogging course I created if you'd like to do the same as I did and start a blog yourself with practical tips and step-by-step instructions and all the exact methods and techniques that I used on Panaprium to make it a success.

You will learn how to build a highly successful blog with a massive audience of thousands of daily readers and get to the point where you can earn a full-time income that supports yourself and your family.

ENROLL IN COURSE



Online community
By purchasing a course or a bundle, you'll get access to the online community on Discord, where you can chat with Alex and other students and ask any questions you may have about blogging!

You'll get guidance and support and stay motivated by talking to people on the same journey as you to ensure you succeed in your blogging career.

Chat with us on Discord.
Was this article helpful to you? Please tell us what you liked or didn't like in the comments below.