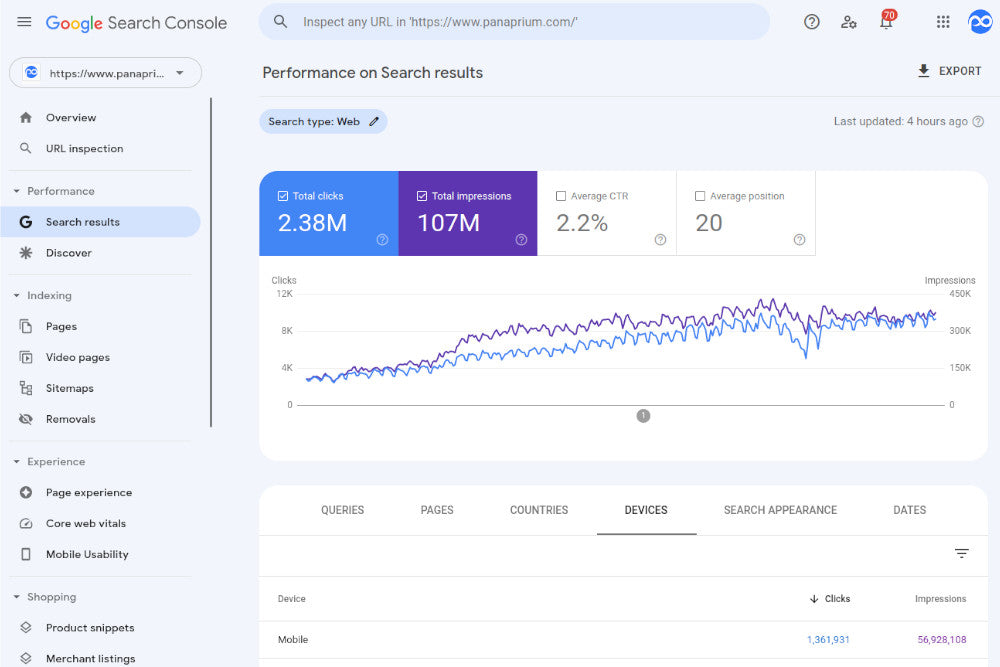 Complete Blogging Statistics From A 6-figure Blog
This ultimate list of business blogging statistics, trends, and data will tell you more about Panaprium and how its blog is performing. You can discover how fantastic a blog is for connecting with your audience.

Panaprium is a fashion blog that drives lots of traffic and earns thousands of dollars every month. And we aim to stay transparent with our readers through these blogging statistics and insights into our business.

Panaprium.com annually speaks to over 5 million people across the globe through websites, newsletters, and social media channels. It's a highly successful blog built from scratch in one of the most competitive niches ever.

Here is everything you need to know about Panaprium through a complete list of business blogging statistics and information.


Panaprium is proud to be 100% independent, free of any influence, and not sponsored. We carefully handpick products from brands we trust. Thank you so much for buying something through our link, as we may earn a commission that supports us.

Company Overview


Panaprium is your source for a conscious, fair, and environmentally friendly lifestyle. We provide philosophy, influences, and awareness around the attitude and desire for better living and offer inspiration, ideas, tips, and buying advice, as well as a platform for discussion.

Company name: Panaprium GmbH
Year founded: 2017
Employees: 1-10
IPO status: private

HQ: Berlin, Germany
Annual revenue: $100K - $1.0M
Industry: Apparel & Fashion
CB rank: 224,907

Advertising: Google Adsense
Currencies: United States Dollar
Analytics: Google Analytics
Platform: Shopify

Panaprium is a still small organization from Berlin, Germany, founded by Alex Assoune in 2017 and headquartered in the European Union (EU), according to Crunchbase.


Domain Overview


Panaprium.com is the main fashion blog where users can get the best in ethical and sustainable fashion news, style trends, outfit ideas, and shopping suggestions for an eco-conscious lifestyle.

School.panaprium.com is an online education platform where users can find plenty of in-depth tutorials and step-by-step instructions to start a blog from scratch, as well as tons of golden nuggets and valuable information to improve their existing website.

Main domain: panaprium.com
Subdomains: school.panaprium.com
Domain authority: 39
Linking root domains: 3.4K

Ranking keywords: 21.3K
Spam score: 2%
Top keywords: 5.3K
Traffic share: organic

Panaprium is a new business with a couple of years of age and still rapidly growing. It has an average domain authority but still ranks high in Google search results for thousands of keywords, according to MOZ.


Backlink Breakdown


Panaprium has a relatively small number of backlinks and many are still being discovered every day. The number of external referring URLs is growing, which indicates a rising number of users finding Panaprium's content valuable.

External referring URLs: 22,518
Supplemental links: +1,300
External inbound links: 23,818

Referring domains: 2,777
Trust flow: 15
Citation flow: 46

Panaprium has a working backlink strategy that allows it to grow its referring domains over time to increase its authority in the industry. It has a strong backlink campaign that drives lots of organic traffic, according to Majestic.


Traffic statistics


Panaprium has a lot of traffic and thousands of new daily users coming to its website. It's a highly successful blog and is well-known in the industry as a valuable resource for all things sustainable fashion.

Users in the last 30 minutes: 169
Event count yesterday: 28K
Top users' country: United States
Top sessions' channel: organic search


New users yesterday: 5.5K
Page views yesterday: 7.7K
Returning users yesterday: 461
Average engagement time: 1m 18s


Bounce rate: 71%
Pages per visit: 1.55
Average visit duration: 1m 46s
Engaged sessions per user: 0.26

Panaprium has a relatively high bounce rate and user engagement, according to Google Analytics. The average visit duration is similar to other websites in the same industry.

Panaprium is ranked 128,326 among websites globally based on its 471,467 monthly web visitors. Its monthly visits growth amounts to 20.91%, according to Semrush.


Audience overview


Panaprium has a large audience that is still growing every day thanks to high-quality and extremely valuable content. The United States is the top country sending traffic to Panaprium.com.

Gender distribution:
58% female
42% male
Age distribution:
18-24: 28%
25-34: 31%
35-44: 16%
45-54: 11%
55-64: 7%
65+: 5%

Top operating system: iOS
Top device: web/mobile
Top browser: Chrome
Top resolution: 1440x900

Panaprium's audience is mostly female and the largest age group of visitors is 25-34, according to Similarweb. Most users visit Panaprium.com using their mobile devices.


Technology Overview


Panaprium is actively using 84 technologies for its website and has removed 301 technologies from panaprium.com since May 2017, according to BuiltWith. These include Viewport Meta, IPhone / Mobile Compatible, and SSL by Default.

Marketing automation: Active Campaign
Analytics: Google Analytics
Domain insight: Facebook Insights
Conversion tracking: Google Conversion Linker

Tag management: Google Tag Manager
Social login: OXI Social Login
Anti-bot widget: reCAPTCHA
Stock photos: Pexels

eCommerce: Shopify
Frameworks: Ruby on Rails
Structured data: Schema
Compatibility: Viewport Meta

Content Delivery Network: Cloudflare
Distribution network: AJAX Libraries
Static Content: Google GStatic
NPM Library: Unpkg

Payment:
Paypal
Visa
Mastercard
Apple Pay
American Express

Javascript:
Fancybox
Handlebars
Flickity
lazySizes
Slick JS

Advertising:
Google Remarketing
VigLink
AWIN
Commission Junction
Mediavine

Panaprium is committed to using technology for good to drive change in the fashion industry. It aims to accelerate the transition to sustainable fashion. It has committed to increasing its technology spending every year.


Check out the blogging course we created if you'd like to do the same as Panaprium did and start a blog yourself with practical tips and step-by-step instructions and all the exact methods and techniques that we used on Panaprium to make it a success.

You will learn how to build a highly successful blog with a massive audience of thousands of daily readers and get to the point where you can earn a full-time income that supports yourself and your family.

ENROLL IN COURSE

Online community
By purchasing a course or a bundle, you'll get access to the online community on Discord where you can chat with Alex and other students and ask any question you may have about blogging!

You'll get guidance, and support, and stay motivated by talking to people on the same journey as you to ensure you succeed in your blogging career.

Chat with us on Discord
Was this article helpful to you? Please tell us what you liked or didn't like in the comments below.