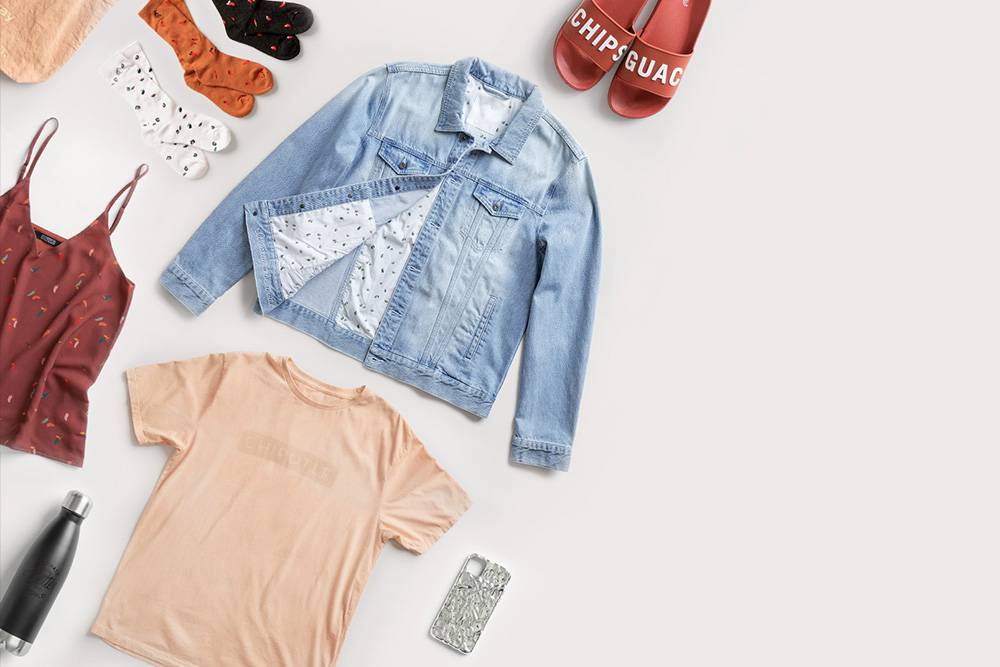 Chipotle Launches Its Organic and Naturally Dyed Apparel Collection
Restaurant company Chipotle is launching a sustainable apparel collection made from 100%
organic cotton
and naturally dyed with avocado pits.
Chipotle Mexican Grill Inc. is a food chain business that started with one restaurant in Denver, Colorado in 1993. Today, it operates 2,650 restaurants in the United States, Canada, the United Kingdom, France, and Germany.
It's committed to serving responsibly sourced, classically-cooked, real food with more than 91,000 passionate employees. It leads the way in digital, technology, and
sustainable business practices
.
Its new
Chipotle Goods
clothing line includes size-inclusive, gender-neutral tees, camisoles, jackets, shirts, totes socks, and hats. The company is also selling leggings made of 20% spandex and 80% recycled polyester from PET bottles.
Chipotle teamed up with social media influencers such as Natalie Mariduena, SpencerX, DevonOnDeck, and the online shopping platform
Depop
for the launch of its green collection.
The apparel collection made with organic cotton is certified by the Global Organic Textile Standard (
GOTS
). Chipotle is also one of the largest restaurant purchasers of avocados in the world and dyes its apparel with upcycled avocado pits from its restaurants.
Leftover avocado pits are simmered in water, creating a sustainable, plant-based dye varying in color. Each unique piece from the avocado-dyed collection requires five avocado pits.
"We know people are looking to celebrate their passion for Chipotle, and we set out to create a line of products with the same thoughtfulness, care, and attention to detail that we use in our kitchens. With Chipotle Goods, our fans can get quality items that support sustainable agriculture and represent our mission of cultivating a better world."
 - Chris Brandt, Chief Marketing Officer
All profits from sales will be donated to charitable causes dedicated to making apparel and food more sustainable. Profits are determined based on the sales price, item cost, shipping, and handling charges, and agreed cost allocation for supplier partners.
Partners benefiting from sales include the
Textile Exchange
, a global non-profit that identifies and shares best practices for farming, materials, processing, traceability, and end-of-life to reduce the textile industry's impact on the world's water, soil, air, and human population, as well as
Chipotle Cultivate Foundation
, committed to making real food accessible for all.
"Just like our crew uniforms, we wanted the Chipotle Goods apparel line to reflect our sustainable values. With an eye toward more sustainable farming, fibers for the products are grown through practices required for organic cotton farming."
 - Caitlin Leibert, Chipotle Head of sustainability
Organic cotton is much better than conventional cotton because it's non-GMO and grown organically, without the use of hazardous herbicides, pesticides, or fertilizers.
The annual global production of organic cotton reached 107,980 tons in 2016, according to the
Textile Exchange
. It's still in relatively low demand compared to conventional cotton.
30.3 million tons of cotton are produced each year globally, according to the data of the Food and Agriculture Organization of the United Nations (
FAO
).
The Global Fashion Agenda
reports that regular cotton farming consumes 4% of worldwide of nitrogen and phosphorous fertilizers, 16% of all insecticides, and 7% of all herbicides.
Loomstate
estimates that in 2019 alone, Chipotle's purchase of employee uniforms made with organic cotton prevented approximately 1.7 million pounds of synthetic pesticides from being used.
By growing organic instead of conventional cotton, farmers can also potentially save 218 billion liters of water and 92.5 million kg of carbon dioxide, as reported by the Textile Exchange.
20,000 liters of water are needed to produce one kilogram of cotton, the equivalent of one T-shirt, and one pair of jeans, according to the World Wildlife Fund (
WWF
).
80% of all organic cotton is grown with water form rainfalls, with no additional water from irrigation, which reduces pressure on local water sources, especially in countries affected by
water scarcity
. About 4 billion people, early two-thirds of the world population, experience severe water scarcity during at least one month every year.
Discover Chipotle sustainable collection of organic apparel at
chipotlegoods.com
.
Was this article helpful to you? Please tell us what you liked or didn't like in the comments below.