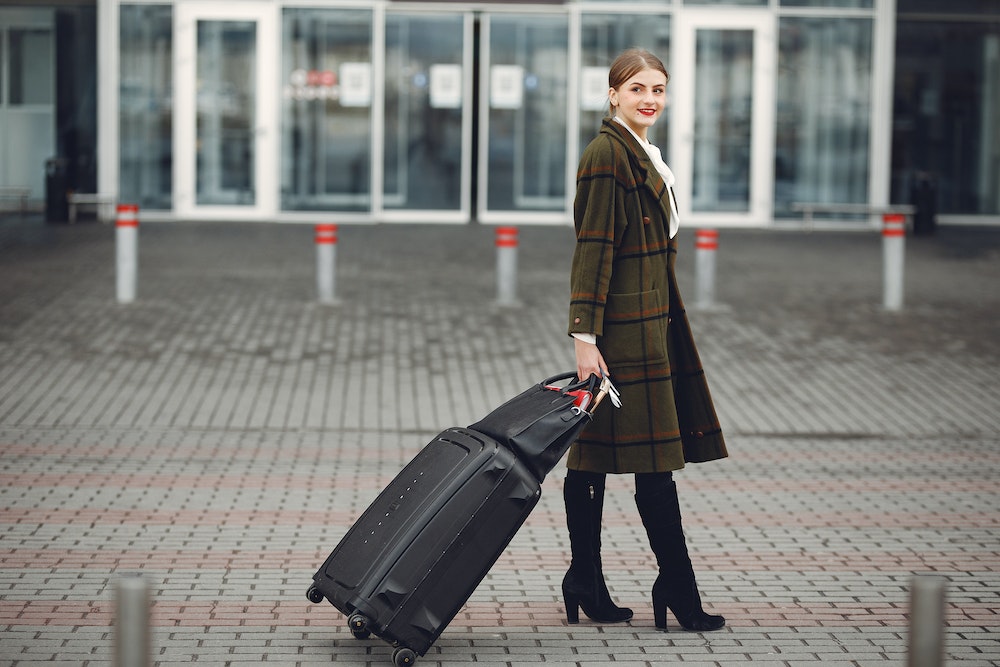 Ultimate Airport Fashion For Petite Women: 15+ Tips
If you're a petite gal gearing up for your next adventure and wondering what your go-to airport outfit should be, then look no further. 
Whether you're embarking on a long-haul journey or a quick getaway, deciding what to wear can sometimes be a head-scratcher. 
But fear not, because we've got you covered with some fantastic airport fashion tips tailored just for you. Let's make sure you're not only comfy but also chic and absolutely ready to jet-set!
Panaprium is proud to be 100% independent, free of any influence, and not sponsored. We carefully handpick products from brands we trust. Thank you so much for buying something through our link, as we may earn a commission that supports us.
Sweatsuit 
Starting with the basics, a cozy sweatsuit is a petite traveler's best friend. Opt for a matching set in a flattering color or print. Remember, comfort is key, especially during long flights or layovers.
Celebs such as Hayley Bieber have nailed this comfy look, so why not you too?
Find more travel outfit ideas for petite women here.
Comfy Sneakers
Keep those petite feet happy with comfy sneakers that provide support while adding a sporty touch to your look. They're perfect for dashing through terminals without missing your connection. 
Sneakerheads, this is your moment to shine!
Discover these 12 best European sustainable sneaker brands right now.
Maxi Skirt 
For a breezy and stylish airport outfit, consider a maxi skirt. It's a petite-friendly choice that elongates your silhouette and will keep your legs cool and comfortable. 
Pair it with a simple tee or tank and top it off with a cute fedora hat for a gorgeous airport look.
Have a look at these stunning maxi skirts.
Trench Coat 
A classic trench coat is not only timeless but also adds an instant touch of sophistication to your airport ensemble. 
Go for a neutral shade that complements your style. Oatmeal tones will have you strutting to your terminal like Victoria Beckham.
Discover these gorgeous trench coats to complete your look. 
All-Black
For a divine look, embrace the power of all-black attire. It's slimming, versatile, and always in fashion. Layer different textures to add depth to your outfit.
Consider skinny black pants, a black tee with black sneakers or ankle boots to make your airport-worthy outfit sleek and sophisticated. 
Check out these amazing and affordable petite clothing brands.
Layers 
Layering is a petite traveler's secret weapon. Put a flannel shirt over a chunky knit for warmth and style. 
Not only does it look classy and cute, it allows you to adapt to changing temperatures during your journey.
Here are the best winter clothes for petite women.
Sporty Chic
Experiment with a sporty chic look by blending athletic and casual wear. Mix and match pieces like a sports top with flared leggings. 
This combo keeps you comfy and trendy. Celebrity pocket rockets like Kylie Minogue and Kim Kardashian have nailed this look. Who says you need a polluting private jet to look like a star? You can look fashionable in good conscience with sustainable clothes.
Check out the 16 best affordable activewear brands in the USA.
Tracksuit 
Channel your inner athlete with a tracksuit that's both cozy and stylish. It's the ideal outfit for those long-haul flights where you want to feel snug yet fashionable.
Pick a muted color like beige or gray for ultimate cozy vibes.
Take a peek at the 20 best ways to dress a petite hourglass figure.
Thigh High Boots and Oversized Sweater
If you're feeling daring, why not rock thigh-high boots and an oversized sweater? This bold look adds height and drama to your airport style, and it's perfect for making a statement.
This fit is not exactly for the faint-hearted, but if glamming it up is your jam then this baddie fit will have the paparazzi mistaking you for Ariana Grande.
Discover these amazing vegan boots now.
Fancy Coat
For a touch of elegance, consider wearing a fancy coat that exudes sophistication. It's a surefire way to look polished, even when you step off a plane.
P.S. Wearing your nice coat whilst you travel gives you extra room in your luggage, so what is not to love?
We have compiled a selection of the 20 best affordable winter coats just for you.
Chunky Shoes
Add a bit of height and 70s glam to your look with chunky shoes. These shoes not only provide comfort but also give your petite frame an extra boost.
If you want to elevate yourself from an everyday look to a paparazzi-worthy fit, then a pair of chunky heels paired with pants or a skirt could be the answer.
Want to know how to embrace 70s fashion in 2023, then look no further.
Linen Pants
Linen pants are perfect for a relaxed airport outfit. They're breathable and effortlessly stylish. Pair them with a simple top for a laid-back yet chic look.
Go for a beautiful earthy tone like oatmeal, or if you are a messy eater like me, perhaps black is better. Either way, you can pair them with a linen shirt or sweater to look chilled and cool as you travel.
Take a peek at the 20 best affordable linen pants for women in 2023.
Denim 
A pair of well-fitted jeans is a petite traveler's go-to. Opt for high-rise or baggy jeans to create the illusion of longer legs. Dress them up or down to suit your style.
Personally, I like to lean into the casual vibe of this look, but you could easily jazz it up with a cute piece of luggage and some nice shoes.
Learn more about the denim jackets that every woman needs to have in her life.
Slouchy Shirt 
A slouchy shirt adds an air of effortlessness to your ensemble. Pair it with tailored bottoms for a balanced and fashionable look.
This is ideal for traveling because you can tuck it, layer it, or wear it off the shoulder and it will look fab.
Check out the 20 best hemp shirts and tees.
Sweater Dress 
For maximum comfort and style, try a sweater dress. It's cozy and cute, and it allows you to move freely during your travels.
This garment is ideal for smaller frames because it provides just the right amount of figure-hugging vibes. Pair with a pair of chunky ankle boots or sneakers for a gorge airport fit.
Here are the 20 best sweater dresses that you need to own.
Streetwear 
For a trendy vibe, pair cargo pants with a cute crop top. It's a streetwear-inspired look that's perfect for petite women who love fashion and comfort.
Add a crossbody bag to your fit to keep all of your valuables in check. You may be a nervous flier, but at least your outfit will look sick.
Take a peek at the 20 best sustainable streetwear brands now.
Was this article helpful to you? Please tell us what you liked or didn't like in the comments below.
About the Author: Catriona Jean