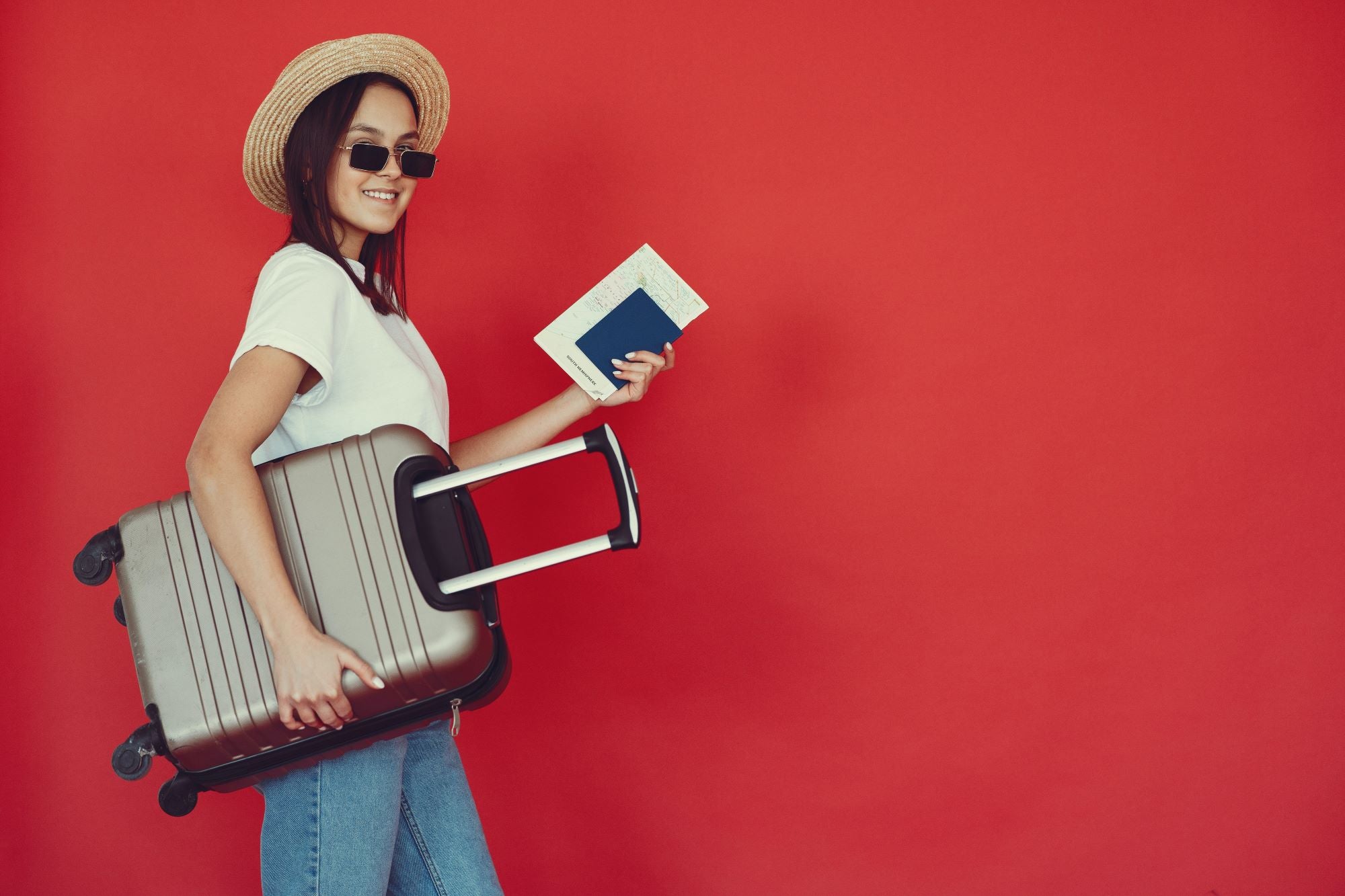 Ultimate Travel Clothes For Petite Women: 15+ Stunning Outfits
You are in the right place if you are about to embark on a trip and cannot decide what to wear as a petite woman. We have compiled 15+ outfits and useful tips for you to pack the best travel clothes and enjoy your trip.
When choosing travel clothes, it is crucial to pay attention to the fabric, versatility of an item, and how it fits you as a petite woman. Keep scrolling to discover the ultimate outfit suggestions and bonus tips.
Our outfit suggestions and descriptions provide a starting point for creating a versatile and stylish travel wardrobe for petite women. Feel free to customize the list according to your style and the specific requirements of your destination.
Panaprium is proud to be 100% independent, free of any influence, and not sponsored. We carefully handpick products from brands we trust. Thank you so much for buying something through our link, as we may earn a commission that supports us.
High-waisted Jeans
A pair of well-fitted high-waisted jeans is a must-have for petite women during travel. Look for jeans with a bit of stretch to provide comfort during long flights or road trips. 
The high-waisted style helps create the illusion of longer legs, giving you a flattering silhouette. You can pair them with a tucked-in blouse or a cropped top for a chic and effortless look.
Tunic Top
When it comes to travel, comfort is essential, and a lightweight tunic top is perfect for that. Choose a tunic with a relaxed fit that falls just below the hips. You can pair it with leggings or jeans for a comfy yet stylish outfit. 
Cute Maxi Dress
A petite-friendly maxi dress is a versatile option for travel. Look for a dress that is tailored to your height, so it does not overwhelm your frame. Opt for lightweight fabrics that drape well and provide ease of movement.
A maxi dress is ideal for both daytime exploring and evening dinners. You can layer it with a denim jacket or a cardigan for added style and warmth.
Denim Jacket
A classic denim jacket is a travel essential. Choose a cropped or fitted style that complements your figure. A denim jacket adds a touch of casual cool to any outfit and can be layered over dresses, paired with jeans, or even worn with a jumpsuit
Comfy Leggings
Comfortable and versatile, leggings are perfect for travel days. Look for leggings made from stretchy and breathable fabric. Opt for a high-waisted style to provide extra support and create a streamlined silhouette. Pair the leggings with a tunic top, oversized sweater, or hoodie for a cozy and relaxed travel look.
Delightful Cardigan
A lightweight cardigan is an essential layering piece for your travel wardrobe. Choose one that is soft, cozy, and made from breathable materials like cotton or lightweight knit.
Opt for a neutral color to easily mix and match with your other outfits. A cardigan is perfect for layering over a t-shirt, dress, or blouse when the temperature drops or in air-conditioned environments.
Breathable Sneakers
Comfortable footwear is crucial when traveling, and a pair of breathable sneakers is a practical choice. Look for sneakers with cushioning and support, specifically designed for walking and long hours on your feet.
Opt for lightweight materials that allow your feet to breathe. Choose a versatile color that complements your wardrobe, such as white, gray, or black.
Crossbody Bag
A compact crossbody bag is a functional and stylish accessory for travel. Look for a bag that is lightweight and has multiple compartments to keep your belongings organized.
Opt for a size that fits your essentials like a wallet, phone, passport, and small travel essentials. Choose a neutral color or a versatile print that complements your outfits. Consider a bag with an adjustable strap for a customized fit.
Well-fitted Midi Skirt
A well-fitted midi skirt is a versatile piece that can be dressed up or down during your travels. Look for a skirt that hits just below the knee to create a flattering silhouette.
Choose lightweight fabrics like cotton or linen for breathability. Pair it with a tucked-in blouse and comfortable flats for a sophisticated look. 
Neutral-colored T-shirts
Pack a few neutral-colored t-shirts that can be easily mixed and matched with different bottoms. Look for soft and comfortable fabrics like cotton.
Opt for classic cuts like crew neck or v-neck that flatter your petite frame. Neutral colors such as white, black, gray, or navy are versatile and can be paired with jeans, skirts, or shorts.
Wide-brimmed Hat
A stylish wide-brimmed hat is not just a fashionable accessory. It will protect you from the sun during your travels. Look for a hat with a brim wide enough to shield your face and neck.
Choose a color and material that suits your style, such as a straw hat for a beach vacation or a felt hat for city exploration. A wide-brimmed hat adds a touch of sophistication to any outfit.
Comfortable Flats
Get comfortable flats that are both stylish and practical for travel. Look for flats with cushioned insoles and arch support to ensure maximum comfort. Opt for versatile colors to easily match them with different outfits. Flats can be paired with jeans, skirts, or dresses, providing a chic and comfortable option for walking around new cities.
Lightweight Scarf
A lightweight scarf is a versatile accessory that can add style and functionality to your travel outfits. Look for scarves made from breathable materials.
Choose a pattern or color that complements your wardrobe and can be easily mixed and matched. Use the scarf to keep you warm during chilly evenings or as a fashion statement by tying it around your neck or bag. Check out our selection of the 15 best affordable vegan leather bags and purses. 
Comfortable Jumpsuit
A well-fitted jumpsuit is a stylish and cute option for travel. Look for a jumpsuit made of lightweight and breathable fabric like linen or cotton. Opt for a style that cinches at the waist to flatter your figure.
Jumpsuits are versatile and can be dressed up with heels and statement jewelry or dressed down with sneakers and a denim jacket.
Packable Rain Jacket
Pack a cute rain jacket for unexpected showers during your travels. Look for a jacket that is lightweight and can be easily folded into a compact size for easy storage in your bag.
Opt for a waterproof and breathable material that will keep you dry. Choose a style that suits your taste: a beautiful trench coat or a sporty windbreaker.
Tailored Blazer
A tailored blazer is a versatile and polished piece that can elevate your travel outfits. Look for a blazer with a slim fit and shorter length to flatter your petite frame. Opt for lightweight fabrics like linen or cotton blends that are comfortable and breathable.
Was this article helpful to you? Please tell us what you liked or didn't like in the comments below.
About the Author: Gohar Davtyan