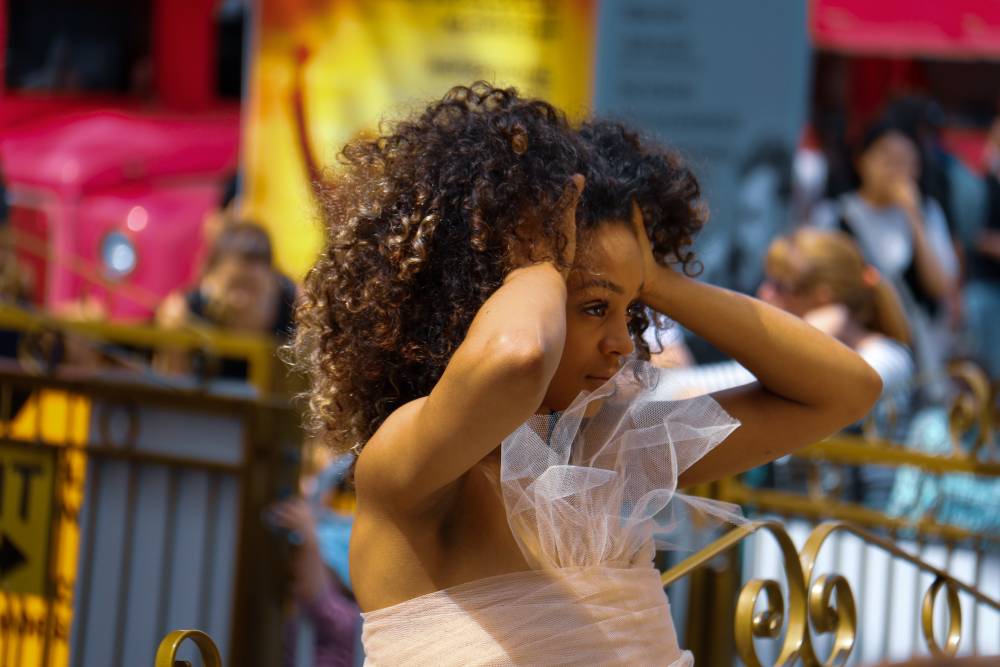 The Disastrous 10 Worst Fabrics For The Environment
The fashion industry is one of the largest polluters globally. Most of the pollution it creates comes from fabric production. Many textiles used for clothing have a disastrous impact and are the worst for the environment.

The clothes we wear have a terrible impact on people, animals, and the planet. Most of them are full of toxic chemicals and consume crazy amounts of resources, land, water, and energy.

One of the best ways to reduce the environmental impact of fashion is to buy more eco-friendly fabrics. As consumers, we have the power to change what's happening in the fashion industry today.

The first step we can take toward a more sustainable future is getting informed on fabrics to avoid when shopping for new clothes. Consuming less and better helps tremendously to protect the Earth.

With a few great tips, you can build a more conscious wardrobe that does better for people and the planet. Shop more ethical brands that use sustainable materials.

If you want to do a bit of digging, you can easily find out about the awful consequences of fast fashion, the terrible fabrics they are using, and their disastrous impact on the environment.

The global textile and apparel industry is very harmful in many different ways. Unfortunately, there is a lot of conflicting information out there. Most fashion brands and retailers are hiding the truth from consumers.

Businesses don't want you to know how much pollution, waste, and carbon dioxide emissions they are responsible for. Even if the oil industry is the most polluting globally, petroleum-based textiles aren't the only culprit.

Not every natural fabric is good for the environment. There are many facts behind the clothes you wear that fashion brands don't want you to see.

To make it as easy as possible for you to make conscious decisions, I've compiled here the information you need to avoid wasteful fabrics, buy better clothing, and support sustainable fashion labels that are actively working to reduce their environmental impact.

I know this information may seem overwhelming and frustrating at first, especially if you are new to sustainable fashion. Take it one step at a time. You don't have to change completely tomorrow.

Ultimately, if you take the approach of shopping less and higher-quality, you are well on your way to have a positive impact on society and the environment.

To discover the more sustainable options for your wardrobe, here are the 10 worst fabrics for the environment.


Panaprium is proud to be 100% independent, free of any influence, and not sponsored. We carefully handpick products from brands we trust. Thank you so much for buying something through our link, as we may earn a commission that supports us.

1. Cotton


Cotton is probably the fabric you expect the least to see on this list. But it's one of the worst for the environment.

Conventional cotton is one of the worst natural fibers. It's extremely wasteful, polluting, and damaging to human health. It ruins biodiversity and soil fertility.

Today, cotton is mass-produced in subtropical countries around the world. And mass-production isn't sustainable. It's the second most used fiber for apparel and footwear after polyester.

30.3 million tons of cotton are produced each year globally, as estimated by the Food and Agriculture Organization of the United Nations (FAO).

China is the largest producer of cotton worldwide with 6.1 million tons of cotton produced in 2018, followed by India (4.69 million tons), and the United States (4 million tons).

Regular cotton farming pollutes the air, water sources, soils, endangering ecosystems, and human lives. It accounts for 16% of all insecticides, 7% of all herbicides, 4% of all nitrogen and phosphorous fertilizers worldwide.

Cotton also requires a lot of water to grow. It's one of the most water-intensive crops. It takes about 20,000 liters of water to produce one kilogram of cotton, equivalent to a single t-shirt and pair of jeans, as reported by the World Wildlife Fund (WWF).

The better alternative is to buy organic cotton. The Textile Exchange estimates that organic cotton farming can potentially save 218 billion liters of water and 92.5 million kg of carbon dioxide.

About 80% of all organic cotton is grown with water form rainfalls, which reduces pressure on local water sources. It's non-GMO and grown without man-made fertilizers, pesticides, and herbicides.

Here are some of the best places to buy amazing organic cotton clothes that will protect your skin, your well-being, and the health of your family:

2. Polyester


Polyester is the most used fabric for apparel and textile worldwide. The total production of polyester fibers increased to 55 million tons in 2018 globally. It accounts for 52% of all fiber production.

The largest producer of polyester worldwide is China. Half of its polyester is manufactured in the Zhejiang region and a third in Jiangsu.

With the rise of fast fashion over the last 20 years, polyester became a highly popular fabric to make cheaper, trendier, and disposable clothes.

It's a synthetic fabric made from petroleum-based chemicals or petrochemical products. It's also known as polyethylene terephthalate (PET). Its fabrication involves the polymerization of synthesized polymers compounds made from oil-derived materials.

Polyester is responsible for the global plastic waste and microfiber pollution that endangers ecosystems, marine life, land wildlife, and human health.

Polyester isn't biodegradable and can take up to thousands of years to decompose in the oceans, according to recent research.

Polyester clothing produces huge amounts of waste, pollutes the air, soil, and water with plastic microfibers and hazardous chemicals.

A more environmentally friendly alternative to polyester is recycled polyester (rPET). It's manufactured from PET bottles, post-industrial polyester waste, or used clothing.

Use recycled polyester instead of virgin polyester to decrease impacts on the air, land, and water. It reduces energy consumption by 30-50%, water consumption by nearly 90%, and greenhouse gas emissions by about 60%.

Some fabulous fashion brands making clothes out of recycled polyester are:

3. Nylon


More than 300 million tons of plastic are produced every year and less than 10% of all plastic is recycled. Nylon is a major contributor to plastic waste.

Nylon or polyamide is a synthetic fiber often used in the fabrication of sportswear, swimwear, and athleisure garments. 5.4 million tons of polyamide were produced in 2018. It represents 5% of global fiber production.

It has a huge negative impact on the environment. It takes thousands of years to decompose under cold conditions like in the ocean.

Nylon waste ends up in landfills and oceans and pollutes the air, water sources, and entire food chain, threatening human health, wildlife and the planet.

Fortunately, nylon can be recycled, recreated, and remolded to become brand new again and create new products without having to use new resources.

Buy clothing made from regenerated nylon to support a circular regenerative fashion industry and the cleaning of our oceans.

Recycled nylon saves around 7 barrels of crude oil and 5.7 tons of CO2 equivalent emissions for every one ton of raw material produced. This reduces the global warming impact of nylon by up to 80% compared with the material from oil.

Regenerated nylon is used in stylish clothes, lingerie, swimwear, and activewear. Here are some of the best fashion brands that make clothes with recycled nylon:

4. Acrylic


Acrylic or Polymethylmethacrylate (PMMA) is a synthetic material made from petroleum-based plastics. About 2 kg of petroleum is needed to make 1 kg of acrylic.

Acrylic fabric is often used in sweaters, hats, socks, and blended with other natural or synthetic fibers. It looks and feels like wool. It's warm, soft, and lightweight.

Acrylic production involves the polymerization of a plastic solution that consumes tons of energy and chemicals. Spinnerets transform the viscous solution into acrylic fibers that are ready to be spun into threads, which are then woven into fabrics.

Acrylic fabric is used to create cheaper clothes as it saves a lot of money on raw materials. The very low-cost of acrylic is its main advantage compared to natural fibers. But fabrics made of acrylic aren't environmentally friendly or healthy.

Acrylic is highly flammable. It's also made of polyacrylonitrile polymers that may lead to cancers through skin contact, ingestion, or inhalation.

Acrylic is also subject to pilling. It reduces the lifespan of clothes considerably.

Like many other synthetic fibers, acrylic isn't biodegradable and take hundreds of years to decompose. As it breaks down, acrylic releases toxic chemicals and greenhouse gases into the environment.


5. Viscose


Viscose is a type of rayon fiber, like acetate and modal. It's a semi-synthetic cellulosic fiber generally derived from wood pulp. Viscose production is usually associated with massive deforestation.

Many fashion brands and designers often choose viscose to create relatively affordable and low-quality clothes in overseas countries. It's used in cheaply produced garments as the primary fiber content or a substantial part of the fiber composition.

Every year, 6.7 million tons of man-made cellulosic fibers are produced globally, according to Lenzing. They account for 6.2% of all fiber production worldwide.

Viscose rayon is the most widely used semi-synthetic fabric. It has around 79% market share with 5.3 million tons produced in 2018, as reported by the Textile Exchange.

Viscose is not an environmentally friendly material. Manufacturing clothing from plants or wood requires heavy processing. The large majority of viscose is created with a chemically-intensive process that's harmful to people and the environment.

Viscose fabrication involves a lot of energy, water, and toxic chemicals, such as carbon disulfide, sulfuric acid, ammonia, acetone, or caustic soda. These highly dangerous substances poison the environment and put workers' health at risk.

A possible alternative to improve its eco-friendliness is to use sustainable production facilities. Buy Tencel instead, a brand of lyocell, is an environmentally friendly cellulosic fiber produced sustainably.

Closed-loop processes can almost fully recover and reuse water and chemicals used during the manufacturing of lyocell. Tencel is semi-synthetic and not natural but its impact on the environment is much lower compared to other fibers.

Here are some successful fashion brands that produce sustainable clothing from Tencel lyocell:


6. Bamboo


Don't be fooled by marketing campaigns advertising bamboo as an environmentally friendly fabric. Bamboo isn't a natural fabric but a semi-synthetic rayon fiber. In reality, bamboo fabric is viscose made of wood fibers coming from bamboo.

Its production uses the same chemical-intensive processes that transform wood pulp from beach trees into a viscous solution.

Bamboo fabric is often marketed as eco-friendly but it's harmful to the environment, eco-systems, and human health.

Most dyes, bleaches, and treatments used in the textile and apparel industry are hazardous. Harsh chemicals are applied to improve fabrics' properties and make them water repellant, wrinkle-free, or stain resistant.

Wearing toxic fabrics puts our skin at risk. It may lead to cancer, hormonal dysfunction, insomnia, nausea, immunity harm, anorexia, and behavioral problems.

Bamboo as a plant is considered natural but bamboo viscose isn't eco-friendly. It consumes large amounts of resources and heavy chemicals that are toxic to humans and harmful to the environment if released untreated.

China is the largest producer of bamboo in the world followed by India. But there is no guarantee that the majority of bamboo grown there is eco-friendly. Intensive bamboo cultivation can be detrimental to the environment without regulations.

Natural and organic fabrics like hemp are an environmentally friendly alternative. Hemp is one of the most eco-friendly fibers in the world.

It has been used for thousands of years to produce durable textiles. It's very absorbent, lightweight, resistant, anti-bacterial, and breathable.

Hemp also keeps soil fertility and requires very little water to grow, almost no pesticides or fertilizers.

Here are some amazing places to buy natural hemp clothes and build a conscious wardrobe:

7. Acetate


Acetate or cellulose acetate is a semi-synthetic fabric and another type of rayon fiber. It's the second most used man-made cellulosic fiber globally after viscose.

Acetate is generally made from wood pulp like viscose. It's regularly used in fashion to produce clothing and accessories because it's smooth, sheen, and cheap.

Acetate is manufactured by deconstructing wood pulp into a purified fluffy white cellulose. Acetate manufacturing requires the use of acetic acid, acetic anhydride, sulfuric acid, and acetone.

The resulting cellulosic solution is extruded by spinning to form filaments that are finally spun into fibers. A lot of chemicals and water are needed in acetate production to condition wood pulp, treat cellulose fibers, dissolve cellulose triacetate, purified and wash the regenerated fibers.

Acetate isn't commonly eco-friendly or sustainable. Even if its made of natural renewable materials unlike petroleum-based fibers, Acetate production is very polluting and wasteful.

When produced in poorly regulated facilities, acetate not only damages the nearby environment but also endangers workers' health. Acids and other toxic chemicals can easily leak into waterways and pollute water sources.


8. Wool


Wool is used in fashion to produce warm clothes such as shirts, coats, pullovers, jackets, sweaters, sock, gloves, leggings, and slippers. Many types of wool fabrics exist such as shearling, cashmere, mohair, and angora.

Contrary to popular belief, wool production is very detrimental to the environment. It has long-term disastrous effects on ecosystems and human health. Wool is obtained from animals that are exploited and exposed to dangerous substances.

More than 95% of all wool comes from mass production globally. And mass production isn't ethical or sustainable.

1.155 million kg of wool is made from 1.177 billion sheep around the world annually, according to the International Wool Textile Organisation (IWTO).

Sheep farming creates enormous amounts of greenhouse gases. Sheep digestion produces methane, one of the most potent greenhouse gas that warms the planet as much as 80 times more than carbon dioxide, according to the United States Environmental Protection Agency (EPA).

Wool fiber is one of the five most environmentally damaging fiber worldwide, as reported by the Global Fashion Agenda. Wool processing requires a lot of chemicals. Pesticides and insecticides are also used on sheep to keep them free of parasites.

500,000 liters of water are needed to manufacture a metric ton of wool, used to raise sheep, and clean wool fibers. Wastewater contains residual toxic chemicals and is highly polluting.

A more sustainable fabric alternative is Linen. Linen is a natural fiber used in fashion made from a renewable resource: the flax plant.

Clothing pieces made from linen fabric are well-known to be luxurious and exceptionally cool in hot weather.

Linen is a natural fiber, biodegradable, recyclable. It's one of the most environmentally friendly and socially responsible materials.

Some of the most amazing sustainable fashion brands making linen clothing are:

9. Leather


Leather tanning is very destructive to the environment, ecosystems, and human health.

The processing of animal-derived textiles like leather requires tons of harmful chemicals that pollute rivers, water sources, and soils when released untreated into the nearby environment.

Leather isn't just a byproduct of the meat industry. Buying leather goods doesn't prevent more waste.

The leather industry is already very lucrative on its own. Skins and hides are the most valuable parts of animals, as reported by Bloomberg.

The highest quality and most expensive leather is made from very young animals that have smooth skin, and no scratch or parasite yet. They aren't killed for their meat at such a young age.

2.29 billion cows, calves, buffaloes, goats, and pigs were killed for their hide and skin to make leather in 2018, according to the FAO.

Leather production isn't sustainable. Leather may be seen as a natural product, but it isn't environmentally friendly or biodegradable.

The washing, bleaching, tanning, dyeing, and treatment of leather requires lots of hazardous chemicals.

The EPA reveals that large quantities of chromium waste are created by leather tanning. It's very toxic and extremely destructive to ecosystems and human health.

High-quality animal-free leather is often made from synthetic alternatives such as polyurethane (PU).

Corn Waste Leather (CWL) is another eco-friendly option. It's a bio-based material made from waxed canvas with 50% corn waste from the food industry and biodegradable polyurethane.

Synthetic leather can also be made from pineapple waste. Piñatex is a pioneer in natural leather alternatives made from cellulose fibers extracted from pineapple leaves.

Most major brands offer animal-free leather today. You can find many high-quality sustainable options at the following places:

10. Fur


The fur of animals is considered a luxury in fashion. It's made from animal coats, furry animal hide, animal skins with hair left.

Some of the animals killed for fur are bears, beavers, cats, chinchillas, dogs, foxes, minks, rabbits, raccoons, seals, and many others.

The fur industry claims to be sustainable, even environmentally responsible. But many reports provide different assessments on both sides of the argument.

Alternatives to real fur are often made from petroleum by-products, which aren't sustainable or biodegradable.

However, fur production involves very dangerous substances, including acids, bleaches, and toxic dyes. Many hazardous chemicals are used to prevent putrefaction up to unsafe levels.

Fur factories pollute the air, soils, and water sources in the surrounding environment. Animal wastes contain high concentrations of nitrogen and phosphorus.

About 245 mink farms in 22 states across the United States produce around 3.1 million pelts annually, according to the Fur Commission.

Millions of pounds of feces are produced annually, polluting nearby rivers and water sources. The Humane Society reports that this is the most common form of water pollution in the United States.

Fortunately, many fashion designers and brands such as Armani, Calvin Klein, Gucci, Michael Kors, Vivienne Westwood now choose to avoid fur completely. A lot of A-list celebrities and social media personalities are also against the use of real fur in fashion.

No excuse can justify the mass killing of animals for fashion. It's not ethical, not acceptable, and not environmentally friendly.

Instead, let's choose materials that are sustainable, long-lasting, and biodegradable. It's time to support sustainable fashion made from renewable resources under socially fair and environmentally responsible conditions.
Was this article helpful to you? Please tell us what you liked or didn't like in the comments below.