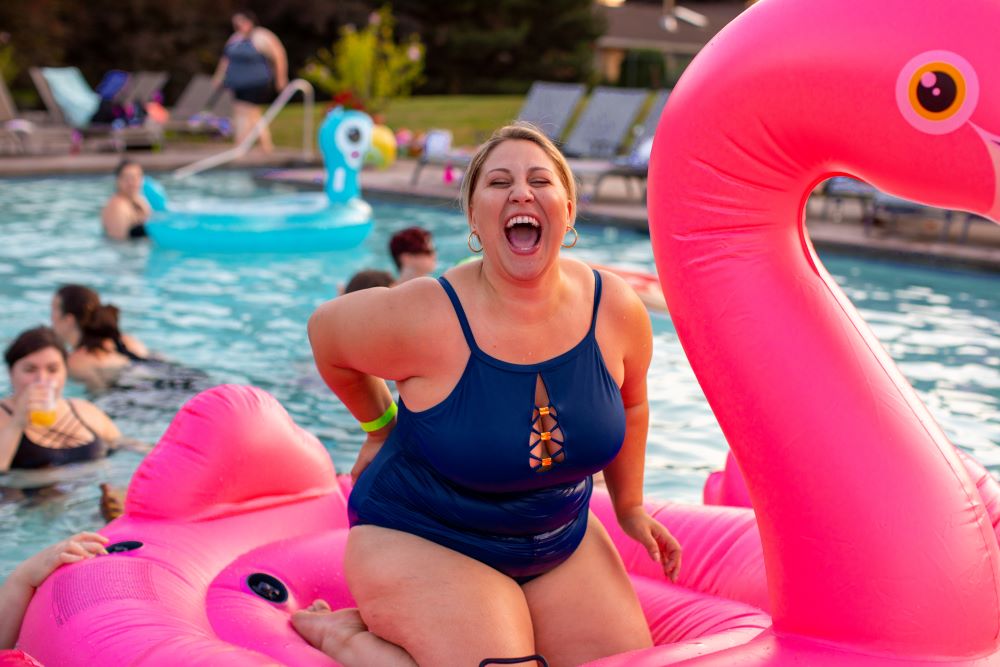 Practical Outfits and Tips for SeaWorld
Seaworld is a massive theme park, that combines a water park, ride park, and animal shows all in one. There are several Seawrold locations in the United States, with the headquarters being in Orlando, Florida.  
In addition to the park and attractions, Seaworld also rescues, rehabs, and houses different marine animals including orcas, sea lions, and dolphins, many of whom are used in their shows. Their animal shows are not only meant to entertain but bring awareness to their conversation program of marine life.
All in all, SeaWorld is a large park with a lot to do and see. Dressing inappropriately can negatively affect your experience and day. You want to be comfortable and cool as you explore the many sites and rides SeaWorld has to offer.
Panaprium is proud to be 100% independent, free of any influence, and not sponsored. We carefully handpick products from brands we trust. Thank you so much for buying something through our link, as we may earn a commission that supports us.
Dress Code
Guests must have a shirt, shorts or pants, and shoes on at SeaWorld. SeaWorld is a family park so anyone wearing clothing with suggestive or explicit language or insulting statements will be turned away. Bathing suits are also only allowed at Aquatica and not in the main park.   
Learn the dress code of other amusement parks.
Dress Comfortably
Dressing comfortably is the most important tip for SeaWorld as you will be moving a lot and be out in the heat and humidity. Wear light, breathable clothes that you can move in. Choose clothes that will dry quickly like polyester so you aren't weighed down or overheated. 
Find more loose, comfortable clothes here.
Athletic Shorts 
Athletic shorts are great for humidity and water as they dry quickly and don't get terribly heavy.  They are also meant for movement and comfort.
Check out these workout shorts.
Khaki Shorts 
Khakis shorts are a more formal option that can be worn in the park and for dinner. Khakis shorts also generally have pockets so you can stay hands-free throughout the day.
Loose-Fitting Shirt 
A loose-fitting shirt will help you stay cool and comfortable. Choose one made of quick dry material so you can stay dry through the day.
Polo Shirt 
A polo shirt is a more formal option that can be worn in the park and for dinner. Choose one that is light and breathable so you aren't overheating. 
Find more collared shirts here.
Walking Shoes 
Good, comfortable shoes are a must for SeaWorld with the amount of walking and standing you will be doing during the day. Make sure your shoes are comfortable, supportive, and fit well.  
Sunglasses 
Sunglasses are important to protect your eyes from the sun and to help you see so you aren't squinting all day. Also, consider choosing glasses that aren't expensive or your favorite in case you lose them or drop them at the park or on one of the rides.
Hat 
A hat will protect your head from the sun, and rain and help keep you cool. Whether you choose a baseball cap or brimmed hat, make sure it fits well so it can't easily blow away in the wind. Also, make sure to take it off before going on a roller coaster or any other ride where you flip upside down.
Spare Change of Clothes 
A spare change of clothes is a great idea if you get soaked from a ride or the rain. They can be stored in your bag or one of the park's lockers. You can also bring a spare nice outfit like a polo and dress slacks if you are planning on going for dinner at one of the park's restaurants.
Learn when you should change clothes here.
Bathing Suit 
If you are planning to go to Aquatica, Seaworld's water park, a bathing suit is a must. Choose a bathing suit style that will stay in place as you go on water rides and slides. There are also lockers to store your bathing suit and other belongings in the park.
Check out these bathing suits.
Leggings 
Leggings are a comfortable option that will help protect your legs from the sun while still not overheating them. Many leggings are also made of quick dry material in case they get wet or you sweat in them.
Water Shoes 
Water shoes perform great at SeaWorld. They are comfortable, slip-resistant, and breathable. They also won't get damaged in the water and dry quickly.
Poncho 
Even in the summer months, a light poncho will come in handy in case it rains or you are in the splash zone of one of the rides or shows. A poncho can be folded up and stored in your bag and doesn't have to be carried around all day like an umbrella. 
Check out what other places to wear a poncho to.
Light Rain Jacket 
A light rain jacket will come in handy if you get wet or cold. It can be worn outside if the weather is not the nicest, or indoors for events, rides, and dinner.
A Small Bag
A small, lightweight bag is ideal for storing your belongings, sunscreen, water bottle, and other key items while still allowing you to remain hands-free.
Avoid Cotton Shirts 
Avoid cotton shirts or any other clothes made from cotton. Cotton takes a long time to dry in the humidity and from sweat and water. It also becomes quite heavy and will weigh you down.
Learn more about organic cotton here.
Avoid Long Flowly Fabrics
Avoid long flowy dresses, skirts, and any other articles that can get in the way or even caught on rides or different attractions. Long flowy fabrics can also take longer to dry and may become heavy as you walk through the park.
Save these flowy dresses for later.
Do
Do wear sunscreen and bring the bottle so you can reapply if you get wet or go on one of the water rides.  
Try a cover-up to help protect you from the sun.
Don't
Don't try to do everything in the park all in one day. SeaWorld is a large park with many different attractions. Plan ahead and if possible, try to go for a few days, or choose only your favorite events.
Find more tips for visiting Epcot.
Travel Tips
 
If the weather is poor, you can still enjoy the indoor locations and events. If the weather is so poor that the park closes, you will receive a free return visit you can redeem within one year of your visit.
Many of SeaWorld's restaurants require closed-toe shoes, and many people wear dressier clothes like khaki shorts and a polo or blouse.
Find more travel tips for other amusement parks here.
Was this article helpful to you? Please tell us what you liked or didn't like in the comments below.
About the Author: Shelby Bonner