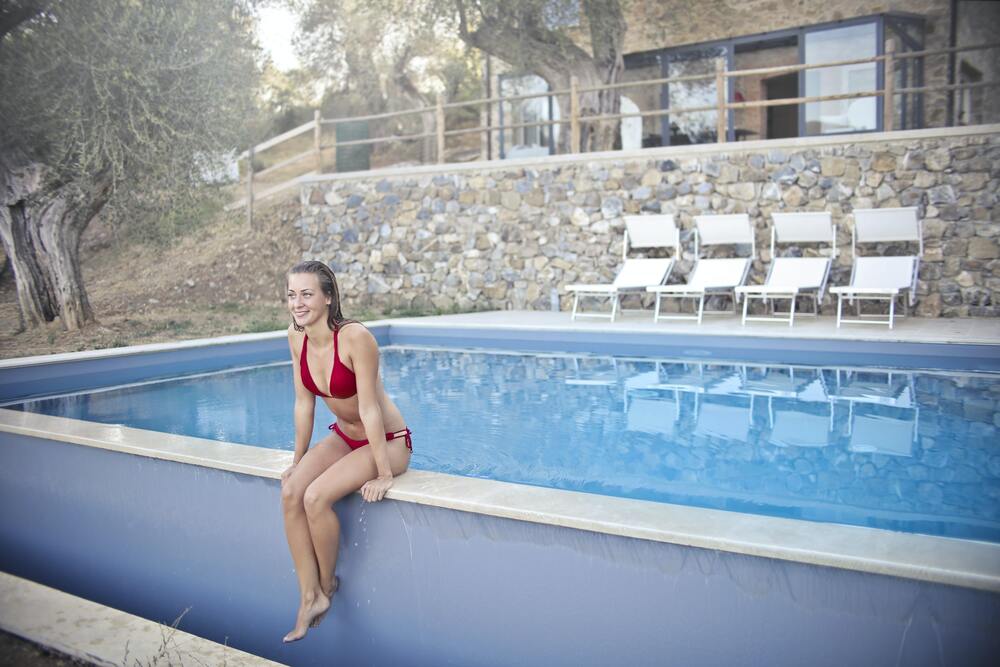 Best Outfits To Wear To Water Aerobics
Water aerobics is a great way to get in shape and stay healthy while also enjoying the refreshing feeling of being in the water. Water aerobics can enhance your sleep, minimize depression or anxiety, increase your concentration, and even reduce your cortisol levels, making it a great stress reliever!
However, if you're new to this type of exercise, you may wonder what to wear to water aerobics. Here are items that are essential for a comfortable and effective water aerobics workout:
Panaprium is proud to be 100% independent, free of any influence, and not sponsored. We carefully handpick products from brands we trust. Thank you so much for buying something through our link, as we may earn a commission that supports us.
One piece swimsuit
When selecting a swimsuit for water aerobics, there are several factors to consider, such as style, fit, and material. Also, various swimsuits are designed for different occasions and activities. A bathing suit for playing with your kids, a bathing suit for pool parties, and others for lounging by the pool and for physical activities such as aerobics.
As such, when picking a swimsuit for water aerobics, go for one that is supportive, sturdy, and keeps you secure and tucked. And that is where a one-piece swimsuit comes in handy for water aerobics.
Although swimsuits are available in various styles like wrap styles, v-neck, and more, I recommend a high-neck or scoop-neck one-piece bathing suit for your aerobics.
This way, you won't have to worry about low-coverage swimmers preventing you from performing the routines taught by the instructor. When trying on your one-piece swimmers, make sure it's tight enough to support you yet flexible enough to be comfortable.
Check out these 15 best-recycled bikinis and swimsuits you'll love.
A swim dress
Swim dresses are yet another excellent choice for your water aerobics session. They offer all of the coverage and support of a one-piece. A women's swim dress is a one-piece with a skirt attached.
Unlike a conventional dress (which you wouldn't wear to a fitness class! ), the skirt of a swim dress isn't excessively long or airy, so that it won't impede your poolside exercise. Again, make sure your swimmers fit appropriately so you can reap all of the therapeutic benefits that this type of suit provides.
Here are the 10 best affordable swimwear brands made in the USA.
Swim cap
While a swim cap may not be mandatory for water aerobics, it can offer several advantages, such as keeping your hair out of your face and reducing drag in the water.
A swim cap is a valuable accessory for water aerobics because it helps stop chlorine from damaging your hair and can keep loose hair out of your face and the pool.
Goggles
Goggles are a must-have accessory for any water-based workout, including water aerobics. Not only do they protect your eyes from chlorine and other chemicals, but they also enhance your underwater visibility.
Goggles keep water out of your eyes, and specific models with mirrored lenses minimize glare and UV radiation in bright circumstances. If you want to keep your head above water during your workout, you may not need goggles, but having them on hand is a good idea if you swim submerged during the workout.
Check out our selection of the best affordable and sustainable eyewear brands.
Rash guard
A rash guard is a type of swim shirt that offers sun protection and helps prevent skin irritation. It can be beneficial for outdoor water aerobics or if you have sensitive skin. Also, if you want to cover yourself during your water aerobics session, but don't fancy long sleeved t-shirt, go for a rash guard or a swim shirt.
They come in various styles and colors, ideal for someone looking to show less skin. This swimmer's design is available in long and short sleeves, but both simply fit over your swimming suit to provide an extra layer of covering. Swim shirts usually stop where most t-shirts do, at the top of your hips.
If you don't want the bottom of your swimming suit to show, you may also acquire a pair of swim shorts to wear. If you wish to be a more full-coverage swimmer for your water aerobics class, there are several possibilities.
Swim skirt
A swim skirt is an excellent option if you want a little more coverage and style than a traditional swimsuit. However, not all swim skirts are designed for water aerobics, and some may not provide the necessary flexibility or support.
Water bottle
Staying hydrated is crucial during any exercise, and water aerobics is no exception. A water bottle is an essential item to bring with you to your workout, but not all water bottles are created equal.
When purchasing a water bottle, search for one made of sustainable material, toxin-free, and non-corrosive. The bottle should also be challenging and sustain minor to significant impacts. The lid should keep leaks at bay; having high insulation to keep your drink warm for hours is a plus.
Towel
A towel is necessary for drying off after your water aerobics workout. However, not all towels are created equal; some may be more absorbent and quick-drying than others. Go for one that is lightweight, absorbent, and easy to pack in your gym bag.
Sunscreen
Even if you exercise in the water, protecting your skin from the sun's harmful rays is important. Sunscreen is an essential item to wear during outdoor water aerobics, but not all sunscreens offer the same level of protection or are suitable for use in water.
Do I need shoes for water aerobics?
More advanced (and strenuous) water aerobics workouts require special water shoes. Pick a model that uses foam padding, rubber souls, and good ventilation when choosing the right shoes for your water exercises.
Although many water shoes come in one-size-fits-all styles,  I highly advise that you find water shoes that perfectly fit the size of your feet. Doing so will prevent unnecessary discomfort while training. 
Some of the best shoes for water aerobics are low-top wetsuit booties. The soles on these lightweight water shoes have traction so you won't slip.
Get started!
Water aerobics is a healthy, safe, and fun way to get quality activity into your life. If you're interested in the training, check out the above clothing items to get an idea of what you need for your aerobic adventures today!
Overall, wearing the right clothing and accessories can make all the difference in your water aerobics workout. Look for comfortable, quick-drying items that protect from the sun and chemicals in the water. With the above items, you'll be ready to jump in and make a splash!
Was this article helpful to you? Please tell us what you liked or didn't like in the comments below.
About the Author: Dinushka Breaker Gunasekara