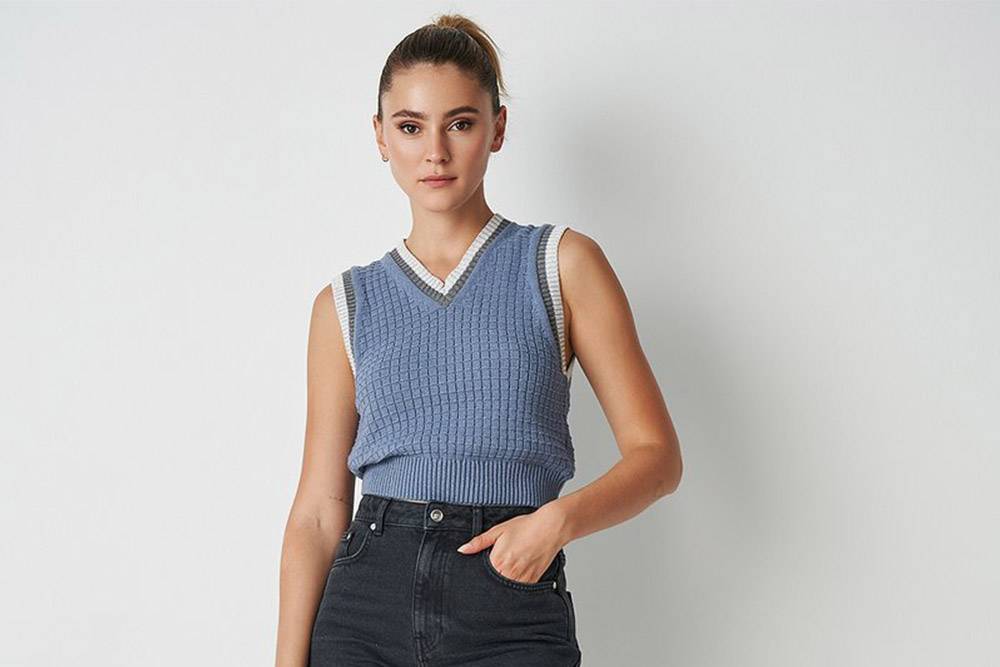 Stefanie Giesinger's Brand nu-in Is Now 100% Vegan

nu-in is a European fashion startup that provides sustainable and vegan fashion accessible to everyone. German model Stefanie Giesinger co-founded the brand in 2019 with a small group of friends.

She rose to fame in 2014 as the winner of the ninth season of the talent show Germany's Next Top Model. She also appeared on the cover of the German Cosmopolitan in June 2014. And she won "Idol of the Year" at the About You Awards in 2018.

nu-in started as a desire to create a sustainable clothing brand, both fashion-forward and affordable. It recently declared itself 100% vegan and partnered with People for the Ethical Treatment of Animals (PETA) to certify its cruelty-free fashion.


Panaprium is proud to be 100% independent, free of any influence, and not sponsored. We carefully handpick products from brands we trust. Thank you so much for buying something through our link, as we may earn a commission that supports us.

Sustainably Driven Fashion
nu-in is a new sustainable fashion label that puts the planet before profit. Every part of the business functions around sustainability to show the fashion industry that people can love collections made of recycled and organic materials.

nu-in wants to show the world that affordable fashion and sustainability can go hand-in-hand. It also believes that customers have the right to know where and how the products they buy were made.

Stefanie Giesinger and her co-founders Mike, Marcus, Poppy, and Nathan explain on nu-in.com:

"Whilst it's impossible to be 100% sustainable with any type of product production we still believe we can live in a world where the majority of textile production can be done with a more sustainable approach.

We just want to show the world that affordable fashion and sustainability can coexist. And if we only convince one person or one brand to think more about the impact fashion has on the environment, it will have all been worth it."
The sustainable fashion brand produces its clothes in factories that invest in clean energy under safe and humane conditions. It used lower impact fabrics to reduce its negative impact on the planet, such as organic cotton, and recycled textiles.

nu-in feels a responsibility to change the way fashion has been working for decades with little regard for the environment and people working the supply chains.


Becoming A Vegan Brand


Among fashion products that are ethically made, fairly traded, and cruelty-free, a lot of certification standards ensure that clothing pieces were produced according to the highest standards.

nu-in is convinced that sustainability and veganism are not isolated concepts. They have an overlap. The brand signed up PETA to have the official certification PETA Approved Vegan on its clothes. Together with her friends, Stefanie Giesinger writes:

"There is no real reason for killing and torturing animals for our own personal gains in food and fashion. No animals have been, or will be harmed in the manufacturing of our products and we feel it's important to be clear on this and stand firm on our mission going forward. By using the PETA icon, our customers know they are choosing pieces that align with their values."




Using eco-friendly materials


Instead of animal-derived materials commonly used in the fashion industry like leather, wool, and silk, nu-in uses eco-friendly fabrics made of biodegradable materials such as hemp, bamboo viscose, linen, and Tencel lyocell.

The ethical clothing brand chooses the most sustainable options to create fabulous garments that have a lower impact on people, animals, and the planet.

It prioritizes organic or eco-friendly materials to avoid harmful chemicals in production processes, limit waste, pollution, and water consumption.

nu-in never made products with animal-derived materials and was asked numerous times if it were a vegan brand before committing to it 100%.

The clothing company recently announced that it will also not make any product using animal ingredients in the future.

It believes that the way we farm livestock and consume animal products is truly unsustainable and unbalanced. Stefanie Giesinger explains:

"We often see meat as food on a shelf in the supermarket, leather as part of our sneakers, and fur as cozy insulation for our coats. Of course, we don't think of the journey that an animal has suffered to find its way to the product. Even if there is a growing offering of organic and responsibly raised animal products, more than 95% remain industrialized and unsustainable. Animals are intelligent creatures and we neither have the right nor the reason to torture them to death."
Closing words
It's very encouraging to see new upcoming apparel companies make consistent efforts to offer eco-friendly, vegan, and sustainable options to their customers without compromising style or price.

As a consumer, you have the power to drive change in the fashion industry. You vote with your money each time you choose what clothes to buy.

So support ethical fashion businesses that implement sustainability practices into their daily operations and advocate the ethical treatment of animals.

Discover nu-in sustainable collections at nu-in.com.


All images © Stefanie Giesinger for nu-in
Was this article helpful to you? Please tell us what you liked or didn't like in the comments below.