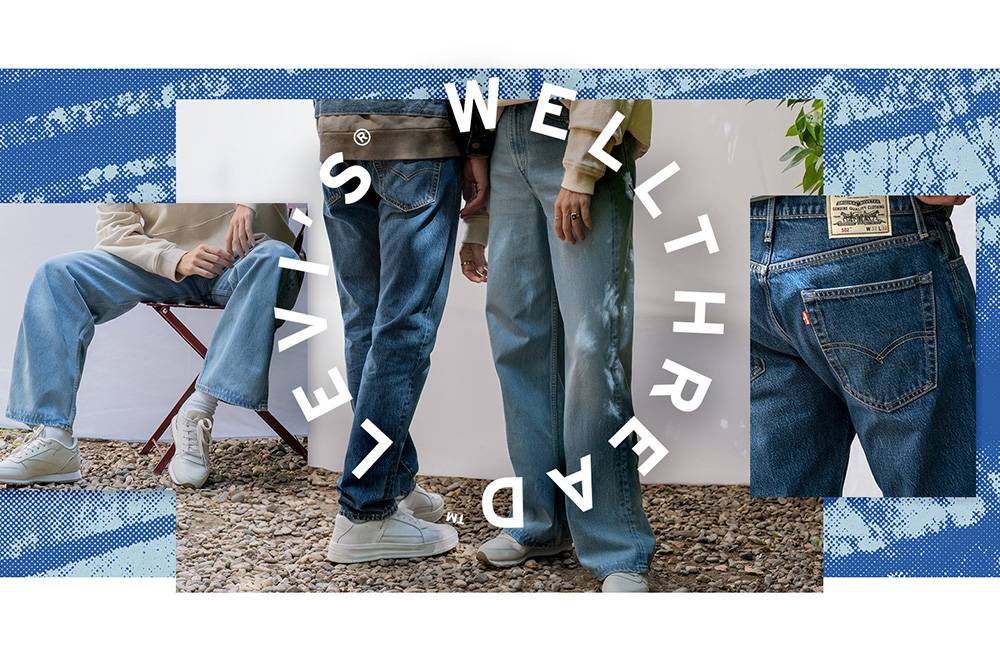 Levi's Most Sustainable Jean Ever: WellThread 502 Renewcell

Levi's launched its most sustainable jean ever on July 21st, the 502 as part of its Wellthread collection in collaboration with Renewcell. They're made from high-quality, recycled denim.

Levi Strauss & Co. is an American clothing company known worldwide for its Levi's brand of denim jeans. Levi's jeans have become one of the most recognizable garments of clothing in the world.

The company was founded in May 1853 when German immigrant Levi Strauss moved from Buttenheim, Bavaria, to San Francisco, California. Levi's jeans were first invented in 1873 and are now available in more than 110 countries.


Renewcell or re:newcell is a circular fashion company based in Sweden. It's developing a recycling technology that makes jeans from old denim, allowing fashion brands and retailers to create new products from used garments.

The company's vision is to lead the way to a sustainable world by producing high-quality products from recycled textiles. Recycling prevents textile waste from ending up in landfills, decreases chemical usage, carbon, and water footprint.
"We want to recycle Levi's jeans in a way that doesn't diminish their quality. By collaborating with Re:newcell, our garment-to-garment recycling takes a positive step forward. Recycling keeps garments out of landfills and minimizes the use of natural resources. We're transforming old jeans into high-quality materials, moving us beyond traditional cotton recycling, which shortens and breaks fibers. By using high-quality fiber, Levi's jeans last longer, and designing for circularity allows our old jeans to become new jeans, again and again."

 - Una Murphy, Levi's Senior Innovation Designer
Levi's sustainable Wellthread 502 jean is made from 20% recycled denim, 20% sustainably sourced viscose, and 60% organic cotton sourced from Turkey.

Renewcell is the fashion company behind Circulose, a patented new material made from cellulosic textile waste, such as cotton and viscose.

Renewcell won the Norrsken Impact Award recognizing Nordic startups working to solve the world's greatest challenges and was named a finalist in both Fast Company's World Changing Ideas Awards 2020 and Draper's Sustainable Fashion Awards 2020.


"Bringing fashion full circle, denim-to-denim, together with a brand as iconic as Levi's is a dream come true. To make fashion sustainable, it's important to show people that a material like Circulose is a real alternative to virgin cotton both in performance and style. I can't think of a better proof than putting truly circular Levi's 502's into stores worldwide."

 - Patrik Lundström, re:newcell Chiel Executive Officer
Circulose contains viscose fibers, which are semi-synthetic fabrics, or man-made regenerated cellulosic fibers. It's made from fabric wastes broken down using water.

An eco-friendly bleach then strips colors from these materials. The mixture is dried and the excess water is extracted to create Circulose.

The manufacturing process takes place in a recycling facility powered by renewable energy in Kristinehamn, Sweden, reducing the overall carbon footprint.

The material is designed to maximize recyclability, to allow the fashion industry to reduce dependency on virgin materials. The final garment is fully recyclable and truly circular, so it can be regenerated into a new jean again.



"This is a sustainability challenge that we've been wrestling with for years, so it's really exciting to see an aspirational concept become a familiar pair of Levi's jeans that consumers can actually buy and wear. The fashion industry has long been chasing the potential of the 'circular economy.' The jeans we've made in collaboration with re:newcell proves that it can be done."

 - Paul Dillinger, Levi's Vice President of Global Product Innovation
The fashion industry is one of the largest polluters globally. It creates massive amounts of pollution, waste, and greenhouse gases every year.

Conventional denim manufacturing is one of the most destructive systems in the global textile and apparel industry today. It's now more than ever a necessity to develop new technologies and infrastructures to make it more sustainable and limit its impacts.

20,000 liters of water are needed to produce one kilogram of cotton, the equivalent of one T-shirt, and one pair of jeans, according to the World Wildlife Fund (WWF).

The cotton water footprint of jeans production is a big issue, especially in countries affected by water scarcity. About 4 billion people, early two-thirds of the world population, experience severe water scarcity during at least one month every year.

Fortunately, organic cotton, especially with relevant certifications, is much better than conventional cotton. It's non-GMO and grown without harmful man-made pesticides, herbicides, or fertilizers. It supports soil fertility and biodiversity.

The global non-profit organization Textile Exchange reports that farmers can potentially save 218 billion liters of water and 92.5 million kg of carbon dioxide by growing organic cotton instead of regular cotton.

It's very encouraging to see emerging fashion companies like re:newcell work hard to drive change in the industry. The collaboration with Levi's is a step in the right direction.

Levi's has also been making better choices over the last few years. It's constantly sourcing more sustainable materials and finding ways to use less water. WellThread is Levi's most sustainable collection to date.

Discover Levi's most sustainable jean ever at levi.com


Was this article helpful to you? Please tell us what you liked or didn't like in the comments below.