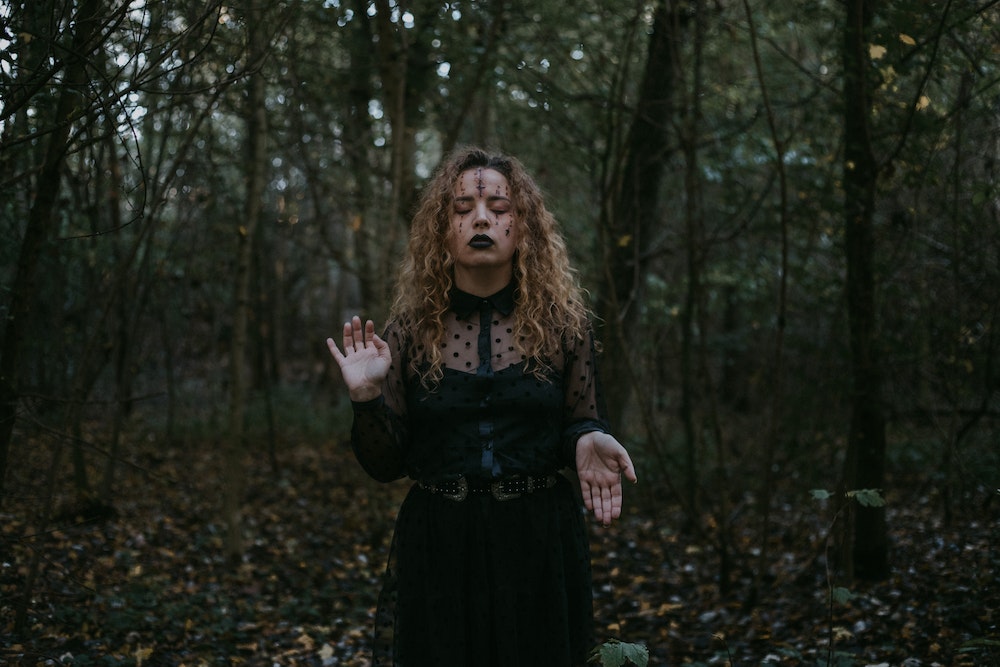 What To Wear To A Haunted House: Ultimate Guide
Entering a haunted house is not just about braving the scares; it's also an opportunity to showcase your bewitching fashion sense. 
Whether you're attending a haunted house party or exploring a spooky attraction, your outfit can help you embrace the Halloween spirit while looking stylish. From goth girl aesthetic, emo-inspired fits, to full on witch, there is a look for any fashion-forward woman to nail.
Get ready to explore these 15 hauntingly fashionable ideas for your haunted house attire.
Panaprium is proud to be 100% independent, free of any influence, and not sponsored. We carefully handpick products from brands we trust. Thank you so much for buying something through our link, as we may earn a commission that supports us.
Collar Dress 
Embrace your dark and mysterious side with a collar dress reminiscent of goth icon Wednesday Addams' iconic style. 
Opt for a black dress with a Peter Pan collar and pair it with knee-high socks and chunky boots. This combination effortlessly exudes an eerie yet fashionable vibe.
For more casual gothic girl fashion ideas check this out.
Chiffon Black Dress
For an ethereal and subtly spooky look, choose a flowing chiffon black dress. 
Its lightweight fabric will give you an otherworldly appearance as you glide through the haunted halls. Add a wide-brimmed hat and a statement necklace to enhance the wicked witch mystique.
Get more goth girl date outfit ideas here.
Black Lace Top
Combine elegance with a touch of gothic allure by donning a black lace top.
This versatile piece can be paired with leather pants or a miniskirt, depending on the level of spookiness you desire. Complete the look with dark lipstick and smokey eye makeup for an enchanting effect.
Here are our 15 expert tips to dress like an emo.
Witchy LBD
A little black dress (LBD) is a staple in every fashionista's wardrobe, and it's no exception when it comes to haunted house attire. 
Opt for a witchy twist by choosing an LBD with subtle Gothic details, such as lace inserts or bell sleeves. Accessorize with a wide-brimmed hat and statement jewelry to cast a spell on onlookers.
Take a peek at our blog 15 ways to wear a black slip dress.
Zombie Bride
Combine horror and punk elements by transforming into a captivating zombie bride. 
Sport a corset, tattered wedding dress and dramatic make-up. Accessorize with a skull belt and heavy combat boots for an edgy concert-inspired look.
Check out the ultimate guide to amazing fashion punk outfits.
Crop Top and Black Pants
For a contemporary and daring outfit, pair a crop top with high-waisted black pants. 
Add a silver chain belt for an edgy touch that complements the haunted atmosphere. This casual and cool ensemble allows for easy movement while keeping your style on point.
Here are our 40 must-have looks for a rock inspired outfit.
Bardot Top and Minikilt
Capture a blend of elegance and rebellion with a Bardot top and a minikilt. 
The off-the-shoulder silhouette combined with a tartan skirt pays homage to both vintage fashion and punk aesthetics like 80s Madonna and OG Vivienne Westwood. Complete the ensemble with fishnet stockings and ankle boots for a truly haunting appearance.
Find out about the 12 best ethical punk brands now.
Leather Jacket and Chunky Boots
When in doubt, opt for a classic combination that never fails to impress. 
A vegan leather jacket paired with chunky boots adds an instant edge to any outfit. Layer it over a flowy dress or pair it with ripped jeans and a graphic tee for a versatile and effortlessly cool haunted house look.
Grab a gorgeous vegan leather jacket from our top picks.
Blazer and Platform Boots
Elevate your haunted house fashion game with a tailored blazer paired with platform boots. 
This boss fit strikes a balance between sophistication and boldness. Choose a blazer in a dark hue and team it with leather leggings or a skirt for a stylish and chic appearance that will have any ghosts scared to say boo.
Here are the 15+ original outfits to wear with a blazer.
Bright Shirt and Mini Skirt
Make a statement amidst the darkness of the haunted house by donning a bright-colored shirt paired with a mini skirt. 
The vibrant contrast against the haunted backdrop will ensure all eyes are on you. Complete the look with knee-high boots to add a touch of drama and protection against things that go bump in the night.
Check out our top tips for nailing an artsy style.
Victorian Era Dress
Transport yourself to another era with a Victorian-inspired dress. 
Opt for a floaty maxi dress, or a corseted bodice and a full skirt adorned with lace and ruffles. This elegant and ghostly ensemble will make you feel like a haunted house heroine straight out of a Gothic novel.
Find the 15 best affordable maxi dresses here.
Tartan Pants and a Tee
For a more casual yet stylish haunted house look, wear tartan pants paired with a simple tee. 
The classic pattern adds a touch of tradition, while the relaxed fit ensures comfort during your ghostly adventures. Finish the outfit with ankle boots and a wide-brimmed hat for added flair.
Lean into the Art academia aesthetic here.
Flowy Dress With Puffed Sleeves
Embrace your inner ethereal spirit with a flowy dress featuring puffed sleeves. 
This whimsical and romantic style will make you feel like a ghostly enchantress. For a baddie goth girl vibe opt for black. Or if you want to feel more feminine and cute then a pastel or muted color palette will have a beautiful effect.
Want more style inspo on how to wear a midi dress then look no further.
Skinny Jeans and a Tee 
Keep your haunted house attire effortlessly cool by opting for a combination of skinny jeans and a graphic tee. Add a fedora hat for a touch of mystery and attitude. 
As you navigate through the haunted corridors, you will look casual and cool.
Find your perfect pair of dark denim jeans here.
Faux Leather Pants and a Waistcoat
For a sleek and edgy look, opt for faux leather pants paired with a waistcoat. 
This combo exudes confidence and style. Finish the outfit with ankle boots or studded heels to emphasize the rebellious yet sophisticated vibe.
For more cowgirl inspired fashion, check out our blog.
Was this article helpful to you? Please tell us what you liked or didn't like in the comments below.
About the Author: Catriona Jean