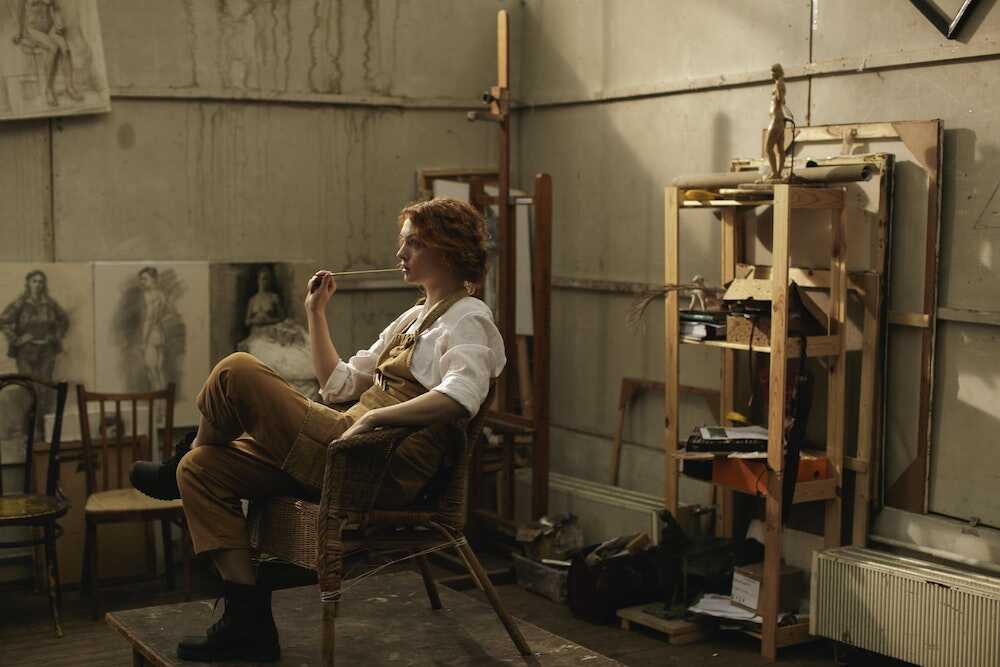 15+ Best Outfits Ideas For The Art Academia Aesthetic
Academia refers to a group of aesthetics inspired by the atmosphere of prestigious European universities in the 18-19th century. They are centered around intellectual activities and the desire to learn and deepen one's knowledge.

The Academia aesthetic has several declinations. The most famous ones are Dark Academia and Light Academia which are the preppiest of all. But Art Academia is also gaining popularity because of its casual vibe. This aesthetic is dedicated to creativity and visual arts such as sculpture, painting, sketching, or photography.

Fashionwise, Art Academia outfits combine vintage elegant clothing and comfortable artist-inspired pieces. Think warm tones, plaid patterns, and cozy woolen textures mixed with flowy, lightweight fabrics and art prints.

In this article, I give you wardrobe essentials to create the perfect Art Academia outfit. Step into the shoes of a young art student with this chic, versatile, and comfy look that will keep you warm and cozy during autumn days.
Panaprium is proud to be 100% independent, free of any influence, and not sponsored. We carefully handpick products from brands we trust. Thank you so much for buying something through our link, as we may earn a commission that supports us.
Denim jeans

Denim usually doesn't belong in Academia wardrobes. But Art Academia is more laid-back than other Academia styles, and denim items are perfect to balance formal outfits. High-waisted mom jeans, denim jackets, or even denim overalls will perfectly fit into your Art Academia style.

Browse this list of sustainable denim brands to find your new favorite jeans.

A White Button-up Shirt

A white button-up shirt is essential to any Academia outfit. Remember that Art Academia fashion is all about balancing casual comfort and vintage elegance. That's why loose, flowy shirts are the best choice for this aesthetic. Combine them with cigarette pants or high-waisted tweed shorts.

A Romantic Blouse

Add a feminine touch to your Art Academia outfit with a flowy romantic blouse. Puffed sleeves, lace, or ruffles will look fantastic combined with masculine items like dress pants and oxford shoes.

Explore this selection of affordable, sustainable blouses to find your own.
Knit Sweaters and Vests

Nothing says cozy and comfortable like knitwear. Create a casual and elegant Art Academia outfit by combining a knit sweater or a knit vest with a white shirt, high-waisted loose jeans, and black lace-up boots.

Dive into our finest selection of sweater vests to get inspired.

Turtleneck

Turtlenecks are also typical of Academia aesthetics. They add a sophisticated touch to any outfit, and they can be paired with many different bottoms. Create a relaxed elegant Art Academia outfit by combining a turtleneck with a long flowy skirt or high-waisted jeans and a blazer.

Seek out your favorite organic cotton turtlenecks in our selection.

A Cozy Cardigan

Oversized vintage cardigans tucked-in cigarette pants or linen shorts make for the perfect cozy autumn outfit. Artists like to carry brushes and pencils everywhere, so pockets are essential in Art Academia fashion.

Find a comfy cardigan with pockets in our selection of affordable and sustainable cardigans.

Oversized Blazer

The oversized tweed blazer is a symbol of academic education. Choose a simple dark brown color or spice up your look with a plaid pattern. Combine your blazer with a pair of jeans and a cozy sweater for the perfect casual Art Academia outfit.

Check out this list of ethical and sustainable blazers you'll love.

Tartan skirt
You can't talk about Art Academia aesthetics without mentioning the epitome of student fashion: the tartan skirt. Pick a straight mini skirt or a pleated one with pockets and combine it with a loose button-up shirt or a flowy blouse. Finish the look with an oversized blazer, loafers, and long socks.
Get more inspiration from our favorite
cute and feminine winter skirt outfits.
High-waisted tweed pants

Art Academia fashion includes many unisex items. Tweed dress pants and cigarette pants are great examples. Pair them with a romantic blouse or a loose shirt tucked into your waistline to create a laid-back classy look. Corduroy pants would also match this aesthetic perfectly.

Explore our selection of affordable and sustainable corduroy pants to find your favorite one.

An Umbrella Midi Skirt
Create an elegant Art Academia outfit with a long flowy skirt. Remember to avoid layers and complicated tops when wearing a long skirt. Instead, combine it with a simple turtleneck or an oversized T-shirt.
Get inspired by our selection of
affordable and sustainable long skirts.
Overalls

Overalls are cute and comfy, and they are a perfect fit for the Art Academia aesthetic. Artists love overalls, especially if they have many pockets to carry small art supplies while working. Pick a brown overall to remain in the Academia color palette and wear it with a cozy sweater underneath. You could also choose a denim overall paired with a turtleneck to create a youthful yet sophisticated look.

Discover our selection of the best ethical and sustainable overalls. 


A Pinafore Dress
A pinafore dress will provide a vintage charm and feminine flair to your Art Academia outfit. Wear it over a turtleneck or a light blouse with puffed sleeves, and finish the look with loafers and a cute beret.
Find your perfect pinafore dress in one of these
online thrift stores for affordable vintage fashion.
Elegant Shoes

When creating an Art Academia outfit, you should avoid sneakers and sandals. Instead, prefer classic footwear like loafers, derbies, and oxford shoes to complement your dapper look. For a more casual look, lace-up ankle boots combined with long socks are also great options.

Get inspiration from these ethical and vegan shoe companies.

Vintage Accessories

Top off your Art Academia outfit with vintage-inspired accessories. Satchels and messenger bags are perfect to carry your belongings just like an art student would. But you could also choose a simple tote bag with a beautiful art print.
Jewelry should be kept to a minimum but a vintage watch would complement your look perfectly.
And if you bought a cute beret for your last trip to Paris, this is the perfect type of outfit to wear your beret with.
Shades of Brown

Academia aesthetics are all about earthy tones like brown, beige, and terracotta. The classic black and white are also essential. These warm neutral colors are easy to mix and match to create many different outfits. But Art Academia is a little more playful than other Academia styles. It tends to incorporate other warm colors such as burgundy or mustard yellow and some cooler tones like olive green and navy blue.
Most Art Academia outfits use darker hues, but also feature a touch of fantasy with brightly colored accessories like cadmium yellow earrings.
Vintage Patterns and Textures

Vintage patterns and textures are staples of Art Academia fashion. They include semi-heavy fabrics with geometric patterns like plaid, tartan, tweed, flannel, herringbone, and corduroy. These materials create sophisticated, intellectual looks that remind me of European college students and professors. Flowery vintage patterns can also add a feminine touch to your Art Academia outfit, provided the flowers remain discreet.
Remember not to mix too many different patterns. Choose one patterned piece for each outfit, two at most.

Get inspiration from this selection of affordable online vintage clothing stores.
Was this article helpful to you? Please tell us what you liked or didn't like in the comments below.
About the Author: Pauline Assoune