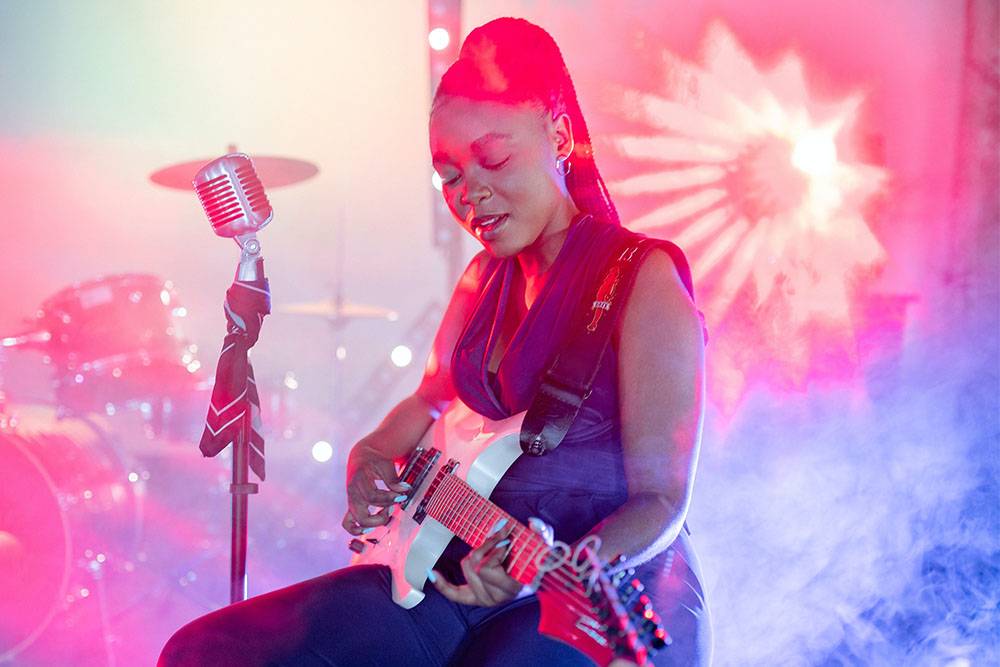 How To Dress Like A Musician (20 Stage Outfit Ideas)
It's easy to make a great impression by dressing like a musician, whether you want to look like your idol or prepare for a stage performance. Fashion and music have become inextricably intertwined as tools for self-expression.

Thankfully, it's not that difficult to craft trendy and stylish musician outfits to love and feel comfortable wearing. If you aim to dress well, look great, and feel good, let your clothes reflect your preferences, opinions, and choices.

If you like music and want to dress like a musician, wear visual, artsy pieces, highly creative cuts, and original patterns. Think outside the box to create fashionable outfits and curate a unique wardrobe.

Choose modern, attractive clothing pieces that you can easily combine into different outfits for an easy, effortless, creative look. Colorful, rich, artistic clothes are attention-grabbing and make an impression.

This collection of musician outfits you can wear on and off stage will help you dress like a musician and feel your best in extraordinarily pop, rock, hip hop, jazz, blues, classic, metal, folk, punk, soul, indie, country, reggae, or disco-inspired looks.
Panaprium is proud to be 100% independent, free of any influence, and not sponsored. We carefully handpick products from brands we trust. Thank you so much for buying something through our link, as we may earn a commission that supports us.


Wear well-fitting clothes


If you want to dress like a musician, don't put on clothes that don't fit right. Otherwise, you might damage the garments and feel uncomfortable. You also risk losing style and elegance.

Wear clothing with the perfect fit that allows maximum comfort and freedom of movement. You should be able to play music, express yourself, and move while performing in your original musician outfits.

Don't wear clothes that are too small or too big if your want to look and feel your best. Instead, let go of them and make room for comfortable clothing that fits you properly.


Keep your outfits simple.


If you want to dress like a musician, put simplicity first. Keep your outfits simple by picking the right combination of effortless clothes that go well together.

When buying new clothes and building your wardrobe, think of simple outfits you can wear. Remove unneeded extras to enhance your overall style. You can improve the way you dress by keeping a simple wardrobe.

Simple clothes and basic designs don't necessarily have to be boring. You can make every piece you own a winner by simply making the most out of your closet and choosing a collection of clothes that go well together.

Put on unique accessories.


Wear original accessories to make your musician outfits stylish and stand out. You can choose a cute watch, hip sunglasses, a cool hat, headband, scarf, belt, or bag.

But don't overdo it, as one accessory is enough to dress like a musician. You can easily enhance your look by adding one elegant, unique, stylish item to your musician outfits.

Choose the right colors.


Wearing the right colors can improve your look instantly. You can dress like a musician and develop a great sense of style if you choose the combination of colors that suits you best.

Don't wear bright or bold colors, but don't shy away from colors completely. Choose neutral colors that you can mix and match easily, especially for a casual and effortless look.

Neutral colors make clothing pieces versatile and timeless and work with any outfit. Choose a few colorful pieces when comfortable to add a twist to your musician wardrobe.

You can wear classic colors all year-round effortlessly. They improve your look by giving a particular nuance to your musician outfits, whether they're casual wear or formal wear.




Show off your personality.


Fashion is the ultimate form of self-expression. Don't hesitate to let your personality shine through your musician outfits. Focus on what feels good to you to look great and dress like a musician.

You'll look and feel much better if you avoid any clothing that makes you uncomfortable. Break away from the norm and set new rules by making every outfit you wear your own.

You can take inspiration from other musicians but try to craft each outfit just for you according to the music genre you like, your fashion style, personality, and preferences.



Dress well for the occasion.


Follow the dress code that fits the setting to dress like a musician and impress with great style. But don't sacrifice your comfort. Make sure you feel great at all times.

Musicians work in many different ways and occupy their day rehearsing, practicing, recording, songwriting, and performing. They go to music studios and various events and work nights and weekends.

Pick the right combination of clothes depending on the occasion but don't hesitate to stand out by breaking the rules. Get a feeling for when you need to conform and when you can ignore dress codes.


Pick a fashion style for the music.


Choose a fashion style according to the music genre you play or like. Try to figure out which clothing style goes well with the songs before crafting your next musician outfit.

Experiment to find out what you like if you don't know what's the best look for the music yet. Try out different clothing combinations until you find the perfect match for your preferences and music taste.

Knowing your fashion style helps you decide what kind of clothes suit you best for a musician look. You'll look stylish and stand out from the crowd if you wear pieces you like the most and go well with the music.

Check out our list of different fashion styles to discover which one will go well with the music and dress like a musician without compromise.


Wear a jumpsuit or playsuit.


Jumpsuits and playsuits fit any fashion style and have maximum impact on the scene. They are popular wardrobe staples that help you craft stylish, original, functional, chic outfits.

Jumpsuits are the ultimate fashion statement to create in-trend musician outfits. They are highly comfortable, easy to wear, and protective when performing.

Check out our selection of affordable and sustainable jumpsuits and playsuits.


Wear a denim jacket


Wear attractive layers like a denim jacket to add a stylish and creative touch to any musician's outfit. A classic denim jacket can improve your dressing style drastically.

If you want to dress like a musician, wear a denim jacket to stand out and transform a regular outfit into a more creative and original look. It's a perfect look for playing guitar at a music festival or concert.

Check out our selection of denim jackets.


Add oversized layers to your outfits.


Add gorgeous layers to your outfits to dress stylishly like a musician. Layers instantly make any casual outfit more modern and chic and are easy to style and enhance your look.

Pick a handful of layers that you can throw on to craft unique, original musician outfits and look fabulous in no time. You can wear a classic oversized jacket, shirt, or blazer for an effortless and flattering look.

Overcoats, blazers, gilets, puffers, vests, liners, and jackets help you stand out. Pair an oversized blazer with denim jeans to achieve a perfect carefree look.

A shirt or blazer can also improve your outfit by adding a chic and classic touch. Buy layers in a neutral color like black, white, brown, or navy, and throw them over classic white or grey shirts.

Buy a high-quality and sustainable blazer that will help you improve your dressing style drastically.




Wear a high-end bodysuit.


Bodysuits are flawless, supportive, flattering pieces that you can wear to dress like a musician. They offer a seamless look that is both practical and fashionable.

Women's bodysuits can be a base layer or worn on their own. They are available in many colors and sizes and make a fantastic match for any musician outfit.

Check out our selection of affordable and sustainable bodysuits made from high-quality materials that last.


Try on a colorful skirt.


You can put on clothes you usually like to wear to dress like a musician, such as a colorful skirt. A beautiful skirt helps you craft timeless, fashionable, and classic musician outfits.

Colorful, stylish skirts exist in many lengths, colors, fabrics, and patterns. They help you dress creatively and look feminine in gorgeous outfits. Choose lightweight, breathable, and comfy pieces to create everyday looks and express your creativity.

Discover our selection of unique, handmade, sustainable midi skirts, including beautiful and original styles such as A-line, pleated, calf-length, denim, high-waisted, stretchy elastic waist, asymmetric, ruffled, and more.


Wear boyfriend jeans.


Pick clothes like boyfriend jeans you can put together effortlessly to craft classic, durable musician outfits. Choose essential, high-quality, and timeless clothes that are also uncomplicated and stylish.

Classic clothing pieces don't go out of style and are very versatile, and you can wear them for every occasion. They save you money, improve your style, and stand the test of time.

To dress like a musician, invest in classic pieces like boyfriend jeans that last several seasons up to many years. They are a perfect addition to any creative wardrobe.

Pair boyfriend jeans from your favorite denim brand with a shirt or a crop top for a modern, flattering, contemporary look.


Wear a formal dress.


Look attractive and charming in stylish, luxury, and chic formal dresses and evening gowns. If you want to dress like a musician, you can wear a feminine and fashionable formal dress.

An elaborate designer dress will help you look elegant, confident, and smart. Dress beautifully for your upcoming event with affordable and sustainable evening gowns.

Our selection of formal dresses.


Try on a leather jacket.


Put on a fabulous leather jacket to create a stylish and modern musician look. Choose clothes made from animal-free materials such as faux leather. No animal should have to suffer to make affordable and fashionable clothes.

When crafting your musician outfit, let your personality shine through your clothes by focusing on what feels best for you. You will look more attractive if you avoid any clothing that makes you uncomfortable.

Here is our selection of the best faux leather jackets.


Put on stylish shoes.


Get fashionable shoes that match your skin tone and the musician outfits you plan to wear. Proper footwear is crucial to look great and feel your best. Make sure your shoes compliment your outfits.

A high-quality pair of shoes is essential to look stylish and dress like a musician. Buy unique and original shoes from footwear brands that follow high social and environmental standards.

Ethically produced, quality shoes like high heels are essential additions to every wardrobe. It's one of the best investments you can make to improve your fashion style and dress like a musician.


Show confidence and creativity.


Don't hesitate to be a little creative with your musician outfits and push yourself out of your comfort zone. There are many different ways to dress like a musician and stand out from the crowd.

Use your creativity and express yourself to find a style all about you, showing your personality and showcasing your best qualities through originality, confidence, and uniqueness.

You can boost your self-confidence and dress like a musician by trying something new on and off stage, staying positive, and improving your style according to your feelings and people's feedback.
Was this article helpful to you? Please tell us what you liked or didn't like in the comments below.