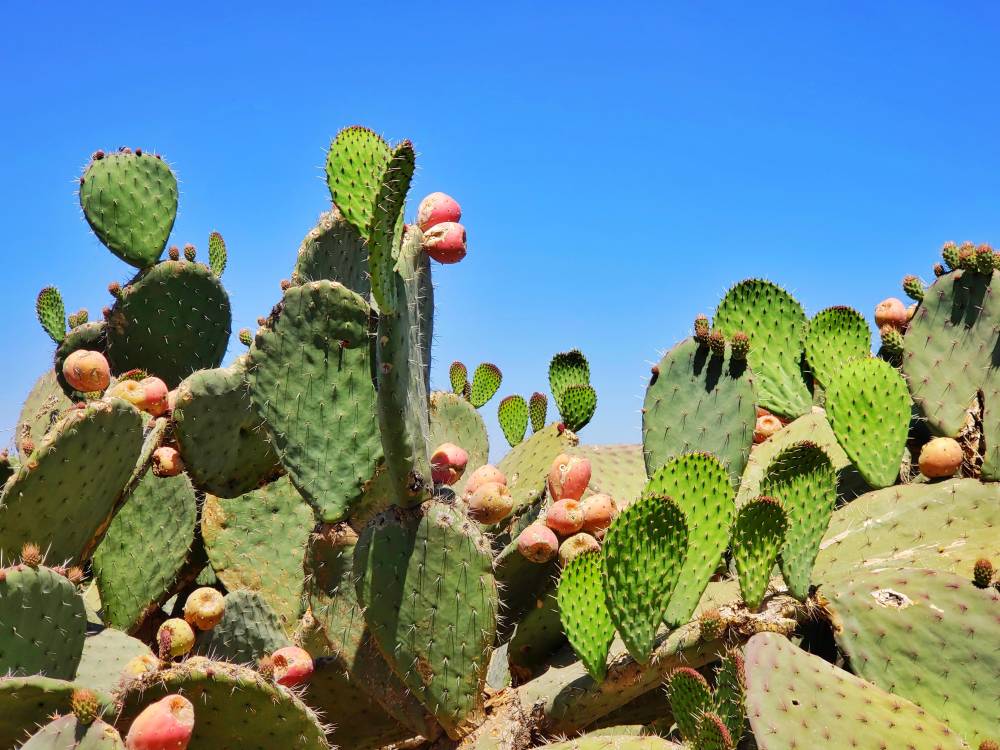 Desserto Is The First Vegan Leather Made From The Nopal Cactus

Adrián López Velarde and Marte Cázarez are Mexico-based entrepreneurs who launched Desserto, the first organic and vegan leather made from the Nopal or prickly-pear cactus.

They developed an alternative to animal leather and successfully showcased its features last October 2019 in Milan, Italy after two years of research and work.

The now commercially viable cactus leather from Mexico is used in the furniture, automotive, aeronautics, fashion, and footwear industries.

It's now more important than ever to be mindful of the environment. The fashion industry is one of the largest polluters globally. It creates massive amounts of waste, pollution, and carbon emissions every year.

The leather industry is also responsible for the mass farming and killing of billions of animals every year, including cows, calves, goats, pigs, buffalos, and more. It's not only cruel and unethical but also highly detrimental to human health and the planet.

Adrián López Velarde and Marte Cázarez were genuinely interested in reducing the industry's environmental impact. They left their jobs and started Adriano Di Marti, a company focusing on developing Desserto, which is known today as cactus or nopal vegan leather.

It's a very inspiring idea that uses business, technology, and innovation in service of a greater good. Coming from beautiful Mexico, the new material contributes tremendously to its preservation.

The new method of transforming cacti into a leather-like material is environmentally friendly and helps save our planet, animals, and us the people.

It makes a great alternative to animal-based leather which is polluting and resource consuming. The new synthetic material is durable, elastic, breathable, and textured like conventional leather.

It's an important step towards slow fashion and environmental protection.

After working together in the fashion and furniture automotive industry, the two entrepreneurs realized that the manufacturing of many products in these industries is highly toxic.

They decided to pursue a more sustainable alternative to the current fashion system and finalized their cactus leather product in 2019.

Adrián and Marte confirm that their production process doesn't involve any toxic chemicals. They are committed to making their brand sustainable and their products with the highest quality.

Nopal is the name of the cactus they use to make their organic and vegan leather alternative. The plant is a common ingredient in numerous Mexican cuisine dishes. They are generally sold fresh in Mexico, cleaned of spines, and sliced to the customer's desire on the spot.

The nopal cactus grows extensively throughout Mexico and is especially abundant in the central Mexican arid and semi-arid regions. There are over 3,000,000 hectares (7,400,000 acres) of land used to cultivate nopal in Mexico.

In comparison to intensive animal farming or industrial livestock production, cactus farming requires a very low amount of water, land, and maintenance.

Nopal cactus is also naturally pest-resistant. It grows with rainfall, without additional irrigation water, pesticides, or fertilizers.


Overall, Nopal cactus has low input requirements and a high level of adaptation to harsh environments. It's a high water-use efficiency crop. It can survive in arid environments where severe water stress hinders the survival of other plant species.

Sustainability has been gaining traction in the fashion industry over the past few years. Many fashion brands and retailers have been using different sources of vegan leather, including pineapple, cork, or food waste.

Piñatex is another well-known natural leather alternative made from cellulose fibers extracted from pineapple leaves, PLA, and petroleum-based resin.

Luxury brand Hugo Boss started using vegan leather made from pineapple for its sneakers 2018 and fashion retailer H&M in 2019 in its Conscious collection.

English fashion designer Stella McCartney, daughter of English singer-songwriter Sir Paul McCartney, is also a prominent figure in the fashion world and one of the pioneers of sustainable fashion. She believes that fashion can be luxurious without using leather of fur. She uses sustainable alternatives in her collections instead. 


Was this article helpful to you? Please tell us what you liked or didn't like in the comments below.