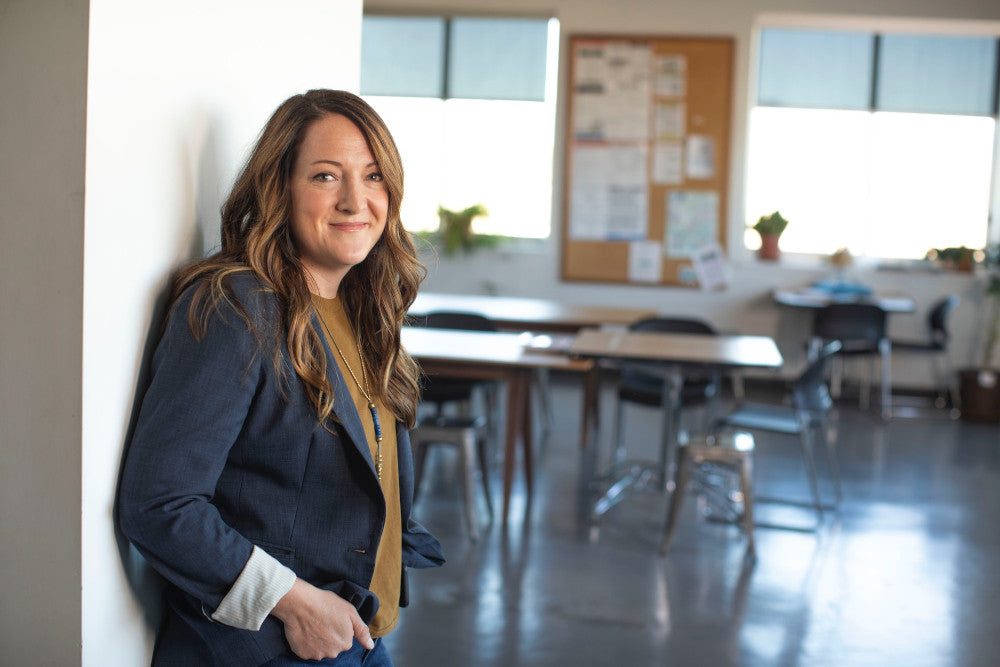 20 Cute and Successful Therapist Outfits
The best cute therapist outfits combine a business casual style like slacks and a blazer with a focus on specific clientele, such as pants that allow mobility when working with children. Therapists often dress more conservatively than the average office worker to focus attention on clients during a session.
A few rules to keep in mind when you put together cute therapist outfits include dressing for your client, not yourself. You can show hints of your personality if it will help your clients relate to you, such as wearing an anime necklace when working with teens who like anime. But most therapists recommend leaving your favorite brands, bold colors, or flashy jewelry at home. Another rule is to always look put-together, with ironed and clean clothing, so that your client trusts you as a professional.
Panaprium is proud to be 100% independent, free of any influence, and not sponsored. We carefully handpick products from brands we trust. Thank you so much for buying something through our link, as we may earn a commission that supports us.
Basic Brands
Look for basic, unassuming brands that sell business-casual attire when you put together your cute therapist wardrobe. This does not mean you need to shop at a big box store, but you should avoid wearing obvious and expensive logos on your clothes, handbags, and shoes. 
One reason to avoid showing off expensive brands is that you do not want to focus the spotlight on yourself during a therapy session. Another is that many of the people you work with may find you unrelatable if you seem extremely wealthy.
Instead, look for sustainable, classy options that will last a long time and give you a professional and cute style. You can find the 20 most useful sustainable clothing brand directories here to get started.
Dress for Specific Clientele
Whether you work as a school counselor in a high school, a family therapist focused on preschoolers, or at a private practice specializing in trauma survivors will also dictate what you wear as a therapist. For example, therapists who work with children tend to wear warmer colors to create a welcoming space for little ones, and flexible long pants so that they can easily get down on the floor to play with their young clients. 
Therapists who work in a school may need to follow the same guidelines for dress as the teachers. Check out this list of 15 easy and cute teacher outfits if you need ideas.
Comforting Colors
You can wear your favorite colors as accents or accessories in your outfit, but you may find it works better to focus on comforting, soft solids or neutrals when you put your business-casual therapist outfits together. For example, you could pair a cozy pastel sweater with neutral tan slacks, or a silky grey blouse with pink slacks.
Another go-to favorite for any cute therapist outfit is chic, professional black. You can match a well-cut black blazer with almost any outfit, for example. If you need the perfect blazer for your therapist wardrobe, take a look at the 12 best recycled blazers for elegant outfits here.
Conservative Cuts
No matter what color of clothing you prefer to wear as a therapist, you should always stick with conservative cuts. This means clothing that does not fit you too tightly, that has a high neckline instead of showing cleavage, and low hemlines instead of showing too much leg. 
This is a big contrast to many office jobs, where you can use your business casual attire to look a little bit sexy, like Meghan Markle in the show Suits! Keep in mind that as a therapist, you want to focus attention on your client, not on yourself. Suppose you need to counsel a teen dealing with weight issues. The teen might feel uncomfortable if you wear a skin-tight dress highlighting your skinny shape.
Of course, this does not mean you need to wear ugly clothing! You can look both cute and conservative.  For example, try wearing a tailored sheath dress with a cardigan instead of a clingy blouse and pencil skirt. You can look elegant and put-together in your cute, conservative clothing. For more ideas on workplace dress codes, check out this list of 34 dress codes for work.
Cared-For Clothing
Another unbreakable rule as you put together cute therapist outfits is that you should always wear cared-for, neat clothing. Keep a handheld steamer in your closet so you can quickly remove wrinkles before you go to work in the morning. You may even want to keep a backup outfit in your car or office in case of an unfortunate coffee spill. 
While you never want to look sloppy in the workplace, being neat and tidy matters even more as a therapist. If you show up looking bedraggled, in stained or wrinkled clothing, your clients will doubt your professionalism and wonder if you can really help them. This will make it harder for them to open up to you. Learn more about why it matters that you dress well for work here!
Simple Makeup and Hair
While not a hard and fast rule, you may find that styling a simple, chic hairstyle and understated makeup works best with your cute therapist outfits. If dying your hair or wearing a bolder hairstyle forms an important part of your identity, you can ignore this guideline! You should never feel that you can't show up authentically as yourself at work. 
But in general, a simple ponytail or chignon can look professional and match well with any cute therapist outfit. When you need accessories for your professional hairstyles, consider this list of the 12 best affordable and sustainable hair accessories.
Functional Shoes
Wearing functional shoes is another grey area for your cute therapist outfits. If you need to walk or move around a lot during your job as a therapist, you should focus on walkable shoes with lots of padding. Ballet flats or loafers will offer more functionality than a pair of heels.
On the other hand, if you work in an office and spend most of the day sitting, you could safely wear heels that spotlight a secondary color in your outfit. For example, if you pair a lavender cardigan with a black dress, try wearing lavender heels to make you look put together and cute. You can find 13 great options for vegan heels here.
Blazer and Sweater
In the fall and winter months, try adding layered elements to your cute therapist outfits. For example, pair a blazer with a sweater or a sweater vest over a loose button-down. The contrast of texture and style will look great and also keep you warm!
In fact, keeping three or four good sweaters as part of your professional wardrobe can allow you to mix and match many cute therapist outfits in the colder months. You can wear a chunky knit sweater with slacks, an oversized sweater with leggings and heels, or even a sweater dress with opaque tights and ankle boots. Check out the 10 best affordable and sustainable sweater brands here.
Turtleneck and Suit
Another way to mix and match formal and causal clothing to create a cute therapist outfit is to pair a turtleneck with a suit. This adds a warmer, softer note to your outfit when wearing a traditional suit and a crisp dress shirt could make you too unapproachable.
Both men and women should own at least one conservative, good-quality suit to mix into your cute therapist wardrobe. You can find the 20 best affordable and sustainable suits for men and women here.
Blouse and Slacks
For women, the easiest way to create a cute therapist outfit is to pair a blouse with slacks. Slacks offer more mobility than a skirt, and you don't have to worry about the length of the hemline with pants, either. Women's blouses come in thousands of different shapes and styles, which means you can always find a conservative but cute style perfect for you!
When you pick a blouse, go for a texture that contrasts with your pants, such as a silkier fabric vs the coarser weave in linen pants. Looser-fitting or structured blouses that do not cling to your torso work best. And of course, you also want to choose a sustainably-made blouse, like these 15 affordable and ethical blouses.
Button Down and Skirt
On days when you want to present a super-professional, more traditional appearance as a therapist, try pairing a button-down shirt in a solid or neutral color with a skirt. Pencil skirts with their rigid shape look more traditional, but midi skirts such as a pleated or A-line skirts can soften your silhouette and look cute as well. Add a suit jacket or blazer with this outfit in chillier months.
You can find 20 affordable and sustainable pencil skirts to add to your cute therapist wardrobe here.
Sheath Dress
A tailored sheath dress also forms a staple of the professional woman's wardrobe, for good reason. Try adding a thin belt, a blazer in a contrasting color, or your favorite heels to this classic outfit. Look for a sheath dress that reaches almost to your knees and does not have a big slit up the back of the skirt.
If your office or school tends to have a temperamental HVAC, make sure you also bring a warm cardigan to layer on if necessary. You can find the 20 best affordable and sustainable cardigans to choose from here.
A-Line Dress and Jacket
Another cute way to dress up your therapist outfits is to find one or two A-line, knee-length dresses to pair with a jacket or cardigan. You can elevate the look to a more formal style by adding heels, or look more business casual by wearing ballet flats with your dress.
A-line dresses tend to look cuter and more demure than sheath dresses because the fuller skirt gives you more of an hourglass outline. Depending on how casual or formal you want to look, you may find that one of the 15 best affordable and sustainable jackets made in Italy could perfectly match your dress!
Button-Down and Slacks
For guys or anyone who wishes to present in a more androgynous style, a button-down paired with slacks provides a go-to staple for a cute therapist outfit. You may find that wearing a neutral grey or cream-colored button-down helps you present a "blank slate" that your clients can project onto. Then again, your clients may relate to you more easily if you occasionally wear a cute shirt that displays some of your personality, such as a button-down patterned with flowers or fun stripes.
Whether or not you should tuck in your button-down shirt often depends on the style of the shirt. If the shirt has a shorter hemline with a flat shape, it is probably meant to wear untucked. If it has a longer hemline with a big curve, it is a more traditional shirt meant to tuck into the waistband of your pants.
You can find the fifteen best button-ups for a dressy look here.
Dress Shirt, Belt, Tie
Another standard outfit for male therapists is a dress shirt paired with a belt and tie. This kind of outfit tends to look extremely traditional, but it may work well in a school setting. If you need to add a cute or more personalized element to this outfit, go for a whimsical tie with a cartoon character on it, or a more colorful tie to contrast your neutral dress shirt.
Make sure you look for ethically made belts to complete this outfit. You can find the 10 best affordable, ethical, and vegan belts for men here.
Cardigan and Dress
Layering a cozy cardigan over many styles of dresses adds a softer and cuter element to your therapist outfit. The knit fabric in a cardigan has a warmer, more welcoming appearance than the stiff woven fabric in structure blazers or suit jackets, too.
Generally speaking, a thinner silkier-feeling knit cardigan looks more formal than a chunky, more loosely knitted cardigan. Pick your cardigan to match the appearance you want to convey. If you want to look informal while working with children, you can choose an oversized boyfriend-style cardigan in chunky knit like these 15 sustainable options. But if you want to look cute and professional for working with adults, you may prefer a short, classic cardigan in a thinner knit.
Khakis and a Blazer
The best cute therapist outfits usually embrace a business casual rather than a formal style, which makes a blazer and khakis a better choice than a matching suit most of the time. Khakis or chinos offer the perfect not-too-formal style of pants for many business casual outfits. For women, you can also find many cute styles of slacks like cigarette-style vs wide-legged or cropped slacks.
For men, check out this list of the 15 best affordable and sustainable khakis and chinos.
Sweater Vest and Button Down
For a cute fall or winter therapist outfit, try laying a vintage-style sweater vest over a button-down or blouse. This adds a cute retro vibe to your outfit, and also keeps you warm!
Guys may want to pair this look with loafers rather than dress shoes. For women, go with chunky loafers or neutral ballet flats to complete the look.
You can find the 15 best affordable and sustainable sweater vests to try here.
Sleeveless Blouse 
In the summer, an easy way to put together a cute therapist outfit is to pair a sleeveless blouse with linen pants, a midi skirt, or lightweight slacks. You will need to pick your cute sleeveless blouse with care though. Look for a blouse with a high neckline and wide shoulder straps, not spaghetti straps or deeply cut armholes.
You may also want to look for breathable fabric for your sleeveless blouse so you don't feel sweaty all day at work. For example, you can find 10 affordable linen shirts for plus sizes here.
Jeans and Heels
For less formal occasions, you can add a casual element to your cute therapist outfit by pairing nice jeans with heels and a blouse. Look for dark-wash or black jeans that have a more formal style than bleached or blue jeans. Make sure your jeans do not have any worn spots or frayed sections, too.
Take a look at the 20 best organic cotton denim jeans to wear in 2023 here!
Was this article helpful to you? Please tell us what you liked or didn't like in the comments below.
About the Author: Hannah Cobb