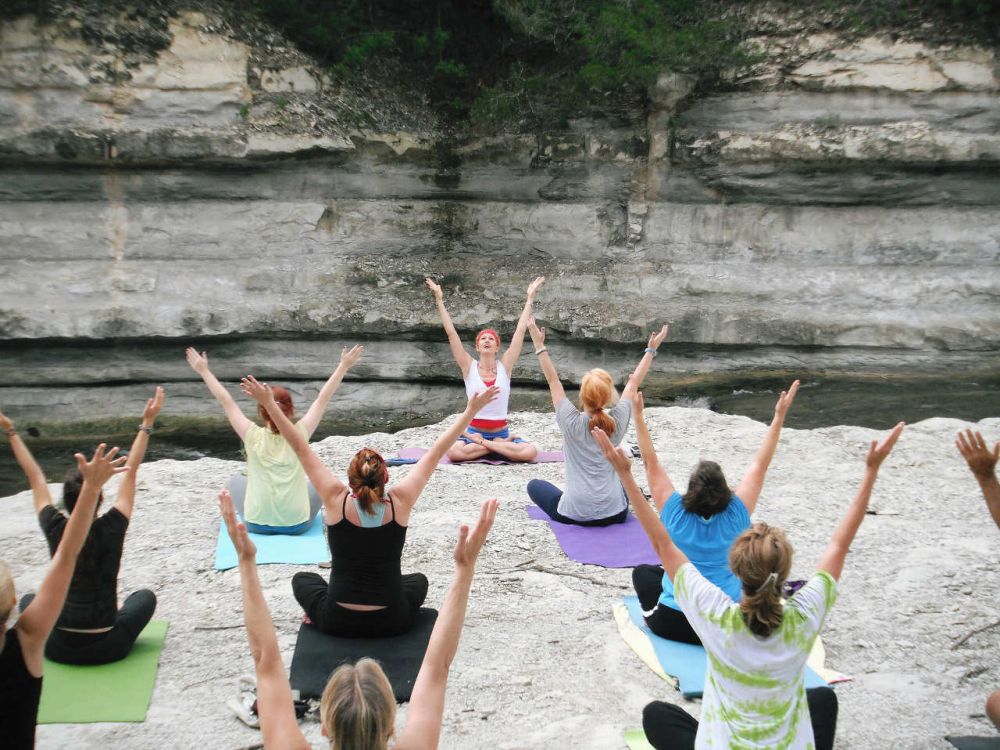 10 Awesome Yoga Workout Videos to Lose Weight Easily
Following an awesome yoga workout on video is one of the best ways to lose weight easily. These 10 best youtube videos will make you sweat and burn calories effectively. 

Practicing yoga is an effective way to get healthy and shed excess body fat. Regular morning yoga practice boosts your metabolism and solve many weight issues. It helps you achieve your body goals.

Many factors cause excess weight and yoga solves them all. The key to success is consistency and enjoying yourself. You will notice the following improvements by trying out these youtube videos:
Healthier diet choices.
More mindful eating.
Better deep sleep at night.
Improved mood and overall happiness.
Relief from fatigue, stress, and anxiety.
Boost in the metabolic and immune system.
Better digestive function.
More lung capacity and better breathing.
Increased strength, flexibility, and stamina.
Panaprium is proud to be 100% independent, free of any influence, and not sponsored. We carefully handpick products from brands we trust. Thank you so much for buying something through our link, as we may earn a commission that supports us.


How a Yoga video for weight loss helps you

More mindful eating for healthier diet choices
Yoga is a great way to connect the mind and the body. By practicing regularly, you learn how to distinguish what is good for you in the long run. You have a clear vision of what is helpful.

Connecting deeply with our inner self makes you realize how food as a way to fuel our body. A quick yoga video makes it easy to understand how to perform better and avoid destructive behaviors.

Being more aware of our body is one of the many benefits of yoga. Studying yoga increases mindfulness that helps maintain a healthy weight. It prevents eating too much by regulating appetite.

It's then easier to separate emotional hunger from physical hunger. By tuning in with your inner needs, you seek less comfort food and make more fulfilling choices.

Relief from fatigue, stress, and anxiety for better sleep
Practicing yoga reduces stress, anxiety, and depression. It helps you take a moment for yourself during a busy day. Plus, yoga is awesome at getting rid of worrying thoughts.

Follow the instructions and focus on the practice. You will learn control, discipline, and concentration. You will also find inner peace and mental clarity. A night of better sleep is guaranteed with a peaceful mind.

Improved mood and overall happiness
By combining breathing, movement, and meditation, yoga has a positive effect on our minds. It helps us see what is important and what makes us happy. A better lifestyle and healthy habits are sure to follow.

These yoga exercises for weight loss have a proven influence on our hormonal balance. Many asanas aid regulate hormone production that maintains our physical and mental health.

Boost the digestion, metabolic function, and immune system
A yoga video will get your heart pumping. It is a great way to increase blood flow, circulation, and get a healthy heart. You can notice an increase in vitality by practicing regularly.

Yoga is known to improve your energy levels. Plus, it helps you from within by massaging the organs and stimulating the nervous system. The kidneys, liver, and pancreas are kept healthy for better digestion and detoxification.

More lung capacity and better breathing
You will learn how to breathe correctly by doing yoga. Deep breathing exercises are an essential component of every practice. It is necessary to learn deep breathing to perform the different yoga poses.

Furthermore, many asanas have the benefit of stretching the thorax and liberating the lungs. The Upward Salute or Urdhva Hastasana is one of them. It is very easy to master, even for beginners.

Increased strength, flexibility, and stamina
It is not a secret anymore. Yoga will work your entire body. It is a very effective way to discover yourself and improve. Many postures are very challenging and increase your willpower.

Go beyond your comfort zone and push yourself. The key to success is to act despite your fears. Practice the videos often and you will get surprised about your body changes.
1. Simple Hatha Yoga for Beginners
25 minutes of gentle flow
Thank you for the amazing class ChriskaYoga.
Christina is an RYT 500 yoga instructor & dance MFA in NYC. She is an awesome instructor and has plenty of great tips that she shares with passion.
Benefits:
This course is very accessible for beginners. If you are just getting started with yoga, I recommend that you practice this free video regularly. With a gentle flow, you will see what yoga can do for you.

This is perfect to easily get back in shape and to learn the basics of yoga. It will warm you up and give you strong foundations before more advanced classes.
2. Relaxing Yin Yoga Class
30 minutes of calm and peace
Thank you Mind Body Bowl for this otherworldly experience.
Annie is a very patient yoga teacher. She loves to share inspiration with others. She has very advanced training in various yoga styles.
Benefits:
Use this deep relaxing yin yoga to calm down and relieve any tension in your body. It will make you appreciate yourself and your life as a whole. This yoga video will transform you from within into a happier healthier person.

Consume without moderation. Take this time for yourself and relax. Try to empty your mind and focus on the postures. Concentrate on breathing and your body. Don't let your mind wander and control your emotions.
3. Slow Full Body Yoga Flow for Beginners
15 minutes of full body workout
Thank you for this amazing challenge Bad Yogi.
Erin Motz is a very fun yoga teacher. She loves teaching and it shows. She doesn't want to fit to any yoga stereotypes and rightly believe that yoga is for everyone.
Benefits:
This will be a bit more challenging for you if you are just starting with yoga. Make sure to find your own pace if you are having difficulties. Take the time to learn and repeat the various asanas. These of some of the most important ones.

This yoga practice will give you a solid workout. It will raise your heart rate and increase your metabolism. This is a very good starting point on your weight loss journey after you master the basics. An increase in strength, flexibility, and endurance are the biggest benefits.
4. Beginner Yin Yoga Practice
40 minutes of relaxation
Thank you Shima Flow Yoga for this very peaceful practice.
Jodi Shimabukuro is a very experienced yoga teacher. She works hard to spread love, happiness and metta through yoga, wellness and food.
Benefits:
I love relaxing yin yoga practice. It has plenty of positive effects on your body and your mind. You will increase your flexibility by following this class regularly. It is great to stretch your muscles deeply, especially the back, hips, and hamstrings.

This yin yoga initiation is suitable for everybody. Plus, it relieves stress after a busy day at work. It also improves focus, concentration, and discipline.
5. Full Body Morning Yoga
60 minutes of invigorating flow
Thank you for the wonderful flow Kristina Matskevich.
Kristina gives you very good instructions in this video. These are easy to follow to take your yoga practice further. Kristina provides great guidance for everybody.
Benefits:
You will work all your muscles with this yoga exercise. It includes many beneficial backbends and twists of the torso. This will stimulate your spine and nervous system deeply. Make sure that you practice slowly and listen to your body.

As a bonus, practicing this yoga flow will raise your energy levels. It is perfect to start your day on the right foot. The different stretches are great to wake you up and increase your flexibility.
6. Beginner Yoga Flow | Sun Salutation
35 minutes of total body flow
Thank you Anita Goa TV for this wonderful flow.
Anita Goa is a very impressive yoga teacher. She provides amazing and very well thought out yoga classes. Plus, she helps you stay strong, flexible, and enduring on and off the mat.
Benefits:
This is a very good Yoga for Weight Loss Video for beginners. It strengthens your legs and stretches your thorax. A few twists and inversions are also included. They are important to ensure the good health of your hormonal and immune system.

With this yoga practice, you will realize that difficult exercise can also be fun and enjoyable. Breath deeply and follow the very good instructions. Make sure that you find out where you still need to progress. Work on it before moving on to the more challenging videos.
7. Full Body Vinyasa Yoga Class
30 minutes of vinyasa yoga flow
Thank you ChriskaYoga for the powerful class.
Christina gives very nice tips throughout this class. Try it out to take your yoga practice to the next level.
Benefits:
This is an amazing Yoga for Weight Loss Video. It can help you shed excess body fat effectively. It is not like any other physical activity. You will need to master the more gentle yoga flows before this one.

Do not rush or push yourself too hard. Make sure that you are fully warmed up before attempting the difficult postures. There might be some that you will find quite challenging. But it will improve your mood and make you confident in your ability to progress.
8. Total body yoga flow
35 minutes of vigorous flow
Thank you Anita Goa TV for this vigorous flow.
Anita proposes here a more advanced yoga class but still accessible for beginners.
Benefits:
This yoga video will make you sweat. Make sure to breathe deeply through the nose. You will build a strong core and lower back muscles practicing this class. Furthermore, it has a very energizing effect on the body and the mind. In the end, you will be filled with positive energy.

Raising your heart rate is a bonus. Increasing the blood flow and the metabolic system will make you burn calories more effectively. Make sure to appreciate every moment and have fun.
9. Full body Vinyasa yoga flow
60 minutes of energizing class
Thank you for the workout Kristina Matskevich.
Kristina teaches a very relaxing class that will fill you with positive energy.
Benefits:
Take your time to do the asanas correctly during this video. You must focus on breathing. You have to provide enough oxygen to your muscles to work efficiently. It will have positive effects on your metabolism.

You will build great leg strength and flexibility during this class. Strong and long muscles with dense fiber are good to lose weight. You will burn more calories with larger muscles, even when you are not exercising.
10. Power Vinyasa Yoga Flow
60 minutes of power yoga
Thank you this intense full body flow O'M Yoga.
Mary Nelson O'Meara is a certified yoga instructor (RYT 200). Her specialty is Power Vinyasa Yoga. She teaches with heart and helps transform our body, mind, and spirit.

Benefits:
This is a great yoga style if you are looking to lose weight. The intense postures and deep breathing provide a vigorous practice. It is great to get your heart pumping and burn more calories. This will be challenging so practice the other Yoga for Weight Loss Video beforehand.

Power yoga is known to boost metabolic function. Plus, it is a great way to strengthen and lengthen your muscles. You will feel energized and ready to take on the rest of your day.



To wrap it up
A yoga video for weight loss will seriously tone your body using challenging movement and breathing exercises. Plus, it is not like any other physical activity. Practicing yoga brings balance between the body, mind, and soul of the students.

The number of calories burned varies a lot depending on the intensity and type of practice. Vinyasa, ashtanga, and hot yoga are great to elevate the heart rate, sweat, and boost metabolism. They increase strength, flexibility, and endurance.

But all styles of yoga practice will help you lose weight by transforming you from within. Increased digestion, organ performance, and detoxification are associated with many asanas and deep breathing techniques. Yoga is also much more than a physical workout.

A regular yoga practice repairs the nervous are the hormonal system. Plus, these best youtube videos improve your awareness of your body and your thoughts. Better diet choices, mindful eating, and a healthy appetite are the bonuses.
Was this article helpful to you? Please tell us what you liked or didn't like in the comments below.