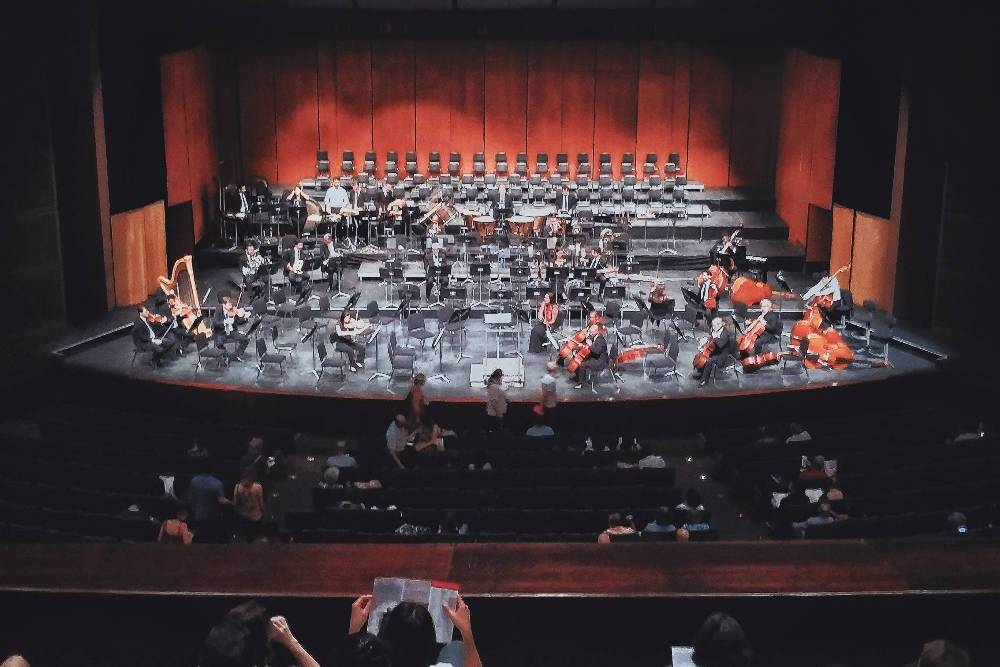 How To Dress Elegantly To The Opera And Standout
There are very few events in life where you might be required to wear a special attire that you probably don't already have. Opera is one of those moments.
Generally, ladies are expected to wear formal evening dresses in a color they like. Navy blue, red and black are ubiquitous at the opera. Cocktail dresses or business-casual outfits are also standard. In world-renown, extravagant theaters, it is not uncommon to see super-formal attires like an evening gown or a tuxedo.
You can also experiment with different styles or lighter-colored clothes, depending on the formality of the opera. If the event will take place outdoors, dress warm or accessorize with a scarf or a shawl.
This guide looks at the best outfits to wear to the opera to help you enjoy the event while feeling elegant and stylish.
Note: Some opera houses usually have dress codes, so it is always a good idea to confirm before deciding what to wear.
Panaprium is proud to be 100% independent, free of any influence, and not sponsored. We carefully handpick products from brands we trust. Thank you so much for buying something through our link, as we may earn a commission that supports us.
Form-fitting floor-length dress
To bring in a dash of elegance, go for a form-fitting floor-length dress, and you won't feel anything missing from your body. Actually, you will feel complete and beautiful. The dresses are available in various fabrics, patterns, and colors.
Choose a breathable, comfy, breathable piece to create the right look. And then blend that with statement earrings, and you will not only look great but also express your personality.
Sweatpants
Don't fancy feminine styles? Don't sweat. Throw in sleek sweatpants that give a dash of boss lady vibes. To spice it up, go for fun patterns. If you want a fail-proof combination, try a leopard print cami top and black fitted sweatpants to scream the ultimate sophistication and style.
Want to try this out? Check out our selection of the top sustainable sweatpants.
Backless dress
Do you want to look classy and sexy in a unique way? A backless dress is your best bet! It is one of the most popular choices in many opera events. Just remember to blend it with the appropriate undergarment like a Nubra, and you'll be glad you did!
Jeans!
Yes, you read that right! Nowadays you can also wear jeans to the opera. Just ensure that you pull it off well with a comfy, decent, and intelligent look. Pop up the denim look with a pointy flat, a structured bag, and a sleek blazer.
Also, choosing the appropriate design ad hue is essential here. Don't go for a light-washed piece. You will look too casual. Instead, pick elegant white or other neutral colors like black or beige. For inspiration, you can check out these sustainable denim brands that use ethical and eco-friendly production processes.
Sky-high stilettos
Because you will be in your seat for most of the night, you don't have to pick practical shoes. Instead, go for flashy yet formal footwear like sky-high stilettos. If you plan to wear a simple tux or a plain black dress, try shoes with attractive extras like these ethically produced high heels or ballet flats with glitter or pom poms.
Pencil skirts
Looking for a more business casual look? Try a pencil skirt. They are usually elegant and super cute and will craft a modern and stylish look of a successful lady.
Check out our selection of the best pencil skirts.
Faux fur stole
Because an opera house can get cold, come prepared with matching outwear to stay warm. Pick a piece that resembles your overall look. Great options include a long cape and a faux fur stole.
The latter adds an extra charm to a dress. Leave the worn cardigans and puffer coats at home. Check out our selection of the best affordable faux leather pants.
An elegant satin skirt outfit
A lovely satin skirt is not just an attire you can wear to the opera but to other semi-casual events. Pair it with a long coat, pump heels, and a wristwatch to give you a professional and sophisticated look.
If you want something more relaxed, go for a pale pink satin maxi skirt and combine it with a labeled t-shirt and platform shoes. Alternatively, you can blend different styles in a single look. For example, pair a printed satin midi skirt with a white hoodie, black and white ankle boots, a small suede bag, and sunglasses.
Additional tips on what to wear to opera
Go for wrinkle-free attire because you will likely spend the entire evening seated. You don't want your pants to look awfully wrinkled when you leave the event.
To avoid looking bland and dab, do not wear a black dress or suit if your companion or date is wearing black. Contrast each other's attire subtly.
Don't rush when deciding what to wear. Plan in advance, and take your time to find the right ensemble for the occasion.
Avoid tight tops and skirts.
If you are going to the opera straight from work, you can wear semi-formal on that day if the dress code allows you to do so.
What not to wear
As mentioned earlier, the rule of thumb regarding opera attire is business casual and up. This means that t-shirts and flip-flops are usually not a good idea. Meanwhile, yoga pants, jeans, and sneakers are not traditionally recommended, but you can wear them.
Actually, nowadays, it is very common to see people wearing them because they are not against any dress code and shouldn't prevent you from going to an opera event.
Wrapping it Up
You will feel confident and enjoy yourself more when you are dressed appropriately and fashionably for an event like opera. It is a glitzy occasion where you cannot afford to ignore fashion. What's more, it is an event where you are likely to bump into business associates, acquaintances, and friends. So, ensure you stand out and give the right impression.
What do you think about that? I hope you have been inspired; Now, get that fantastic opera look. Have fun, and see you there!
Was this article helpful to you? Please tell us what you liked or didn't like in the comments below.
About the Author: Geri M. Vin