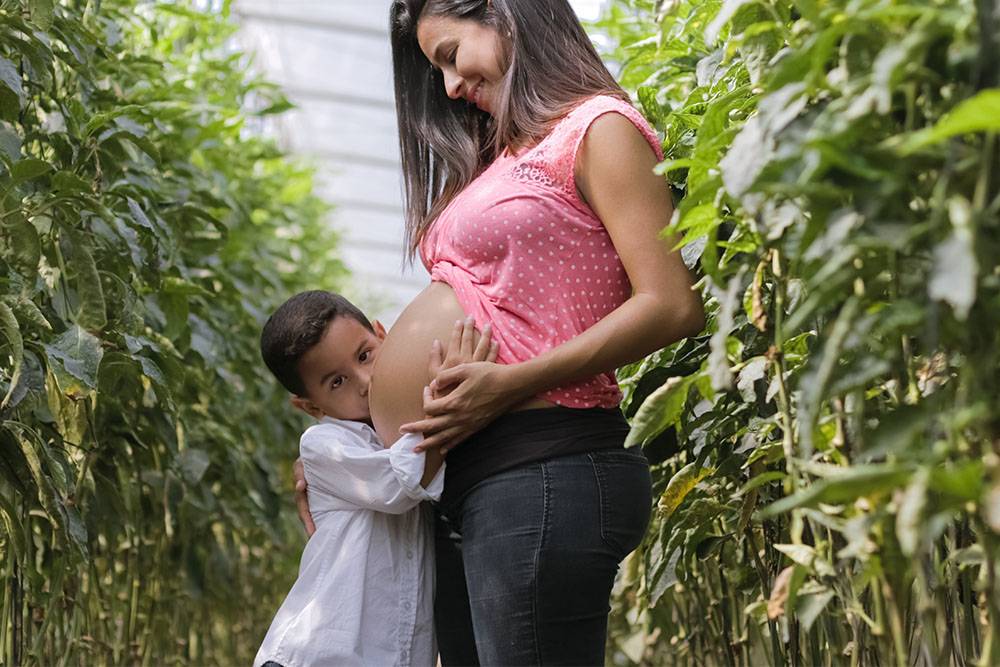 The Truth About Wearing Jeans During Pregnancy
Is it ok to wear jeans or tight pants while pregnant? Or should you put your regular denim clothes away until birth? It's crucial to wear the right clothing styles during pregnancy to keep your body and baby healthy and happy. 
It's a general consensus that jeans are harmless to wear during pregnancy. Tight clothes might feel uncomfortable, but they won't hurt your baby. However, there are some consequences of wearing tight-fitting clothes for too long. 
What are the pros and cons of wearing skintight pants while pregnant? Here is everything you need to know about wearing jeans during pregnancy to prevent unnecessary complications. 
In this article:
Panaprium is proud to be 100% independent, free of any influence, and not sponsored. We carefully handpick products from brands we trust. Thank you so much for buying something through our link, as we may earn a commission that supports us.


Is wearing jeans safe during pregnancy?


It's completely safe to wear jeans during pregnancy. No studies and no scientific evidence indicate that tight pants like jeans might cause issues to the baby. You can still wear regular jeans during early pregnancy if you don't feel any discomfort.

The chance of tight jeans cutting off circulation to the baby is none. There is no danger for women that want to continue wearing jeans as usual while pregnant.

Jeans can be a little restricting in the later stages of pregnancy when the bump is growing. So don't hesitate to replace them with other options that could feel more comfortable and invest in maternity clothing.

Check out our selection of the best affordable and sustainable maternity brands that every woman needs to know to look fashionable and feel comfortable during pregnancy on a budget.


Can I wear high-waisted jeans while pregnant?


You can wear high-waisted jeans while pregnant, and they are, in fact, the preferred option of many pregnant women. They provide maximum comfort and support, especially late in pregnancy when your curves are developing.

Low-rise pants might not be ideal while pregnant because they might feel uncomfortable and restrictive while seating. They might even put extra stress on the waistline.

On the other hand, high-waist maternity jeans and over-the-bump pants help you feel secure. They don't cut you off at the hips, sit comfortably at the waist, and keep everything in place.


Can wearing tight pants hurt my baby?


There is no scientific evidence that wearing tight pants might hurt your baby while pregnant. No study confirms that you should avoid wearing tight-fitting clothes during pregnancy.

However, tight pants like jeans can have some consequences for the woman wearing them. They don't fit every body type, may feel uncomfortable while sitting or traveling, and aren't the best for every fashion style.

Skinny pants may not be flattering for some women, especially with accentuated curves during pregnancy. They can hinder mobility, irritate the skin, limit airflow, and heat private parts.

You can read my other article on the disastrous downsides of wearing skinny jeans to learn more about the common issues women experience while wearing tight pants and how to prevent them.


What jeans are better for pregnancy?


The best jeans for pregnancy are stylish, comfy, high-quality, and eco-friendly maternity jeans. They are affordable and sustainable and made from organic fabrics to enhance your style and confidence while preserving your health.

Maternity jeans from the best denim brands make dressing well and sustainably before, during, and after your pregnancy very easy. They help you look fashionable and feel comfortable while pregnant.

Stretchy denim jeans with a legging-like waistband are great for a growing belly. The bottom part looks and feels like conventional jeans, and the upper part at the waistline is super elastic and comfy.

Check out our selection for the very best in affordable and sustainable maternity jeans that every mom and mom-to-be needs to know to look stylish and feel happy and healthy.


How should you wear jeans when pregnant?


If you want to look and feel your best in jeans when pregnant, choose cute and stylish clothing pieces that are durable, versatile, timeless, affordable, and sustainable to craft original and fashionable outfits.

The best jeans outfits for pregnant women offer functional alternatives that help you feel comfortable and maintain your confidence during pregnancy without breaking the bank.

Pick a good pair of inexpensive, high-quality, and eco-friendly maternity jeans and match them with chic tops, classic shirts, summery blouses, comfy sweaters, well-fitting jackets, shoes, and accessories.

You can easily dress in style and look your best with cute jeans outfits when pregnant. Choose fresh cuts, timeless silhouettes, original shapes, and creative layers.

Check out our selection of the best outfits with jeans to dress well in casual clothes and look fashionable on a budget.
Was this article helpful to you? Please tell us what you liked or didn't like in the comments below.