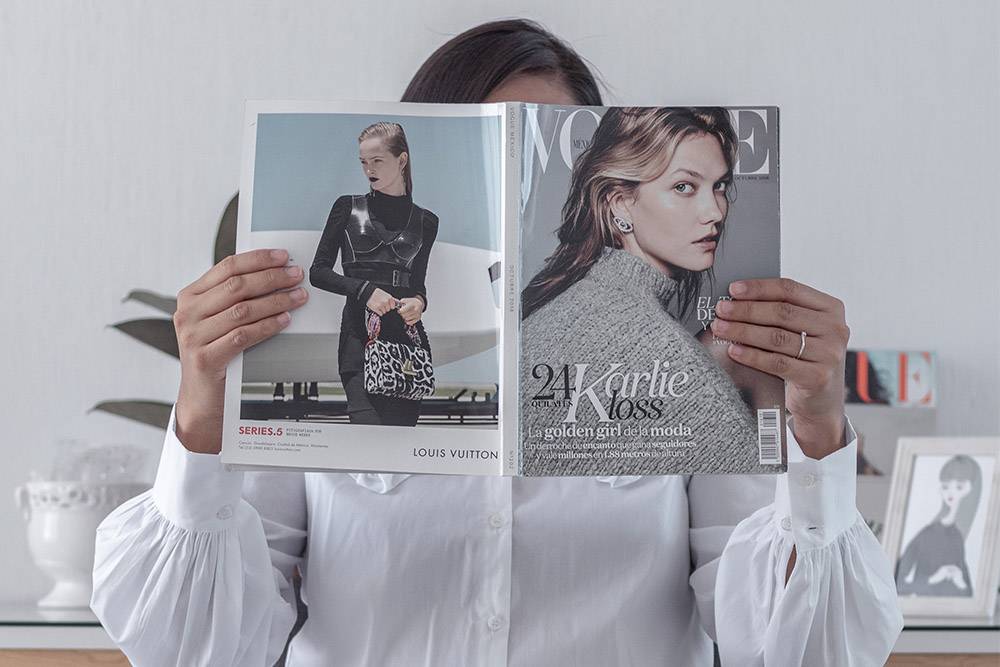 Sustainable Fashion Coverage In Vogue Magazine
Sustainable fashion is getting more and more coverage in Vogue magazine with new articles, videos, and photos about eco-friendly brands and designers fostering positive change. 

The fashion industry has a terrible social and environmental impact. It should make meaningful improvements to protect people working in the industry and the planet.

Thankfully, sustainable fashion is a growing trend. And more publications such as Vogue cover sustainable fashion and lead the conversation on sustainability, worker's rights, materials, supply chain, and corporate governance.
Panaprium is proud to be 100% independent, free of any influence, and not sponsored. We carefully handpick products from brands we trust. Thank you so much for buying something through our link, as we may earn a commission that supports us.


What's wrong with fashion?


The fashion industry is systemically opaque. It's one of the most potent polluters on the planet and uses hazardous substances in an extractive business model.

Fashion also runs on systemic inequality and social injustice. Many brands use sweatshops and forced labor. They function on overproduction, feeding a culture of wasteful overconsumption.

We are on the verge of a global environmental, social, and economic crisis. It's now more important than ever to rethink how we produce and consume clothes.

Thankfully, sustainability has become more present in magazines like Vogue. They offer news and articles covering emerging designers and brands leading the transformation.

For businesses related to fashion, corporate sustainability is now crucial to increase trust among consumers. People want to buy from brands that support causes they believe in.

Fashion has a role in reducing waste, pollution, and carbon emissions. It needs to make more sustainability efforts, design clothes with sustainability in mind, put less pressure on the environment and natural resources.

The impact of clothing production on people and the planet is disastrous. And many fashion brands don't support environmental protection as much as they should.


What is Vogue Magazine doing?


Vogue is an American fashion and lifestyle magazine covering many topics, including sustainable fashion. It offers the latest fashion news, coverage, updates, reviews, celebrity style, and videos on Vogue.com.

Global mass media company Condé Nast owns Vogue. It also produces many other media brands such as GQ, The New Yorker, Vanity Fair, Wired, Glamour, and Architectural Digest.

Even though most of what magazines cover isn't ethical, publications like Vogue offer a global perspective on sustainable fashion with industry insights.

Vogue has an easily navigable website with new content every day and an app that provides notifications for environmental topics, including sustainable fashion.


Sustainable Fashion Glossary by Vogue


Condé Nast recently launched a Sustainable Fashion Glossary to increase sustainability literacy. It offers guidance on sustainability terms and emerging topics.

It's developed in partnership with the Centre for Sustainable Fashion (CSF), a University of the Arts London (UAL) research center based at the London College of Fashion (LCF).

The Sustainable Fashion Glossary covers more than 250 terms related to sustainability in the textile and apparel industry. It's a fantastic tool to help people familiarize themselves with sustainable fashion vocabulary.

The Glossary is a great place to start for sustainable fashion newcomers. It makes an easy-to-use guide for experts to further their knowledge of materials, production, and practices.


Exclusive show coverage on Vogue Runway


Vogue also operates a free fashion app, Vogue Runway, for sustainable fashion designers and fashionistas interested in exclusive fashion coverage and unlimited access to runway shows from Vogue Magazine.

The fashion app will help you explore the latest trends with an extensive resource of 12,000-plus collections, over 100 seasons, and more than 1 million runway looks.

Ready-to-Wear fashion show coverage is perfect for information about the latest sustainable fashion trends in the industry. You can see photos, videos, reviews, and more about talented designers' sustainable collections.

Many runway shows offer unmissable sustainability moments, including New York, London, Milan, and Paris Fashion Weeks. They showcase sustainable clothing produced by designers setting new standards for the fashion industry.


Vogue's sustainable fashion brands
Vogue regularly highlights labels that develop innovative ways to become more sustainable. It lists the sustainable fashion brands you need to know, from the U.S. to the Netherlands to Japan.

The magazine puts in the forefront a beautiful selection of emerging brands and designers that do their part to lessen fashion's impact, especially in the luxury industry.

Sustainable fashion labels use recycling and upcycling to reduce waste and create fashionable pieces that last for generations. They celebrate artisanal techniques with natural, hand-dyed fabrics and zero-waste design methods.

Vogue also makes shopping recommendations for fashionistas that want to reshape wardrobes to be more sustainable. It helps you completely rethink your purchasing habits and how you consume clothes.
Was this article helpful to you? Please tell us what you liked or didn't like in the comments below.