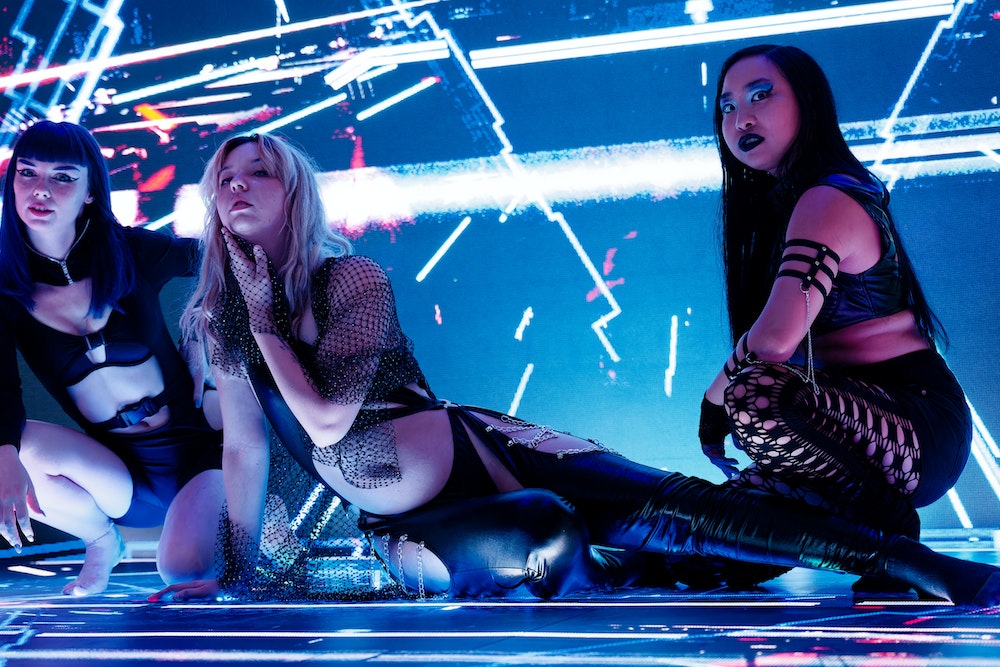 What To Wear To Tresor 2023 Ultimate Guide: 10+ Outfits
Berlin is a city that never sleeps, and Tresor, one of its iconic techno clubs, is a testament to that. With pounding beats, mesmerizing lights, and an electric atmosphere, Tresor is a clubber's paradise. 
But, if you're planning to venture into this techno haven, it's not just the music that demands attention. Your fashion choices play a significant role in this vibrant world. 
Whether you go for the classic techno look, embrace streetwear, or choose something bold and daring, make sure your outfit allows you to dance and move freely. 
If you're a seasoned techno enthusiast or a newcomer to the scene, dressing the part is a must. Below you'll find some sizzling hot outfit suggestions to ensure you look the part.
Panaprium is proud to be 100% independent, free of any influence, and not sponsored. We carefully handpick products from brands we trust. Thank you so much for buying something through our link, as we may earn a commission that supports us.
Vegan Leather Pants
Tresor's dancefloor is where the night comes alive, and to keep up with the energy, you need attire that's both comfortable and edgy. 
Vegan leather pants offer the perfect blend of style and comfort. They're sleek, they're bold, and they'll make you feel like a techno warrior ready to conquer the night.
Pair with a top with cut-outs for a peak techno baddie vibes.
Discover the best pair of vegan leather pants from our selection.
Cargo Pants and Comfy Sneakers
Tomboys are welcome at Tresor. If you're into more masc outfits, then baggy cargo pants could be the best choice for you.
When it comes to footwear, comfort is key. You'll be dancing the night away, so opt for your comfiest pair of sneakers. They'll support your feet and keep you moving to the rhythm without any discomfort. The chunkier, the better, and of course, make sure they are black!
Pick your ideal pair of sustainable European-made sneakers.
Tank Top and Skinny Jeans
For a classic techno look, go for a tank top paired with skinny jeans. It's a timeless combination that exudes confidence and freedom of movement. 
The tank top allows you to stay cool while you groove to the beats, and skinny jeans give your silhouette a sleek edge.
Pair with a pair of flats and a tiny handbag to nail the 2023 height of style.
Check out these affordable and sustainable tank tops to complete your look.
Bodysuit and Boots
Want to turn up the heat on the dancefloor? A bodysuit paired with stylish boots is the way to go. Bodysuits hug your curves and allow you to move freely, while boots add an extra dose of attitude to your ensemble.
If you're worrying about showing off too much skin, then consider wearing the bodysuit under a pair of shorts or pants.
Tresor isn't as fetish-focused as some of Berlin's other clubs, so do not feel pressured to dress outlandishly.
Read our blog on what to wear to KitKatClub in Berlin.
Hot Pants and Crew Top
For those who prefer a slightly rebellious yet comfortable style, black hot pants and a crew top are an ideal choice. 
Hot pants are perfect for showcasing your dance moves, and a crew top adds a casual, street-inspired touch.
Top tip: Wear a nice sports bra underneath, so if you get too hot and sweaty on the dancefloor, you can shed a layer.
Here is our guide for 19+ outfits to wear to Berghain.
Corset and Shorts
For a daring and unconventional 2023 look, consider a corset paired with shorts. It's a bold fashion statement that captures the spirit of the Berlin techno scene. 
Corsets have been huge during the last few runway seasons, so you will serve guaranteed fashionista vibes. Just make sure it's not overly restricting because your number one priority in a club like Tresor is to have a class time. 
Don't be afraid to experiment with different textures and colors to create a unique ensemble.
Check out these gorgeous, affordable corsets, just for you.
Sexy Dress
If you're in the mood to dress to impress, a sexy dress is your go-to option. It's a chance to showcase your style and individuality. 
Whether it's see-through, bodycon, or something more extravagant, let your outfit express your inner techno spirit. You could even wear underwear as outerwear, if that is your jam. 
Remember authenticity is key in Tresor, so don't push yourself to wear something you normally wouldn't. Nobody likes a try-hard.
Discover these super hot hook-up outfits for 2023.
Streetwear
All-black isn't the only option for your clothes. Berlin's current fashion scene is known for its streetwear influence, and this is your chance to embrace it fully. 
Opt for oversized hoodies, crop tops, baggy pants, and statement sneakers. It's a fashion-forward choice that fits right into the eclectic vibe of Tresor. 
Find out more about the best streetwear fashion brands right now. 
Mesh Top and Pants
It wouldn't be a techno club without a little mesh!
To add a touch of sensuality to your Tresor outfit, consider a mesh top paired with black pants. It's a daring look that allows you to express your style while keeping cool and comfortable on the dancefloor.
It's giving major techno queen vibes.
Take a look at these beautiful, recycled pants to complete your outfit.
Baggy Shorts and Camisole
Androgynous clubwear is in right now. For a relaxed yet stylish option, go for baggy shorts and a camisole. 
It's an ensemble that's perfect for dancing all night long while maintaining a laid-back charm.
Pair with sneakers or your fave boots.
Find a lovely organic cotton camisole from this selection.
Mini Skirt and Tee
Newsflash! Mini skirts are having a major moment right now. The likes of Cardi B and Taylor Swift are rocking them so why shouldn't you?
Pair with a simple black tee or a camisole.
Check out these cute mini skirts now. 
Shift Dress and Chunky Boots
A shift dress is a versatile choice for those who want comfort and style. 
Pair it with chunky boots to add an element of rebellion to your outfit. This combo is perfect for those who want to make a statement on the dance floor.
Grab a pair of hot vegan boots to complete your fit.
What Not to Wear to Tresor 
High Heels: While they may look glam, high heels are a big no-no for Tresor. The uneven floors and hours of dancing will leave your feet begging for mercy.
Offensive slogan tees: Tresor is all about freedom and self-expression, but overly o

ffensive outfits may attract unwanted attention. Keep it tasteful.
Bulky Bags: Leave your bulky bags at home. Opt for a small, secure bag to carry your essentials and keep your hands free for dancing.
Was this article helpful to you? Please tell us what you liked or didn't like in the comments below.
About the Author: Catriona Jean