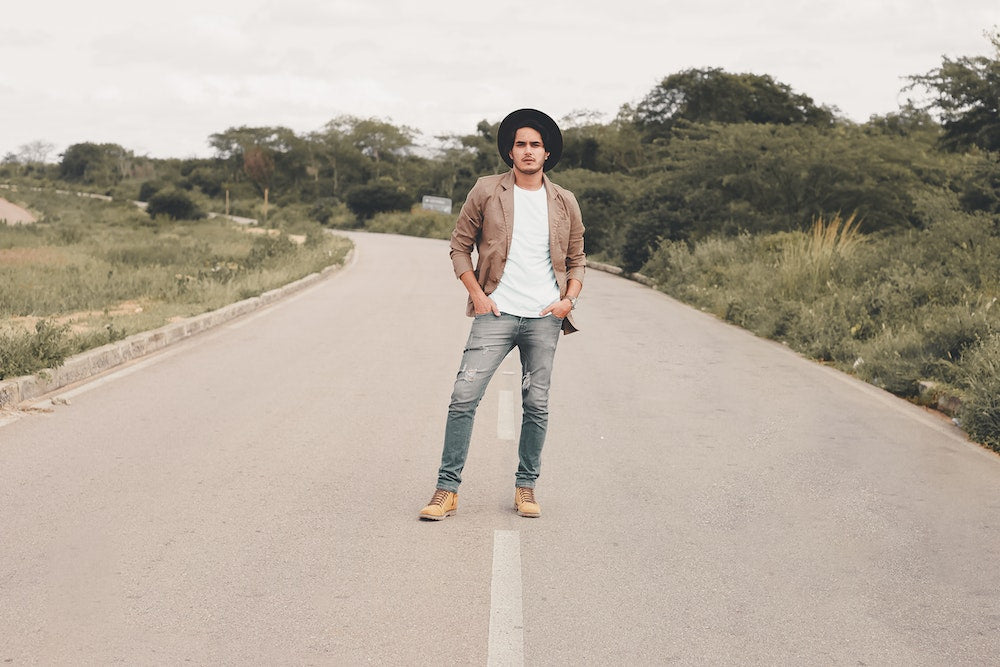 Is The Skinny Jean Trend Over For Men In 2023?
The great skinny jeans debate rumbles on in 2023. In recent years, the fashion landscape has been evolving rapidly, with a shift towards more diverse and comfortable styles. 
The era of exclusively skinny jeans for men is over, that much is sure. However, this doesn't mean they're completely out of fashion. Many men still incorporate skinny jeans into their wardrobes as part of a broader range of choices. 
The key is to adapt to your personal style, comfort, and the occasion. Whether you prefer statement pieces, tapered fits, cargo styles, or relaxed baggy jeans, the world of men's fashion in 2023 is all about diversity and individuality.
Let's explore this ongoing trend and see where skinny jeans stand in the world of men's fashion, as well as the hot alternatives that are making waves in the fashion scene.
Panaprium is proud to be 100% independent, free of any influence, and not sponsored. We carefully handpick products from brands we trust. Thank you so much for buying something through our link, as we may earn a commission that supports us.
Cargo Style
Unless you have been living under a rock, you will know that cargo pants and jeans have been making a resurgence in 2023. These baggy, pocketed numbers offer a practical and stylish alternative to skinny jeans. 
Featuring numerous pockets and a more relaxed fit while remaining fashionable is the aim of the game here. Pair with a black tank for peek workwear vibes.
Here are the 20 worst fashion mistakes that you should avoid.
Statement Jeans
While the popularity of skinny jeans has waned, other styles have increased in popularity. Some men wear jeans as statement pieces to create a bold and edgy look. 
These jeans can be a part of a more eclectic outfit, making you stand out from the crowd and showing everybody that you have flair and confidence. 
Find out more about nailing a flamboyant fashion style now.
Tapered Leg
Tapered-leg jeans offer a middle ground between the super-skinny and baggy styles. They provide a more comfortable fit while retaining a sleek appearance. 
Many men favour this compromise for a contemporary look, so why not jump on the bandwagon and showcase a smart and put-together look?
Discover how to dress like a badass man.
Dungarees
Dungarees, or overalls, are another option for those seeking a change from skinny jeans. They provide a casual and comfortable vibe and have gained popularity in recent years.
Wear over a sweater and pair with chunky boots to nail this laid-back, arty style.
Take a look at these ultimate men's fashion tips.
Baggy
It's no secret that baggy jeans have been making a comeback, providing a stark contrast to the slim fit of skinny jeans. This trend signifies that men's fashion is diversifying.
I'm not saying fling out every pair of skinny jeans you own, but consider the oversized look for a more fashion-forward outfit. Baggy cuts tend to be more flattering and give off a relaxed, approachable air.
Check out these 20 easy style tips for casual dressing.
Sporty 
If you are hell-bent on staying on the skinny jeans side, then consider going for a sporty or athleisure look, to stay on trend with 2023's fashion.
Sporty skinny jeans combine the comfort of athleisure with the sleekness of skinny jeans. They often feature stretchy materials and can be paired with athletic sneakers for a trendy look.
Complete your look with a sporty sweater or tee.
Here are the 20 best affordable and ethical menswear brands.
White Jeans
White jeans, in various fits including skinny, remain a classic choice for men during warmer months. They create a clean and sophisticated look, perfect for summer, or to nail a classy look in autumn and winter. 
Pair with a camel coat and nice boots to elevate your style.
Take a peek at these 20 most attractive menswear outfits.
Slim-Fit
The slim-fit jean is the skinny jeans' younger, cooler cousin. They offer a more relaxed alternative to skinny jeans while still maintaining a modern silhouette. 
Slim-fit jeans are favored by those looking for comfort without going baggy. The most important thing is finding a cut that suits your body shape and personal style.
Discover these skinny jeans outfit ideas for guys.
Streetwear
Skinny jeans are losing the fashion race to streetwear styles. Pairing baggy jeans with oversized tops and sneakers contributes to a stylish urban look that's far from the indie skinny jeans look.
Experiment with different pieces to find the right amount of cool and relaxed for you. Accessorize with a crossbody bag, a bucket hat and skater shoes.
Find out more about streetwear fashion here.
Turn Ups
Turned-up cuffs can breathe new life into your skinny jeans. This little styling trick adds a touch of flair to your outfit, making your jeans look fresh and on-trend.
Pair with shoes such as loafers or sneakers to nail the casual and relaxed look of 2023 chillout wear.
Check out these hot tips for an elegant fashion style.
Skinny Jeans and Turtleneck
Pairing skinny jeans with a turtleneck sweater will help to create a sleek and sophisticated ensemble. It's a look that's versatile and still very much en vogue.
It will help you look smart and classy, with very little effort - what's not to love?
If you're wondering if guys can look attractive with a turtleneck on, then look no further.
Jeans and Chunky Boots
If in doubt, add a chunky boot to your skinny jeans fit. 
The tighter-legged jeans can be easily balanced out with nice chunky boots. This helps create a bold and contemporary combo that adds contrast and depth to your outfit.
Check out these 20+ Korean casual outfits for men.
Keep It Casual 
The rise of casualwear and loungewear has made its mark on fashion. Track pants and joggers have become the go-to for comfort, giving skinny jeans some competition in the relaxation department.
Go for a crisp co-ord set, or mix and match colors and fabrics. Top tip: make sure you are otherwise well-groomed to avoid looking like you have just rolled out of bed.
Looking to nail the roadman style, then we have the blog for you. 
Chinos
Chinos offer an alternative to denim that is more comfortable while retaining a modern appearance. They can be dressed up or down, making them a versatile choice for various occasions.
They are great in the cooler months, especially in earthy tones. Pair with a classic tee or smart shirt to add a bit of an edge to your fit.
Here are the 15 best affordable chinos and khakis for you to pick from.
Ripped
Ripped jeans continue to be a popular choice for men who appreciate the rugged, worn-in look. Whether skinny or not, ripped jeans remain stylish and timeless.
Pair with a graphic tee, or a cable knit sweater for peek fashionable vibes.
Check out these 15 outfits that men can wear with Vans slip-ons.
Was this article helpful to you? Please tell us what you liked or didn't like in the comments below.
About the Author: Catriona Jean