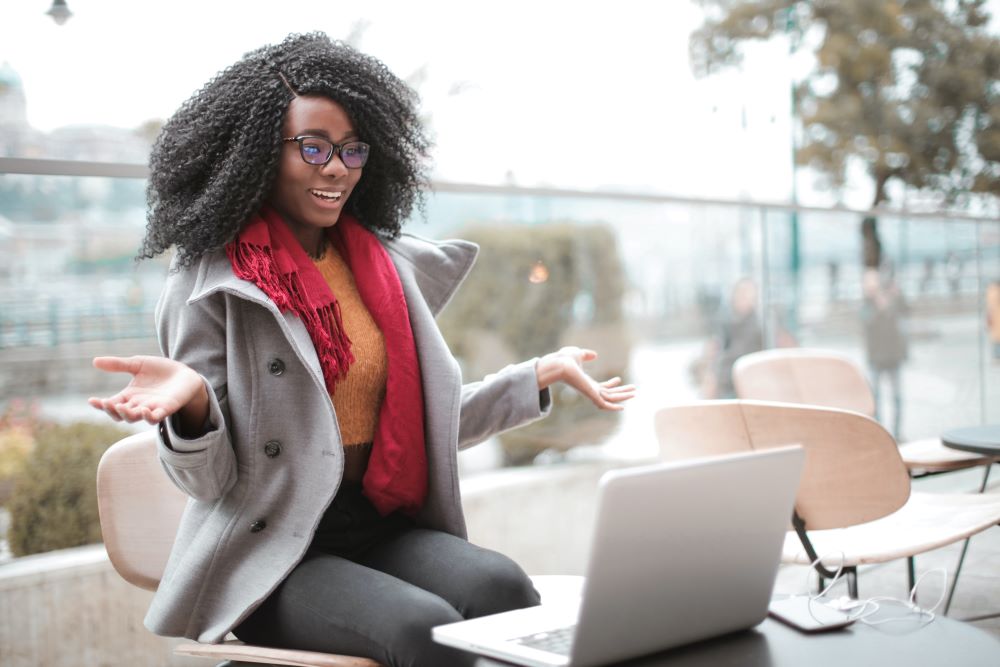 Choosing the Perfect Outfit for Your Video Interview
When it comes to interviews, even video interviews, first impressions are important. Every aspect of you, including what you wear will be seen. What you wear influences what message you want to convey and how your interviewer sees you. 
Even virtually, it is important to look put together, confident, and professional. Your clothes should make you feel confident and not self-conscious or uncomfortable.
Instead, your outfit should show off your best attributes, and make you appear as a professional and prime candidate that any company would be lucky to have.
Panaprium is proud to be 100% independent, free of any influence, and not sponsored. We carefully handpick products from brands we trust. Thank you so much for buying something through our link, as we may earn a commission that supports us.
Neutral Colors
Color can play a subtle influence on what the interviewers think about you. Neutral colors like blue, black, grey, and white portray positive messages while also keeping the focus on you and not what you are wearing.
Bright colors like orange, red, and yellow can be distracting and are best left as a splash of color in your accessories or jewelry.
Check out these neutral-colored outfits.
Solid Colors
Solid colors are also best. Small, busy patterns can create a distracting wave pattern on the screen, taking away from you and your answers. Solid colors will show up clearer on camera and not create any adverse effects.
Make sure the color you choose does not blend in with your background. For instance, if your background is light blue, don't wear an outfit that is also light blue. You will blend in with your background and be hard to see.
Find more outfits for your next interview here.
Darker Colors
Darker colors are also recommended as they generally show up better through the web camera. Light colors like all white are harder to see and may dim the lightning of your face, making you hard to see. 
The light and glare from your computer camera can also make some lighter fabrics appear see-through, even if they look okay in natural light.
Check out these professional looks.
Jewelry
When it comes to jewelry on video interviews, less is more. Large statement pieces may pick up glare from the screen and be distracting. Smaller pieces won't catch as much light or create a strong glare. 
Discover these jewelry brands.
Fit 
The fit of your clothes as you are sitting down for your interview matters. Make sure your outfit looks just as good sitting down as it does standing up. Also, make sure that nothing is bunching up or too tight when you sit. 
Interviews are stressful as it is, and the last thing you want is to be uncomfortable in your outfit choice.
Learn how to prevent your clothes from shrinking in the wash.
Fully Dressed
Even though you may think you can get away with just wearing a top to a video interview, getting fully dressed is still recommended. Wearing proper pants can avoid a mishap from a misaimed camera or if you suddenly have to stand up to get something.
Find more full outfit ideas for an interview here.
Avoid Nude Colors
Nude colors, like light colors, don't always show up well on camera and they may even make you appear like you aren't wearing any clothes.  
Save these nude options for after your interview.
Glasses
If you wear glasses, check your lighting and camera to see if your glasses are picking up any glare. Also be aware the interviewer may see reflections from your glasses, so know what you have on your desk or any other area that may be reflected.
Check out these eyewear brands.
Dress Code
If you are unsure how formally you should dress for your interviewer, a good rule is to check the company's website and social media pages as an indicator of how casual or formal their employees dress.  
The company may also list its dress code on its website or in the interview email they send you. When in doubt, business casual is the recommended level of dress.
Learn the dos and don'ts of a dress code for the office.
Button-Up
A button-up shirt is a great, versatile option for men and women. It is professional while still being comfortable and comes in a variety of shades to fit your style.
Check out these button-up shirts.
Blouse
A modest blouse is a common go-to for women in an interview. A blouse can be made more formal with a blazer, or more causal paired with jeans or a cardigan.
Blazer 
For an additional layer, a blazer is a great choice to heighten your outfit and look business-ready. It can be paired with a button-down for a more formal look, or over a t-shirt or sweater for a more casual look that is still professional. 
Sweater
For a more casual look, a nice sweater is a good choice. You will look put together and professional, without being too formal. Choose a sweater that breathes so you don't overheat and one that does not itch or irritate you.
Try an organic cotton sweater.
Slacks
For both women and men, slacks are a staple for professional-looking pants. They are form-fitting, without being too tight, and create an eloquent look.
Check out these dress pants for work.
Suit
If the interview requires it, a suit is a great option for a more formal look. You will look smart, and serious about the job.
Jeans
Jeans may still be a viable option. Around fifty percent of companies embrace a more casual dress code. A darker pair or black pair of jeans will appear more professional and can easily be paired with a range of tops and colors.
Polo
A polo shirt is a smart, causal top choice for your next interview. It is more formal than a t-shirt, but more casual than a button-up or suit.
Khakis 
If you still want to look business-casual but want an alternative to dress pants, khakis are a practical choice. They are a step up from jeans, while still being comfortable.
Footwear
Even indoors, or in your home, shoes are more professional than none. Go for a comfortable pair of dress shoes or flats.
Sneakers are also an option, if the job you are applying for has a more casual atmosphere.
Socks
If you do opt for no shoes, socks are still better and more professional than being barefoot. All though your feet may be tucked under your desk, if you have to get up, the interviewer may see your feet.
Choose neutral, solid-colored socks and leave the fun patterns or bright colors for another event.
Was this article helpful to you? Please tell us what you liked or didn't like in the comments below.
About the Author: Shelby Bonner