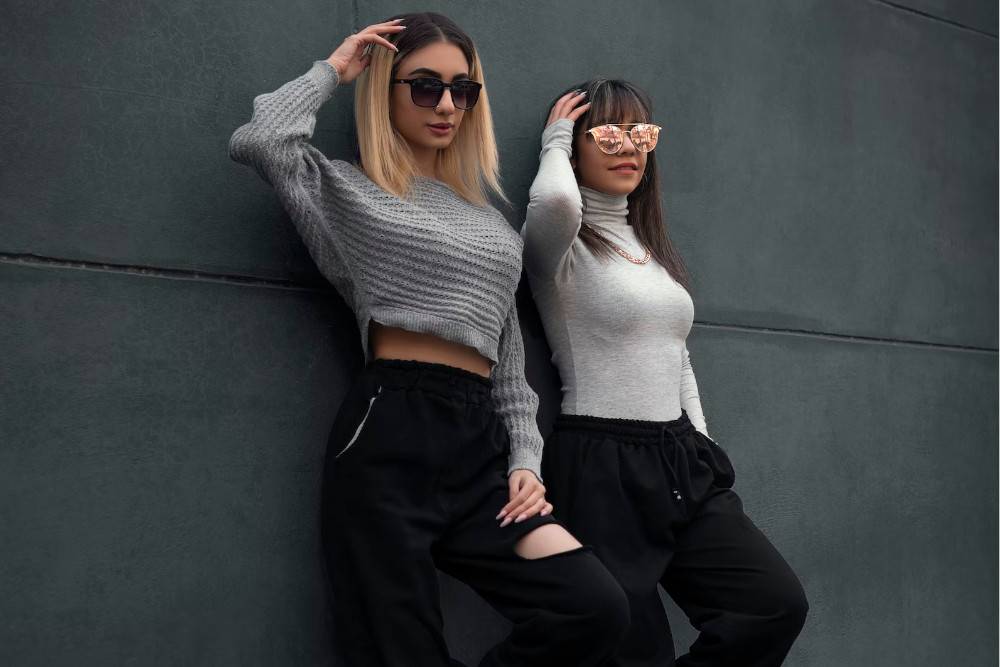 How To Dress Like A Badass Girl (22 Outfits & Tips)
It's super easy to dress like a badass girl and develop a great sense of style with the right fashion tips and outfit inspiration. Let your personality shine through gorgeous and stylish badass looks for modern women and girls.

The badass look is extremely attractive with very charismatic features that convey confidence and charm and will make you feel secure. It's ideal to look on fleek and put together with beautifully enticing looks that impress.

Badass girls wear individual, original, modern, and easy-to-wear pieces. They style their clothes, shoes, and accessories uniquely and fashionably to look very different from what other people usually wear.

Here is how you can instantly create excellent everyday looks and dress like a badass girl with stylish, effortless, original clothing pieces.
Panaprium is proud to be 100% independent, free of any influence, and not sponsored. We carefully handpick products from brands we trust. Thank you so much for buying something through our link, as we may earn a commission that supports us.


Wear a black outfit


Wear neutral colors like black to achieve a badass look instantly. You can look better even in casual clothes if you choose a classic combination of colors that suits you perfectly.

Choose neutral colors like black, and don't wear colors that are too bold. Go for the best neutral colors that look great on you so you can mix and match them easily all year round.

Neutral colors like black, white, brown, and grey make clothing very versatile and timeless, and they can work with any outfit. They are super stylish and fit a badass style.

Simple, classic, neutral colors are the building blocks of the badass girl wardrobe. They never go out of style, and you can wear them for a long time to look great.

The best neutral colors will improve your attractiveness and badass qualities by giving a particular nuance to your outfits, even if they're casual wear.




Put on black jeans


Black jeans are a staple and perfect addition to any badass girl outfit. You can pair them with a crop top or printed tee to look great in a highly creative outfit.

Buy a great pair of black jeans from sustainable denim brands that use ethical and eco-friendly production processes.


Buy flannel shirts


Flannel is a fashion staple to the classic badass girl look. Well-fitting flannel shirts are ideal to complete any outfit to dress like a badass. They help you look fabulous and stand out with a tried and true outfit.

Here is our selection of affordable flannel shirts.


Make a badass outfit with blazers


A black blazer helps you stand out and look put together like a badass girl. Pair a stylish blazer with classic dress pants to achieve a perfect and fashionable look.

A beautiful blazer can also improve your badass outfit by adding a traditional, dressy, and classy touch. Choose layers in gorgeous neutral colors like black or brown.

Buy high-quality and sustainable blazers made from organic or recycled fabrics.




Wear well-fitting clothes


If you want to dress like a badass girl, put on clothes that fit right. If you don't, your risk losing style and attractiveness. You also might damage the garments and feel uncomfortable.

Don't wear clothes that are too small or too big if your want to look great and feel your best. Instead, let go of them and make room in your wardrobe for clothing that fits you properly.

Show off your body and your best features by avoiding any tops or bottoms that are too large. Wide shirts or tees and baggy pants hide your shape and make your body appear larger than it is.

Avoid clothes that are too tight, especially around your midsection. To dress like a badass girl, wear clothing with the perfect fit that skims your figure, emphasizes your curves, and makes you look smart and confident.




Get sweatpants and hoodies


The baddie fashion style includes stylish, modern, chic, and effortless sweatpants inspired by street culture. Wear sweatpants with hoodies or crop tops to create the perfect baddie outfit.

The best joggers, sweatpants, and track pants are comfortable, cheap, eco-friendly, and ethically made from organic, natural materials. They help you dress like a baddie with a clean conscience.

Check out our selection of the best sustainable sweatpants.


Choose stylish denim jackets


Wear attractive layers like a denim jacket to add a stylish touch to any badass girl outfit. A classic denim jacket can improve your dressing style drastically.

If you want to dress like a badass girl, wear a fashionable denim jacket to stand out and transform a regular outfit into a more modern and stylish look.

Check out our selection of denim jackets for women.


Accentuate your best features


The bottom of your outfit is crucial to dress like a badass girl with well-fitting clothes. Wear quality, stylish, and chic pants or tights to accentuate your legs and look attractive effortlessly.

Put on well-fitting pants to replace baggy bottoms and show off your feminine features. One of the best ways to enhance your sex appeal is to showcase your unique assets.

Wear clothes that accentuate your lower body to look attractive in proper clothes instantly. You can combine an informal shirt or dress with well-fitting tights to create a feminine outfit that emphasizes your curves.


Try on work boots


The best boots for a fabulous badass look are durable, cheap, and chic to help you look stylish and feel comfortable in a classic outfit that stands out.

Work boots are ideal for everyday wear and are must-haves to craft badass outfits effortlessly. They can easily be worn by anyone that wants to dress like a badass girl.

Here is our selection of comfortable, affordable, and sustainable boots.


Put on hats and caps


Wear one stylish accessory with the rest of your badass girl outfit to look more attractive and stylish. It can be a versatile, cute, and fashionable hat or cap to accentuate your look.

But don't overdo it as one accessory is plenty enough. You can look charismatic in casual clothes with a badass style accentuated by one unique and original item.

Check out our selection of stylish caps and hats.


Simplify your outfits


If you want to dress like a badass girl, put simplicity first. Keep your outfits simple by picking the right combination of effortless clothes that go well together.

When buying new clothes and building your wardrobe, think of simple outfits you can wear. Remove unneeded extras to enhance your overall style.

You can easily dress like a badass girl by wearing simple clothes without any unnecessary features. Simple clothes and basic designs don't necessarily have to be boring.

You can make every piece you own a winner by simply making the most out of your closet and choosing the right collection of clothes that go well together.


Wear original printed tees


Stand out from the crowd and make your mark with a badass printed tee and jeans. Show off your personality and unique style by putting on original pieces that nobody else is wearing.

Check out our selection of sustainable graphic tees.




Add denim shorts to your wardrobe


Denim shorts are very easy-to-wear pieces to display a badass vibe. They are some of the most adorable, stylish garments you can put on with t-shirts to glow up and look fantastic.

Ultra-soft, gorgeous jeans shorts help you look fabulous and are a staple for badass girl outfits. You can pair denim shorts with an original tank top or a printed tee for a fresh and modern look.

Here is our selection of affordable and sustainable denim shorts.


Try on badass sunglasses


Don't forget to wear classic eyewear to create the perfect badass aesthetic. You can pair sunglasses with any outfit. Find eco-friendly and cheap sunglasses for women and girls that enhance your style without breaking the bank.

Sunglasses are fantastic accessories to create the ultimate badass style. They make an effortless yet incredibly chic addition to any stylish outfit.

Check out our selection of affordable and sustainable sunglasses.


Wear a leather jacket


Wear a fabulous leather jacket to create a stylish and modern badass look. Choose clothes made from animal-free materials such as faux leather. No animal should have to suffer to make fashionable clothes.

When crafting your badass outfit, let your personality shine through your clothes by focusing on what feels amazing for you. You will look more attractive if you avoid any clothing that makes you uncomfortable.

Here is our selection of the best faux leather jackets.


Buy black leggings


Stylish black tights and leggings are perfect for crafting beautifully comfortable outfits for badass girls. They make a great addition to the casual, effortless, and modern badass style.

Check out our extensive list of sustainable leggings.


Put on bike shorts


You can have more fun with your badass girl outfits by putting together a great selection of athleisure and streetwear. Wear black bike shorts to feel young and confident.

The best bike shorts are comfortable, cheap, and eco-friendly to help you look stylish, feel great, and make a mark. They make it easy for you to craft a contemporary badass look with trendy pieces.

Here are some of the best fashionable bike shorts to wear this season.


Don't hesitate to wear a short skirt


Wear a fashionable mini skirt as an easygoing and effortless solution to craft a stylish badass girl outfit. Chic short skirts and dresses exist in many colors, fabrics, and patterns and help you look confident.

Mini skirts help you dress creatively and look badass in attractive outfits. Choose lightweight, breathable, and comfy pieces to create the perfect badass look, express your personality, and feel confident.

Check out our selection of cute and stylish mini skirts.


Craft badass outfits with denim skirts


A denim skirt is perfect for crafting fashionable and attractive badass girl outfits. Choose a stylish denim skirt with a mini, midi, or maxi length from an eco-friendly brand, or head to your nearest thrift store.

Here is our selection of affordable and sustainable denim skirts.


Choose stylish crop tops


Crop tops are a staple of the trendy badass girl look. They are fantastic clothing pieces to craft fashionable, attractive, modern outfits to wear and look badass.

Transform any regular outfit into a more original and unique look with crop tops. They are available in many colors and patterns for fashionistas interested in looking fabulous like a badass girl.

Check out our selection of beautiful, stylish, and comfy crop tops.


Why not try fishnets


Attractive fishnet stockings and tights are fantastic clothing pieces to create stylish badass girl outfits. They add an original and sexy touch to any casual look.

Choose high-quality, affordable, comfortable, and sustainable stockings made from recycled materials to look super attractive with a clean conscience.

Here is our selection of eco-friendly tights.




How to be a badass girl


A big step toward dressing and looking like a badass girl is to act like one. Adopt a positive mindset and build your confidence with a badass personality.

Be courageous, adventurous, assertive, persistent, and self-confident. Badass girls demonstrate independence, leadership, and charisma. They show tenacity, conviction, and inner strength.

Acting like a badass girl will improve your look and make you more attractive in no time. Stay self-confident with a positive outlook, and don't stress over the small stuff.

Don't hesitate to let your personality shine and show who you are. Start growing your confidence and self-assurance and become the best person you can be.
Was this article helpful to you? Please tell us what you liked or didn't like in the comments below.