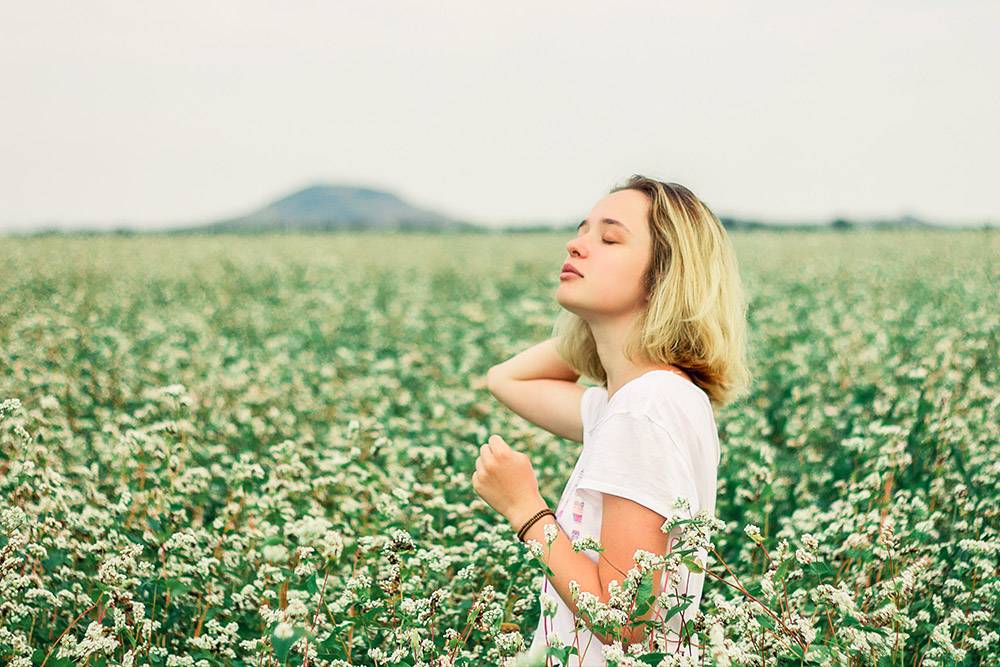 All You Need To Know About The OCS Certification
The OCS certification or Organic Content Standard is a widely recognized organic standard around the globe. It's a great textile standard ensuring the organic content of fabrics, clothing, garments, accessories, and more.

Certification standards are important, especially in the global textile and apparel industry, to guarantee that clothes have been produced with sustainable processes.

When shopping for organic products, choose items that have been audited externally and verified according to the highest standards such as the OCS certification.

Certifications and quality marks guarantee that textile products have been manufactured under environmentally friendly and socially responsible working conditions.

When it comes to the organic content of clothing, the Organic Content Standard confirms a responsible use of resources and processes that have the least possible impact on people, animals, and the planet.

Here is everything you need to know about the OCS certification, one of the best certification standards for textiles.


Panaprium is proud to be 100% independent, free of any influence, and not sponsored. We carefully handpick products from brands we trust. Thank you so much for buying something through our link, as we may earn a commission that supports us.

OCS certification in short


The OCS certification guarantees the following:
at least 5% of certified organic materials
the requirements of the Content Claim Standard

The OCS certification doesn't address the following:
the use of chemicals or any toxic inputs, heavy metals, solvents, or else
environmental aspects of production
social compliance in the supply chain
traceability in the value chain

The OCS certification applies to the following textile products:
any organic non-food products
organic garments, clothes, and final textile products
organic home textiles
organic fabrics
organic yarns
organic fibers
organic components

The OCS certification doesn't apply to the following products:
food products
accessories
trims

The OCS certification verifies the content of products:
using 95-100% organic fibers (OCS 100)
using 5-94% organic fibers (OCS blended)

The OCS certification applies to the following supply chain sites:
first processor
manufacturing
packaging and labeling
storage
handling
shipping

The OCS '100' label grade guarantees the following:
95% minimum of certified organic fibers (EC/EU/NOP/IFOAM)
5% maximum of non-organic fibers

The OCS 'blended' label grade guarantees the following:
5% minimum of certified organic fibers (EC/EU/NOP/IFOAM)
95% maximum of non-organic fibers

Organic and conventional fibers of the same type cannot be mixed in the same product.


What is the Organic Content Standard (OCS)


The Organic Content Standard (OCS) is an internationally recognized standard that provides companies with a tool to verify that one or more specific input material is in a final product.

The OCS is maintained by the Textile Exchange, a global nonprofit that develops, manages, and promotes a suite of leading industry standards, as well as collects and publishes critical industry data and insights.

The first version of the OCS certification was released in March 2018. An updated version of the standard was published on March 1, 2020.

The OCS certification tracks certified organic materials in the whole supply chain, from the first processor to the final product. Each organization along the value chain is required to ensure the integrity of the input material.

OCS certified units can be found in more than 64 countries. The top 10 are India, Bangladesh, Turkey, Germany, Italy, China, Pakistan, Portugal, United States, and South Korea.

The OCS label has strict guidelines and certification processes. It verifies the organic content of textile products, backed by independent certification of the input material.

To become OCS certified, raw materials, intermediates, and final textile products must take sufficient steps to preserve the identity of the input material.

The Organic Content Standard covers the processing, manufacturing, packaging, labeling, storage, handling, trading, and distribution of all textiles made from at least 5% of certified organic natural fibers.

The OCS label grade '100' guarantees a minimum of 95% certified organic fibers.

The OCS label grade 'blended' guarantees a minimum of 5% certified organic fibers.


The aim of the OCS certification


The OCS certification aims to increase organic agriculture production. It provides a tool for companies to validate and communicate sustainability claims about their products.

The raw material level has one of the biggest impacts in the global textile and apparel industry. It's also the farthest way away from the consumer.

The OCS certification verifies organic practices of the beginning of the supply chain and tracks the material to the final product. It offers brand protection, confidence in sourcing, and greater credibility.

OCS also gives organic fiber farmers broad access to the global organic market. It provides transparent, consistent, and comprehensive independent evaluation and verification of organic material content claims on products.

OCS ensures that sustainability commitments lead to meaningful and positive change. It uses an independent third-party certification process to ensure that products adhere to organic requirements.

By verifying the claims made to consumers, the OCS certification provides a credible voice for suppliers and brands leading to higher confidence with a system of standards recognized internationally.

OCS also drives the industry to move faster towards progress on sustainability goals. It defines globally recognized requirements that ensure the organic status of textiles, from raw material harvesting to the final product.

This organic standard provides a credible assurance to the end consumer. It allows textile processors and manufacturers to export their organic fabrics and garments with one certification accepted in all major markets.

OCS is an active contributor to sustainable development. It pushes organic textiles to become a significant part of everyday life, enhancing people's lives and the environment.

It promotes organic production, a system of farming that maintains and replenishes soil fertility without the use of toxic, persistent pesticides, and fertilizers.


What does it mean to be OCS certified


OCS certified organic fibers are 75-80% rainfed. They require effective management of water resources and soil fertility.

Organic production has rigorous requirements for crop rotation, soil conservation, and soil management.

Increased soil organic matter and soil fertility increase on organic farms and improve resilience to flood and drought.

Organic farming enhances biodiversity in crop and noncrop habitats. It prohibits GMOs, the use of hazardous pesticides, and synthetic fertilizers. It relies on natural inputs such as animal or green manures to build fertility.

Switching to organic production can reduce water consumption by up to 88%, eutrophication by up to 64%, energy demand by up to 58%, and global warming by up to 26%.

The OCS certification does address any social aspects of production. However, the production of certified organic fibers must comply with labor standards as set by the International Labor Organization (ILO).

Only textile products that consist of at least 5% organically produced natural fibers can be certified according to OCS.

Before buying any organic clothing, look for the OCS certification. It's one great way to ensure that the product contains verified organically produced fibers.

OCS is internationally recognized, widely understood, trusted, and respected by consumers. It verifies the organic content of products in every step of the value chain.

The growth in organic fiber consumption demands unified processing criteria applicable to the global textile and apparel industry. And the OCS certification has demonstrated its practical feasibility.

Through third-party verification, the OCS certification guarantees certified organic content for textile products.

Organic fibers must be certified by international or national standards such as:

The OCS certification doesn't address the use of hazardous bleaches, dyes, auxiliaries, or other toxic chemical inputs during the production process of textiles.


The OCS certification process


The OCS certification relies on third-party verification to confirm whether a product includes the proper amount of organically produced material.

OCS is often used as a business-to-business tool. It's a means for companies to ensure that they are selling and buy certified organic products.

It verifies organic content in products along the supply chain and tracks the material from its first processing to the final product. Each organization is checked by an independent third-party.

Entities that wish to become OCS certified are requested to contact an approved certification body (CB) to request services. The CB manages the entire process of certification, from beginning to final labeling and communications.

Here is how the OCS certification process looks like step-by-step:
Choose a certification body and fill out the application form.
Apply to more than one certification body to compare price and timing.
Sign a contract with the certification body of your choice (valid one year).
Read the standard and prepare relevant documents.
Meet the auditor after good preparation to reduce certification costs.
Review documents and procedures against the OCS requirements.
Wait for the result of the audit and subsequent certification decision.
Act on a corrective action plan if non-conformities (NC) are noted.
Receive a scope certificate (SC) when all requirements are met.
Prepare for unannounced inspections that verify standard compliance.
Contact the certification body to apply for a transaction certificate (TC).

Transaction certificates are obligatory for all OCS purchases. They confirm that products conform to the standard requirements. They are requested from the supplier at the time of purchase.

Transaction certificates are checked annually during audits. Issuing them involves additional costs. Products cannot be considered certified without their relevant transaction certificates.


OCS approved certifiers


Each applicant may choose its certification body. And all OCS approved certifiers are entitled to offer related inspection and certification services worldwide.

All companies participating in the OCS certification scheme need to work in compliance with all criteria of the standard.

Some of the OCS approved certification bodies are:

OCS certified organic cotton


Organic cotton is much better than conventional cotton because it's non-GMO and grown organically, without the use of hazardous herbicides, pesticides, or fertilizers.

The processing, dyeing, treatment, and finishing of garments are some of the dirtiest and most chemically intensive steps in clothing production.

People exposed to toxic chemicals are subject to life-threatening health problems. It's more important than ever to choose organic.

80% of all organic cotton is grown with water form rainfalls, which reduces pressure on local water sources.

By growing organic instead of conventional cotton, farmers can potentially save 218 billion liters of water and 92.5 million kg of carbon dioxide.

The annual global production of organic cotton reached 107,980 tons in 2016, according to the Textile Exchange.

Unfortunately, it's only a small portion of global cotton production. 30.3 million tons of regular cotton are produced each year globally, according to the Food and Agriculture Organization of the United Nations (FAO).

Organic cotton must be grown and certified to a standard approved by the International Federation of Organic Agriculture Movements (IFOAM).

There are currently two independent organic certifications for organic cotton:
Organic Content Standards (OCS)
Global Organic Textile Standard (GOTS)

In 2016, there were 3,661 and 4,642 facilities certified to OCS and GOTS respectively. Most of them in India, Bangladesh, China, and Turkey.

Organic cotton includes Fair Trade organic and CmiA organic cotton. It only makes up about 3.3% of the total preferred cotton production.

The preferred cotton segment is made of the following:
Organic cotton
Cotton made in Africa (CmiA)
Better Cotton Initiative (BCI)

OCS certified sustainable fashion brands


Conscious consumers shopping for sustainable and environmentally friendly clothing choose organic cotton.

Unfortunately, only a few fashion brands create clothes out of organic cotton. And even fewer of them sell clothes that are OCS certified.

To help you make conscious purchasing decisions as an informed consumer, here are some of the best sustainable fashion brands that offer OCS certified clothing:
Was this article helpful to you? Please tell us what you liked or didn't like in the comments below.