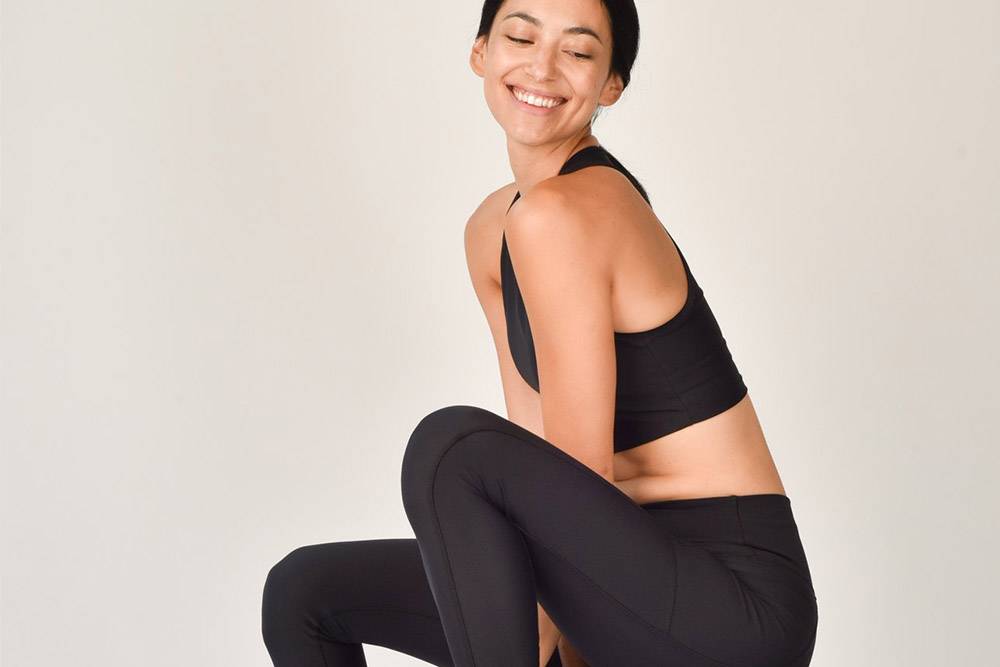 Meet Good Days: New Consciously Created Activewear

New Hong Kong-based sportswear brand Good Days just launched in October 2020 to offer leggings, tops, and sports bras made from recycled post-consumer plastic waste.

Libby Perry, a former brand manager at Lane Crawford, founded the conscious activewear brand "to equip you with beautiful, functional, high-performance activewear that will inspire you to move."
"Activewear that is produced ethically, using fabrics that use minimal new resources, and contribute to a circular economy by taking problematic waste products such as plastic bottles and transforming them into something new.

I wanted to create a brand that is inclusive and accessible. Ethical and sustainability-focused brands sometimes have a reputation for being unaffordable and hard to access, and with Good Days, I don't want this to be the case."

- Libby Perry, Good Days founder
The brand new activewear collection contains 30 mix-and-match pieces, from high-waisted leggings with pockets to sports bras and tank tops in timeless colors like black, olive, burnt rose, sea blue, deep navy, and more.


Libby Perry founded Good Days during the height of the Covid-19 outbreak in Spring 2020. She wanted her brand to embody a sense of optimism, advocating for good days to emerge from the chaos, for people, and the planet.

Libby Perry also carefully partnered with a manufacturer in Bali that is completely aligned with her values surrounding ethics and sustainability. She explains:

"More than ever, it's important that we all develop a greater awareness of where our clothing comes from, of the people who are making it, and of the environment they are working in.

We spent a long time researching factories, and wanted to be sure that we worked with a manufacturing partner aligned with our values and with strong ethics.

Yes, we could be manufacturing Good Days for less, but if it's at the cost of the people who are making it, it's not something we'll ever be prepared to do."
Good Days new activewear line is entirely made using recycled polyester and nylon that comes from post-consumer plastic waste, which is broken down and reformed into high quality yarns suitable for a premium quality product.

Global fashion consumption keeps increasing and causes major disasters. Fashion is one of the largest polluters globally.

The global apparel and footwear industry accounts for 8% of the world's carbon emissions. If the trend continues, emissions are expected to grow by 50% by 2030.

The fashion industry has a catastrophic impact on the environment. We need to rethink completely how we produce and consume clothes to prevent irreversible damage to people, animals, and the planet.

Good Days is also a proud member of 1% for the Planet. The brand is committed to donating at least 1% of its gross annual revenues (whether profitable or not), to approved environmental non-profits.

Founder Libby Perry is passionate about health and wellness, and wanted to create an inclusive collection of activewear that would inspire and empower other women to use movement as a key part of their wellbeing. She says:

"Advocating for individual well-being is at the core of the brand ethos. I know first hand the importance of an active lifestyle on mental health and Good Days is big on self-care: it's about feeling your best not just physically, but mentally too. Whether you're a runner, a yogi, love the gym, or just enjoy a good walk, move your body, and feel good doing it.

With the brand launching online in the coming week, I'm excited to get the product out to you and look forward to hearing what you think. I hope you love it as much as I've enjoyed creating it."
Discover Good Days' sustainable activewear collections at gooddaysactivewear.com.


Was this article helpful to you? Please tell us what you liked or didn't like in the comments below.