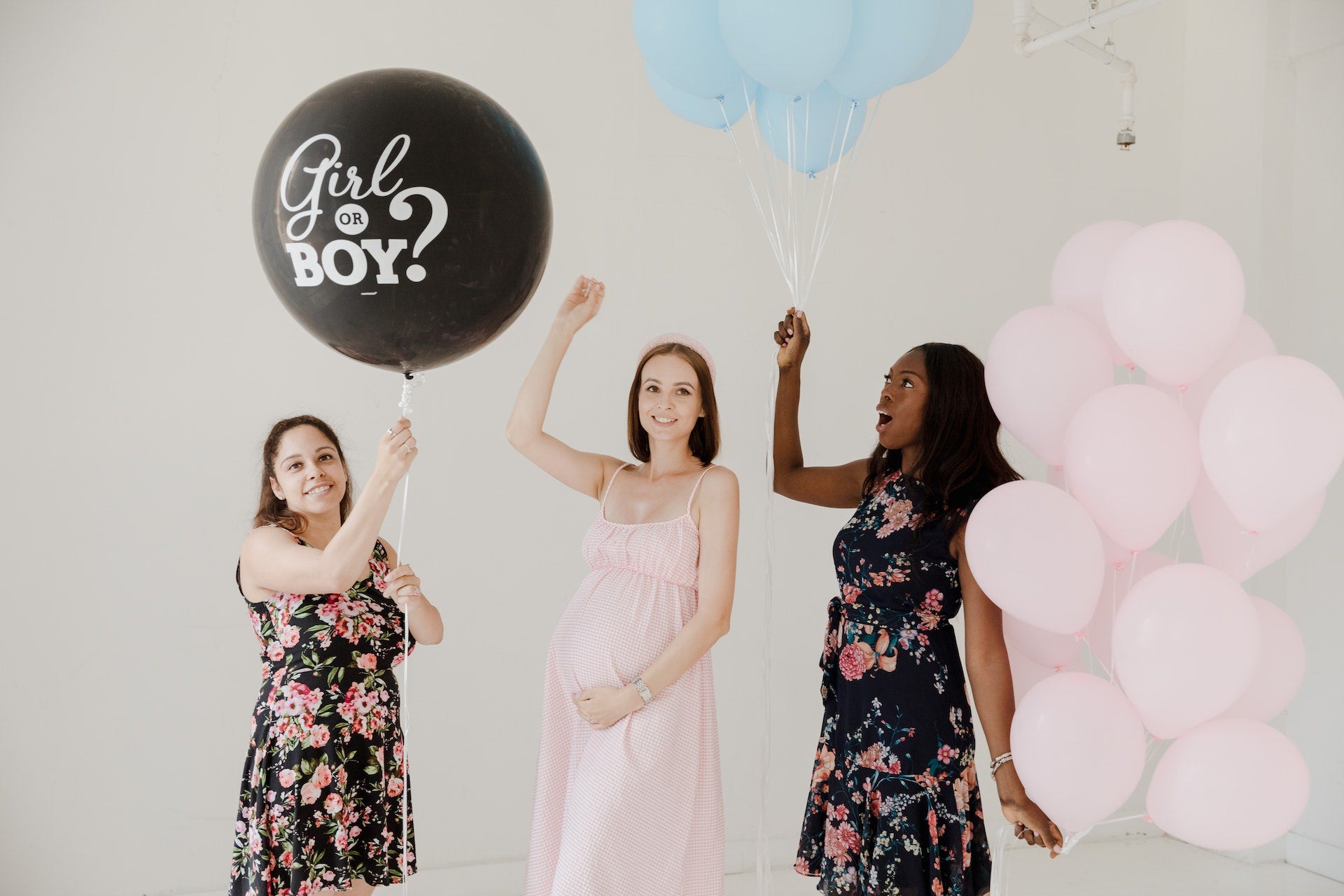 15 Awesome Fashion Tips For A Gender Reveal Party
More and more couples all over the world are throwing gender reveal parties during which their family and friends can discover the gender of the baby.

Despite the growing popularity of gender reveal parties, they are rather new and don't have a long tradition, which makes choosing a proper outfit a little bit difficult, especially if this is your first time attending such an event.

We are here to help you! We have compiled a list of amazing fashion tips that can help you be the best dressed. Keep reading to discover them.
Panaprium is proud to be 100% independent, free of any influence, and not sponsored. We carefully handpick products from brands we trust. Thank you so much for buying something through our link, as we may earn a commission that supports us.

Pink and baby blue
Most gender reveal parties are themed around light pink and baby blue shades, as these colors are traditionally associated with the two genders.
Many decorative objects such as balloons, stuffed animals, or flowers will be featured in pink and blue. If you want to match the theme of the party, choose an outfit that's either pink or baby blue.
Let yourself be inspired by these sustainable brands.

T-shirt + skirt outfits
Prioritize comfort without sacrificing style with this beautiful combination.
Choose a cozy T-shirt from a sustainable brand, and wear it with your favorite skirt.
There is a lot of room to play with colors, designs, and textures so that you can find an amazing combo that looks very flattering on you.



Hippie details
Highlight your bohemian side with details like colorful accessories, fringed bags and clothes, and patchwork tops.
Stay true to your everyday style and combine these hippie elements with your other clothes.
For more fashion inspiration read our tips for a hippy fashion style wardrobe.

Slip dresses
Elegant, yet simple, slip dresses are amazing! They are beautiful, comfortable, and versatile and you can't go wrong with one.
If the gender reveal party is taking place on a hot day, you can wear a slip dress and a pair of sandals.
If it is a little bit chilly, you can wear boots and add a cardigan. Either way, you will have a stunning outfit that will not go unnoticed!
Click here to discover the best affordable and sustainable slip dresses.

Summer dresses
Breathable and lightweight materials that allow a lot of freedom of movement? Yes, please!
A summer dress is a great outfit idea for a gender reveal party.
Feel comfortable and attractive with one of these 20 cute and cheap summer dresses.



Be classy
Stay away from fast-fashion trends that have an expiration date when it comes to style. Most of them will be out of fashion next season.
Instead, go for high-quality, timeless designs that last you a long time and are suitable for a variety of occasions.
If you want to enhance your elegant fashion style, click here to read our best tips.

All black
All black outfits are very stylish and never go out of fashion.
Choose a beautiful midi dress that's tighter around the waistline and creates an hourglass shape impression.
Check out our sustainable recommendations.

Sweater dresses
For autumn and winter parties, sweater dresses are excellent!
They come in different colors and thicknesses, so there is lot to choose from.
You can wear them with flat shoes, heels, or ankle boots.
Check out more styling tips.



Mini dresses
Mini dresses are very attractive, they beautifully showcase you are legs and increase your confidence.
For a gender reveal party, choose a beautiful, floral mini dress that enhances your femininity. Check out these sustainable dresses.




Coordinated sets
Be effortlessly stylish with a beautiful coordinated set.
Blouse and shorts, crop top and skirt, or tank top and trousers - all of them look gorgeous and save you a lot of time otherwise spent putting together an outfit. Coordinated sets exude great taste and sophistication.
Purchase yours from a sustainable brand.



Wrap dresses
Wrap dresses look flattering on any body type and are stylish and timeless.
You can easily dress them up or down and you can wear them all year round. For a gender reveal party, choose a beautiful wrap dress and wear it with a pair of comfortable shoes, a small bag, and statement jewelry.
Discover the best affordable designer clothing brands.


Maxi dresses
Maxi dresses are amazing for hot summer days because they allow movement and breathability.
With the right maxi dress, there is no need to worry about mixing and matching to create a beautiful outfit. Even better, maxi dresses are universally regarded as stylish and elegant, which means you can't go wrong with one.
Go for a black maxi dress if you want a timeless outfit, or choose a floral print if you want something fun.
Check out the 15 best affordable maxi dresses made in the USA.



Lightweight materials
Comfort and breathability are extremely important when it comes to having a great time.
A well-fitted outfit made from a lightweight material will increase your confidence and will allow you to look and feel amazing. Avoid very thick and bulky materials. They are both unflattering and uncomfortable.
You can now learn how to check the fabric quality of clothing from our article.

Polka dot print
Polka dots are the perfect mix between classy and playful. The available combinations of colors to choose from are limitless. We recommend choosing black and white or red and white.
If an all-over print is not your thing, you can easily wear a polka-dot blouse with a pair of black trousers.
Save these brands if you love stylish, affordable, and sustainable fashion.



Lace
Lace is a material that comes in different patterns and designs, such as geometric patterns, little flowers, and ornamental stripes.
It is often combined with other materials, such as cotton, to create beautiful and comfortable clothes.
Lace clothes are usually saved for special occasions, and a gender reveal party gives you the perfect opportunity to shine in a wonderful and delicate lace dress.
Gentle, but with many details, lace looks great next to rather plain items, such as a simple, black pair of stilettos and a black purse.
Take a peek at these timeless clothing brands that create inexpensive and beautiful clothing pieces from eco-friendly materials.



Summing up
A gender reveal party is the perfect opportunity to spend some time with your friends before they become parents, but also to wear amazing clothes.
You can keep it simple and still look fashionable, with a cute and comfy dress. Choose something easy to wear and don't forget to go for the right size for your body - well-fitted outfits are the best! Always go for items that showcase your best features, and never force yourself to wear something you don't like just because it is trendy.
Save the sporty outfits for another occasion. It is inappropriate to show up to a gender reveal party wearing leggings, hoodies, trainers, sweatpants, or sweatshirts.
You can dress your outfit up with heels and statement jewelry. On the other hand, if you want to keep everything as comfortable as it can be, stick to flat shoes.
If you like this article, share it with your friends!
Was this article helpful to you? Please tell us what you liked or didn't like in the comments below.
About the Author: Miruna Dulcea