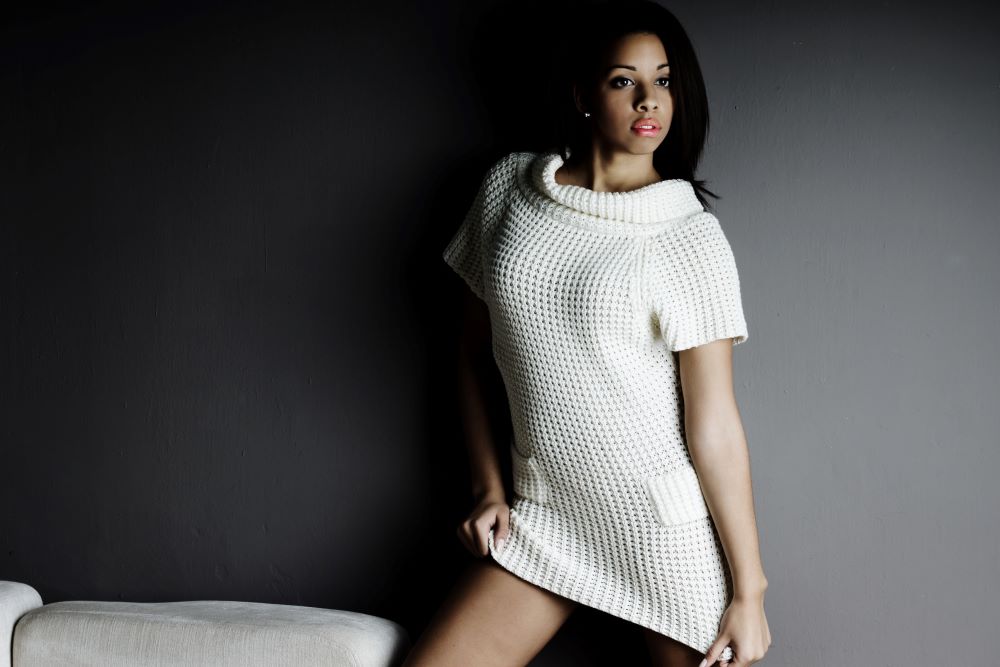 Styling Tips: What to Wear Under a Sweater Dress
When the months get colder, a sweater dress is an easy piece to throw on that is a complete outfit in itself. It is also comfortable, warm, and a classic look from autumn to spring. 
Many people have at least one sweater dress in their closet as a staple. A sweater dress is flattering for any age and body type and can be paired with a variety of different pieces. 
In addition to what to wear with your sweater dress, you may be wondering what to wear under it. There are a variety of different choices that offer support, coverage, and warmth. 
Panaprium is proud to be 100% independent, free of any influence, and not sponsored. We carefully handpick products from brands we trust. Thank you so much for buying something through our link, as we may earn a commission that supports us.
Bra 
A bra is a common, classic choice to wear under a sweater dress for support and coverage. Most sweater dresses are thick enough and loose enough you don't have to worry about seeing your bra's shape underneath or your bra straps poking out.
Check out these affordable bras.
Bralette 
A bralette is a more casual, comfortable option than a bra that still adds coverage and support. Bralettes also come in a variety of lengths so you can choose how much coverage you want under your sweater dress.
Try an organic cotton bralette.
Tank Top
A tank top is a great choice for an additional layer for your upper half. It can be worn on its own or over a bra or bralette and will help you stay warm. It also creates a smooth upper silhouette under your dress.
Crop Top
You don't necessarily have to retire your crop top after summer. A crop top can be worn under your sweater dress as an additional layer for coverage and warmth. It can also be worn on its own or over a bra or bralette. 
Check out these affordable crop tops.
Tights 
Tights or pantyhose are a classic option to wear under your sweater dress. They offer coverage while also being breathable so your legs don't overheat. They also come in a variety of colors and fun patterns so you can create different looks with your dress.
Try an eco-friendly tights brand.
Knee-High Boots
Knee-high boots are a versatile option under your sweater dress. They act as leg coverings and shoes and create a chic look.  
Leggings 
Leggings are a warmer option than tights to help keep your legs warm. Like tights, they come in a variety of colors and patterns so you can create the look that best represents you.  
Go for a classic look with black leggings, or try something different like faux leather leggings for a bold look. 
Try a pair of organic bamboo leggings.
Shapewear 
Although sweater dresses are generally looser, there are form-fitting options and looser styles can be worn with a belt to accentuate your shape. Shapewear provides coverage and structure underneath to support you and create a smooth silhouette.
Learn what else you can wear over shapewear.
White Button-Up
A great combination for fall is wearing a white button-up under a tank top-style sweater dress. It offers more coverage and creates a professional look that is perfect for the office or a nice dinner.
Check out these button-up shirts.
Ankle Boots 
If your sweater dress is longer, going down to your calves or ankles, wearing ankle boots underneath is a cute, fashionable option that can be worn for work or leisure. 
Wear ankle boots with a heel to create more length and the illusion of longer legs or stick with a comfortable wedge or flat pair that you can wear all day.
Long Socks 
Long socks that go to your knee or higher are a great, easy option that offers coverage without going all the way to your waist. Try pairing your socks with sneakers or combat boots for a cute look.
High-Waisted Underwear
High-waisted underwear is a popular choice under a sweater dress as it offers more coverage and acts as shapewear for your midsection. They work great whether your dress is form-fitting or loose and flowy.
Bikini Underwear
Most sweater dresses are thick enough that you don't have to worry about underwear lines showing through. Bikini underwear is less confining than shorts or high-waisted panties while still offering enough coverage.  
If your sweater dress is more form-fitting and you are worried about underwear lines, a thong is an option that will create a seamless look.
Slip 
An easy way to add another full layer under your sweater dress is by wearing a slip. A slip will add additional coverage and warmth. Make sure your slip is not longer than your dress and make sure its straps are not wider than your dress's straps so it can stay hidden.
Pleated Skirt 
Another versatile yet unique option is a pleated skirt. Wearing it under your sweater dress creates an illusion of a midi dress. A pleated skirt also adds length for additional coverage and adds movement to an otherwise stiff dress.
Jeans 
For a casual look, jeans are a warm, easy option you probably already have in your closet. Choose a pair of skinny jeans to show off your legs as you would with leggings or tights, or go with a looser, flared pair for a bolder, fashion-forward look. 
Knitted Skirt
Pairing a knitted skirt with a knitted dress creates a chic, unique look. Matching similar textures is not only fun but creates a cohesive look. Bunch up your sweater higher to show off more of your skirt and easily secure it with safety pins.  
Bodysuit
A body suit is a great option to wear underneath your dress that is an alternative to shapewear. Like shapewear, a bodysuit will smooth out your form while creating more structure.  
Body suits also come in a variety of different lengths and styles so you can choose how much additional coverage you like. 
Was this article helpful to you? Please tell us what you liked or didn't like in the comments below.
About the Author: Shelby Bonner