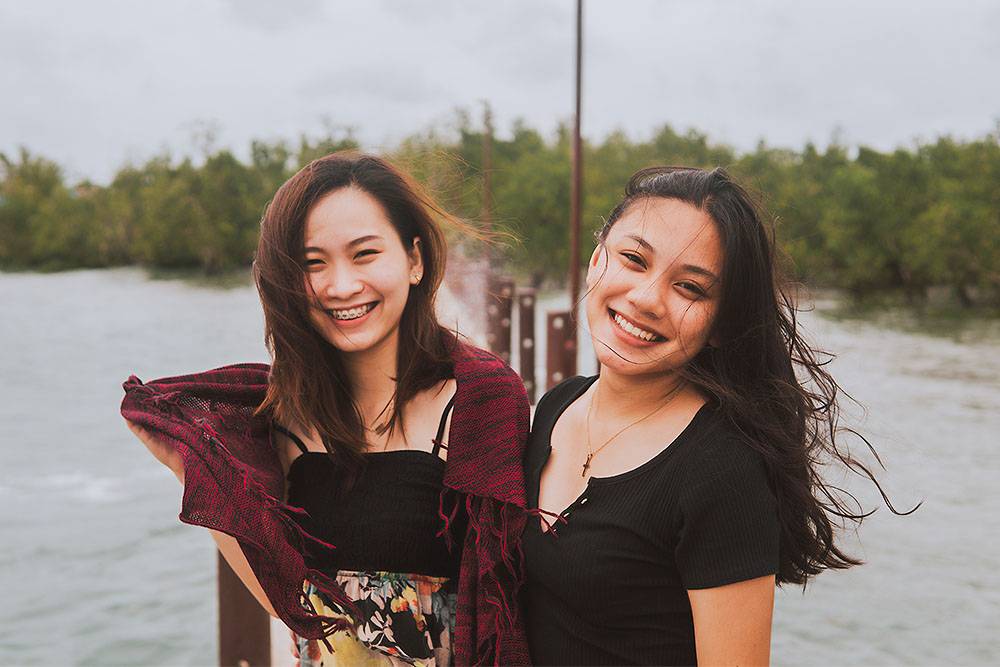 14 Simple Tips To Dress And Look Younger Naturally
You can naturally look younger with the right fashion tips. So many people ignore this helpful advice and miss out on easy techniques to dress well and feel young.

What's currently popular isn't necessarily what's best for you. With the right styling tips, you can easily maintain your confidence, charisma, and attractiveness.

These are some simple fashion tips your need to know that will help you dress and look younger instantly.
Panaprium is proud to be 100% independent, free of any influence, and not sponsored. We carefully handpick products from brands we trust. Thank you so much for buying something through our link, as we may earn a commission that supports us.


1. Show off your best features


Wear the right clothes for your body type to make your best features look proportionate and even stand out. Highlight your most attractive traits to dress and look younger naturally.

Wear quality, well-fitting pants that accentuate your legs and make them appear longer. Make sure you wear them according to your shoe height, with the right fit and length.

One of the best ways to style yourself to look and feel young is to showcase your unique assets. Wear clothes that accentuate your best features to dress chic and stylish instantly.




2. Wear well-fitting clothes


If you want to dress and look young effortlessly, don't put on clothes that don't fit right. Otherwise, your risk losing style and elegance. You also might damage the garments and feel uncomfortable.

Don't wear clothes that are too small or too big if your want to look and feel your best. Instead, let go of them and make room for clothing that fits you properly.

Avoid any tops that are too large, wide dresses, and baggy pants that hide your shape and make your body appear larger than it is.

Avoid clothes that are too tight as well, especially around your midsection, as they are annoying and unaesthetic.

Instead, wear clothing with the perfect fit that skims your figure, emphasizes your waist, and makes you look younger effortlessly.


3. Go for colorful clothing


Wearing bright colors that will instantly make you stand out, more attractive, and confident. If you pick the perfect combination of colors for your outfits, you'll improve your style, dress better, and look younger.

Choose a few bright colorful pieces to add a twist to your wardrobe and improve your look by giving a particular nuance to your outfits.

While neutral colors make pieces very versatile and timeless and work with any outfit, bold colors make you look younger and have fun with the way you dress.


4. Add flashy layers


Include flashy and trendy layers into your outfits to dress and look younger naturally. Pick a handful of beautiful layers that you can throw on to craft unique, original, and modern outfits.

You can look fabulous, fashionable, and fresh in no time by wearing a well-fitting coat or a bomber jacket. Overcoats, blazers, gilets, puffers, vests, liners, and jackets improve your dressing style and help you stand out.

Layers instantly make any casual outfit more stylish and fancy. Read our selection of affordable and sustainable coats for some of the best options you can find out there.




5. Simplify your outfits


If you want to dress and look younger naturally, put simplicity first when crafting your outfits. Keep your look simple by picking the right combination of effortless clothes that go well together.

When buying new clothes and building your wardrobe, think of simple outfits and minimalist styles you can wear. Remove unneeded extras to enhance your style. You can easily look more youthful by keeping a simple, modern wardrobe.

Simple clothes and basic designs don't necessarily have to be boring. You can make every piece you own a winner by simply making the most out of your closet and choosing the right collection of clothes that go well together.




6. Wear trendy clothing


Prefer trendy clothing pieces that are also elegant and stylish. Make sure you choose garments that won't easily go out of style and that you can wear for a long time.

Simply focus on colorful, rich cuts, shapes, and silhouettes that can last several seasons. Wear trendy and fashionable outfits to dress fresher and feel young naturally.

Trendy fashion aesthetics are good for the eye, your style, and confidence if you invest in creative clothing pieces that can stand the test time.


7. Choose quality over quantity


Make sure to check the quality of each clothing piece before buying. It's easy to dress and look younger if you wear high-quality clothes.

Don't buy fast fashion or cheaply made clothing. Instead, choose more durable and high-quality pieces that not only look much more chic and fabulous but also last longer.

Pay attention to details and garment construction the next time you go shopping. Simply follow my best tips to buy higher quality clothes, especially if you shop online.


8. Choose a girly fashion style


The girly fashion style is attractive, stylish, feminine, and fresh. It helps you look and feel young and cute. Experiment to find out what you like if you don't know what's the best look for you yet.

Choose clothing pieces that you like and look good on you. Wear comfortable and easy-to-wear dresses, skirts, or blouses with lots of features such as laces, flounces, or ruffles.

Try out different clothing combinations until you find the perfect match for your preferences and body type. Wearing a fashion style that is you will make you look stylish and modern and stand out from the crowd.

To help you find your fashion style and dress younger without compromise, check out our definitive list of different fashion styles.


9. Use your creativity


Use your creativity to express yourself, dress well, and craft fresh, youthful outfits that are all about you, showing your personality and showcasing your best features through originality, confidence, and uniqueness.

Don't hesitate to be a little creative with your outfits and push yourself out of your comfort zone. There are so many different ways you can style yourself to dress and look younger naturally.

Wear original, charming, and gorgeous creations to stand out, look fashionable, feel beautiful and unique. Don't think you cannot look good in casual clothes. Follow our best tips to make simple clothes look fashionable.




10. Put on modern shoes


Get modern shoes that match your skin tone and the fashionable outfits you plan to wear. High-quality, comfortable, and fresh footwear is crucial to dress and look younger effortlessly.

Make sure your shoes complement your colors and complete the rest of your outfit. A high-quality pair of flats or pumps is very cute, feminine, and stylish.

Buy fresh shoes from footwear brands that follow high social and environmental standards. Here is our selection of the best flat shoes that are affordable, sustainable, comfortable, and ethically made to last.


11. Accessorize your outfits


Add one stylish accessory to make your youthful outfits chic and smart. You can choose a cute watch, hip sunglasses, a cool hat, scarf, belt, or handbag.

But don't overdo it as one accessory is plenty enough. You can easily dress and look younger by adding one original, unique, stylish item to your outfits.


12. Show your personality


Fashion is the ultimate form of self-expression. Don't hesitate to let your personality shine through your outfits if you want to dress and look younger naturally.

Simply focus on what feels right for you, whether you like contemporary styles, easy-going, trendy pieces, or want to break away from the norm and set new rules.

You'll look and feel much more fashionable if you avoid any clothing that makes you uncomfortable. Stay true to yourself and don't try to be someone else.

You can take inspiration from others but craft modern outfits just for you according to your ideal fashion style, your personality, and your preferences.


13. Wear casual clothes


It a good idea to wear casual clothes and craft youthful, effortless outfits if you want to look younger. A very casual outfit will help you dress well and feel your best, relaxed, and comfortable.

A highly informal style with leggings, sweatpants, hoodies, or sweaters is perfect to dress according to what you like and how you feel. Focus and having fun and living carefree regardless of social norms and dress codes.

You can wear tank tops, flip flops, ripped jeans, punk-rock jackets, and any other clothing piece that you feel like wearing to stay happy, look laid-back, and easy-going.


14. Choose sustainable fashion


The younger generation care for people, animals, and the Earth. They understand that overproduction and consumption of cheaply-made clothing have disastrous effects on the planet, climate, and human environment.

Make sure to dress and look younger with a clean conscience by buying clothes, shoes, and accessories from the most transparent, accountable, and sustainable brands.

It's very encouraging to see more fashion companies add ethical, vegan, and affordable options to their collections. The best clothing brands help you dress stylishly and sustainably and protect the planet, the people, and animals living on it.

Be a conscious consumer and choose eco-friendly and cruelty-free fashion. Support local businesses that implement ethical and sustainable practices.
Was this article helpful to you? Please tell us what you liked or didn't like in the comments below.