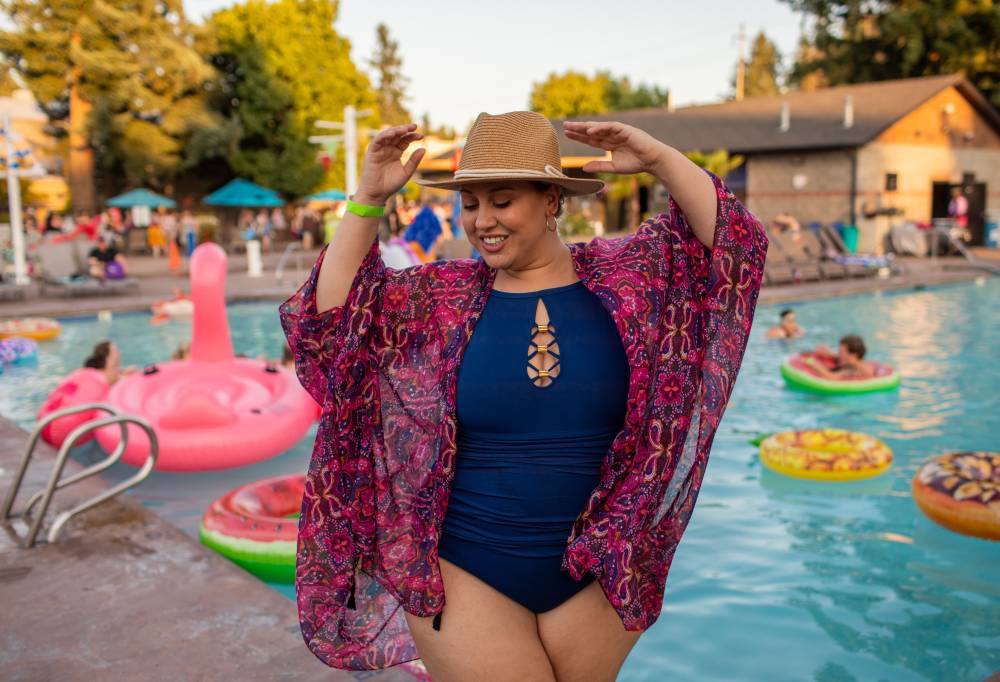 10 Simple Style Tips To Dress Sexier When Overweight

With these easy fashion tips, you can effortlessly dress sexier even when you are overweight. Dressing well according to your body type is a skill you can develop if you follow these simple pointers.

Whether you want to impress or maintain your confidence, improve your style with this helpful advice that helps you showcase your best features instantly.

Looking sexy is much easier than you think, even if you have excess weight. You don't have to spend a lot of money on clothes to look incredibly attractive.

You've come to the right place if you want to dress well, look hot, and feel your best effortlessly. Here are some simple style tips to dress sexier when overweight.
Panaprium is proud to be 100% independent, free of any influence, and not sponsored. We carefully handpick products from brands we trust. Thank you so much for buying something through our link, as we may earn a commission that supports us.


1. Wear simple clothes


If you want to look sexy instantly, don't overcomplicate things. Keep your outfits simple by picking the right combination of effortless clothes that go well together.

When buying new clothes and building your wardrobe, put simplicity first. Remove unneeded extras to enhance your overall style and you'll look sexy effortlessly, even when you are overweight.

You can easily improve the way you dress if you don't make things difficult. Keep a simple wardrobe with modest shapes, clean cuts, and easy silhouettes.

Simple clothes and basic designs don't necessarily have to be boring. You can make every piece you own a winner by simply choosing the right collection of clothes that go well together.

With some time, experience, and practice, you will develop the skills to make the most out of your closet and the clothes you already own.


2. Choose the right fit


The worst thing you can do when styling yourself is to wear clothes that don't fit you properly. If your clothes are too big or too small, let go of them. Don't put them on at all or your risk losing style and elegance.

Don't wear baggy pants that hide your shape and make your body appear larger than it is. And avoid pants that are too tight, especially around your midsection, as they are uncomfortable and unaesthetic.

Avoid large tops and wide tent dresses as well. You may think that covering your waist and body shape helps your look but it doesn't. On the contrary, it makes everyone aware of the fact that you aren't comfortable with your body and want to hide it.

Instead, wear clothing with the perfect fit that makes you look amazing and flatters your figure. The right size of clothes for your body type will make your best features look proportionate and even stand out. Wear clothing that skims your figure and emphasizes your waist.

Don't skip trying on clothes before buying to make sure they complement your body shape. If you wear well-fitting clothes, you are well on your way to dress sexier in no time, even when you are overweight.

So try on every item when shopping for new clothes as often as possible. Only keep clothes that fit you perfectly and make room in your closet for better items.

Get rid of the clothes you don't wear and don't make you feel great by donating them, selling them, or recycling them.

Keep only the best items in your wardrobe to boost your confidence and sex appeal. The best clothing pieces are the ones you wear all the time, that look amazing on you and make you feel your best.

To help you declutter, I've put together a list of clothes to get rid of right now.


3. Wear bright colors


To dress sexier than usual when overweight, try to incorporate bright colors into your outfits. Wearing striking colors like red can improve your look instantly.

You can easily look hot regardless of your body shape if you choose an eye-catching combination of colors that suits you perfectly. Wear bold colors, flashy and colorful pieces that add a twist to your wardrobe.

The right color mixture improves your attractiveness by giving a particular nuance to your outfits, whether they're on casual wear or formal wear.

While neutral colors make your clothes very versatile and timeless to work with any outfit, bright colors make you stand out and appear very confident.




4. Avoid trendy clothing


Wear versatile clothes over trendy and bold prints. Highly creative cuts and patterns are difficult to style and combine into different fashionable outfits.

So pick clothes that you can easily combine and wear for a long time. Prefer essential, high-quality, and chic pieces that are also uncomplicated and stylish.

Simple fashion aesthetics are good for the eye, the planet, and your budget. Invest in classic and timeless pieces to dress sexy when overweight.

Avoid excessive patterns like horizontal stripes at all costs as they make you seem bulkier. Wear solid colors instead to appear slimmer and add a tasteful, luxurious touch to any outfit.




5. Show off your legs


The bottom part of your outfit is crucial to dress sexier when overweight. Wear quality, well-fitting pants, trousers, leggings, or tights to accentuate your legs and look hot effortlessly.

Put on a classic pair of pants like slim jeans and make sure you wear them according to your shoe height, with the right fit and length. Tightly fitting pants emphasize your legs and make a fashionable addition to every wardrobe.

Pick a well-fitting, chic, and sustainable pair of pants from an affordable and ethical plus-size clothing brand.

You can also replace any baggy pants you may still have with a skirt to show off your legs. One of the best ways to enhance your sex appeal is to showcase your unique assets. Wear clothes that accentuate your legs to look sexier instantly.

Combine an informal top with a sexy skirt to create a hot outfit that emphasizes your curves. For some contrast, you can wear a skirt with a well-fitting and comfortable turtleneck.




6. Wear sexy shoes


Get stylish, sexy shoes that match your skin tone and the outfits you plan to wear. Make sure your shoes complement your colors and complete the rest of your clothes.

Prefer shoes that visually make your legs look longer like high heels or tall boots. They are a must-have in every wardrobe, even when you are overweight.

A high-quality pair of shoes is essential to look hot in casual clothes. But buy from footwear brands that follow high social and environmental standards.

Ethically produced, quality footwear sustainably is an essential addition to your wardrobe. It's one of the best investments you can make to look sexier when overweight.


7. Pick one fantastic accessory


Wear one stylish accessory to draw attention away from your body. You can choose a sophisticated watch, sunglasses, a long scarf, a wide hat, a wide belt, or a designer handbag.

You want to draw attention but don't overdo it. One accessory is plenty enough. You can dress sexier when overweight by adding one elegant, unique, luxury item to your outfits.

You can find affordable bags, belts, and other accessories from Gucci, Hermès Birkin, Dolce & Gabbana, Louis Vuitton, Prada, Chanel, Christian Dior, Michael Kors, and more on designer resale sites.




8. Add layers to your outfits


Instead of wearing bulky clothes with thick fabrics or oversized cuts, add layers to your outfits to look sexier when overweight. Pick a handful of attractive layers that you can throw on and look charming in no time.

A long, well-fitting trench coat or a classic bomber jacket can improve your dressing style drastically. Overcoats, blazers, gilets, puffers, vests, liners, and denim jackets help you stand out.

Layers instantly make any casual outfit more stylish and elegant. Read my list of affordable and sustainable denim jackets for some of the best options that you can pair with a mini dress.




9. Know your fashion style


Keep your fashion style in mind when crafting sexy outfits if you are overweight. Experiment to find out what you like. Try out different clothing combinations until you find the perfect match for you.

Knowing your preferred style helps you decide what kind of clothes suit you best. Ultimately, if you wear the pieces you like the most that suit you best, you will easily look amazing and stand out from the crowd.

Also, don't hesitate to be a little creative with your outfits and push yourself out of your comfort zone. There are so many different fashion styles to try out there.

Use your creativity and express yourself to find a style that is all about you, showing your personality and showcasing your best features through originality, confidence, and uniqueness.

Fashion is the ultimate form of self-expression. Let your personality shine through your clothes by focusing on what feels right for you. You will look more attractive if you avoid any clothing that makes you uncomfortable.

Instead, build up your confidence and sex appeal with the right attitude when it comes to your wardrobe choices. You can take inspiration from others but try to make every outfit your own.

To help you find your style and be the best version of yourself without compromise, I've put up a list of different fashion styles for inspiration.


10. Grow your confidence


Being overweight is hard at times but try to remain self-confident with a positive outlook about it. Love yourself as much as you can and let your body positivity shine towards others.

A big step to looking more attractive is to be confident and positive. A huge part of dressing sexy, whether you are overweight or not, is how you think, behave, and interact with the people around you.

So stay confident and adopt a positive mindset while avoiding negative thinking at all costs. To look hot and start feeling your best, view things positively. People are drawn to confident, positive thinkers.

Build your confidence up with the right attitude. This mindset shift alone is sure to improve your look and make you more attractive in no time.
Was this article helpful to you? Please tell us what you liked or didn't like in the comments below.