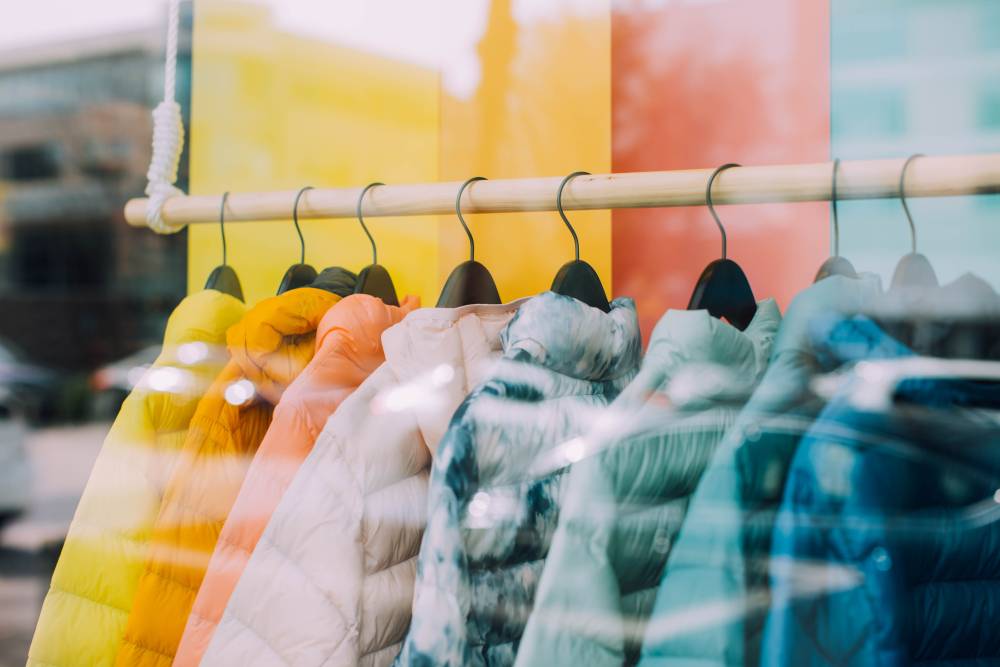 Crisis Launches New Sustainable Fashion Campaign
The UK national charity for homeless people Crisis launched a sustainable fashion campaign across its London shops. Called "Change into Change," it highlights the positive social impact of
buying second-hand fashion
.
Many of the Crisis London shops serve as a community hub for people affected by homelessness to come together. Found in key locations around the city, they sell quality preloved goods, including clothes, shoes, accessories, books, and homeware.
During the event, the Crisis shops in Dalston, Peckham, Finsbury Park, and Elephant & Castle welcome images of models wearing clothing from the stores.
The newly-formed creative agency, Jagged Edge, donated this sustainable fashion campaign to Crisis with a high-end editorial style.
"We're delighted to have worked with Crisis on changing the perception of what it means to shop at charity shops. As an agency, we're fully committed to Crisis' mission of ending homelessness, especially in a time as trying as this. The idea that a change of outfit can have a positive social impact is something we hope will resonate."
- Tom Sitton, Jagged Edge Creative
Crisis shops raise funds to help people affected by homelessness. They provide education, training, and support with housing, employment, and health across the country.
The UK charity is on a mission to end homelessness for good, while ensuring people remain safe, delivering food packages, and protecting people from ending up back on the streets.
The "Change into Change" sustainable fashion campaign began in the Autumn season on Monday, 7th September, for the re-opening of Crisis' shops after the
coronavirus outbreak
and subsequent lockdown.
"Everyone should have a safe and stable home, and our shops raise vital funds to help Crisis achieve that goal. We have been thrilled by some of the stylish outfits we have received since the end of lockdown and 'Change into Change' helps to show them off, while giving something back. It shines a spotlight on the fashion we provide that contributes to our efforts to end homelessness for good. We are relieved that we can once more open our doors to provide a space for people to come together, share ideas, and enjoy a Crisis coffee and a piece of cake. Our shops are also a place for us to train people affected by homelessness with skills that they can use to find confidence and rebuild their lives. We rely on dedicated volunteers to help our shops thrive so please get in touch if you would like to help out."
- Georgina Evans, Head of Retail at Crisis
The COVID-19 crisis
has hit the fashion world hard. The global textile and apparel industry is sinking due to the pandemic. One of the positive after the crisis is the regained interest in
sustainable fashion
.
Due to the
coronavirus pandemic
, consumer behavior is changing. Many people have been concerned with
sustainability
, one of the biggest challenges the industry is facing today.
Luckily, consumers' interest in eco-friendly clothing is now stronger. They want to buy longer-lasting fashion items that they will eventually reuse, repair, recycle, or resell.
Clothing resale a very attractive model for both businesses and consumers, especially popular among Millenials and Gen Zs. You can find stylish and unique clothing pieces for a fraction of the retail price.
Second-hand fashion promotes the
circular economy
and has been growing at a steady pace. It reduces the need for manufacturing resources and diverts pre-loved garments from landfills.
You can also find unique clothing pieces at nonprofit organizations such as Crisis offering social services to underserved communities with philanthropy and social well-being in mind.
People generally donate extra clothes to charities as a generous gesture. It also takes less time and effort than selling them. Contributions are welcomed and can potentially do a lot of good.
Visit
crisis.org.uk
for more information on shopping at the stores to look amazing and raise vital funds to support people affected by homelessness.
Was this article helpful to you? Please tell us what you liked or didn't like in the comments below.