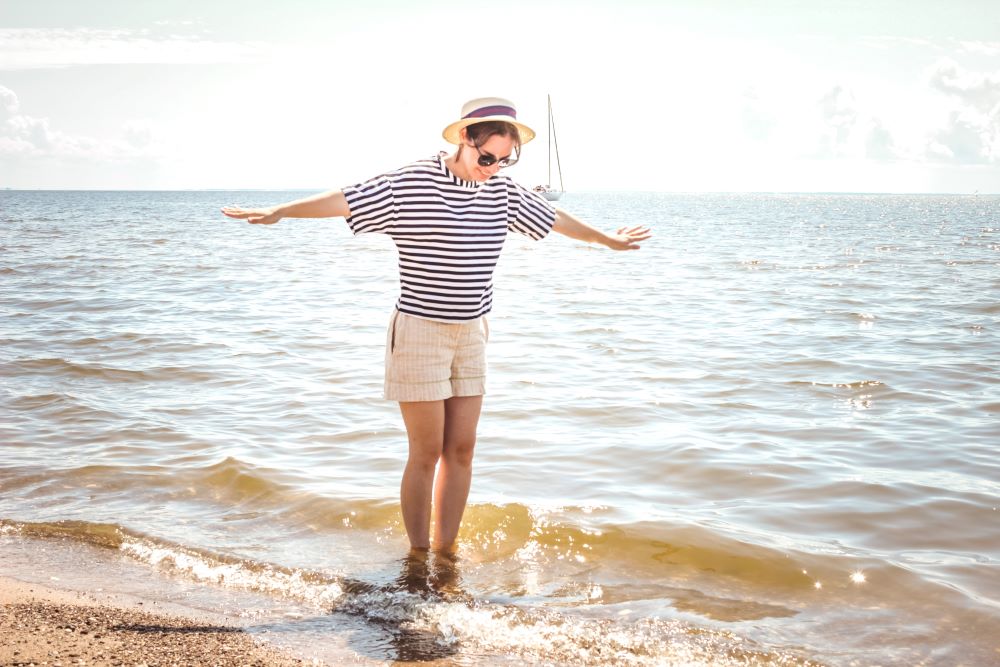 Stylish Cape Cod Outfits: 15 Sensational Ideas
Cape Cod is a popular tourist destination with its ample beaches, seafood shacks, and numerous vacation rentals.  Located in the south of Massachusetts, its hooked-shaped peninsula sits along the Atlantic Ocean, providing lots of room for year-round fun.
Whether it's your first time visiting Cape Cod, or you are a regular, what you wear is important to allow you to blend in with the locals, and stay comfortable and stylish with the wide range of activities Cape Cod has to offer.
Don't fear, there are plenty of outfit choices to choose from that will help you have an amazing experience at Cape Cod.
Panaprium is proud to be 100% independent, free of any influence, and not sponsored. We carefully handpick products from brands we trust. Thank you so much for buying something through our link, as we may earn a commission that supports us.
Dress Code
All though there is no official dress code, most people dress casually and in clothes that move with them, whether they are relaxing on the beach or hiking to the nearest lighthouse.  Day clothes transition into night clothes whether you are grilling on the beach or going out for dinner.
Comfort and breathability are key.  Make sure to wear clothes you can move in and that won't overheat you.
Find more ideas on what to wear to the beach here.
Swimsuit
Whether you are sunbathing on the beach or swimming in the ocean or freshwater pond, a swimsuit is a Cape Cod staple.  If you are planning on staying for a week or more, bring several swimsuits to alternate and change up your look. 
Check out these swimsuits.
Coverup
A suitable coverup is essential over your swimsuit when you aren't swimming or want more coverage and protection from the sun.  It can easily be worn for a beach picnic for lunch or a barbeque at your resort.
Discover more coverups here.
Summer Dress
A summer dress is an easy, complete outfit you can throw over a swimsuit or wear on its own.  It will keep you cool and can be worn on the beach or in town for a meal.  
Try out these summer dresses.
Romper
A romper, like a dress, is an easy complete outfit that will keep you cool.  There are also so many different styles of rompers, that you are sure to find one that is comfortable and casual.
Check out these rompers.
Shorts and T-shirts
For both women and men, shorts and t-shirts are a common staple in Cape Cod.  They will keep you cool, comfortable, and casual.  Try a blue and white striped shirt or pair of shorts for the popular nautical style at Cape Cod.
Find more shorts here.
Shoes
You will most likely want to bring several different pairs of shoes for your trip.  Sandals and flip-flops are perfect for the sandy beaches and water.  Supportive sneakers and boat shoes are great for walking, hiking, and exploring the town. 
Try out these shoes.
Workout Clothes
If you are planning on doing any hikes, nature walks, or jogs, workout clothes are a great idea to pack.  Regardless of the intensity of your workout, they are breathable and will keep you cool and help absorb any sweat. 
Learn more about workout clothes here.
Jeans and Sweaters 
Jeans and a sweater are a great choice for colder days and nights when the temperature dips.  They can be worn as day wear and nightwear if you are going out for supper.  White jeans are also popular as they provide coverage without overheating you.
Check out these jeans.
Check out these sweaters.
Spring and Fall
The weather in Cape Cod fluctuates the most in spring and fall.  That is why layers are key.  The days may be warm, but the temperature will quickly dip in the evenings. Bring a sweater you can throw over your shirt and jeans you can change into during the evening.
A scarf and a hat are also a good idea to help protect you from the cold wind.  You will stay warm while also staying casual and blending in.
Find more scarves here.
Weatherproof Jacket
A waterproof jacket is essential no matter what season you are visiting.  It will protect you from the wind and water spray if you plan on going on a boat ride or a whale-watching excursion.
Discover more waterproof jackets here.
Winter
Even in winter, Cape Cod remains a beautiful oasis and many people still travel there.  With the dip in temperature, you will want to stay warm in a suitable jacket.  
Pair with matching mitts and a beanie to help protect you from the wind and cold and don't forget about a warm pair of boots that will stay dry in the snow.
Check out these winter jackets.
Sunglasses
Sunglasses are essential to protect your eyes from the bright sun.  They can be paired with any outfit and worn anywhere. Make sure they fit well and won't fall off if you are playing beach sports or hiking.
Try a pair of these sunglasses.
Hat
A quality hat will help protect you from the sun while looking stylish.  Choose a baseball cap for a lighter option that will stay in place or choose a large floppy sun hat for more coverage.
Find more hats here.
Beach Bag
A large beach bag is a great addition for men and women.  It has enough room to store all the essentials for whatever your next activity is.  It can easily store food and water for a beach picnic or extra layers of clothes in case you get cold.
Beach bags are also lightweight and will go with any day or night outfit you choose.
Check out these bags.
Pajamas
The type of pajamas you bring are key for a good night's sleep.  For summer, bring shorts and tank top-style pajamas to keep cool.  For the colder months, opt for pants and long sleeves to stay warm and cozy.
Find more pajamas here.
What Not To Wear
Cape Cod is a casual, laid-back travel destination.  Don't wear anything too dressy such as a suit or formal dress.  Not only will you stand out, but you may also overheat and be restricted as you adventure through the town and on the sandy beaches. 
Travel Tips 
With the variety of different activities to do and the high number of people that visit, especially during the summer, it is suggested to plan out and book any activities in advance before you arrive.  
Was this article helpful to you? Please tell us what you liked or didn't like in the comments below.
About the Author: Shelby Bonner