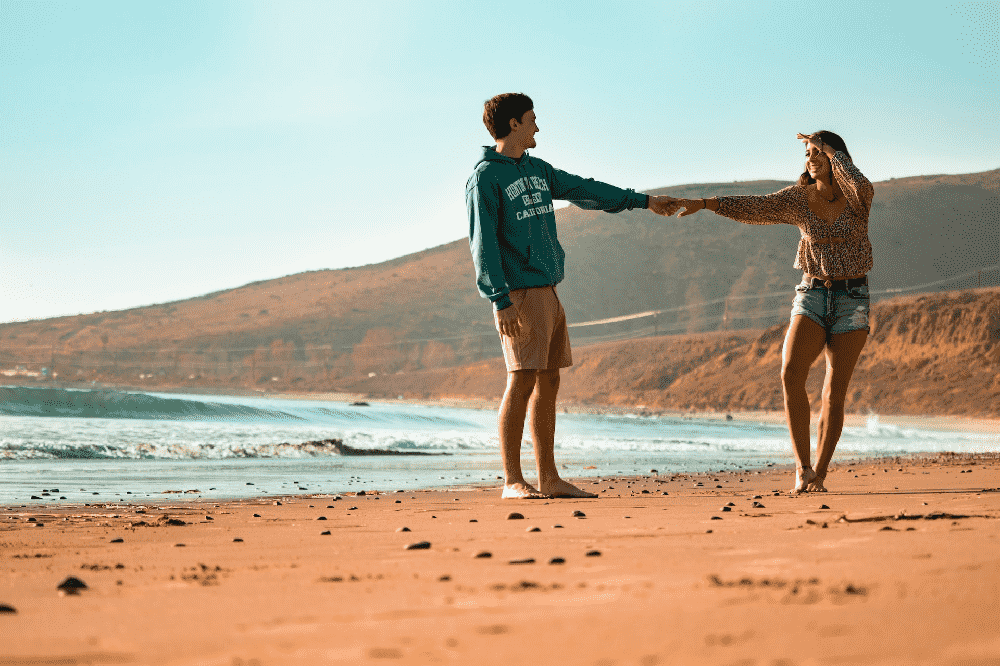 20+ Cute Outfit Ideas For An Amazing Beach Date
Summer is almost here, and that means it's time for beach dates! 
Heading to the beach for a date can be both exciting and stressful. You need to make sure that you're dressed to impress. But you also want to feel comfortable enough to spend the whole day in the sun.
You're going to need a pretty outfit that shows your personality, protects you from the sun, and makes you feel confident.
In this article, we're sharing 24 cute outfit ideas that are perfect for an amazing beach date. Whether you're planning a picnic on the sand or a romantic sunset walk, we selected the best styles to suit any occasion.
So grab your sunglasses and get ready to be inspired by our top beach date outfit ideas!
Panaprium is proud to be 100% independent, free of any influence, and not sponsored. We carefully handpick products from brands we trust. Thank you so much for buying something through our link, as we may earn a commission that supports us.
The perfect swimsuit
Your swimsuit is the central piece of your beach outfit. If you have no idea which one to pick, consider your body shape to choose the most flattering one.
Pear shape: draw attention to your upper body with an embellished bikini top or a ruffled swimsuit.

Apple shape: choose a one-piece swimsuit or a high-waisted bikini for support and tummy control. 

Inverted triangle shape: create the illusion of volume around your hips with high-cut or ruffled bottoms. 

Hourglass shape: any type of swimsuit will look great on you!
These are general guidelines. But remember this: the perfect swimsuit for your date is one that will make you feel comfortable, confident, and sexy.
Find your new favorite swimsuit in our selection of ethical and affordable swimwear brands.
A colorful sundress
The sundress is a classic but effective choice for a beach date. Create a romantic and feminine outfit with a colorful mini-dress that gives off tropical vibes. Wear it over your bathing suit and accessorize with a statement necklace and sunglasses. Lightweight, breezy fabrics such as cotton and linen are excellent choices for the beach. 
Get inspired with our selection of organic cotton summer dresses for 2023.
A sexy summer dress
Prove your self-confidence with a sexy summer dress that shows off your curves. It will make you feel assertive, beautiful, and comfortable, all at the same time. You definitely won't leave him indifferent. It will also help create a romantic and playful atmosphere.
Don't worry about being too much. The beach is the perfect place to wear sexy clothes without offending anyone. Embrace your femininity!
Take your pick from this selection of affordable sexy casual summer dresses.
A flowy Maxi dress
Pick a flowy maxi dress for the perfect lady-like look. Maxi dresses are super comfortable and shield you from the sun. They are also easy to dress up for an evening outfit in case the date goes well and he takes you out for dinner afterward.
Choose your favorite item from our selection of affordable maxi dresses made in the USA.
Denim shorts
If you want to connect with your date, there is nothing like playing beach games. Denim shorts will allow you to play frisbee or volleyball to your heart's content and still look cute. They are a versatile choice that you can pair with a variety of tops to create different looks. Choose a high-waisted mini-short for a flattering look that shows off your curves.
Discover our top selection of affordable and sustainable denim shorts.
Linen clothes
Linen clothes are your best friends for a date by the beach. They are light and airy. They absorb moisture and keep you cool and comfortable in hot weather. Linen also gives off a chic and natural vibe that will make you look effortlessly cute. Find a set with shorts and a crop top for a fun and flirty beach outfit.
Take inspiration from our selection of affordable linen dresses.
An overshirt 
Wear an oversized button-up shirt over your swimsuit for a timeless classy look. Choose long sleeves to protect yourself from the sun.
Don't button your shirt up to your neck. Tie it in a knot or wear it completely open. Balance the look with denim cutoffs for a chic and casual outfit. You could also wear it as a cover-up over your bikini after your first swim. 
Here is our selection of ethical button-up shirts.
Crochet beachwear
Crochet fashion is finally making its comeback and the beach is the perfect place to try it out. Throw on a white crochet dress for a cute and comfortable vintage look. Pair it with sandals, stylish sunglasses, and statement earrings to feel like a 70's goddess.
A crop top
Crop tops are super trendy and perfect for the beach. They add a touch of youthfulness to your outfit. They accentuate your waistline and make you feel confident and attractive.
Combine it with high-waisted shorts or a sarong to take a walk along the ocean with your date. You could also create a romantic bohemian look by pairing your crop top with a flowy maxi skirt and a straw sun hat. A crochet crop top would be a great choice to wear over your bikini for a cute and playful look.
Take your pick from our selection of organic cotton crop tops.
A flowy blouse
A flowy blouse will add a touch of feminity and romance to your beach date outfit. A lightweight fabric will provide great ventilation and comfort for the hot days of summer. Pair your blouse with denim shorts, a sun hat, and pretty earrings for a stylish yet casual look. It will be perfect to enjoy a little stroll on the beach with your partner. 
Check this selection of affordable blouses from ethical brands.
Striped t-shirt
Nothing gives European beach vibes like striped clothes. A striped t-shirt is a versatile wardrobe item that never goes out of style. It is comfortable and easy to pair with a variety of bottoms, such as denim shorts, or a cute skirt. Wear it with high-waisted linen shorts to play beach games with style. Don't forget your sunglasses for a laid-back yet fashionable nautical look.
Palazzo pants
Palazzo pants are flowy and lightweight wide-leg pants which makes them perfect for keeping cool at the beach.
They are stylish and versatile and they create the perfect elegant bohemian vibe. Combine them with a crop top or your bikini top for a chic and casual look. Flowy wide-leg pants will elongate your silhouette. They will make you look fabulous in a comfortable and breathable outfit.
Get inspired by our selection of affordable and eco-friendly, bohemian harem pants.
A sarong
If you plan on spending most of your day in the water, don't forget to pack a sarong in your bag. Sarongs have always been a popular choice as cover-ups for beach outfits. Their sheer fabric shows off your body while providing coverage and sun protection.
There are tons of cute ways to tie them. Find your favorite one and look amazing for the rest of your date with a fun and feminine look
Check out our selection of the best beachwear clothing brands to find your sarong.
Beach cover-ups
Swap your sarong for a flowy beach cover-up if you want a sophisticated look. Cover-ups are so comfortable to wear and provide nice sun protection while still looking fabulous. Choose a color that compliments your skin. Pair it with a sunhat and sunglasses for a glamorous vibe.
A jumpsuit
If you want to create a chic one-piece outfit for your date, a summer jumpsuit is exactly what you need. Pick a flattering jumpsuit that accentuates your waistline. Choose a lightweight flowy fabric to keep it comfortable in the heat and prefer floral prints for a touch of femininity.
Take your pick from our selection of organic cotton jumpsuits.
Rompers
Rompers are great alternatives to jumpsuits if you can't take the heat. They are more comfortable and they show off your legs. There are tons of different styles of rompers. Whether you choose off-the-shoulder, ruffled, or strapless styles, a cute colorful romper creates a playful and adorable outfit.
Pair it with espadrilles, a wide-brimmed straw hat, and a chic gold necklace to create a trendy, practical look for your date.
Feel comfy and stylish with one of these organic cotton rompers we selected.
White clothes
The color white is perfect to compliment your sun-kissed skin. A classic white dress gives off a chic and elegant Saint-Tropez vibe that will make you look fabulous. Choose a white flowy jumpsuit and pair it with gold accessories. You will definitely impress your date with your sophisticated look. 
You don't have to worry about your clothes being see-through at the beach. But be careful with white swimsuits. You should always check beforehand if yours will become transparent when wet. 
Check out these amazing resort wear brands to find your perfect white outfit. 
Sandals
Instead of your usual flip-flops, wear beautiful sandals. They are comfortable and practical to walk in the sand like flip-flops. But they will take your outfit to another level. They are also versatile enough to wear during a night out if you decide to extend your date.
A pair of sandals made of vegan leather with gold embellishments is a great choice to compliment your sunkissed skin. 
Find your favorite pair in our selection of affordable and sustainable vegan sandals.
Espadrilles
Espadrilles are a great alternative to sandals. They transform any outfit into chic and casual summer holiday attire. Espadrilles are breathable and easy to slip on and off. It makes them ideal for the beach if you want to walk by the ocean and dip your toes in the water.
They come in a variety of colors and styles, from classic canvas to more colorful and embellished options. Pair them with linen shorts and a striped shirt for a chic laid-back outfit for your date.
Check our selection of affordable, vegan, and sustainable pairs, if you don't own espadrilles already.
Sunglasses
Use accessories to express your personal style and let your date know a little more about you. Sunglasses are a must at the beach. They protect your eyes and make it easier to do any kind of beach activity. Just wear them on top of your head when you want to flirt with your date and look him in the eye.
Here is our selection of affordable and sustainable eyewear brands to help you choose your favorite pair.
Statement earrings
The best piece of jewelry to wear to a beach date is probably earrings. While bracelets and necklaces will get damaged by sea water, earrings can be preserved by keeping your head above water. Also, beautiful statement earrings will emphasize your outfit, skin tone, and face shape.
This selection of sustainable earrings will surely inspire you.
Straw Hat 
Wear a wide-brimmed straw hat for a cute boho-chic look. It will spare you from the red-nose look and add a touch of glamour to your outfit. Spruce up your simple hat by adding a ribbon for a colorful twist.
And who knows, maybe the wind will blow your hat away and your date will have to run to get it for you. Isn't that the perfect opportunity to give him a thank-you kiss?
A cute cap
If you are a streetwear aficionado, you can't go wrong with a cute baseball cap to finish off your look. It will provide excellent sun protection and be most practical if you intend to play beach games. Combine it with denim cutoffs, a cute bikini top, and an open button-up shirt for a super-casual and timeless outfit. 
Find inspiration by browsing the websites of these affordable and sustainable streetwear brands.
Straw tote bag
Carry all your essentials in a straw tote bag to create a natural effortless style. Make it even more stylish by attaching a pretty scarf to the handle. A straw tote bag is perfect for a beach date. It is practical for carrying all your essentials while being stylish and giving off a beachy vibe.
Was this article helpful to you? Please tell us what you liked or didn't like in the comments below.
About the Author: Pauline Assoune