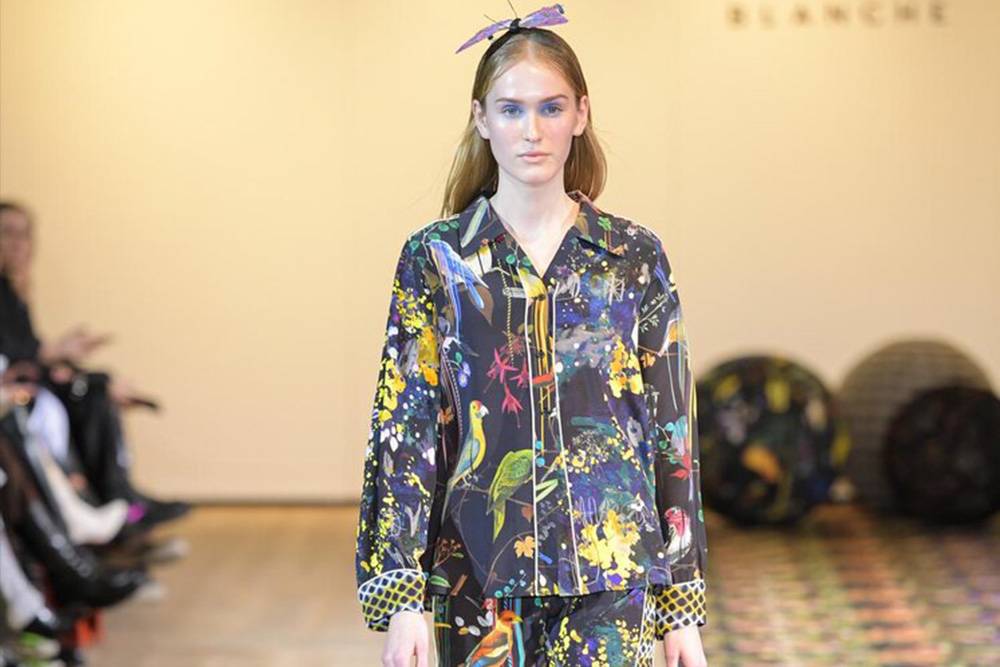 Sustainable Capsule Collection by Blanche x Christian Lacroix

Copenhagen-based sustainable denim brand Blanche is launching in August 2020 a new capsule collection in collaboration with French fashion designer Christian Lacroix.

Christian Lacroix released his first Haute couture collection under his fashion house of the same name in 1987 and shook up Parisian fashion at the moment.

His pieces are characterized by unexpected mixtures of materials and colors, lush baroque ornaments, exuberance, elegance, and sophistication.

The Danish label Blanche was founded by Creative Director Mette Fredin and Commercial Director Melissa Bech four years ago. It's well-known for its new holistic approach to timelessness in fashion, particularly to denim.

Designed in Copenhagen, Blanche makes denim from pure textiles through sustainable production with materials that are either organic, GOTS-certified, or leftover fabric from past production.

Conventional denim manufacturing is one of the most harmful practices in the fashion industry. Today, it's a priority to make it more sustainable and limit its impacts.

20,000 liters of water are needed to produce one kilogram of cotton, the equivalent of one T-shirt, and one pair of jeans, according to the World Wildlife Fund (WWF).

The cotton water footprint of jeans production is a big issue, especially in countries affected by water scarcity. About 4 billion people, early two-thirds of the world population, experience severe water scarcity during at least one month every year.

Organic cotton, especially with relevant certifications, is much better than conventional cotton. It's non-GMO and grown without harmful man-made pesticides, herbicides, or fertilizers. It supports soil fertility and biodiversity.

The global non-profit organization Textile Exchange reports that farmers can potentially save 218 billion liters of water and 92.5 million kg of carbon dioxide by growing organic cotton instead of regular cotton.

The sustainable capsule collection by Blanche x Christian Lacroix is "merging the clean lines and functionality of Scandinavian minimalism, with the grandeur and glamour of french maximalism", according to the French designer.

"I believe that opposites attract and work together wonderfully. The unexpected is usually the most interesting! Blanche with Lacroix is the perfect match and together we have created something new and relevant."

 - Mette Fredin, Blanche co-founder, and Creative Director, as told to InStyle
Talking about one key piece of the new collection, a contemporary blue denim dress that breathes modernity, Mette Fredin explains:
"The dress and all denim styles were made in Italy in collaboration with ISKO, the world's leading denim manufacturer in the field of sustainability and innovation. We met to create the Lacroix print, which is very detailed in the original and decided in favor of a laser print technique. In contrast to acid wash, this not only avoids environmentally harmful chemicals that pollute the water - it is even possible to produce without water at all. The denim dress is my personal favorite from the collection!"

The sustainable capsule collection by Blanche x Christian Lacroix will be available in selected boutiques from mid-August.
Was this article helpful to you? Please tell us what you liked or didn't like in the comments below.