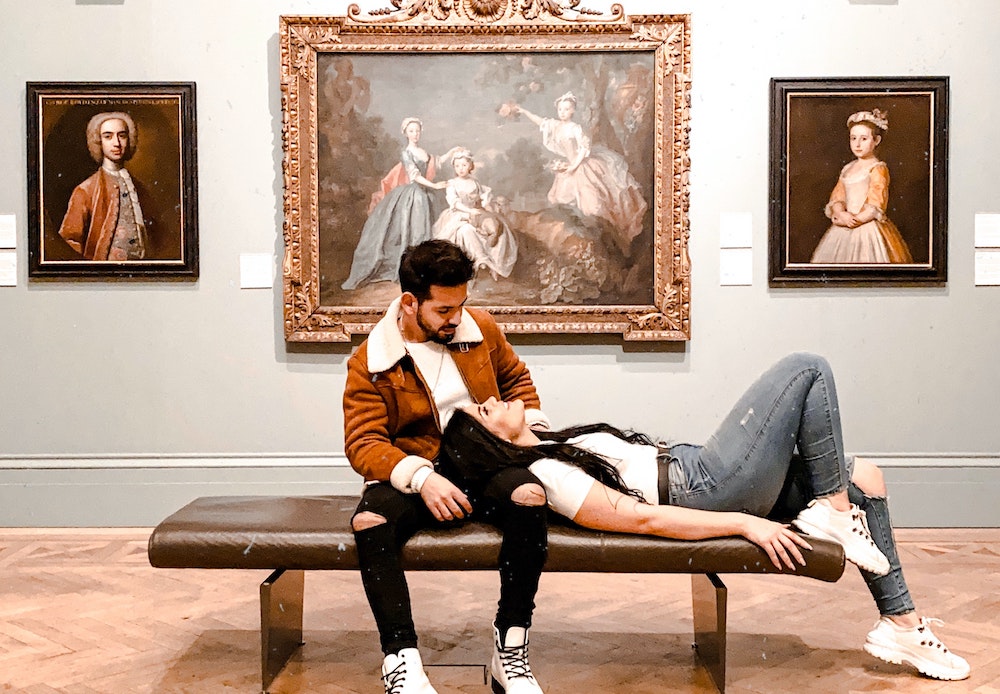 15+ Art Museum Date Outfits You'll Love
A date at an art museum is the perfect opportunity to wear an outfit that expresses your inner self and impresses that special someone. Not to mention that the quiet galleries are perfect for intimate conversations and getting to know your date better.
The best outfit for an art museum date strikes the perfect balance of being comfortable, chic, and cute. 
Consider the type of museum you are visiting and the mood you want to convey when choosing your outfit. For example, you can go for an indie artist look or choose something creative and edgy to make a big impression.
We've put together 15+ art museum date outfits guaranteed to make you look effortlessly chic, artsy, and cute on your next date. 
Panaprium is proud to be 100% independent, free of any influence, and not sponsored. We carefully handpick products from brands we trust. Thank you so much for buying something through our link, as we may earn a commission that supports us.
Denim Jacket
The galleries of an art museum can be cold, even on the hottest summer days. So, wearing a denim jacket is an excellent way to keep warm while looking put-together on your date.  
A denim jacket looks chic and timeless, making it a classic art museum look. Pair your favorite denim jacket with loose black trousers, a plain white t-shirt, or a cute sundress. You can even wear your favorite pair of jeans if you feel like pulling off a denim-on-denim look. 
There is a lot of flexibility when styling a denim jacket, so let your creativity shine through. Check out our favorite women's denim jackets to get more outfit inspiration. 
Oversized Sweater
You don't have to wear skin-tight clothes to look sexy and cute for your date. An oversized sweater is easy to wear and looks adorable when styled with a pencil skirt or structured shorts. 
An oversized sweater strikes a balance of chic and comfortable, making it an ideal date outfit. Tuck your sweater into high-waisted jeans and top it all off with some platform sandals. 
Check out our selection of recycled sweaters for some outfit inspiration. 
Boyfriend Jeans
The perfect pair of boyfriend jeans are comfortable while hugging your curves in all the right places. Wearing this classic jean cut is an excellent way to look effortlessly chic without trying too hard. 
Boyfriend jeans go great with a simple shirt tucked in the front or a trendy tank top. However, if you want more of an artistic look, dress your jeans up with a flirty blouse, platform sandals, and a cardigan. 
For the ultimate sustainable outfit, check out the best selection of recycled denim jeans. 
Crop Top
A crop top is the perfect combination of sexy and classy. That's why it's such a great choice for an art museum date. This wardrobe staple looks great paired with everything from dresses to jeans. 
Depending on the type of art museum you visit, you can go for a casual vibe with a loose cropped tee or a more sleek look with a fitted crop tank and high-waisted skirt. No matter how you choose to style it, make sure you feel comfortable and confident.  
For inspiration, browse our favorite affordable crop tops.
Plain White T-Shirt
A plain white t-shirt is a classic choice for an art museum date. It's simple, chic, and fun to accessorize. Plus, it matches anything. You can pair a classic tee with your favorite pair of jeans, a flirty mini-skirt, or wide-leg pants. 
We recommend wearing a classic cotton t-shirt because it's bound to feel comfortable and look high-quality. Remember to give the shirt a French tuck for the ultimate chic art museum date look.  
Turtleneck
There's no better way to channel your inner art critic than wearing a chic, minimalist turtleneck. Whether you go with a solid color or a subtle print, a turtleneck always looks put-together and flattering on all body types. 
From black mock necks to high-collared sweaters, turtlenecks give off the ultimate art-lover vibe. This kind of top looks great with dark-wash denim, a black skirt, or some boots and leggings.
Check out some of our favorite turtlenecks here.
Bodysuit
A form-fitting bodysuit is an excellent outfit option if you're attending a special event or an evening date at an art museum. This look is sleek, sexy, and stylish. Plus, bodysuits are usually made with stretch fabric, making them very comfortable. 
Depending on your personal style, you can pair a monochrome bodysuit with high-waisted boyfriend jeans, a pencil skirt, or loose-fitting shorts. Loose midi skirts and capris are also excellent options for a vintage vibe. 
Peruse the best sustainable bodysuit brands to start planning your outfit. 
A Monochromatic Look
Everyone knows an all-black look is sleek, chic, and easy to wear. But, choosing a monochromatic look in another color is a creative way to elevate your style while having fun. 
For an art museum date outfit, a monochromatic look in rich earth tones, soft pastels, or bold jewel tones will look great.  Whether it's a forest green dress with a matching bag or an all-white ensemble, your outfit will beautifully complement the surrounding artwork. 
A monochromatic outfit looks even better when paired with a bold sandal or sustainable boot in a contrasting color. 
Blazer & Jeans
Is there anything classier than a sleek blazer with jeans? This timeless outfit makes an excellent art museum date outfit because it looks so chic and modern. Plus, there's plenty of room to incorporate playfulness and sexiness. 
You can't go wrong with a black blazer, high-waisted jeans, and a crop top. You can also wear a simple t-shirt or low-cut tank top underneath for an updated, sultry date look. Top it off with a platform sandal or chunky heel to lengthen your legs. 
If you want a more adventurous twist on this classic outfit, plenty of affordable blazers come in fun colors and chic patterns.
Sweater Vest
An art museum is perfect for embracing the popular dark academia aesthetic. So, what better way to channel that style than with a sweater vest? It's cute, stylish, and the perfect amount of nerdy. 
Layer a dark or neutral-colored sweater vest over a button-up or plain white t-shirt for a classic look. You can also get creative and choose a vintage sweater vest in a fun argyle pattern. 
Loose-fitting pants or shorts are a must, regardless of the type of sweater vest you choose. 
Print Dress
A print dress is a fail-proof art museum outfit. For an art museum date, wear any dress style that makes you feel comfortable, confident, and beautiful. Choose a dress with a bold print to stand out and create a lasting impression on your date.  
Any type of dress is appropriate for a museum date. Go with a flirty mini sundress or luxurious maxi dress. In addition, you can't go wrong with patterns that express your personality, like colorful florals or stand-out color blocking.
Check out some of our favorite cotton dresses that are comfortable, breathable, and high-quality. 
High-Waisted Shorts
High-waisted shorts are an excellent option if your art museum date is during the spring or summer. 
When it comes to dressing for an art museum date, high-waisted shorts look best with a tucked-in shirt, cute cropped blouse, or layered overshirt. You can craft a casual look with high-waisted denim or dress up with cute linen or cotton shorts. 
Vintage Shirt
A vintage shirt from the 90s or early 2000s is the perfect way to lean into the art girl aesthetic. A vintage or thrifted shirt is versatile, comfortable, and easy to accessorize. Plus, it fits into pretty much any style. 
Pair an oversized vintage shirt with some baggy jeans and boots or an ironic thrifted tee with plaid pants. 
There are a ton of ways to shop for the perfect vintage shirt, including Instagram thrift stores that offer carefully curated options. 
Comfy & Cute Shoes
When planning an art museum date outfit, remember that you'll spend a lot of time on your feet. While it's tempting to accessorize with stilettos or elaborate sandals, these aren't the best options for most people. 
Top off your look with cute, comfortable, and practical shoes. You can even go as casual as a pair of sneakers if you want. 
Ballet flats, vegan espadrilles, and platform sandals are excellent options for a more polished look. 
Small Crossbody Bag
A crossbody bag is an excellent, trendy alternative to a tote bag. After all, you're going to be spending a few hours walking around and exploring the museum. The last thing you want is to lug around a heavy bag. 
You can stuff all of your date necessities in a small vegan faux leather bag or an on-trend fanny pack. Plus, crossbody bags are easy to match with almost any outfit, regardless of how fancy. 
Tote Bag
If small bags aren't your thing, a tote bag is the best option for your art museum date. It's a classic art girl accessory, so you can't go wrong. A classic organic cotton or hemp tote is best for an art museum outfit. 
Tote bags are comfortable, spacious and allow for a ton of fun customization. The screenprint design on your tote bag says a lot about you, as do the pins and patches that can be added for flair. 
If you really want to impress your date, throw in your sketchbook or current read to add an air of hipster mystère. 
Was this article helpful to you? Please tell us what you liked or didn't like in the comments below.
About the Author: Liz Flynn