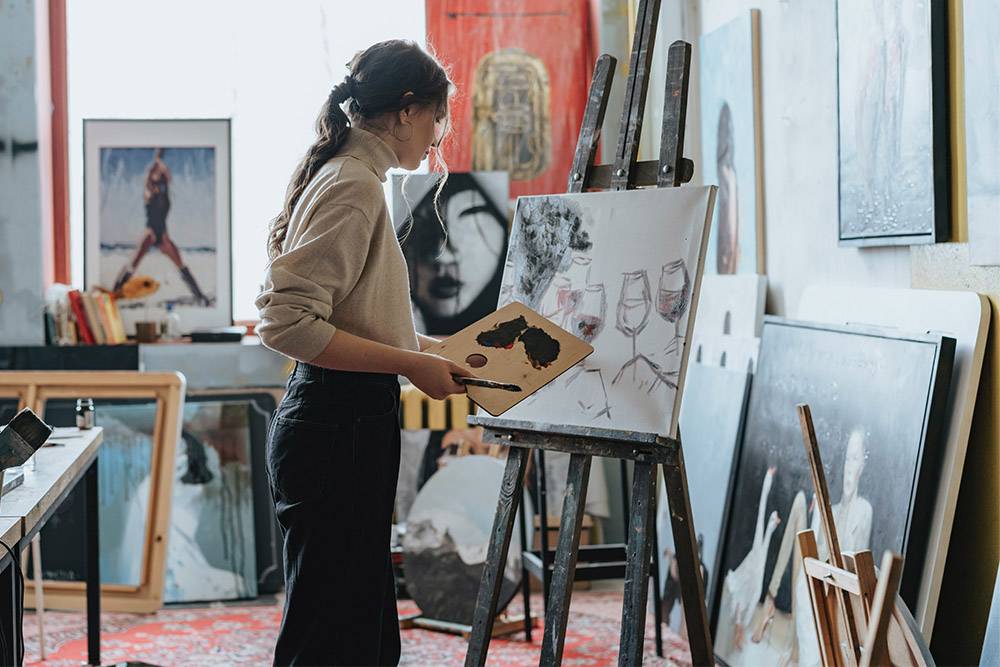 How To Dress Like An Artist (15 Outfit Ideas & Style Tips)
It matters a lot what you wear if you are an artist as clothing is a tool for self-expression. Thankfully, it's not that difficult to craft trendy and stylish artist outfits you'll love and feel comfortable wearing.

If you like art and want to avoid conformity and standards, wear visual, artsy pieces to let your clothes reflect your preferences, opinions, and choices.

Highly creative cuts and patterns are perfect to style yourself and making a mark by creating fashionable outfits. They encourage you to think outside the box to dress well and curate an original wardrobe.

Colorful, rich, artistic clothes are attention-grabbing and make an impression. Choose cute clothing pieces that you can easily combine into different outfits for an easy, effortless, creative look.

This collection of artist aesthetic outfits you can wear every day will help you dress like an artist and feel your best in extraordinarily contemporary, original, retro, or vintage-inspired looks.
Panaprium is proud to be 100% independent, free of any influence, and not sponsored. We carefully handpick products from brands we trust. Thank you so much for buying something through our link, as we may earn a commission that supports us.


Wear comfortable clothes


If you want to dress like an artist, don't put on clothes that don't fit right. Otherwise, you might damage the garments and feel uncomfortable. You also risk losing style and elegance.

Wear clothing with the perfect fit that allows maximum comfort and freedom of movement. You should be able to express yourself and move freely with some added protection while working in your original artist outfits.

Don't wear clothes that are too small or too big if your want to look and feel your best. Instead, let go of them and make room for comfortable clothing that fits you properly.


Add unique accessories


Wear original accessories to make your artist outfits stylish and stand out. You can choose a cute watch, hip sunglasses, a cool hat, scarf, belt, or handbag.

But don't overdo it, as one accessory is enough to dress like an artist. You can easily enhance your look by adding one elegant, unique, stylish item to your artist outfits.


Shop for vintage fashion


Vintage clothing is a staple of the artistic style and a great addition to any wardrobe. Choose pre-loved or second-hand items that help you look stylish and feel comfortable.

Vintage or retro fashion is an easygoing and effortless solution to craft an attractive artist outfit. Colorful, stylish, used clothes exist in many colors, fabrics, and patterns.

They help you dress creatively and look sharp in vintage-inspired outfits. Choose lightweight, breathable, and comfy pieces to create everyday looks and express your creativity.

Vintage fashion offers a wide choice of stylish and affordable artist outfits. These looks are unique, daring, sometimes antique, and can come from haute couture or quality street fashion labels.

Move away from mainstream fashion trends with vintage clothing. Craft fabulous artist outfits with original vintage pieces found at resale shops, thrift stores, and consignment stores.


Be confident and creative.


Don't hesitate to be a little creative with your artist outfits and push yourself out of your comfort zone. There are many different fashion styles to try out that are also appropriate for artists.

Use your creativity and express yourself to find a style all about you, showing your personality and showcasing your best features through originality, confidence, and uniqueness.

You can boost your self-confidence and dress like an artist by trying something new from time to time, staying positive, and improving your style by trial and error.


Design and sew your clothes


You can dress like an artist by making your clothes instead of buying ready-to-wear. Create stylish, unique pieces of clothing to dress well and impress.

You can make something extraordinary, fashionable, and original without extra machinery. If you know how to cut and sew, you can also adapt the clothes your already own to fit you perfectly.


Wear outstandingly bold colors


Wear bright colors to instantly stand out, look more attractive, and be more confident. If you pick the perfect combination of colors for your artist outfits, you'll improve your style, dress better, and look great.

Choose a few colorful pieces to add a twist to your wardrobe and improve your look by giving a particular nuance to your artist outfits. Craft unique looks that heavily differentiate from the norm.

Colorful clothes make you look younger and have fun with your outfits. Most people avoid bright colors as they are hard to pull off without looking like a total mess.


Express your personality


Fashion is the ultimate form of self-expression. Don't hesitate to let your personality shine through your artist outfits. Focus on what feels good to you to look great and dress like an artist.

You'll look and feel much better if you avoid any clothing that makes you uncomfortable. Break away from the norm and set new rules by making every outfit you wear your own.

You can take inspiration from others but craft each outfit just for you according to your fashion style, personality, and preferences.


Wear a denim jacket


Wear attractive layers like a denim jacket to add a stylish and creative touch to any artistic outfit. A classic denim jacket can improve your dressing style drastically.

If you want to dress with an artistic aesthetic, wear a denim jacket to stand out and transform a regular outfit into a more creative and original look.

Check out our selection of denim jackets.


Choose a colorful shirt.


Colorful shirts are a fresh addition to any artistic outfit. Choose original prints and patterns to express your personality in style.

Here is our selection of affordable and sustainable shirts that will help you look fabulous and stand out.


Try on an overall.


Dungarees and overalls are the ultimate fashion statements to create in-trend artist outfits. They are highly comfortable, easy to wear, and protective when working.

Check out our selection of jumpsuits, playsuits, and overalls.




Put on drawstring pants.


Wear lightweight, stylish drawstring pants as they fit every modern artist's wardrobe. They are super comfortable and help you look fabulous effortlessly. Choose baggy, harem, and loose-fitted pants to craft fashionable and comfortable outfits.

Here is our selection of the best bohemian harem pants that are also comfortable, affordable, and sustainable.




Wear a printed dress


Wear a colorful and highly creative printed dress as a vehicle for self-expression and creativity. It's a cute and easy artist aesthetic outfit ideal for a casual and original look.


Buy artistic tees


Stand out from the crowd and make your mark with an artistic tee and lounge pants. Show off your creativity and unique style by putting on original, extravagant pieces that nobody else is wearing.

Check out our selection of locally-made tees.


Choose fashionable jeans


Denim jeans are a staple and perfect addition to any artist's wardrobe. You can pair them with a crop top and cute hat to look great in a highly creative and casual artist outfit.

Buy a great pair of boyfriend jeans from sustainable denim brands that use ethical and eco-friendly production processes.


Wear stylish shoes


Get fashionable and comfortable shoes that match your skin tone and the artist outfits you plan to wear. Proper footwear is crucial to look great and feel your best. Make sure your shoes compliment your outfits.

A high-quality pair of shoes is essential to look stylish and dress like an artist. Buy unique and original shoes from footwear brands that follow high social and environmental standards.

Ethically produced, quality footwear is an essential addition to every wardrobe. It's one of the best investments you can make to improve your fashion style and dress like an artist.
Was this article helpful to you? Please tell us what you liked or didn't like in the comments below.