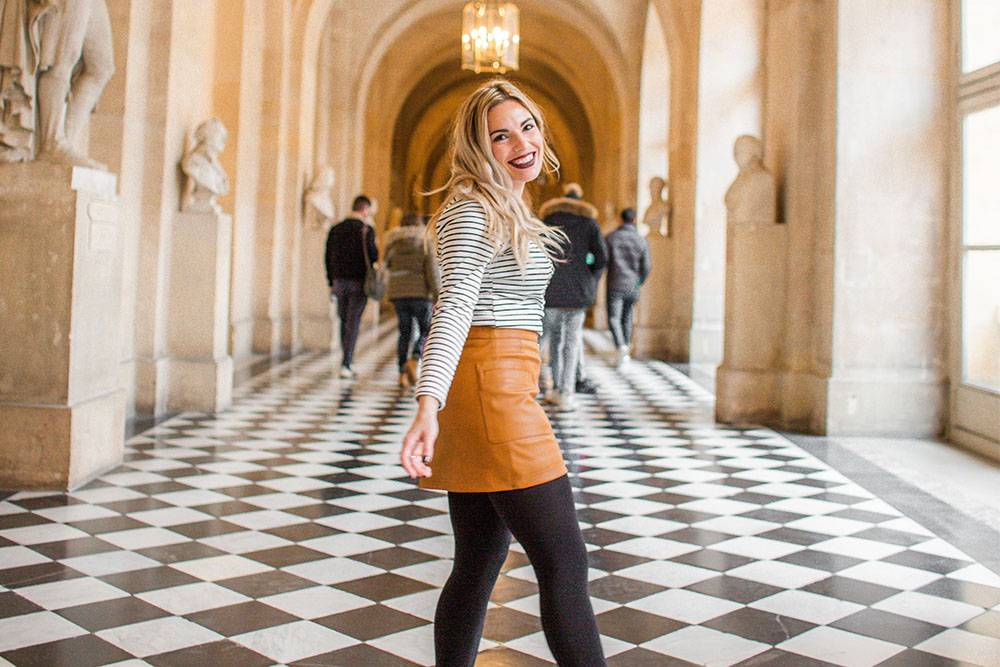 12 Cute And Feminine Winter Skirt Outfits You'll Love
Skirts are excellent for crafting cute, feminine, and stylish outfits in the winter. But you need to stay warm and feel comfortable even if you want to dress ladylike.

It's super easy to look fabulous, feel young and beautiful if you wear skirts during the cold season. Whether you prefer mini, midi, or maxi skirts, the best winter outfits are affordable, comfortable, fashionable, and sustainable.

Check out these cute and feminine winter skirt outfit ideas if you need some inspiration to dress fantastic and even stand out during the colder months.


Panaprium is proud to be 100% independent, free of any influence, and not sponsored. We carefully handpick products from brands we trust. Thank you so much for buying something through our link, as we may earn a commission that supports us.

Scarf and long coat


Enjoy the winter by putting together a warm, cozy, and stylish outfit with a miniskirt, scarf, long coat, and tights. Choose versatile, comfortable, and durable winter scarves made from eco-conscious fabrics.

Add a warm, long, affordable, and eco-friendly winter coat to stay comfy and dry this cold season.


Miniskirt and sweatshirt


You can wear a colorful miniskirt and sweatshirt if you want to look cute and feel comfortable in the winter. The most versatile sweatshirts are affordable, stylish, soft, and sustainable.

A sweatshirt will keep you warm and add an effortless and cozy touch to your winter skirt outfits. Check out our selection of cheap and eco-friendly sweatshirts.


Midi skirt and jacket


Pair a midi winter skirt with a classic jacket to instantly look more stylish and elegant. Make sure to check the quality of each garment before buying. It's easy to look fabulous if you wear high-quality clothes.

Discover our selection of the best midi skirts made from sustainable and high-quality materials. They help you dress stylishly with a clean conscience and without breaking the bank.


Miniskirt and blazer


A blazer can help you stand out and look professional in the winter. Pair a stylish jacket with a winter skirt to achieve a cute and feminine look.

A dark jacket or blazer can also improve your outfit by adding a traditional, dressy, and classy touch. Buy layers in a neutral color like black, white, brown, or navy.

Here is our selection of high-quality and sustainable blazers that will lower your ecological footprint and improve your winter outfits.


Winter skirt and turtleneck


Pair a long maxi winter skirt with a turtleneck to stay warm and look fabulous in the winter. This outfit idea is perfect for dressing stylishly and avoiding freezing.

The best turtlenecks are cheap, comfy, and ethically made from eco-friendly and cruelty-free fabrics. Buy winter clothing from sustainable brands that support responsible production practices.


Miniskirt and denim jacket


Add layers to your winter skirt outfits to keep your upper body warm, dress elegantly, and enhance your look. A classic denim jacket will help you stand out and put the cold away.

These are some of the best affordable denim jackets that every woman needs to have in her wardrobe to look fashionable and feel comfortable on a budget.


Sweater and a short plaid


You can choose a traditional outfit for the winter with a skirt or short dress, a sweater, and a colorful plaid. It's a great style to look fabulous and stand out without breaking the bank.

To help you make conscious decisions for your next outfit, take a look at the best ethical and affordable vegan sweater brands.


Miniskirt and cardigan sweater


To complete your winter skirt outfit, wear a warm and cute cardigan sweater. Versatile and durable inner layers will help you keep your body heat and stay comfy in chilly weather.

These are some of the best affordable and sustainable cardigans that are also cozy, warm, and cute to help you look stylish and feel comfortable this cold season without breaking the bank.


Winter modest lagenlook outfit


Choose a modest lagenlook outfit for the winter by putting on even more layers, such as wearing two skirts above each other with various sizes, styles, lengths, textures, or patterns. 

You can also wear long-sleeved blouses and a scarf to protect your neck and hair from bad weather. Discover our selection of stylish, beautiful, and cute blouses to look fabulous and feel comfortable in winter.


Miniskirt and cozy jumper


Add a gorgeous and inexpensive jumper, sweater, or pullover to your winter outfit to stay cozy and dry this cold season. They are perfect to style short dresses and skirts in the winter and feel comfortable.

Check out our selection of some of the most affordable and cutest winter jumpers made under high social and environmental standards.


Winter skirt and high long boots


To wear skirts in winter and stay warm, you can put on tall boots that rise to the knee or slightly thereunder. They are a fantastic addition to any wardrobe for comfort and style to upgrade your winter outfits.

Buy comfy, warm, cute, sustainable boots for winter from ethical shoe companies that use eco-friendly and animal-free materials.


Miniskirt and pantyhose


A great way to wear skirts in winter and avoid freezing is to wear tights, stockings, or leggings underneath. Quality, affordable pantyhose help you look charming and stay warm during the cold season without breaking the bank.

Check out our selection of affordable and sustainable tights you can wear with skirts in winter.
Was this article helpful to you? Please tell us what you liked or didn't like in the comments below.