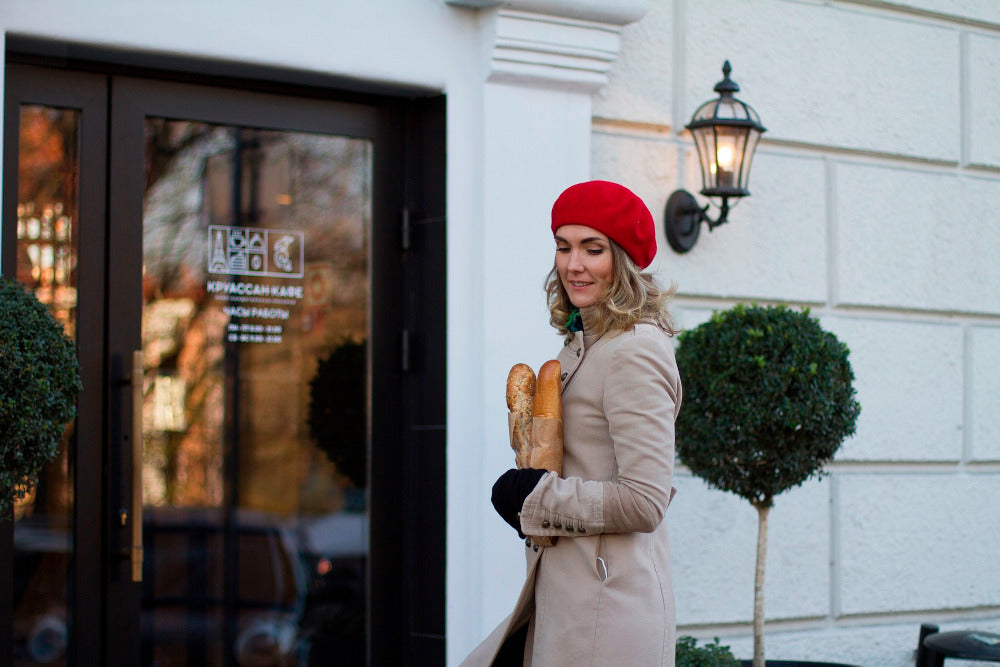 20 Stunning Outfits to Wear in Paris
When you travel to Paris you should adopt a classic, dressy style to fit in with the Parisian crowd. Avoid athleisure or t-shirts and look for chic black, elegant accent pieces, and comfortable but dressy footwear. You can also add a sharp note to any outfit by pairing it with a blazer or trench coat.
The key to prepping a Parisian wardrobe is to focus on a few timeless, good-quality pieces rather than trying to pack tons of fashion-forward styles. Look for items you can easily mix and match like a black coat in the winter or a black sheath dress in the summer. Aim for an Audrey Hepburn aesthetic to pinpoint that air of classic elegance.
Panaprium is proud to be 100% independent, free of any influence, and not sponsored. We carefully handpick products from brands we trust. Thank you so much for buying something through our link, as we may earn a commission that supports us.
Chic Black
Adding chic black items to your travel wardrobe is the easiest way to achieve that careless, classic French style. Black has a slimming effect and also matches pretty much everything, which makes it a practical choice to pair with any outfit, too! Try black garments like a black jacket, black tights, a black sheath dress, or even a black trench coat.
Do make sure you don't look washed-out in contrast to the black notes in your outfit, though. If you have a pale skin tone you may want a bold lipstick or a bright scarf to balance out the dark colors in your Parisian outfit.
You can easily add eco-friendly, quality pieces like black hosiery to your outfit by checking out this article.
Capsule Travel Wardrobe
Another way to get ready for a trip to Paris is to focus on a capsule wardrobe that highlights a few simple, good-quality pieces you can mix and match easily. Focus on functional garments that you can use with many outfits, such as a pair of jeans that will match both a sweater and a nice blouse.
As you put together your capsule wardrobe, make sure that most of your clothes have a neutral or black color. This makes it easier to reuse items to create unique outfits. If you can afford it, pay to have fitted garments like a blazer or dress tailored. This is one of the best ways to make a piece of clothing look expensive!
You also want to consider formal and informal outfits. Make sure you have at least one "dressy" bottom, such as a skirt or dress for women or slacks for men. This way, you can easily add a blouse or button-down shirt for a fancy dinner.
If you need help getting started with your first capsule wardrobe, check out this sustainable capsule collection from Blanche X Christian Lacroix.
Trench Coat
Few outfits look more French than a classy trench coat belted over jeans and a chic blouse. A trench coat also serves a practical purpose, because the weather in Paris can fluctuate a lot, especially in the spring. You want to have a classic, timeless piece of outerwear to work into your outfits in case your trip gets interrupted by an unexpected rain storm or a chilly wind.
While you can find trench coats in all kinds of trendy colors these days, your best bet is a classic khaki or black coat for that timeless style. You can find ten affordable and sustainable trench coats to check out here!
Scarf
You can easily tuck a slim faux-silk scarf into your suitcase for your trip to Paris, and use it to add a note of color and style to almost any outfit! Try wearing the scarf knotted around a ponytail, in a bow at your throat, or draped down the front of your blouse like a tie. 
In cold weather, swap out a silky scarf for a warm, soft winter scarf. You can still pick fun colors to bring some life to your winter coat and boots outfit, though! If you don't have a cozy winter scarf, take a look at this collection of affordable, vegan scarves to choose from.
Ballet Flats
You may think that nothing says sophistication like a pair of heels, but you should leave those stylish stilettos at home and pack practical, chic ballet flats for your trip to Paris instead. Like many older cities, Paris is designed for walking, You will need to traverse ancient streets and hike up steep hills as a tourist in this lovely city. 
Of course, you could bring sneakers or hiking shoes instead if you prefer comfort over style. There is nothing wrong with looking like a tourist! But if you want to fit in with the people on the street, go for the slightly dressier approach of pairing ballet flats with your jeans and a nice jacket.
You can find ten affordable and sustainable options for stylish ballet flats here.
Loafers
Another super comfortable way to fit in with stylish footwear in Paris is to swap out your sneakers for loafers. Both men and women can rock this look! Try pairing a mini or midi skirt with tights, socks, and loafers. Or for that classic Hepburn look, cigarette pants, a sweater or blouse, and loafers.
Make sure you find ethical, vegan loafers to pack for your trip. This list of 30 companies that sell ethical, vegan shoes is a good place to start.
Ankle Boots
In the fall and winter months, ankle boots provide a practical, warm alternative to ballet flats or loafers as you tour Paris. Few outfits look as chic as a pair of straight jeans, a tailored blazer, and nice ankle boots. You will look perfectly in place as you sit at an outdoor cafe on the streets of Paris!
But finding fashionable boots that fit your ethics may seem challenging. To help you out, take a look at the 18 best brands selling vegan boots in 2023!
Dress and Jacket
Whether you prefer a loose maxi dress, a form-fitting sheath dress, or a traditional A-line dress, you can style your dress like a Parisian native by adding a smart jacket as a top layer. For everyday wear, look for a dress that ends at or around your knee. Add a slim belt or an elegant faux-silk scarf for a finishing touch.
In the summer, try to find a dress made out of a cool, breathable fabric like organic cotton. You can read all about the benefits of organic cotton for your skin here! In the winter, look for softer, warmer fabrics that can insulate you. 
Slim or Straight-Leg Jeans
You may wonder if it is ok to wear jeans as part of your Paris wardrobe. The answer is yes! Look for straight-cut or slim jeans rather than constricting skinny jeans. This traditional style will match almost any top you bring with you. Try adding a blouse and cardigan, a slim-fitting sweater, or a silky or satiny camisole and blazer with your jeans.
You can also add a French element to your jeans by rolling up the hem in a one or two-inch cuff. This goes well with both ballet flats and loafers for many outfits.
If you decide to add another pair of jeans to your collection during your trip, you may want to consider the 17 best popular and cheap brands of European jeans.
Dressy Blouse
Instead of T-shirts, pack two or three blouses for your trip to Paris. Wearing a blouse elevates your outfit even if you choose to wear jeans and comfortable footwear for your bottoms. If you worry about feeling too hot in a blouse, try a silky camisole instead, with a blazer or cardigan as an extra layer in case it gets chillier inside.
Take a look at the 15 best affordable and ethical blouses you can buy now here!
Crossbody bag

Instead of hauling a travel backpack with you, pare down to the bare essentials and carry a crossbody purse instead. This gives you a chic, Parisian style. Plus, you will look much less like a tourist if you leave the backpack at your hotel! Even though it may seem challenging to carry such a small bag with you, you will thank yourself later as you stand in long lines to view the Mona Lisa or venture out to take selfies in front of the Eifel Tower.
You may wonder if you can find a stylish, classy-looking purse made ethically. To find out, check out this list of 15 affordable, vegan purses and handbags!
Watch
Do you still wear a wristwatch, or do you have a smartwatch or just your cell phone instead? While a wristwatch may seem like an outdated item to many of us, it can add that perfect finishing note of timeless elegance to your Parisian outfits. The key here is to find a wristwatch that looks expensive and elegant but is not too obvious.
Try adding a watch to a blazer and a sheath dress outfit. Or layer a blazer over a button-down shirt and jeans, and add a watch for a touch of formality.

Slim Belt
Adding a slim belt to your suitcase will help you create many stylish outfits during your vacation. When you pack for a trip to Paris, you often need to bring just a handful of classic garments in neutral colors that you can mix and match into multiple outfits. A slender, good-quality black belt layered over a dress, a skirt and sweater, or a pair of slim cigarette pants adds definition to your waist and makes your outfit look put-together. 
Do you own a thin black belt? If not, take a look at the ten best ethical and vegan belts here!
Blazer
A tailored blazer is one of the essentials you should plan to wear in Paris. Instead of a trendy jacket or a bulky sweater, go for this classic, smart style and layer a blazer on top of any blouse or dress. A blazer and blouse can look good with slacks or cigarette pants, but a blazer can also create a nice contrast to a pair of straight-cut jeans.
This article will give you 20 options for the best ethical and affordable blazers to shop for.
Oversized Jacket or Blazer
You can also look Parisian by selecting an oversized blazer or blazer-style jacket in place of a more tailored fit. This "boyfriend jacket" style looks great when paired with a close-fitting outfit such as a form-fitting sweater and cigarette pants, or slim jeans and a button-down blouse.
The oversized blazer may work best for you if you plan to visit Paris in the spring or fall when you want layers in your outfits in case of temperamental weather. You can even use this jacket to add an element of color to your outfit by selecting a simple plaid or floral pattern!
If you want a European jacket to add an authentic element to your Parisian wardrobe, take a look at the 15 best affordable coats and jackets made in Italy.
Rolled Jeans
Jeans can look a little informal and American, but you can easily elevate the style of your denim by rolling up the hem. Try pairing this look with loafers worn over bare feet, or with chic ballet flats.
You will also want to think about wearing a dressier top to contrast the casual jeans. Try a silky blouse or a plain button-down and a trench coat over your jeans. Do you struggle to find a blouse that suits your body type? You can find 15 affordable and sustainable blouses that work for broad shoulders here.
Sundress Instead of Shorts
A flirty, swishy sundress will keep you cool on a hot summer day in Paris while also giving you a dressier look than a pair of shorts. Of course, there is nothing wrong with wearing shorts, and you should always pick clothes that make you feel comfortable! But if your goal is to fit in by looking a tad dressier than usual, up your game with a fun sundress instead of shorts for the duration of your trip.
If you don't have a collection of sundresses to choose from, consider these 15 affordable options made in the USA.
Neutral Dress
A dress in a neutral shade like grey, black, tan, or brown will easily pair with a variety of styles like a navy blazer, a black cardigan, a colorful scarf, or stylish ankle boots. One of the keys to prepping a timeless wardrobe for your trip to Paris is to select clothes that can mix and match seamlessly with each other, and the easiest way to do this is to select base garments in a neutral color.
For example, if you pack a tan dress you could wear it one day with ballet flats and a scarf, and another day with a blazer and a belt to create a totally different outfit! You can even find blazers made with recycled materials to wear with your dress by reading this article.
Midi Skirt
A midi skirt makes a great versatile piece to add to your Parisian wardrobe, too, because you can pair it with so many other styles. You can wear a black pleated skirt with tights, boots, and a blazer for a winter outfit. Or you can wear a plaid midi skirt, a sweater, and flats for the perfect Parisian fall outfit.
You can find a great selection of affordable and sustainable midi skirts here.
Dressy Coat
Will your visit to Paris take place during the fall or winter months? If so, you should add a dressy coat to your packing list for sure. Look for styles that reach at least to your knee such as a peacoat or even an overcoat for the really cold season. This way, you can still look elegant as you travel the streets of Paris, without sacrificing your comfort!
You can also find out how to stay warm without wearing a wool coat to make sure your winter clothing meets your ethical standards.
Was this article helpful to you? Please tell us what you liked or didn't like in the comments below.
About the Author: Hannah Cobb