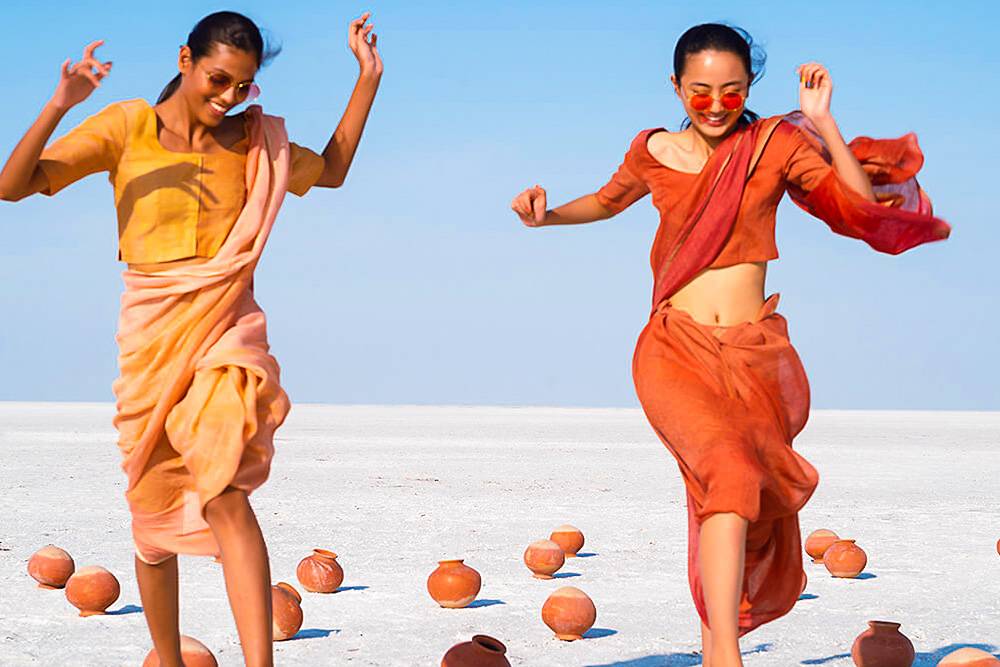 Anavila Misra Beautiful Linen Summer 2020 Collection
Anavila Misra just released a beautiful Spring Summer 2020 collection made of
sustainable linen
. The new pieces feature intricate sequence work, bright happy colors, and special motifs that bring a lovely summer mood.
Based in Mumbai, Maharashtra, India, Anavila Misra makes mindful creations that leads to mindful consumption. The Indian fashion designer has earned a lot of followers who love her languidly draped linen saris.
Since the launch of her brand in 2011, Anavila Misra has assembled more than 80,000 passionate fans on
Instagram
. This month, she is bringing new prints into reality for Summer 2020.
Every season, she begins her work with rough sketches which are then carved into wooden blocks by hand. After a lot of trial and error, she manages to bring on environmentally friendly textiles the designs she imagined on paper.
"Our print collection which is an integral part of our brand is painstakingly put together by using hand-created vivid motifs and beautiful hand block printing."
 - Anavila Misra, Indian fashion designer
Anavila Misra believes in creating products that are true to her name. 'Anavila' means pure in Sanskrit. She makes stunning linen saris as everyday garments for the modern woman.
Some of the biggest names in Bollywood wear her designs today, including actors Vidya Balan, Sonam Kapoor, Kalki Koechlin, Konkona Sen Sharma, Kangana Ranaut, Rani Mukherji, Kajol, and more.
Anavila is redefining comfort, luxury, and elegance for today's woman. The brand strives for innovation, originality, and beauty in everything it creates.
Together with happy work communities that strongly focus on design and detail, it finds pride in thoughtful creations that lead to meaningful and sustainable fashion.
Anavila Misra strives to create completely modern, comfortable, and desirable to wear saris. She gathers women across multiple regional, cultural, and economic diversities to create soulful textiles.
The Indian fashion designer graduated from the National Institute of Fashion Technology (
NIFT
), New Delhi. She then worked for famous menswear brands such as Louis Phillipe and Wills Lifestyle.
She also worked closely with artisans across India for the Ministry of Rural Development. Today, she is empowering many women and giving them more opportunities.
Working with about 150-200 weavers across India, she is creating sustainable livelihoods for her artisans.
Anavila Misra gravitates towards different colors and textures inspired by nature and her commitment to sustainability. She creates about 80-100 pure linen saris monthly with a strong focus on simplicity.
The designer only produces what is required and no more to minimize waste. She says
"sustainability is a slow process, it requires constant commitment."
Some of the top fashion stores in India sells her saris, including Good Earth, Elan, Amethyst, Ogaan, Hyderabad, Rain Tree, Angadi, and more. Anavila Misra also sells online through her
website
.
Was this article helpful to you? Please tell us what you liked or didn't like in the comments below.