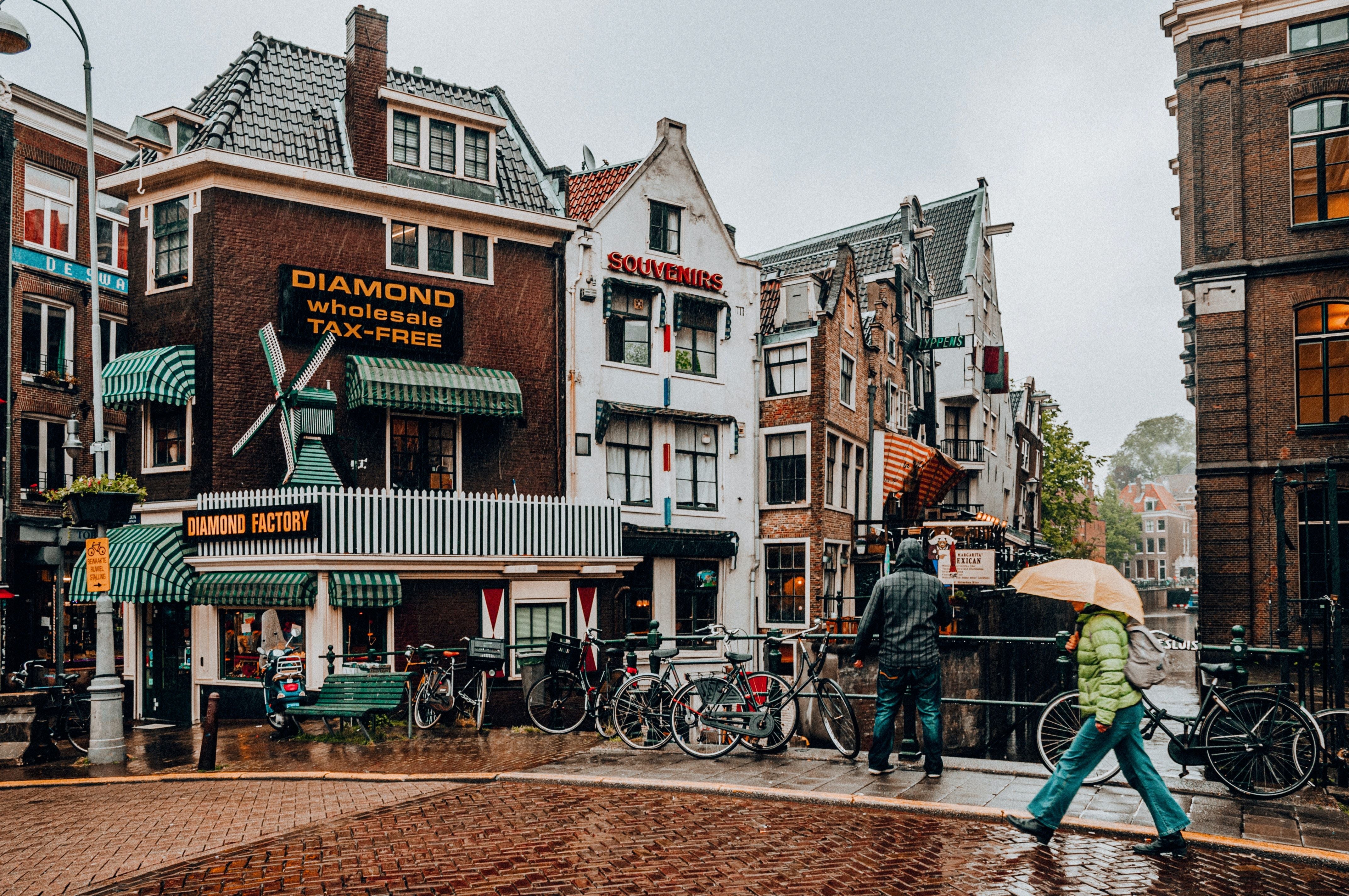 20 Practical And Amazing Outfits For Charming Amsterdam Trip
Are you in the mood for an unforgettable city trip to Amsterdam but do not know what outfits to pack? Follow our guidelines on what to wear for all seasons. 
Amsterdam is the capital of the Netherlands and a vibrant city. It is world-famous for its beautiful canals, museums, coffee shops, and active nightlife. 
Amsterdam has a great deal to offer to all tourists, whether you are into museums and art, an architecture enthusiast, or want to have a fun weekend and party hard with your friends. There is always something to choose from for everyone. 
As the Netherlands lies in the north of Europe, it can get quite cold in winter, especially when it rains or is windy, so it is crucial to pack the right items for your trip. It can rain or get cold in the summer too, so you need proper clothes in your suitcase for a comfortable and enjoyable holiday. 
Our list combines outfits and accessories that are necessary or practical and outfits that will help you look beautiful and fashionable. 
Panaprium is proud to be 100% independent, free of any influence, and not sponsored. We carefully handpick products from brands we trust. Thank you so much for buying something through our link, as we may earn a commission that supports us.
1. Shirt and Cardigan
Combine a cute shirt and a soft knitted cardigan to create a perfect museum day look. No trip to the city is complete without stopping by the Rijksmuseum, Van Gogh Museum, Stedelijk Museum, etc. 
The museums have huge exhibitions and, if you are a museum lover, you will spend hours going from one exhibition hall to another. For ultimate comfort, choose organic and soft materials, to comfortably enjoy the exhibitions. 
Discover our selection of 20 best affordable hemp shirts, tees, and tops.
2. Pants
Summer in Amsterdam allows you the freedom to wear what you feel comfortable in. Pack a pair of pants made of a lighter fabric like organic cotton or linen. The breathability of these pants will keep you cool in the summer heat. 
Go ahead and pair these nice breathable pants with vests, tank tops, or T-shirts, and you will have a perfect outfit for the summer heat in Amsterdam. You can mix and match any selection of colors and styles that you like and feel comfortable with. 
Check out the 15 best affordable and sustainable cargo pants.
3. Tube Top 
The tube top is ideal if you want to spend a crazy weekend in Amsterdam and party. 
The Dutch capital has one of the best clubbing and nightlife scenes in the world. DJs and live artists entertain the crowd with all sorts of music: from techno and hip-hop to funk and jazz. 
The dress code for clubbing is not strict in Amsterdam. A tube top teamed with jeans or shorts and high heels or flats is the best outfit for the ultimate fun night.
4. Jeans + High Heels 
Jeans combined with a tube top and high heels create the cutest outfit for clubbing.
You can wear flats and change into heels when in the club. The cobblestone streets are not ideal for high heels lovers, and it is especially not recommendable to wear very high heels, as you might slip and injure yourself. 
Choose dark shades for your jeans and combine them with white or colorful tops. Add high heels that make you look fashionable and are comfortable for dancing too. 
Make sure to check out our recommendations for the best 70s disco party outfits for more inspiration.
5. Cocktail Dress
A cocktail dress is considered semi-formal and is suitable for many late afternoon or evening events. 
If you are out to a party or invited to an event in Amsterdam, your go-to item is a cocktail dress. The dress code is relaxed and smart-casual in most clubs and bars. 
A cocktail dress is perfect for a great evening out with a partner or a group of friends. There are so many cocktail dresses to choose from; tight and monochrome to shiny and glittery. Select a cocktail dress that best expresses your personality and fashion sense. 
Discover the 12 best American-made cocktail dresses for any party.  
6. Shorts 
Summer is the most popular time of the year to travel to Amsterdam. It has long daylight hours and attracts the largest crowds of tourists. 
There are various outdoor attractions and performances during summer, which makes it the prime time to visit. During the warmer days, you will be able to wear shorts.
Denim is always comfortable and allows for mobility. Combine the shorts with cute tops for a practical yet chic look. 
Discover the 20 best sustainable and affordable bike shorts.
7. Long Skirt 
A long skirt is a great outfit for summer, yet it might not be very comfortable if you plan to rent a bicycle and ride through the city.
It is perfect if you walk a lot or plan to visit one of the famous museums in Amsterdam. There are over 60 of them.
Pair your long skirt with a T-shirt or a body and wear comfortable trainers or flats. Go for light and breathable materials to guarantee an enjoyable city trip. It is usually not super-hot in the summer, but in the last couple of years, there have been some heat waves, and if you visit in the summer, keep that in mind.
For more inspiration, check out our 20 best affordable and sustainable pencil skirts collection.
8. Rain Jacket 
A rain jacket is a must even if you decide to go to Amsterdam in the summer. The weather can be tricky as it might rain during the hot summer months too.
Bring a rain jacket to stay dry and fully enjoy your holiday. You can pack a windproof rain jacket, thus protecting yourself from the rain and the cold wind. 
Go for colorful options to stand out or create a fashionable outfit. There are zero reasons why you cannot look fashionable when wearing a rain jacket if you color-match it with your jeans, pants, or long skirts. Teaming the same color rain jacket and trainers could be another fun outfit for a nice day trip in Amsterdam.
Check out the 20 best stylish and eco-friendly rain jackets of 2023.
9. Ankle Boots
Ankle boots are amazing. They are comfortable and a great way to explore the city on foot.
Amsterdam has countless cobblestone streets, and the rain will make them slippery. You will need shoes with a grip to protect you against falling and getting injured. 
Even during the summer, it is best to bring ankle boots that are comfortable as well as waterproof. Pair the boots with jeans, long skirts, midi, or short dresses for an ultimate chic city girl look.
Our collection of the 20 best knee-high vegan boots.
10. Long Sleeve Shirt 
Make sure to pack one or two long sleeve shirts. Long sleeve shirts are great for spring or autumn weather in Amsterdam. Pick soft, breathable materials for comfort and warmth. 
A long sleeve shirt is perfect if you want to keep yourself warm and look beautiful at the same time. Pair your long sleeve shirt with jeans, slouchy pants, pleated skirts, etc. 
Get inspired with more outfit ideas for temperatures of 20° Celsius.
11. Comfortable Shoes 
The summer allows for more diverse footwear. Pack a pair of comfortable sandals or brogues, which are much lighter than boots and offer comfort and support. 
Opt for shoes that offer grip and are slip-resistant, so, ideally, no heels for your safety and comfort. Comfortable shoes will allow you to immerse yourself in Amsterdam's history while wandering across the remarkable cobblestone streets. 
Do not forget to check out our article on ethical and affordable vegan running shoes.
12. Sunglasses 
Pack a pair to protect yourself against the sunshine and glare. The locals love to be outdoors when the sun is shining. 
You can spend a lazy afternoon on a café terrace along the canals sampling delicious food and sipping refreshing iced coffee or beer. It is a great way to enjoy the picturesque architecture of Amsterdam and people-watch. 
Check out our selection of the 15 best affordable and sustainable sunglasses.
13. Tank Top 
It gets chilly in winter, so we recommend wearing an extra layer under your long-sleeved top or sweater. 
Tank tops are so versatile that you can use them as an underneath layer when it is cold, yet you can also wear them in the summer. They are great when paired with jeans and a belt. 
A white tank top, paired with tight jeans, a cool jacket, and trainers, is the ultimate outfit for a comfortable day trip in Amsterdam. 
Discover our selection of the 20 best affordable and sustainable tank tops.
14. Hat, Gloves, and Scarf 
If you go to Amsterdam in winter, packing a set of a hat, a scarf, and gloves is a must. Although the temperature hardly ever gets below freezing in winter, the harsh wind and rain can be very uncomfortable too. 
Pack a soft hat, gloves, and a scarf to keep yourself warm during the walks.You can color-match these items or mix and match them for a cute wintery look.  
15. Satchel Bag
A satchel bag can be a perfect accessory for an autumn or spring trip to Amsterdam. A cute satchel bag will help you keep your daytime essentials safe and dry. It can make for a cute outfit accessory too. 
You can go for a designy or artsy one, and there is an extensive color palette to choose from too. 
Satchel bags are perfect for visits to galleries and museums. Or wander along the beautiful canals of Amsterdam while wearing this practical yet cute accessory. 
Discover the 15 best vegan leather bags and purses.
16. Umbrella  
An absolute must, no matter what time of the year you go to Amsterdam. Always check the weather forecast before leaving but ensure to have an umbrella with you. The weather can change suddenly and at any time. Pack a cute and colorful one that nicely complements your outfit.
Cute, colorful umbrellas are also great if you want pictures taken of you, as they can contrast nicely against the grim and dark weather. 
17. Vests
Vests are perfect to pair with jeans, shorts, or skirts. They are versatile and combinable with various outfit items. 
Wear a sole vest or layer it with a cool T-shirt for a chic look. 
See our list of the 15 best affordable and sustainable sweater vests for more inspiration.
18. Cute Dress
If visiting during the warm season, pack one or two cute dresses. The locals in Amsterdam dress casually partly because of the weather as well. So, you might not encounter a lot of women wearing dresses, but it is still a great outfit for the summer.
Whether you relax at one of the cute cafés or visit a charming, small village near Amsterdam, a practical yet cute dress will be handy. A dress will also be great for a dreamy photoshoot along beautiful canals or famous bridges. 
Check out our selection of affordable dresses if you have broad shoulders.
19. Warm Coat or Jacket 
Autumn weather is unpredictable; there can be days of clear weather or endless rain. However, the city is full of earthy tones and autumn colors. Pack a warm jacket or coat to stay cozy while admiring the autumn beauty and colorful tree leaves.
Autumn is also an amazing time for cool photoshoots. Pair the light-colored coat or jacket with jeans of darker shades, like khaki, black or dark blue. To protect yourself against the rain and the wind, pack a jacket that is also water and windproof. 
Discover the 15 best affordable jackets and coats made in Italy.
20. Fleece Leggings 
Pack a pair of fleece leggings if you plan to visit Amsterdam from late autumn to early spring. Go for soft and light fleece leggings to wear under your pants. 
There can be a strong cold wind, so to enjoy walking outside to the max, layer with fleece leggings. Even though the weather in this period is not great, the accommodation and flights are generally cheaper, so it is still worth the visit. Just be prepared and pack the right items, and a great trip is guaranteed. 
 Check out cute winter outfits to pack for your next trip to Europe.
Was this article helpful to you? Please tell us what you liked or didn't like in the comments below.
About the Author: Gohar Davtyan