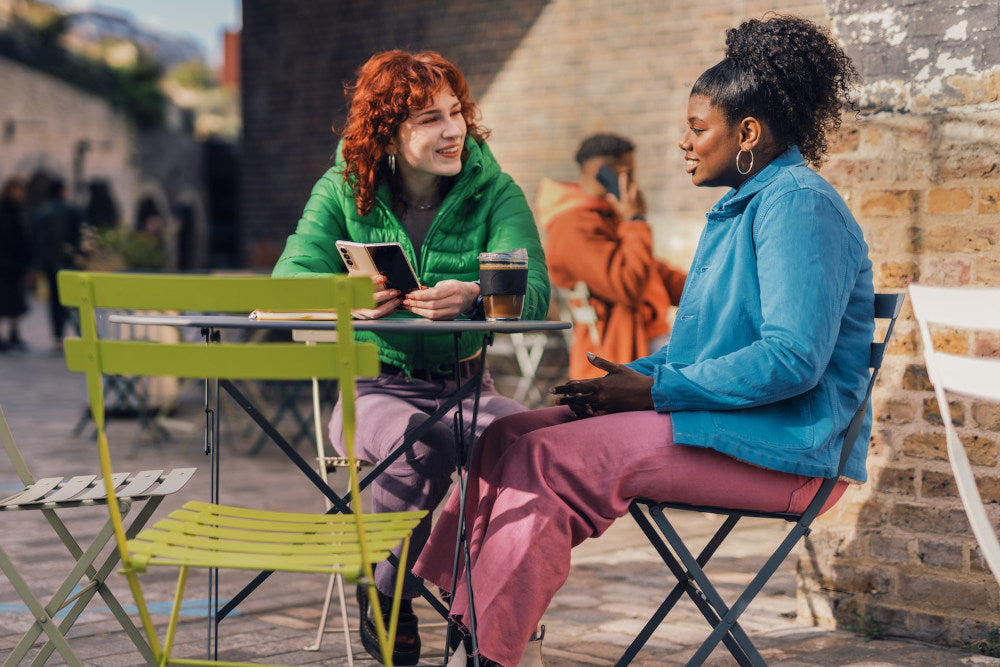 15 Best Outfit Ideas For Temperatures of 20 Degrees Celsius
Temperatures of 20 degrees Celsius are usually considered warm. They are typical transitional mid-season temperatures for many countries. Mornings and evenings during this period are chilly, and days are often pleasant and mild.

A significant study of more than 1.6 million people showed that the temperature that makes us the most agreeable, emotionally stable, and open to new experiences is 22 degrees. And being so close to the commonly approved ideal climate, temperatures of 20 degrees will make you feel comfortable.
Ideal fabrics during this period will be cotton, satin, acrylic, denim, faux leather, suede, and lightweight polyester fleece.

Keep reading and get inspired by our 15 best outfit ideas for temperatures of 20 degrees Celsius.
Panaprium is proud to be 100% independent, free of any influence, and not sponsored. We carefully handpick products from brands we trust. Thank you so much for buying something through our link, as we may earn a commission that supports us.
1. Suede over-the-knee boots and shorts
The combination of shorts and boots is original and chic. Forget the idea that shorts are for summer and boots are for winter. Wear them together to achieve a sophisticated urban look.
There's just something special about the boots breaking up the long silhouette created by the shorts. Not to mention, it also puts the top of the boots on full display.

A cute variation is to wear over-the-knee boots with shorts. Complete the look with a sweater that falls slightly loose on your silhouette. This combination will give the illusion of your legs being longer and thinner.
Find your favorite over-the-knee boots from our 20 Best Vegan Long Knee-High Boots list.
2. Semi-casual look with jeans and a coat
Achieve a semi-casual look by wearing jeans with a coat. This outfit works perfectly in many social and work events and looks elegant.

Combine the pieces of your outfit in the same hue for a polished look, or add a color-blocking effect for a personalized look.
Check our list of the best Italian-made jackets and coats for more inspiration.
3. Wear a mid-season jacket
You will certainly need to take a jacket if you go out in 20 degrees climate. Mid-season jackets will be your best choice for this weather. They are designed to offer a slight boost in warmth without adding a lot of extra bulk.

We love this combination of a bomber jacket and wide-leg pants. This popper style with double pocket detail is the best choice for an effortless casual outfit. The classic and neutral hue will go with everything in your existing wardrobe.
4. Mini skirt with a blazer
Mini skirt in tweed with a slightly flared shape and high waist, long sleeve turtle-neck crop top, and a blazer – we love this combination! Complete the look with transparent tights and high heels or loafers. This outfit will give you a refined and sophisticated look.
Check our list of affordable and sustainable blazers made under high social and environmental standards here.
5. Total vegan leather look
Nothing gives a luxury and edgy elegance as your vegan leather jacket and pants. You can wear a vegan leather jacket with practically everything – from jeans to suit pants, skirts, jumpsuits, etc.
You can also match it with a pair of faux leather pants. However, remember to pay attention to the fit of the pants and wear them slightly loose on your legs to avoid the "Catwoman" look.
Get to know the best fashion brands and clothing designers for faux leather pants made under high social and environmental standards.
6. Velour dress for finesse
Velour is soft and comfortable to wear. It is a pile knit fabric and is very durable. An important note is that due to the small production of velour fabric every year, the overall environmental impact of this fabric is minimal.

Add tights and ankle boots to a loose, boho-style midi dress for an easy mid-season outfit.
7. Ankle boots, jeans, and a cotton shirt
Ankle boots are great for mid-season weather and temperatures of 20 degrees. They look great with skinny or cropped jeans as they hit just above your ankle.

To add a personalized touch and texture to this outfit, match it with a brushed cotton shirt. Due to its exceptional insulation capabilities, brushed cotton is ideal for changeable weather conditions. And if you like patterned shirts, there is no better material than brushed cotton.
Find your favorite vegan ankle boots here.
8. Long sleeve dress with a blazer
Dresses are a must in every woman's wardrobe, and if you love mini dresses, don't wait until the summer to put them on. Feel warm and sexy wearing a long sleeve mini dress with a blazer and tights. We find A-line shapes the most flattering, while the blazer will add some authority to the final look.

The outfit will look stunning with almost every type of shoe – ankle boots, heels, knee boots, loafers, pointed-toe shoes, etc.
9. Vests look cool
Vests are ideal for mid-season temperatures as they add a snug feeling to your outfit. There are multiple types of vests and many ways to style them, so you will find it easy to add them to your casual and elegant outfits.

A sweater vest best matches a button-up shirt or a polo shirt, a quilted vest can be worn as outwear, and a fitted vest is suitable in formalwear.
Buy beautiful eco-friendly and cruelty-free sweater vests here.
10. Buy rain boots
Rains are typical during transitional months and temperatures of 20 degrees. For this reason, rain boots will be an inseparable piece of your outfit.

They come in different styles, colors, and designs, and we are happy to say that rain boots are not only known for their practical uses but also as a fashion statement.
Check out our selection of the best affordable, sustainable, and vegan rain boots made under the highest social and environmental standards.
11. Add a stylish touch with a poncho
We are sure a poncho is not the first clothing that pops up in your mind when we choose mid-season outfits. But we can assure you it looks great if you follow our tips and balance it well with the rest of the clothes.

Wear a poncho over a sweater for a polished look. If the situation permits casual styling, wear a tan poncho and light blue flare jeans. Make a style statement with a short-length poncho, black leggings, and knee boots. Finally, if you don't like the poncho's oversized shape and want to accentuate your waist, style it with a belt.
12. Long-sleeve jumpsuit for an easy outfit
Jumpsuits are there to accompany every season and temperature. А good idea for temperatures of 20 degrees Celsius is a long-sleeve jumpsuit.

Jumpsuits are also suitable for every occasion, from office attire to easy vacation outfits.
When you are in shortage of time and fantasy, do not hesitate to put on your favorite long-sleeve jumpsuit. Your style will look polished and complete just like that.
Take a look at the 20 Best Affordable And Sustainable Jumpsuits.
13. Wear a trench coat or a waxed jacket
Trench coats are versatile, practical, and lightweight to layer. They are best for transitional temperatures as well. Thanks to its timeless details and neutral color palette, your outfit can never go wrong with it.

For rainy days, however, go for a waxed jacket. Waxed jackets are made of cotton, saturated with paraffin wax, which provides waterproof protection to the wearer.
Here is our list of the 10 Best Affordable And Sustainable Waterproof Jackets, take a look.
14. Dress in layers
Atmospheric conditions play a high impact on temperatures of 20 degrees and on how we perceive them. Wind and humidity can make us feel cold, even though temperatures of 20 degrees Celsius are considered warm. On the other hand, if it's clean and sunny, you might feel hot. For this reason, it is a good practice to dress in layers, so you can effortlessly adapt to these changing conditions.
15. Wear a headscarf
Conservative, rebellious, and culture-defining, the headscarf has become a favorite accessory of many women. And there is no doubt you get noticed when wearing a headscarf.

We love the Hollywood glamour look of a headscarf and sunglasses. Give it a try with a soft satin colorful scarf and your favorite sunglasses. 
Was this article helpful to you? Please tell us what you liked or didn't like in the comments below.
About the Author: Iana Jekova