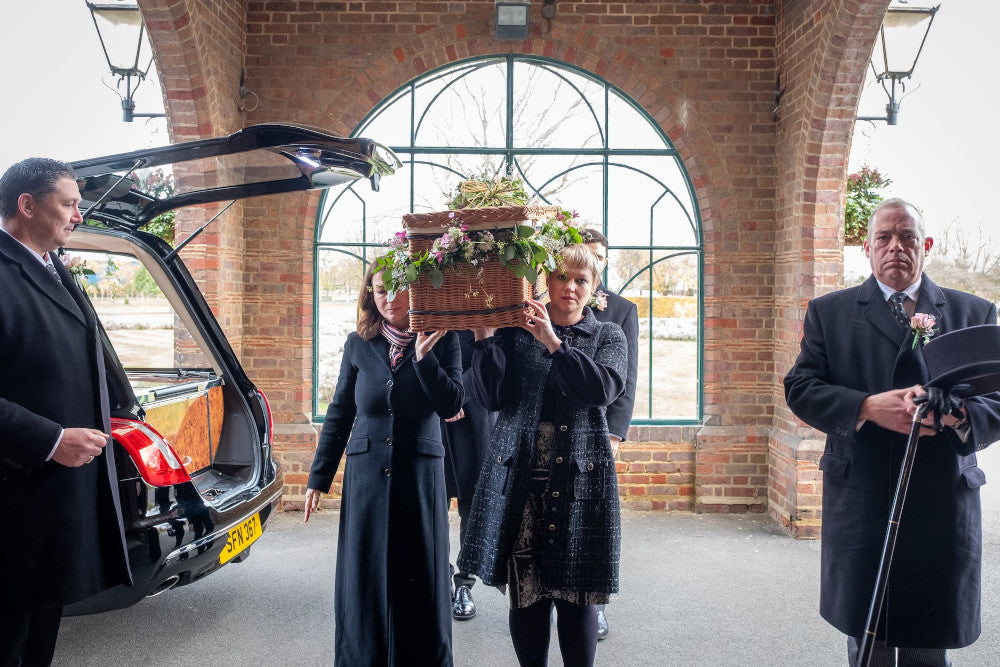 22 Best Dependable Outfits to Wear to a Funeral
In Western cultures, traditional funeral attire for guests and family members consists of a formal black outfit like a knee-length dress paired with a blazer or a black suit and tie. Other cultures traditionally require guests to wear white or yellow clothing to a funeral. The best way to show respect as a guest at any funeral is to wear formal, modest, clothing in a muted color.
In some cases, the family of the deceased might hold a celebration of life or a wake instead of a traditional funeral. Special services like this could require a different dress code such as vibrant colors or more casual shirts and jeans. The funeral invitation will often provide these details.
Panaprium is proud to be 100% independent, free of any influence, and not sponsored. We carefully handpick products from brands we trust. Thank you so much for buying something through our link, as we may earn a commission that supports us.
Black Clothing
The ideal outfit to wear to most funerals is black clothing in a conservative cut and style. In the Western world, black represents the color of mourning--or at least, it has since the Victorian era, when the British empire turned mourning into a fashion statement when Queen Victoria's husband passed away. 
Look for an outfit like a knee-length black dress, a black two-piece suit, or a black sweater with a high neck and black slacks. Most funerals have a solemn, formal air which makes wearing more formal clothing appropriate, too. 
Another way to think of this is that you want to find black clothes in a style formal enough that  you could wear them to most office workplaces. Take a look at these easy tips to dress well in the office to get ideas!
White Clothing
In some cultures such as much of Chinese culture, white serves as the color of mourning. This means that wearing a conservatively cut white outfit may be more appropriate than wearing lack to a traditional Chinese funeral. That said, if you do not have a Chinese heritage, you can safely express your respect by wearing black as well. Just avoid wearing red, as the color red indicates celebration in Chinese culture.
Respectful white outfits to wear to a traditional Chinese funeral can include a knee-length white dress with long sleeves or a white suit with a tie.
Do you have the perfect white dress, but it's showing signs of yellowing? You can find 10 easy ways to whiten your clothes without using bleach here!
Yellow Clothing
In other parts of the world, yellow symbolizes mourning, making it more appropriate to wear a yellow outfit to a funeral. In Egypt and Sudan, for instance, yellow indicates the concept of rebirth, and many funeral-goers will wear a respectful yellow dress or suit to represent this concept.
If you know the family of the deceased, it is a good idea to discretely inquire about appropriate attire before attending a funeral held in this style. This way, you can select an outfit that will demonstrate your respect for the person who passed.
A few great outfit ideas could include a suit in a pastel shade of yellow or a skirt and sweater combo. If you need outfit ideas to wear to a winter funeral, check out this list of 12 cute and feminine winter skirt outfits. 
A Suit
You can never go wrong with a formal black suit at a funeral. In most cases, both men and women can safely wear this traditional attire. For women, wearing a skirt suit may look more traditional than wearing a pantsuit.
The only exception here is that funerals held at some super-conservative religious institutions may frown on women in pants suits. In this case, go for a demure black dress instead--a funeral is a time to respect the grieving process of the bereaved family, not to make a feminist or fashion statement.
Click here to learn about affordable and sustainable suits for men and women!
A Skirt and Sweater
If you do not own a formal black dress, try pairing a high-necked black sweater with a black or neutral-toned skirt instead. Wearing a sweater looks a little less formal, but you may feel more comfortable in a warm, layered outfit, especially if part of the funeral takes place outside.
When you pick a skirt to wear to a funeral, look for one with a hemline that reaches at least to your knee, or to a midi or full length. Wearing extra-modest clothing to a funeral is a way to show that you are there to honor the departed, not to draw attention to yourself.
You can find a great selection of affordable, sustainable sweaters made in the USA here!
Blazer and Slacks
If you anticipate that the funeral may have a more casual service, you might want to wear a blazer, dress shirt, and slacks rather than a formal suit. This outfit works for both men and women and allows you to mix and match from your wardrobe rather than sticking with a matching suit jacket and pants.
This is also a great solution if you do not own a black shirt or black pants. Wearing a black blazer on top of your shirt provides the appropriate somber tone to your outfit.
Looking for a new blazer? Check out this article to learn about 20 ethical and sustainable blazers.
Dress Shirt with Belted Pants
In some cases, you can wear an even more informal outfit like a black dress shirt and slacks with a nice buckle. Making sure you wear a crisply pressed black dress shirt beneath your jacket works especially well if you plan to attend a wake following the funeral, where you may want to dress down and feel more comfortable.
Speaking of belts, you should thoughtfully select any accessories for your funeral outfit by avoiding anything too blingy, glittery, or loud. Jangling earrings or a bedazzled purse usually do not paint a mournful picture.
If you need a vegan alternative to a leather belt, check out this list of the ten best ethical and vegan belts for men.
Black Sheath Dress
One of the most traditional outfits women wear to a funeral is a black sheath dress paired with a black cardigan or blazer.  Look for a dress that has a modest neckline and no cutouts or peekaboo shoulders. Ideally, you should wear a dress that has sleeves, but you can cover up your bare shoulders with a sweater or jacket if you have a nice sleeveless sheath dress, too.
If you don't own a simple black sheath dress, check out this list of the 20 best sustainable and affordable black dresses.
Black Wrap Dress
Another traditional black dress style for a funeral is the classic wrap dress. Many wrap dresses feature a V-neck style, so make sure yours does not plunge too deeply or display cleavage. You may want to wear black pearls or a small gold necklace with your wrap dress, too.
If you're in the market for a new dress, check out this list of the 20 best affordable, ethical, fair trade dresses!
Jump Suit
A jumpsuit with full pant legs and a modest neckline offers a great solution for anyone who doesn't want to conform to the traditional female dress code of a black dress at a funeral. You may also want to wear a jumpsuit to embrace a fashion-forward style without wearing anything edgy, low-cut, or brightly colored.
Just like with a black dress, a great way to make your jumpsuit look more formal and respectful is to wear a black blazer with it. 
You can find 20 affordable and sustainable jumpsuits to consider here.
Closed-Neck Shirt
As you pick a shirt, sweater, or dress to wear to a funeral, look for garments with high necklines or buttons you can close. Closed-neck shirts with a tie look more formal than an unbuttoned collar. Likewise, a sweater with a turtleneck or a neckline that reaches over your collarbones looks more modest than a sweater with a plunging V-neck.
Finding an outfit with an appropriate neckline is a good idea for a funeral, as some religious services may require kneeling in prayer or bending over to place a flower on the coffin.
Do you need a new dress shirt? Take a look at the 15 best ethical button-up shirts here.
Modest Style
No matter what style of funeral you plan to attend, you should pick an outfit with a conservative or modest cut. This means hemlines that reach your knee or lower, necklines that do not display cleavage or your chest tattoos, and garments that don't hug your form too tightly.
Obviously, there is nothing wrong with celebrating your body and embracing sexier styles in your personal life, but at a funeral, you are mourning, not celebrating. This is why it is more traditional to wear clothes that cover most of your body at a funeral. 
If you don't feel sure what a "modest" outfit means, try thinking of your funeral outfit as something you could safely wear to work. If you need some tips, check out this list of the 20 best affordable and sustainable work clothing brands.
Formal Footwear
It makes sense that you should pair formal footwear with a formal funeral outfit. For guys, this can mean wearing loafers or polished dress shoes. For women, closed-toe shoes like flats make a good choice. You often have to walk outside as part of a funeral service, which can make heels uncomfortable.
Your dress shoes do not need to match your black outfit. Polished loafers in a neutral shade like brown will look just fine.
If you need some help finding ethical footwear, check out this guide to 30 brands selling ethical and vegan shoes.
Pea Coat or Trench Coat
If you attend a funeral during the winter, you will want to add a dressy coat to your funeral outfit. Coats styles like pea coats or trench coats will work well. If you have a dressy black coat, wear it by all means! If not, any coat in a solid brown, olive green, or navy blue will work, too. You can even wear a coat with a muted pattern such as a plaid if you pair it with a black outfit.
You can find ten affordable and sustainable trench coats to consider here!
A Muted Tie
Most formal outfits for men require a suit and tie, and funerals are no exception, You can't go wrong by dressing up for this somber occasion. That said, you definitely can go wrong by picking a brightly colored or boldly patterned tie! Instead, select a tie in a shade of black that matches your suit, or in a muted color or pattern that does not draw a lot of attention.
If you need some help picking the right formal style and understanding muted colors, take a look at this definitive list of 44 different clothing styles to get some ideas.
Black Umbrella
For funerals that include driving to a cemetery or outdoor location, you should always bring a black umbrella. You need to plan ahead here because it does not look good to scramble for the pink polka-dot umbrella you left in your car if it starts to rain during the service!
Besides keeping yourself dry under your somber black umbrella, preparing with the umbrella gives you the opportunity to protect older relatives or friends who may not have thought to bring an umbrella with them.
You can even take this a step further by checking the weather and wearing a black raincoat like these affordable and sustainable raincoats.
Simple Sunglasses
You probably know that you should not wear sunglasses to an indoor religious service such as a funeral, but you should bring your shades with you in a purse or pocket to don for the funeral procession to the cemetery. Just make sure you have plain black sunglasses, not neon green frames!
Can you wear sunglasses during an outdoor funeral service? Not everyone agrees on this subject, so judge the appropriateness by glancing around to see what other guests do at a bright and sunny outdoor service.
If you haven't freshened up your sunglass collection lately, take a look at the 15 best affordable and sustainable sunglasses here!
Religious Head Covering
Another accessory you may need at some funerals is a religious head covering. Some religious institutions require men, women, or both men and women to cover their heads when entering a place of worship. 
Whether or not you belong to that religion, you should bring a scarf or hat with you to place on your head before entering the building. It is a good idea to check with the family of the deceased or look up the guidelines for this style of religious service ahead of time, so you can prepare with respectful headwear.
You can take a look at 15 affordable, sustainable hat brands here.
Olive or Navy Shirt
If you don't own a formal black outfit, don't feel bad wearing a respectful, formal outfit in another color. Try to pick neutral or muted colors like navy blue, olive green, or pastels as replacements for black. Or pair one black item such as a black dress or black blazer with other garments in plain shades.
You can always shrug on a black cardigan over your muted dress shirt, too. Take a look at the 20 best affordable and sustainable cardigan options here!
Muted Plaid Jacket
A plaid jacket, blazer, or trench coat can take the place of black outerwear if you do not own any. The key to dressing appropriately for a funeral is really to wear an outfit with the right level of formality that shows your respect for the solemn occasion. A plaid jacket can look quite formal and dress up your outfit to the appropriate conservative style.
If you don't already own a good-quality jacket, take a look at the 15 best affordable and sustainable jackets made in Italy here.
Bright Colors for Life Celebration
Sometimes the family of the departed chooses to host a "celebration of life" service instead of a traditional funeral. This is a modern way to bring together everyone who cared for the person who passed. These services often have a joyful, vibrant tone instead of a solemn and mournful air.
Because of this, the family may ask guests to wear brightly colored clothing to the service. This gives you permission to wear a special outfit you know the person who passed would have liked.
If you want to get really colorful, you could even tie-dye a vivid outfit by following these steps to easily tie-dye fabrics with natural dyes!
Dress Uniform
One big exception to most funeral attire rules is military or police dress uniform rules. If you belong to an institution that provides dress uniform attire, you may want to wear your uniform to the funeral as a sign of respect. This is especially true when attending a funeral service for a military veteran or someone belonging to a police, firefighting, or coast guard service.
The good news here is that every agency will have clear guidelines telling you when you should and should not wear your uniform in public. Plus, if you do wear your dress uniform, you will not need to buy a black suit in order to look respectful.
If you need more input on appropriate dress codes, take a look at this list of 34 dress code styles.
Was this article helpful to you? Please tell us what you liked or didn't like in the comments below.
About the Author: Hannah Cobb