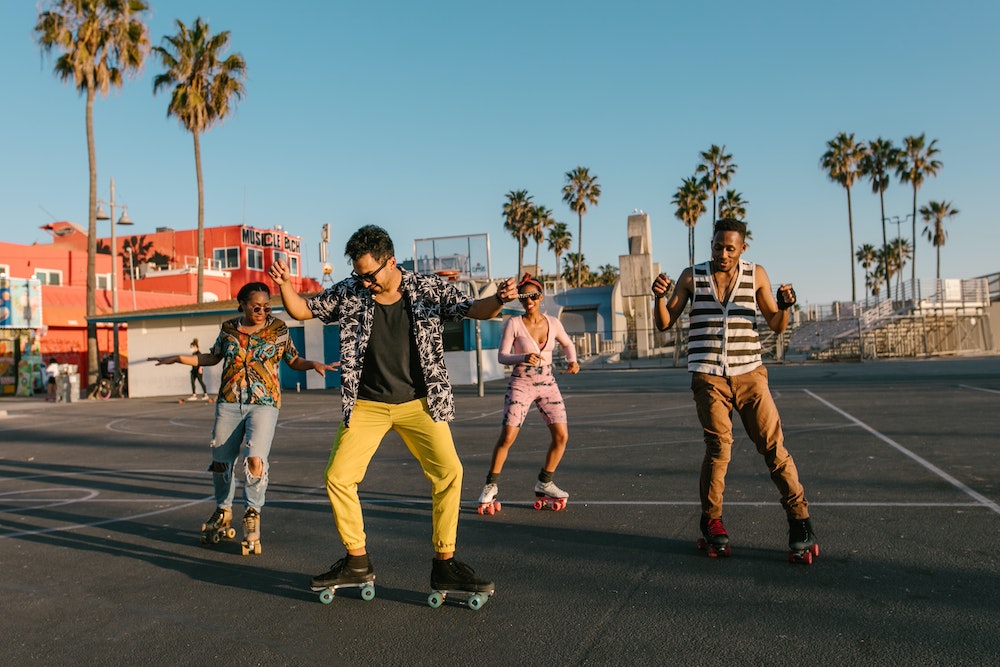 15+ Outfit Tips For Looking Good At Venice Beach, California
Venice Beach, California offers culture, street performers, sporting activities and the opportunity to strut along a boardwalk and show off your fashion. It's a vibrant and eclectic destination known for its laid-back atmosphere, artistic spirit, and stunning ocean views. 
By embracing the casual yet cool atmosphere of the area and incorporating vibrant colors, lightweight fabrics, and trendy accessories, you can create the perfect outfits for your time in this iconic California destination. So, pack your tie-dye shorts, your favorite shirt, and don't forget statement sunnies as you embark on a beachside adventure in Venice Beach.
In this style guide, we'll take a closer look at the perfect outfits for women and men to wear while visiting this iconic place.
Panaprium is proud to be 100% independent, free of any influence, and not sponsored. We carefully handpick products from brands we trust. Thank you so much for buying something through our link, as we may earn a commission that supports us.
Tie Dye Shorts
Embrace the colorful and carefree spirit of Venice Beach with a pair of tie-dye shorts. These vibrant shorts, featuring a mix of lively hues, are not only super cute but also a perfect fit for the bohemian atmosphere of the area. 
Pair them with a simple white tee and comfortable sneakers for a fun and free-spirited look. Or slip into some roller skates and get rolling along that boardwalk like a Venice Beach native.
Here are 20 special tie dye pieces we know you'll love.
Denim Hot Pants
For a casual and beach-appropriate look, opt for denim hot pants. These shorter-length denim shorts offer a relaxed and carefree vibe that aligns perfectly with the beachfront environment. 
Combine them with a lightweight tank top and flip-flops for a comfortable yet fashionable outfit.
Check out these best and affordable denim shorts.
Shirt Over Vest
Achieve a relaxed and effortlessly cool day-to-night fit by layering a loose-fitting shirt over a simple vest. This ensemble exudes a laid-back beachy vibe while keeping you comfortable and stylish.
Pair it with chinos and sneakers for an easygoing stroll along the boardwalk. 
Take a peek at these Italian-made shirts for men and women.
Cropped Jeans and Shirt
Combine comfort and style with a pair of cropped jeans and a lightweight shirt. The cropped jeans offer a contemporary twist, allowing you to showcase your sneakers or sandals. 
This outfit is perfect for strolling along the boardwalk, enjoying the beach breeze, and exploring the local shops.
Check out the best sustainable and affordable jeans now.
Bright Swimsuit
Don't shy away from bold colors! Choose a bright and eye-catching swimsuit that reflects the vibrant energy of Venice Beach. 
Whether you're catching waves or lounging by the shore, a colorful swimsuit will ensure you stand out while enjoying the sun and surf. Pick one with fun animal prints to lean into the beach party vibe.
Here are some stunning recycled swimsuits for you to pick from.
Bardot Top and Skirt
Channel a cute vintage look with a bardot top and a long skirt. The bardot neckline adds a touch of elegance, while the skirt keeps your look casual and relaxed. 
This combo is perfect for a beachside meal or exploring the local art scene.
Ever wondered if guys like women in revealing clothes, then check out our blog.
Linen Suit
Elevate your style with a sophisticated linen suit that keeps you looking polished while allowing you to stay cool under the California sun. 
You could wear light pastel shades like beige or light blue to complement the beachy ambiance. Or opt for a striped number to add a splash of fancy.
Check out these stunning suits for men and women.
Sun Hat
No matter if you're a man or woman, shading from the sun is important. Protect yourself from the rays with your hat of choice, whether it be a fedora, a straw hat or baseball cap.
This accessory completes your outfit with a fab flair and provides much-needed shade during your Venice Beach adventure.
Here is our top selection of hats.
Sundress
Ladies, if you want to nail a laid-back and comfortable beach look, wear a stylish sundress that reflects the easygoing vibes of Venice Beach. 
The sundress offers a versatile and carefree outfit option, perfect for exploring the boardwalk or enjoying beachfront cafes. In 2023, we are being encouraged to enjoy our soft girl aesthetic, so the sundress is the perfect place to start.
Find your fave sundress right here.
Linen Shirt
Stay cool and stylish by wearing a breathable linen shirt. The lightweight and airy fabric of the linen shirt makes it a go-to choice for the beach. 
Pair it with comfortable shorts and espadrilles for a relaxed yet refined appearance.
Here are 20 easy style tips for men to dress well.
Light Hoodie
As the evening sea breeze rolls in, a light hoodie is the perfect layering piece. Choose a hoodie that compliments the sandy colors, or if you're feeling funky you could opt for one with a beachy print or a vibrant color to match the atmosphere. 
Whether you're watching the sunset or enjoying beachside bonfires, a light hoodie adds comfort and style.
Build your look by perusing these excellent clothes to wear over a hoodie.
Shorts and Tank
Keep it simple and casual with a classic combo of shorts and a tank top. This no-fuss outfit is ideal for soaking up the sun, engaging in beach activities, and taking leisurely strolls along the coastline.
Pair with your fave sneakers or sandals to live the California dream.
Check out these cute cotton shorts for men and women now.
Fun Shirt
Embrace the artsy and eclectic atmosphere of Venice Beach by wearing a fun and quirky shirt.
Choose a design that reflects your personality and adds a funky flair to your look. Whether it's a graphic print or a playful pattern, a fun shirt adds character to your outfit.
Here is our blog on nailing an artsy style.
Statement Sunnies
No seaside stroll is complete without a pair of killer sunnies, so why not complete your Venice Beach look with a pair of statement sunglasses. 
Choose shades that not only protect your eyes from the California sun but also add a bold and stylish element to your outfit. Oversized frames, reflective lenses, or unique shapes can elevate your beach style and make you stand out from the crowd.
We've compiled a cute selection of affordable and sustainable sunglasses.
Sneakers
Comfortable footwear is a must for exploring Venice Beach. Step into trendy sneakers that allow you to walk along the boardwalk, boss any beach activities, and explore the local attractions. 
Choose a pair that suits your style, whether it's classic white sneakers, skate shoes, or sporty designs.
Take a look at these hot and sustainable sneaker brands from Europe.
Sliders
For a laid-back and beach-friendly look, slip into a pair of sliders. These comfy sandals are perfect for strolling in the sand, enjoying the sea breeze, and taking in the stunning ocean views. 
Choose sliders with a touch of personality, such as bold colors or textured materials, to enhance your beachside style.
Here are 20 cute beach date outfits.
Was this article helpful to you? Please tell us what you liked or didn't like in the comments below.
About the Author: Catriona Jean