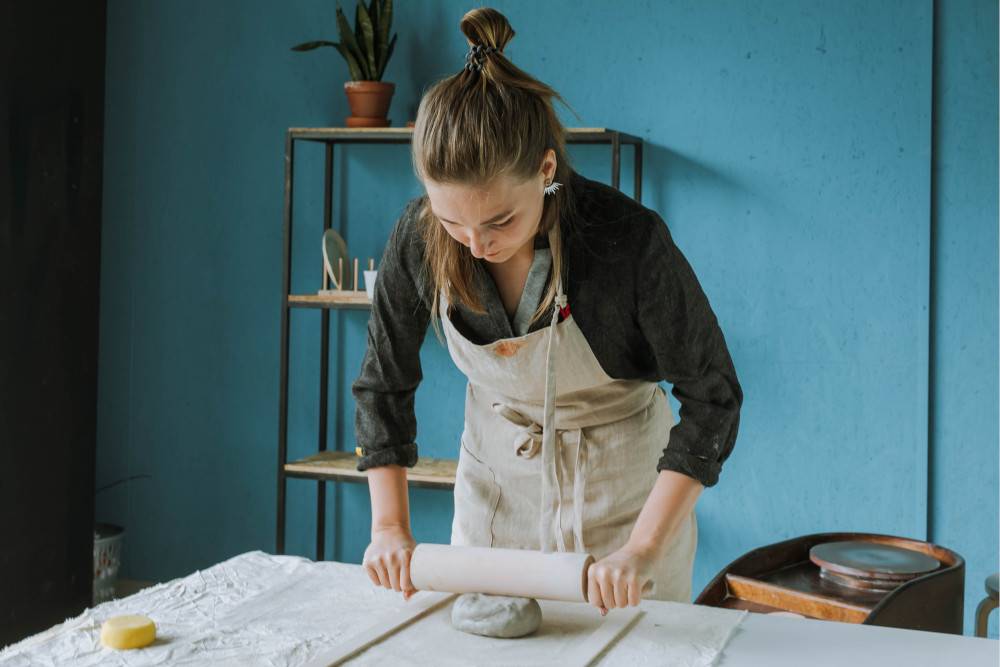 What To Wear To Pottery Class (12 Best Outfits And Tips)
The best way to get dressed for pottery class is to put on stylish and original outfits that you love and feel comfortable wearing. Clay can get everywhere, so wear old clothes that you can get dirty and wash.

Choose fashionable yet practical pieces that you can easily combine into different outfits for an easy, effortless, creative look. Craft contemporary or vintage-inspired looks from everyday casual wear.

To help you have fun and enjoy your pottery class while looking fabulous, here are some of the best outfits and style tips to get ready.
Panaprium is proud to be 100% independent, free of any influence, and not sponsored. We carefully handpick products from brands we trust. Thank you so much for buying something through our link, as we may earn a commission that supports us.


Comfortable clothes


If you want to dress well for a pottery class, don't put on clothes that don't fit right. Otherwise, you might damage the garments and feel uncomfortable. You also risk losing style and elegance.

Wear clothing with the perfect fit that allows maximum comfort and freedom of movement. You should be able to express yourself and move freely with some added protection while working clay in your original potter outfits.

Don't wear clothes that are too small or too big if your want to look and feel your best. Instead, choose well-fitting garments and comfortable clothing that fits you properly.




Oversized shirts


Put on well-cut, oversized shirts and show off your sense of style with classic and roomy tops that allow you to move effortlessly. Choose durable and high-quality premium shirts that look better and last longer.

Here is our selection of affordable and sustainable shirts made from hemp that will help you look fabulous and stand out for pottery class.




Original outfits


Fashion is the ultimate form of self-expression. Don't hesitate to let your personality shine through your original outfits. Focus on what feels good to you to look great and dress stylishly for a pottery class.

You'll look and feel much better if you avoid any clothing that makes you uncomfortable. Break away from the norm and set new rules by making every outfit you wear your own.

You can take inspiration from others but craft unique outfits just for you according to your fashion style, personality, and preferences.

Harem pants


Wear lightweight, stylish harem pants as they fit every outfit for a pottery class. They are super fashionable and help you look fabulous effortlessly. Choose oversized and loose-fitted pants to craft comfortable looks.

Here is our selection of the best harem pants that are relaxing, affordable, and sustainable.




Vintage clothing


Vintage clothing is a staple for the pottery class and a great addition to any wardrobe. Choose pre-loved or second-hand items that help you look stylish and feel comfortable.

Vintage or retro fashion is an easygoing and effortless solution to craft an attractive potter outfit. Colorful, stylish, used clothes exist in many colors, fabrics, and patterns.

They help you dress creatively and look sharp in vintage-inspired outfits. Choose lightweight, breathable, and comfy pieces to create everyday looks and express your creativity.

Vintage fashion offers a wide choice of stylish and affordable potter outfits. Craft fabulous looks with original vintage pieces found at resale shops, thrift stores, and consignment stores.


Denim overalls


Denim dungarees and overalls are the ultimate fashion statements to create on-trend outfits for the pottery class. They are highly comfortable, easy to wear, and protective while working with clay.

Check out our selection of sustainable dungarees and overalls.


Bold colors


Wear bright colors to instantly stand out, look more attractive, and be more confident. If you pick the perfect combination of colors for a pottery class, you'll improve your style, dress better, and look great.

Choose a few colorful pieces to add a twist to your wardrobe and improve your look by giving a particular nuance to your potter outfits. Craft unique looks that heavily differentiate from the norm.

Colorful clothes make you look younger and have fun with your outfits. Most people avoid bright colors as they are hard to pull off without looking like a total mess.




Potters aprons


Aprons are beautiful staples of the classic outfit for working in art and pottery studios. They prevent clay and dust from spoiling your clothes throughout your day.

Put on a classic tailored shirt under your apron to make a statement and show style. Make sure all pieces fit you right and prefer darker colors that match the rest of your outfit.


Wide-leg trousers


Wide-leg pants and jeans are ideal for dressing well and a staple for pottery class. They make comfortable and fashionable outfits that stand the test of time.

Create beautiful and trendy looks with these flattering and popular pants that offer generous leg room and ultimate comfort. They make it easy for you to put together a contemporary outfit with modern pieces.

Here is our selection of affordable and sustainable wide-leg pants.


Sweat shorts


Lounge shorts are very easy-to-wear pieces to embrace a chill vibe. They are some of the most adorable, stylish garments you can put on look fantastic and feel comfortable for a pottery class.

Ultra-soft, gorgeous sweat shorts help you look fabulous and relax and are a staple for potter outfits. You can pair comfy shorts with a classic shirt or a tee for a fresh and modern look.

Here is our selection of affordable and sustainable sweat shorts.




Old sweaters


Add a gorgeous, colorful, creative jumper, sweater, or pullover to your pottery class outfit to dress well and feel great. They are perfect for crafting original, visually stimulating looks.

Check out our selection of the most affordable organic cotton sweaters made under high standards.




Boyfriend jeans


Boyfriend jeans are a staple and the perfect addition to any modern wardrobe. You can pair them with a colorful shirt to look great in a highly creative outfit for a pottery class.

Buy a great pair of boyfriend jeans from sustainable denim brands that use ethical and eco-friendly production processes.
Was this article helpful to you? Please tell us what you liked or didn't like in the comments below.