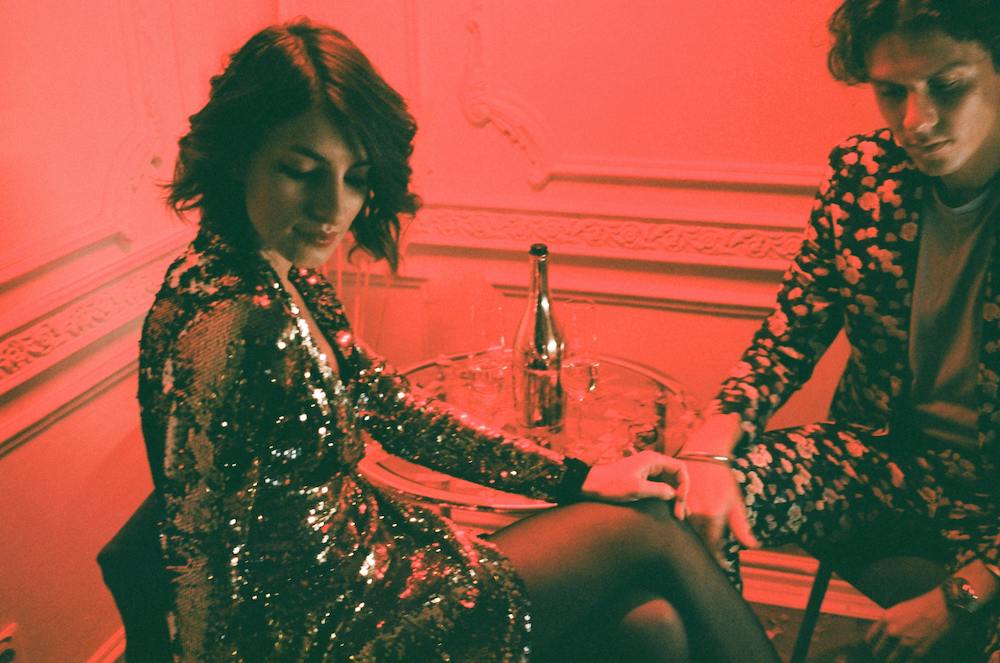 10+ Stellar Outfits to Wear to Omnia (Plus Tips & Tricks)
Omnia is one of the hottest nightclubs in Las Vegas.
Whether celebrating a bachelorette party, seeing a famous DJ perform, or simply going out for a good time, Omnia is the place to be seen on the Vegas Strip. 
Obviously, you want to dress to impress.
Many first-timers wonder what to wear because Omnia is notorious for its vague yet strict dress code. As we all know, there's nothing worse than getting turned away at the door. 
Have no fear. We're here to help with outfit ideas, tips, and tricks. Follow these guidelines on what to wear to Omnia, and you'll surely have the night of your life. 
Panaprium is proud to be 100% independent, free of any influence, and not sponsored. We carefully handpick products from brands we trust. Thank you so much for buying something through our link, as we may earn a commission that supports us.
Omnia Dress Code
Omnia clearly states that their dress code is "upscale nightlife attire." So, if you think you're underdressed, you probably are. 
Don't hold back when getting dressed for Omnia. Think smart business casual with more of an edge. Dress shoes, heels, slacks, and dresses are essential. 
Despite Omnia's strict dress code, it's important to remember to have fun when planning your outfit. A night out at Omnia is one to remember, so experiment with mixing and matching evening wear, club attire, and fun silhouettes. 
A Cocktail Dress
A cocktail dress is a safe go-to for any night out at the club. Cocktail dresses come in a ton of different cuts and silhouettes, so you can easily find one that makes you feel confident and sexy. 
Wear a knee-length cocktail dress with simple black heels for a classic look, or get creative with an elaborate embroidered mini dress for an extra "wow" factor. 
Find your perfect dress by renting one from a nearby designer rental service.
A Mini Dress & Blazer
A mini dress with a blazer is a sexy way to incorporate a business casual vibe into your Omnia look. 
The trick to this outfit is pairing your dress with a blazer that hits right at the hemline or a bit below. This creates a sexy silhouette that shows off your legs. 
Pair your outfit with knee-high boots, strappy heels, or flats.
Explore our selection of sustainable blazers to find your best fit.
A Slinky Jumpsuit
A jumpsuit makes an excellent outfit if you don't feel like wearing a dress to Omnia. 
Wear a neutral-colored jumpsuit with flowing pant legs and scintillating cut-outs or a semi-sheer jumpsuit with a blazer and heels.
Check out our selection of affordable jumpsuit options.
Statement Heels
Stand out from the clubbing crowd with a stunning pair of statement heels. Think bright colors, exciting heel shapes, and sustainable designer brands. 
Pair faux suede ankle boots with a glittery mini dress, or wear chunky heels with a sexy black dress and stand-out jewelry.
Check out our favorite sustainable and vegan heels that fit right in at Omnia. 
A Bodycon Dress & Statement Necklace
Wear a bodycon dress with a statement necklace for a simple yet stunning Vegas club look. 
Wear a mini or midi dress length with heels and a bold gold necklace. You can also add a little shimmer by wearing a sequin bodycon dress with a chunky necklace.
Check out our selection of bodycon dresses that are sustainable and affordable.
A Bodysuit & Mini Skirt
Wear a mini-skirt over a form-fitting bodysuit for a sleek, feminine look. 
Create a monochromatic look with a black bodysuit and matching skirt, or go with a color-blocking aesthetic with patterns and different colors. 
Pair your outfit with heels, and you're good to go.
Explore our selection of sustainable bodysuits.
A Sleek Slip Dress
You can't go wrong with a slip dress on the Vegas Strip. This slinky, sexy dress style is perfect for Omnia because it's classy, feminine, and comfortable. 
Pair your slip dress with simple, sustainable jewelry and your favorite handbag for a classic evening look.
Explore our selection of affordable slip dresses.
A Corset, Slacks, & Heels
The key to styling an outfit for Omnia is creating a sexy look without being too revealing. A corset and slacks are the perfect combo for this type of vibe. 
Wear a sheer, ribbed corset with low-rise slacks and stilettos for a daring evening look. If you want more coverage, throw on a sleek blazer. 
Shop our selection of affordable and sustainable corsets.
A Monochromatic Outfit
Most people opt for an all-black look when visiting Omnia. While this is a classic monochromatic look, you can play with color if you feel more creative. 
Wear a matching cocktail dress, blazer, and shoes in any color for a unique club look. Pastels, neutrals, and jewel-tone colors are recommended for Omnia. 
Shimmer & Shine
Sequins, glitter, and iridescent fabrics are encouraged when it comes to dressing for Omnia. You want to stand out on the dancefloor, after all. 
Get creative with your look. You can wear anything from a black sequin dress to a sparkly jumpsuit. Whatever you wear, make sure you feel comfortable and confident.
A Collared Shirt & Slacks
Omnia has a stricter dress code enforcement for guys. Play it safe by wearing a classic button-up shirt and nice slacks. 
It's okay if you feel like you're getting dressed for the office. The more formal, the better your chances of getting into the club. 
Don't miss our selection of Italian-made shirts for men.
Dark Wash or Black Jeans
You can wear dark wash or black jeans if slacks aren't your thing.
Make sure you dress up your denim with a button-up shirt, belt, and dress shoes. You want to look dressed up with a casual edge.
Explore our ultimate list of sustainable denim brands.
Dress Shoes
Sorry, fellas. You have to leave the sneakers at home. Guys need to wear dress shoes to get into Omnia. 
Wear vegan leather dress shoes, oxfords, or boots with your outfit. This footwear style is classy, elevated, and guaranteed to get you through the door. 
Shop our selection of ethically-made dress shoes for men.
What Not to Wear to Omnia
While the Omnia dress code tends to be more lax for women than men, some outfits will get anyone turned away at the door. 
The Omnia website clearly states you shouldn't wear:
Athleisure wear:

Athleisure and loungewear is way too casual for Omnia. Leave your leggings and hoodies in the hotel room.
Swimwear:

Vegas is known for its epic pool parties, but you won't find that at Omnia. If your outfit contains even a hint of a swimsuit, management will turn you away. 
Gym shoes:

We know some pretty pricey designer gym shoes are out there. However, this footwear style is prohibited at Omnia. Unless you're a celebrity, you're not getting through that nightclub door wearing sneakers.
Was this article helpful to you? Please tell us what you liked or didn't like in the comments below.
About the Author: Liz Flynn