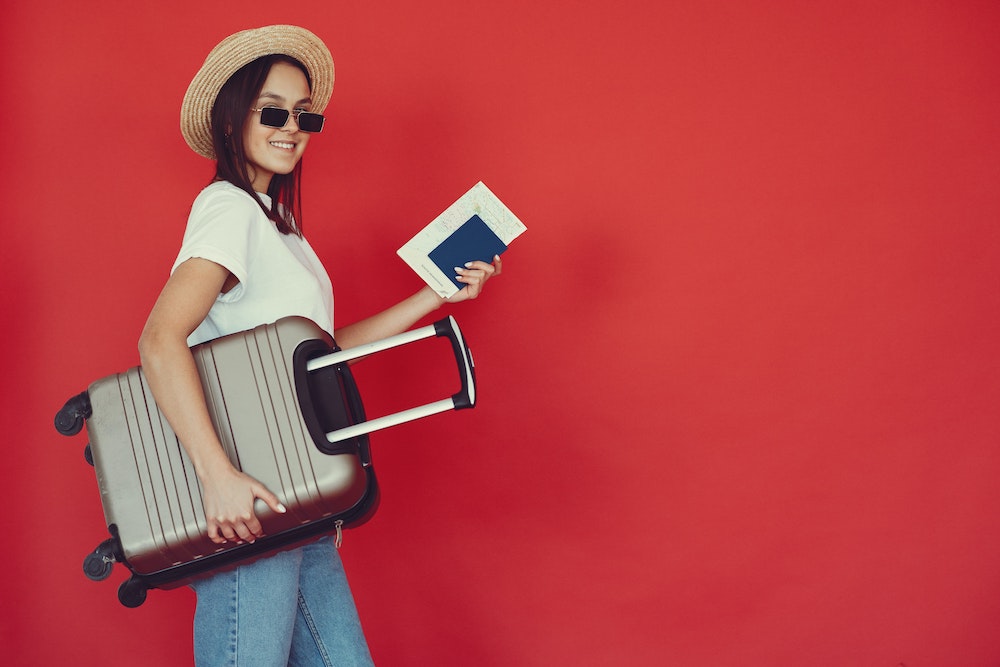 15 Unforgettable Outfits to Wear on a Cruise in June
June is the perfect month to set sail on a summer cruise. The sun is bright, the weather is warm, and summer vacation has just begun. 
But what should you wear on a cruise in June? The wardrobe options are seemingly endless. 
From breezy sundresses to casual poolside outfits, we have the best tips for what to pack on your upcoming sea adventure.
So get ready to pack your bags with these 15 stylish outfits to wear on your next cruise in June. Bon voyage!
Panaprium is proud to be 100% independent, free of any influence, and not sponsored. We carefully handpick products from brands we trust. Thank you so much for buying something through our link, as we may earn a commission that supports us.
A Nautical Dress
Embarkation day is a big deal for many cruise guests. It marks the first day you set sail on your glorious sea adventure, after all. Get into the spirit with a nautical-inspired dress. 
Wear a light, airy sundress with nautical white-and-blue stripes for a fun, sea-worthy look. Pair your dress with sandals and a straw hat so you're ready for the open seas.
Check out our selection of affordable cotton sundresses and linen dresses for the most breathable options.
A Bodysuit and Shorts
A bodysuit and shorts are an easy way to create a fun, chic cruise outfit.
Wear a black stretchy bodysuit under high-waisted black shorts for a sexy evening look. 
You can even throw on your favorite pair of shorts over a one-piece swimsuit for a fun, comfortable look that works poolside or portside. 
Shop our selection of sustainable and affordable bodysuits.
A Comfy Romper
A cute and comfy romper is the perfect summer cruise outfit. Rompers are breathable, versatile, and effortlessly chic.
Wear a floral romper with sandals and a sunhat, or create an evening look with a monochromatic romper, wedge heels, and subtle jewelry.
Check out these sustainable cotton rompers you can easily wear on a cruise in June.
A Jumpsuit and Sandals
Stand out from the cruise crowd in a summery jumpsuit and sandals. 
A jumpsuit is a fantastic outfit to wear when you get off the ship to explore. It's comfortable, classy, and provides plenty of coverage. 
Go with a breathable fabric like cotton or linen to stay cool in the June heat.
Explore our selection of cotton jumpsuits that won't break the bank.
Semi-Formal Dresses
Many cruises host fancy formal and semi-formal dinners on certain nights. Pack a few semi-formal dresses for these dressed-up evening events. 
You don't have to go all out with an evening gown. Instead, pack something polished but comfortable, like a backless maxi dress or a flowy floor-length dress. 
Check out our selection of sustainable special occasion dresses that work perfectly for cruise formal nights. 
Relaxed Trousers and a Blouse
A flowy blouse with trousers is another excellent outfit option for formal dinner nights. 
Go with a relaxed fit to reflect the laid-back atmosphere of your cruise.
A pair of tailored wide-leg pants and a ruffled tank top look amazing paired with strappy heels and a statement necklace.
Explore our selection of wide-leg pants and jeans.
A Crop Top and Denim Shorts
A crop top and denim shorts work perfectly for days spent on the ship or adventures at port stops. 
Wear cute cut-offs with a spaghetti strap top, or simply throw on your favorite cropped tee for a relaxed vacation look. 
Don't miss our selection of the best affordable denim shorts.
Sundresses
The weather on a cruise can get pretty hot, especially if you travel in June. Wear feminine sundresses for a comfortable, fashionable cruise look. 
Wear a flowy, airy maxi dress and sunhat, or simply throw on a patterned mini dress over your swimsuit. 
Explore these sustainable sundresses for affordable fashion inspiration.
Tank Tops and Workout Shorts
A cruise in June is a pretty relaxed affair, so pack some comfy tank tops and workout shorts to lounge around in style. 
Wear workout shorts and a loose tank top for lazy days reading by the pool. You can also pack your favorite workout outfit to maintain your exercise routine while on vacation. 
Shop our selection of cute and affordable workout shorts.
Swimsuits
Swimsuits are a must-have if you're going on a cruise in June. Whether you're lounging poolside or taking a splash in one of the many pools, pack a few bathing suit options. 
Wear a fun and flirty bikini or a retro-inspired one-piece suit. Whatever you choose, make sure you feel comfortable and confident while wearing it. 
Check out these recycled bikinis and swimsuits you'll love for your next cruise.
Fun Cover-Ups
Taking a cruise in June is like a relaxing party that never stops. So, you might end up spending the entire day in your swimsuit. 
Pack a few fun cover-ups to transform your swimsuit into a cruise-ready outfit. 
You can wear anything from a sheer kimono-style cardigan to a chic sarong skirt. Coordinate the colors of your swimsuit with your cover-up for the ultimate outfit hack. 
Explore our favorite sustainable sarongs. 
Athleisure Wear Sets
A matching athleisure wear set is a fun, versatile, and comfortable outfit for any June cruise. 
Wear stretchy leggings, matching tank tops, or monochromatic bike short sets. Throw on your favorite pair of sustainable sneakers, and you're ready to explore!
Here is our ultimate list of the best affordable activewear brands out there.
Linen Pants and a Blouse
Linen pants and a blouse are perfect for a June cruise. 
Linen is a naturally breathable fabric, so a pair of high-quality, loose-fitting pants will keep you cool in the hot June weather. 
Pair your linen pants with a breezy blouse for a chic vacation outfit. 
Explore our favorite sustainable linen pants for your next cruise.
Summer Accessories
It can get pretty warm on a cruise ship in June, so pack all your favorite summer accessories. 
A floppy sunhat and sunglasses are must-haves when it comes to June cruises. Protect your face from the harsh summer rays while looking cool and fashionable.
Check out our favorite sustainable sunglasses to cruise in style. 
What Not to Pack
Whether it's your first cruise or your thousandth, here are a few things you don't need to pack. 
Beach towels
You'll be lounging by the pool or on the beach during most of the cruise.
However, cruise ships offer complimentary towels for such occasions. Save room in your suitcase and leave your beach towels at home. 
Expensive jewelry
Many people choose to leave their expensive jewelry at home when they go on a cruise.
While this is up to your discretion, many people don't want to risk losing an expensive ring at sea.
Also, wearing flashy jewelry can make you a target for theft while traveling. 
Too many clothes
It's easy to overpack when preparing for your cruise. Try your best only to pack the essentials.
Plan how many outfits you need during your June cruise and pack accordingly. A capsule wardrobe approach is best when packing for your cruise. 
Was this article helpful to you? Please tell us what you liked or didn't like in the comments below.
About the Author: Liz Flynn