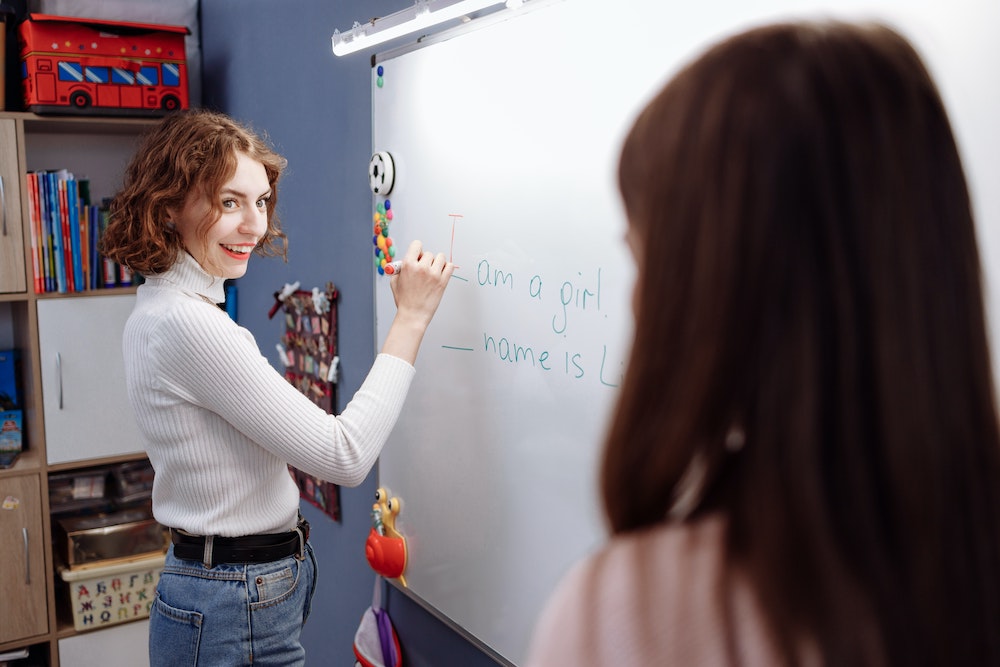 15+ Tips on How to Master your English Teacher Outfit
If you are knowledgeable about both language and literature and would love to share that knowledge with the world, there are few jobs out there as rewarding as working as an English teacher.
English teachers can have a difficult job: translating their know-how into actionable lessons that can inspire the next generation of students. One way to feel confident in your teaching, of course, is by knowing what to wear.
No matter what the dress code at your school might be, this guide has the ultimate low-down on what you should wear. Read on now to learn all about it.
Panaprium is proud to be 100% independent, free of any influence, and not sponsored. We carefully handpick products from brands we trust. Thank you so much for buying something through our link, as we may earn a commission that supports us.
Tweed Jacket
For old-school charm and sophistication, a cute tweed jacket can certainly establish yourself as somebody who knows what you are talking about. This should certainly be the centerpiece of your outfit; build the rest of your wardrobe around it. 
Looking for more academia-related inspiration? We have the best outfit ideas for the art academia aesthetic. 
Dress Shoes
Staying formal is a large part of commanding respect in the classroom, especially if you work in an institution that has a dress code. Finding a pair of smart, comfortable, and respectable dress shoes can help you to stay on your feet and work effectively.
Not sure where to shop? We have a list of the best affordable and ethical dress shoes for men. 
A Fancy Tie
For men, one of the best ways to finish off your English teacher outfit is by wearing a fancy and interesting tie. One advantage of a particularly mesmerizing tie is that students may concentrate on it during lessons, helping them to pay attention. 
Great ties can certainly be found in vintage stores. Find the right tie for you from our selection of the best second-hand clothing apps for affordable vintage. 
Khaki Pants
A pair of well-fitted khaki pants will firmly establish yourself as someone who knows what you are talking about. The best thing about them is their versatility; a great base pair can be worn with a variety of different shirts or blazers. 
Here is our list of the best affordable chinos & khakis made in the USA. 
A Simple Shirt

 



English teachers are known for their understated, cool, and collected style. That's why it's smart to invest in a simple, ostentation-free shirt that can easily be paired with any other outfit choices. 
For the best cuts, opt for the Italian style. Here are our picks for the best affordable women's and men's shirts made in Italy. 
A Stylish Jumpsuit
Women who don't want to look too formal in a school setting yet still want to exude confidence in the classroom should look towards a stylish, power jumpsuit — a piece everyone is talking about in recent years.
Here are our selections for the best affordable and sustainable jumpsuits. 
A Long Winter Coat
In the cold winter months, it's important to have something to wear over your outfit in order to protect yourself from inclement weather — especially as the flu is prevalent in schools. 
Want to learn more? Look no further than our 20 best affordable and sustainable winter coats. 
A Handy Backpack
When you are working as a teacher, it's likely that you will be carrying lots of books and term papers around. Keep them all in one place courtesy of a handy backpack that will help you look professional at the same time.  
Learn more from our list of the best affordable, ethical, vegan leather backpacks. 
A Knitted Cardigan

To feel comfortable and to portray a sense of comfort for all of your students, it's worth looking for a chunky, hand-knit cardigan. Not only is a chunky cardigan a practical and cozy choice for chilly classrooms, but it can also be a stylish addition to any teacher's wardrobe.
Here's our list of the best sustainable chunky knit cardigans you'll love. 
A Smart Blouse
Female teachers can look smart and relaxed at the same time courtesy of a strong blouse. They are a versatile item that can be worn as a casual item, especially when the sleeves are rolled up, or can give off a sense of professional confidence.
Get a great overview courtesy of our list of the 15 best affordable, ethical, and sustainable blouses. 
A Knee-Length Skirt
To stay modest while also asserting professionally, women can opt for a knee-length, professional-looking skirt. 
Get a better understanding of what to wear with our insanely helpful style tips to wear skirts in winter. 
A Chic Scarf
Scarves might be most associated with the winter months, but the right scarf can certainly give off a relaxed vibe in the summer as well. It's certainly worth investing in more than one scarf to whip out of the wardrobe at the right moment. 
Check out our selection of the best affordable, ethical, and vegan winter scarves. 
A Casual Sweatshirt
Not all time spent as an English teacher is necessarily spent in the classroom. In fact, you might be spending time outside teaching sports or in the teacher's lounge. To feel comfortable during those moments, it's worth investing in a fantastic, comfortable sweatshirt. 
We have a great selection of the best affordable and sustainable sweatshirts. 
A Confident Turtleneck

Popular with tech leaders and business moguls, a turtleneck is a simple, effective option that shows that you are somebody who means business. Opt for dark colors in order to give off a serious, strong vibe.  
Get more of an idea with our best affordable and ethically made turtlenecks. 
Dress For Your School
It's worth bearing in mind that how you choose to dress might depend on the type of school that you go to. For example, a state-run institution will likely have a more informal dress code than a private institution where students wear uniforms. Understand what type of school you are going to before finding the right outfit for you.

If you are worried about how you might pay for all this, we have a guide on the easiest ways to shop ethically on a budget. 
Was this article helpful to you? Please tell us what you liked or didn't like in the comments below.
About the Author: Redmond Bacon