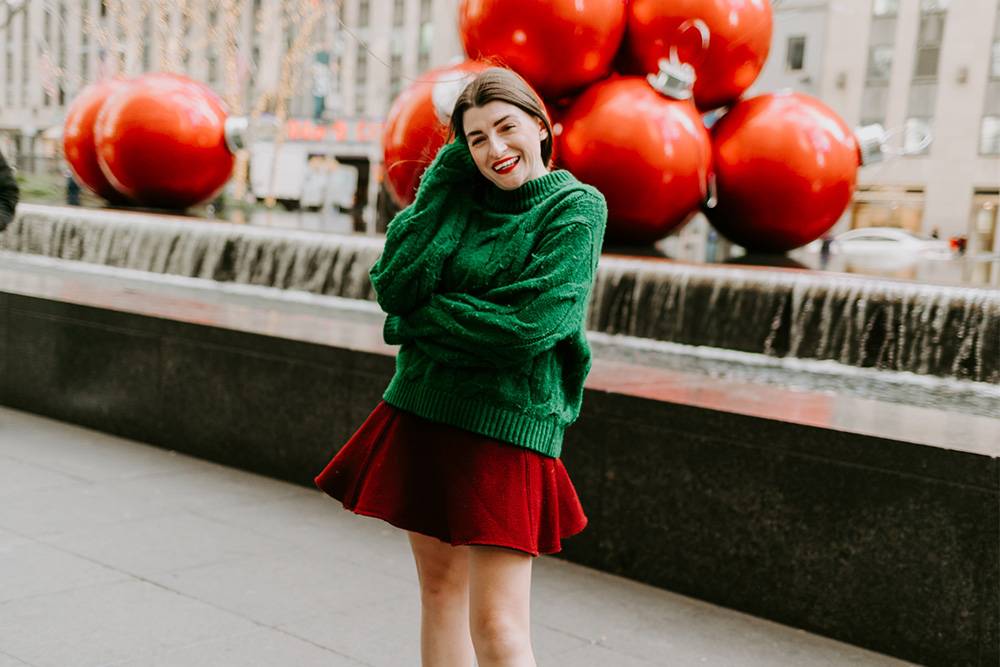 14 Insanely Helpful Style Tips To Wear Skirts In Winter
You can wear skirts in winter and stay warm if you know the right fashion tips. If you want to dress more feminine in the winter, wearing a cute, ladylike, and stylish skirt is a good idea.

You deserve fashionable winter outfits that highlight your best features and make you look great effortlessly. A skirt is ideal to feel young and beautiful, but you have to avoid freezing.

To help you wear skirts in winter without getting cold, here are insanely helpful and easy style tips you need to know.

We've got you covered if you also need affordable and sustainable warm winter skirts to wear this cold season. 
Panaprium is proud to be 100% independent, free of any influence, and not sponsored. We carefully handpick products from brands we trust. Thank you so much for buying something through our link, as we may earn a commission that supports us.

1. Wear a tightly fitting skirt


To keep the warmth of your body during the cold season, you can wear skirts with a tighter fit. While flowy and breathable silhouettes are better in summer, wear garments that fit close to the body in winter.

Winter skirts with the perfect fit will skim your figure, emphasize your waist, and make you look chic, classy, and fabulous. But avoid clothes that are too small, especially around your midsection.


2. Choose long winter skirts


To dress cute and feminine this cold season and stay warm, choose winter skirts with a higher length. Add long skirts to your winter outfits to keep your body heat and protect your legs from the cold.

Discover our selection of long maxi skirts for women. They are high-quality, ethically made, budget-friendly to help you craft fashionable outfits.


3. Prefer dark colors


Light colors make clothing pieces reflect sunlight and keep your body cool and fresh in summer. During the cold season, prefer darker colors to keep your body warm and make your winter outfits chic and classy.


4. Warm up your upper body


Add layers to your winter outfits to keep your upper body warm, dress elegantly, and enhance your look. A classic bomber jacket, overcoat, gilet, or puffer will help you stand out and keep the cold away.

Layers instantly make any outfit more stylish and elegant. Read our selection of affordable and sustainable coats to wear all winter.


5. Buy high-quality winter skirts


Make sure to check the quality of each skirt before buying. It's easy to look stylish and stay warm if you wear high-quality clothes that are stronger and durable with a tighter weave and better construction.

Pay attention to details and fabric quality the next time you go shopping. Follow our best tips to buy higher-quality clothes, especially if you shop online.


6. Choose heavier fabrics


Heavy fabrics help your body stay warm in the winter. While lightweight and breathable materials like linen are fantastic in summer, choose heavyweight cotton fabrics like denim, or recycled synthetics in winter.


7. Wear tights, stockings, or leggings


A great way to wear skirts in winter and avoid freezing is to wear tights, stockings, or leggings underneath. Quality, affordable leggings help you look charming and stay warm during the cold season without breaking the bank.

Read our selection of affordable and sustainable tights you can wear with skirts in winter.


8. Put on knee-high boots


To wear skirts in winter and stay warm, you can put on tall boots that rise to the knee or slightly thereunder. They are a fantastic addition to any wardrobe for comfort and style to upgrade your winter outfits.

Buy comfy, warm, cute, sustainable boots for winter from ethical shoe companies that use eco-friendly and animal-free materials.




9. Try on a hat or beanie


Wear one stylish accessory with the rest of your winter skirt outfit to look well-dressed and stay warm. A hat or a beanie is a versatile and fashionable accessory that protects you from cold weather.

Discover our selection of cute, cheap, and eco-friendly hats and beanies to wear with skirts in winter.


10. Don't forget the inner layers


To complete your winter skirt outfit, wear a warm jumper, sweater, cardigan, or turtleneck. Versatile and durable inner layers will help you keep your body heat and stay comfy in chilly weather.

These are some of the best winter jumpers that are cozy, warm, cheap, and cute to help you look stylish and feel comfortable this cold season without breaking the bank.


11. Add a scarf to your winter skirt outfit


These eco-friendly and cruelty-free winter scarves are the best to stay warm this fall and winter. They are also super stylish, cheap, and sustainable to wear with skirts.

Choose versatile, comfortable, and durable scarves made of eco-conscious and vegan-friendly materials such as organic cotton, linen, hemp, or recycled fabrics.


12. Wear even more layers


To keep the cold away in winter, you can put on more layers, such as wearing two skirts one above each other with various sizes, styles, lengths, textures, or patterns.

You can also put on pantyhose and leggings, or even a pair of pants and a skirt together. Discover our selection of stylish, beautiful, and cute patterned pants to look fabulous and feel comfortable in winter.




13. Put on winter gloves


Winter gloves are a great way to stay warm and cozy this cold season. They are fabulous additions to every wardrobe and will help stay comfortable and dry in colder weather.

Here are some of the best ethically made, affordable, and vegan gloves you need to stay warm with a winter skirt outfit.


14. Use warming essential oils
Many essentials oils have a warming effect that keeps your hands, legs, and feet warm in colder weather. Apply the oil in a circular motion and massage it gently before putting on your clothes and heading out.
Was this article helpful to you? Please tell us what you liked or didn't like in the comments below.